Map of Portland
This Portland Oregon map collection displays roads, places of interest, and other reference information. This city in northwest Oregon is known as a hub for adventure, world-class food, craft beer, and of course, Portland Trail Blazers basketball.
If you love exploring new places, you'll especially love Portland's food scene, abundant natural beauty, and independent businesses. There are so many things to do in Portland, and a lot of them involve exploring the city's natural beauty.
Whether you're looking for the best places to eat, drink, or the most scenic routes, our free maps are the perfect companion for your Portland adventure. But before you make the trip to Portland, make sure to check out our interactive web map below provided by Google Maps.
Jump To: Interactive Map | Printable Road Map | 10 Things to Do | Reference Map
Portland map collection
Interactive Map of Portland
Portland, Oregon is a city that knows how to have fun and enjoy the outdoors. It is situated along the Columbia River, bordering the state of Washington. While the Tualatin Mountains are in the west, the Cascade Range stands tall in the east. But if you're looking to stay in the city, this interactive map can help you find all the best hotels, restaurants, and attractions. Whether you're visiting for the weekend or just want to discover why Portland is called the "City of Roses", this map is going to give you the help you need.
Portland Road Map
This printable road map is a great way to find your way around the city. A detailed overview of color-coded interstate highways and major roads will make planning your next visit easier than ever. If you're visiting Portland and want to see the best of the city, this map will help you navigate around everywhere. You can never go wrong with printing a road map before your voyage. But for any travel outside the city, refer to this Oregon road map with highway information.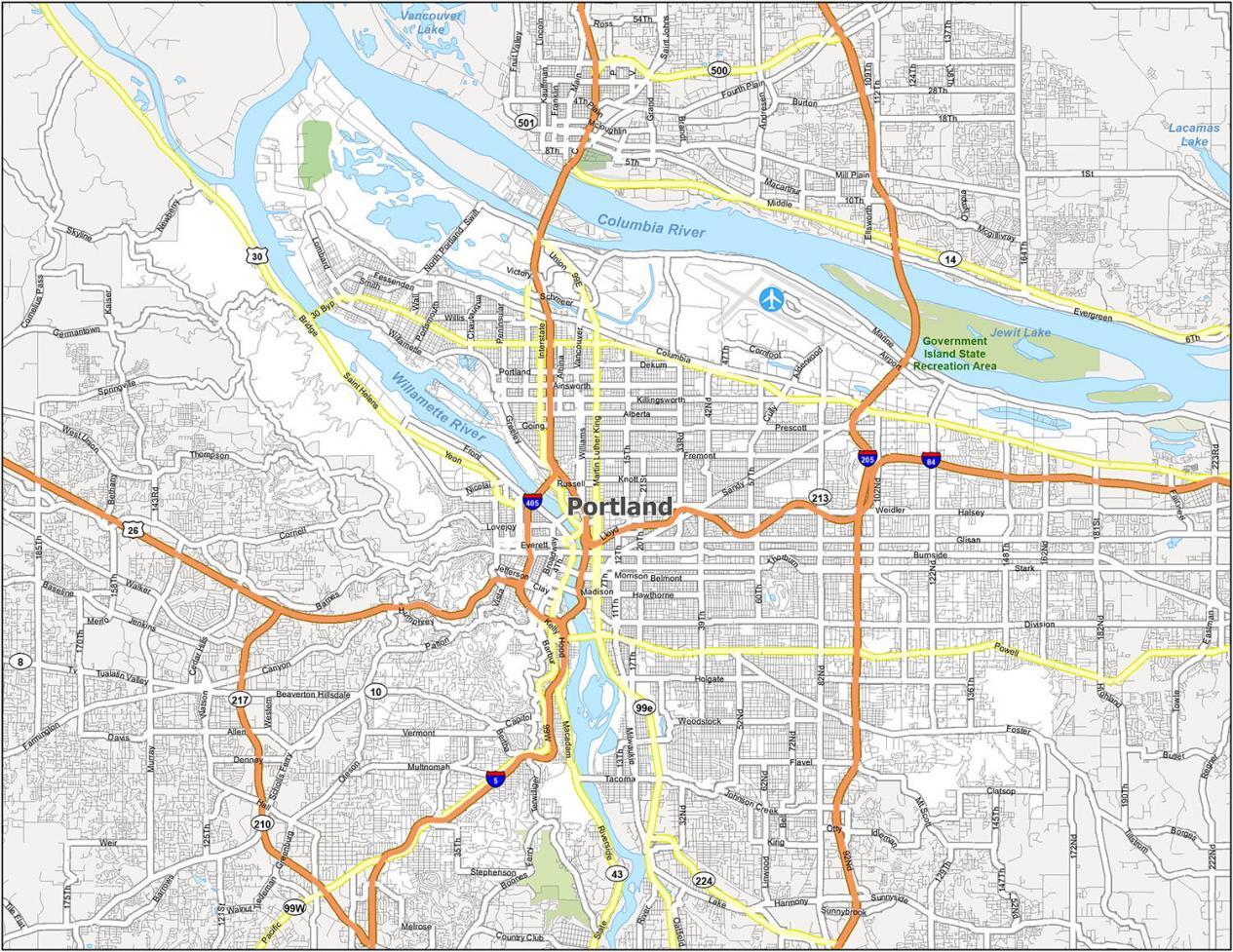 Interstate Highways: I-5, I-84, I-205, I-405
US Highways: 5, 26, 30, 84, 99E, 99W, Beaverton Hillsdale Hwy, Capitol Hwy, Cascade Hwy, Pacific Hwy, Portland Hwy, Swift Hwy
Parkways: Naito Pky, River Pky
Major Roads: Barbur Blvd, Belmont St, Grand Ave, Martin Luther King Blvd, Mcloughlin Blvd, Morrison St, Saint Helens Rd, Yeon Ave
10 Things To Do in Portland
If you're exploring Portland, this map will be a helpful resource for you. It's a map of the best places to see around town and important key points of interest. It gives you the details you need to find all the sights you need to know. This is the perfect map to take on your next trip to Portland. It includes the best museums, parks, gardens, and other attractions in the city.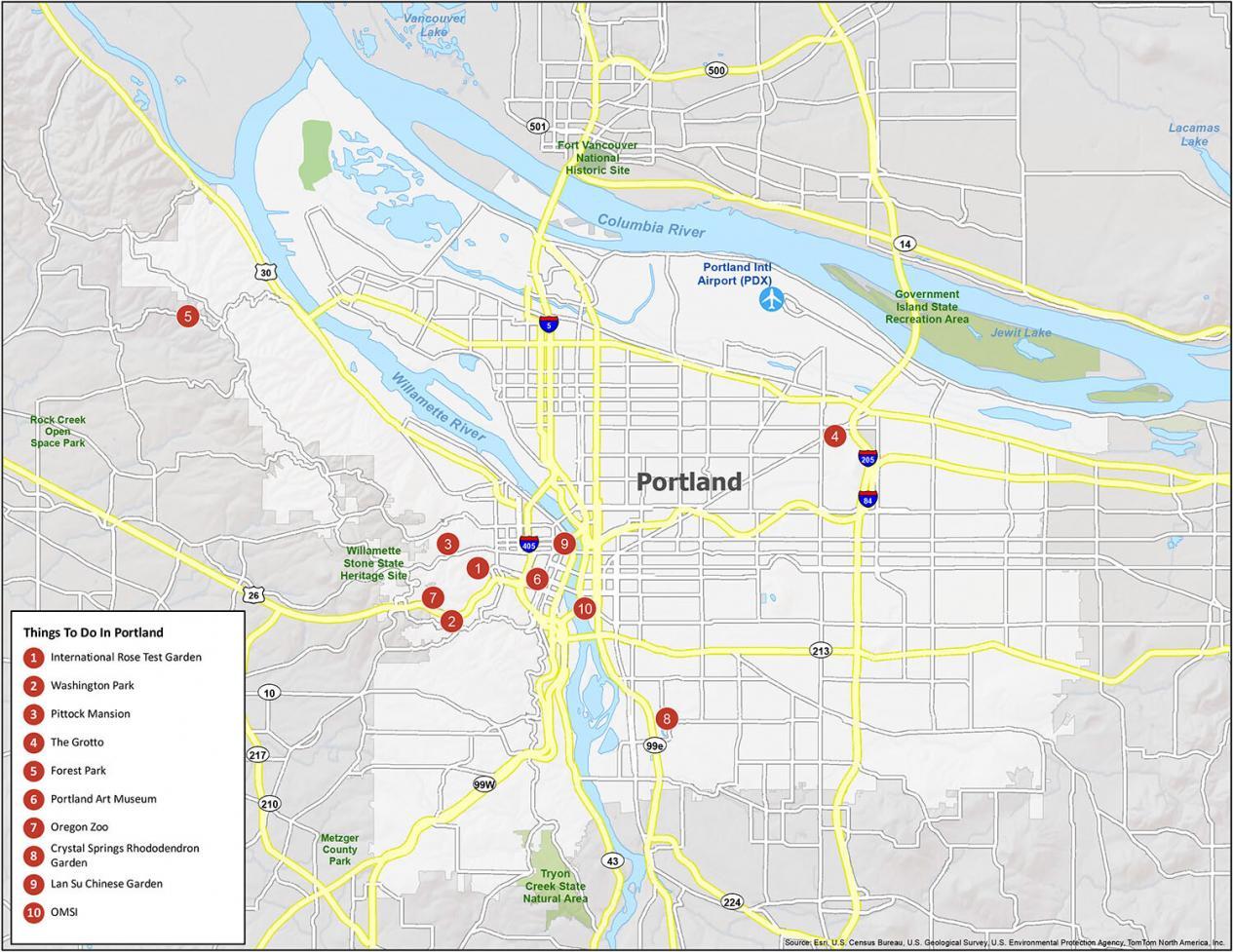 Portland is known for its history in shipping. It's also tremendously green and is one of the most environmentally progressive cities in the nation. If you ever go there, we highly recommend these 10 things to do.
International Rose Test Garden
Washington Park
Pittock Mansion
The Grotto
Forest Park
Portland Art Museum
Oregon Zoo
Crystal Springs Rhododendron Garden
Lan Su Chinese Garden
Oregon Museum of Science and Industry (OMSI)
Portland Reference Map
Not only is Portland the most populous city in the state, but it's also consistently ranked as one of the best places to live in the nation. Some of its advantages are its natural beauty. For instance, it's possible to see Mt. Hood, Mt. St. Helens, Mt. Adams, and Mt. Rainier from Portland. This makes it one of the most beautiful topographic landscapes in all of the United States. With this map, you will be able to see parks, rivers, and other points of interest so you can traverse the city in your own time, without the hassle of wandering around aimlessly.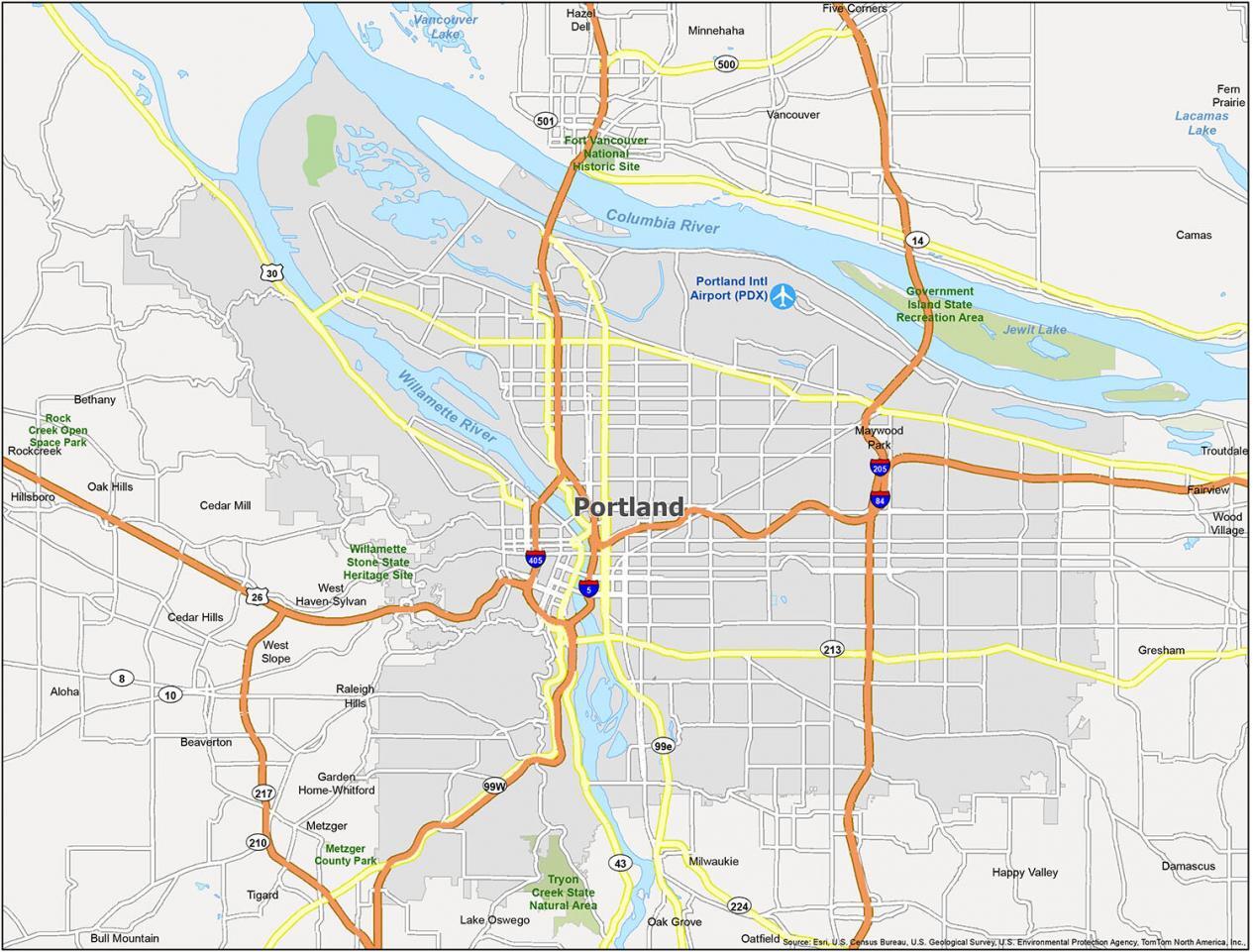 Airports: Portland International Airport (PDX)
Cities: Beaverton, Camas, Fairview, Gresham, Happy Valley, Hillsboro, Lake Oswego, Maywood Park, Milwaukie, Portland, Tigard, Troutdale, Vancouver, Wood Village
Census-designated place (CDP): Aloha, Bethany, Bull Mountain, Cedar Hills, Cedar Mill, Damascus, Fern Prairie, Five Corners, Garden Home-Whitford, Hazel Dell, Metzger, Minnehaha, Oak Grove, Oak Hills, Oatfield, Raleigh Hills, Rockcreek, West Haven-Sylvan, West Slope
Portland map collection
Oregon map collection
References