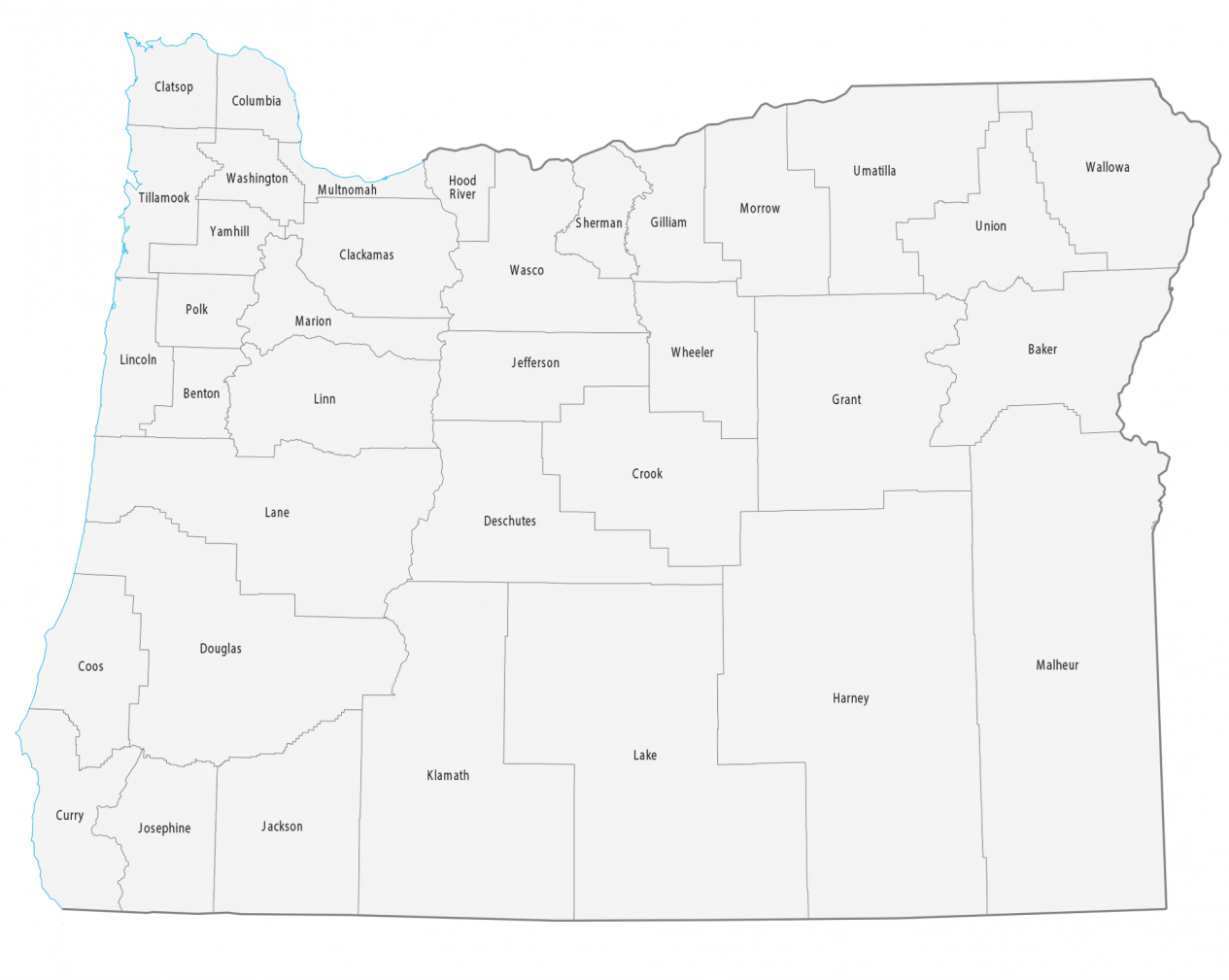 About the map
This Oregon county map displays its 36 counties. Oregon shares a border with Washington, Idaho, Nevada, and California and a maritime border with the North Pacific Ocean.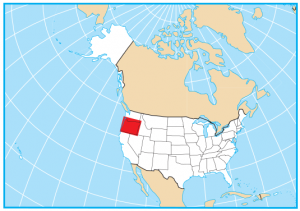 For size, Harney County is the largest and is over 10,000 square miles in area. But its next-door neighbor, Malheur County, is similar in size and is about 9925 square miles in size. Overall, the smallest county in Oregon is Multnomah County which is also under 500 square miles.
The most populous county in Oregon is Multnomah County with over 800,000 people. Conversely, the county with the lowest population is Wheeler County with just under 1,500 residents.
Oregon map collection
You are free to use our county map of Oregon for educational and commercial uses. Attribution is required. How to attribute?
Oregon County List
| County Name | Population (2020 est) | County Map | Area (sq mi) | Locator Map | FIPS Code |
| --- | --- | --- | --- | --- | --- |
| Baker County | 16,284 | Baker County | 3088.2 | Baker County Map | 41001 |
| Benton County | 93,239 | Benton County | 678.6 | Benton County Map | 41003 |
| Clackamas County | 421,596 | Clackamas County | 1879.1 | Clackamas County Map | 41005 |
| Clatsop County | 40,423 | Clatsop County | 828.5 | Clatsop County Map | 41007 |
| Columbia County | 52,876 | Columbia County | 682 | Columbia County Map | 41009 |
| Coos County | 64,711 | Coos County | 1610.7 | Coos County Map | 41011 |
| Crook County | 25,105 | Crook County | 2987.4 | Crook County Map | 41013 |
| Curry County | 23,305 | Curry County | 1631.4 | Curry County Map | 41015 |
| Deschutes County | 201,769 | Deschutes County | 3062 | Deschutes County Map | 41017 |
| Douglas County | 111,364 | Douglas County | 5060.3 | Douglas County Map | 41019 |
| Gilliam County | 1,975 | Gilliam County | 1221.8 | Gilliam County Map | 41021 |
| Grant County | 7,180 | Grant County | 4529.2 | Grant County Map | 41023 |
| Harney County | 7,373 | Harney County | 10236.7 | Harney County Map | 41025 |
| Hood River County | 23,280 | Hood River County | 532.7 | Hood River County Map | 41027 |
| Jackson County | 221,844 | Jackson County | 2798.5 | Jackson County Map | 41029 |
| Jefferson County | 24,856 | Jefferson County | 1791.1 | Jefferson County Map | 41031 |
| Josephine County | 88,053 | Josephine County | 1641.8 | Josephine County Map | 41033 |
| Klamath County | 68,739 | Klamath County | 6141.1 | Klamath County Map | 41035 |
| Lake County | 7,949 | Lake County | 8339.3 | Lake County Map | 41037 |
| Lane County | 382,986 | Lane County | 4618 | Lane County Map | 41039 |
| Lincoln County | 50,583 | Lincoln County | 981.8 | Lincoln County Map | 41041 |
| Linn County | 131,054 | Linn County | 2308.1 | Linn County Map | 41043 |
| Malheur County | 30,983 | Malheur County | 9925.5 | Malheur County Map | 41045 |
| Marion County | 349,204 | Marion County | 1196.9 | Marion County Map | 41047 |
| Morrow County | 11,700 | Morrow County | 2048.5 | Morrow County Map | 41049 |
| Multnomah County | 815,637 | Multnomah County | 464.8 | Multnomah County Map | 41051 |
| Polk County | 87,744 | Polk County | 744.4 | Polk County Map | 41053 |
| Sherman County | 1,801 | Sherman County | 829.1 | Sherman County Map | 41055 |
| Tillamook County | 27,442 | Tillamook County | 1102.2 | Tillamook County Map | 41057 |
| Umatilla County | 77,752 | Umatilla County | 3231.2 | Umatilla County Map | 41059 |
| Union County | 26,551 | Union County | 2038.5 | Union County Map | 41061 |
| Wallowa County | 7,181 | Wallowa County | 3150 | Wallowa County Map | 41063 |
| Wasco County | 26,403 | Wasco County | 2397.3 | Wasco County Map | 41065 |
| Washington County | 603,514 | Washington County | 726.4 | Washington County Map | 41067 |
| Wheeler County | 1,387 | Wheeler County | 1715.4 | Wheeler County Map | 41069 |
| Yamhill County | 107,664 | Yamhill County | 717.6 | Yamhill County Map | 41071 |
References