Raleigh NC Map, North Carolina

Map of Raleigh
Are you searching for a map of Raleigh, North Carolina? If you answered yes, then we have exactly what you're looking for! Check out our road map, a list of things to do, and an interactive map of Raleigh.
Raleigh is located in central North Carolina. Not only is it the capital city of the state, but it's also the second-largest city in the state. With this map collection, you can discover the best of what the city has to offer.
Raleigh is a must-see city in NC and is the perfect place for tourists. Start exploring the best things to do in Raleigh, including museums, green spaces, hotels, and more in the interactive map below.
Jump To: Interactive Map | Printable Road Map | 10 Things to Do | Reference Map
Raleigh map collection
Interactive Map of Raleigh
This interactive map is perfect for anyone who wants to explore Raleigh, North Carolina with up-to-date information. You can search for restaurants and attractions, get bike routes, and even find out which hotels are conveniently located near your destination. Get around Raleigh and its surrounding areas quickly and easily with our interactive map.
Raleigh Road Map
Raleigh is a city that offers a lot of unique things to do and this map is the perfect tool to help you find your way around. Browse through the streets in a convenient color-coded scheme and get directions to your destination. Not only is this road map a convenient way to navigate around the town, but it's all in one printable page for extra convenience. But for travel outside the city, refer to this North Carolina road map for highway information.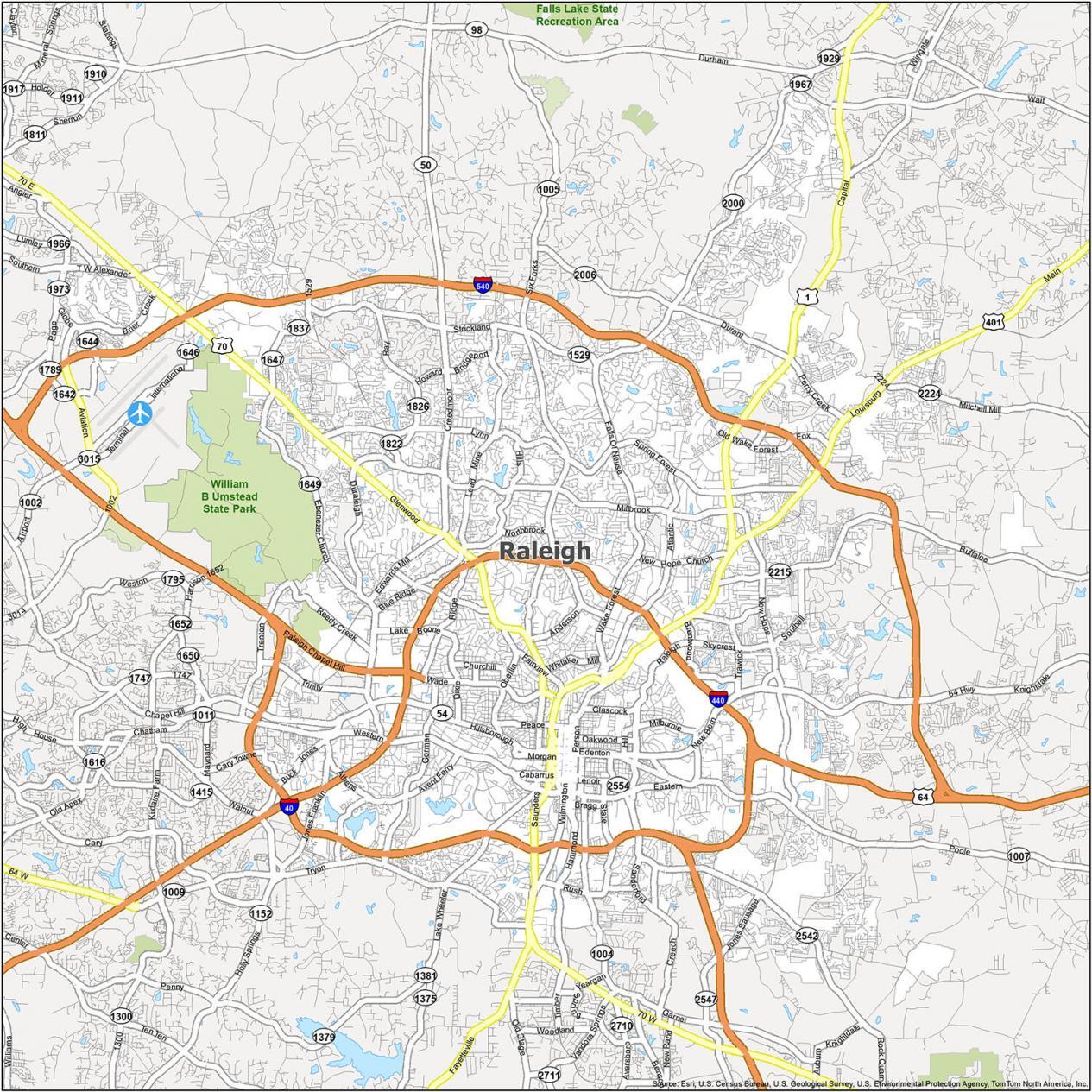 Interstate Highways: I-40, I-440, I-540
US Highways: 1, 50, 54, 64, 70, 401, Raleigh Durham Hwy, Spring Forest Hwy, Wake Forest Hwy
Expressways/Parkways: Brier Creek Pky, Corporation Pky, Raleigh Chapel Hill Expy
Major Roads: Capital Blvd, Chapel Hill Rd, Creedmoor Rd, Dawson St, Falls Of Neuse Rd, Fayetteville Rd, Fox Rd, Glenwood Ave, Hillsborough St, Louisburg Rd, Mcdowell St, Millbrook Rd, Morgan St, New Bern Ave, Old Wake Forest Rd, Saunders St, Six Forks Rd, Triangle Town Blvd, Wade Ave, Wake Forest Rd, Wilmington St
10 Things To Do in Raleigh
Discover the best and most interesting things to do in Raleigh. This guide is a great way to plan a trip to Raleigh and includes the city's best attractions and highlights. By using this map, you'll be able to see the sights and landmarks that make Raleigh such a great destination for traveling.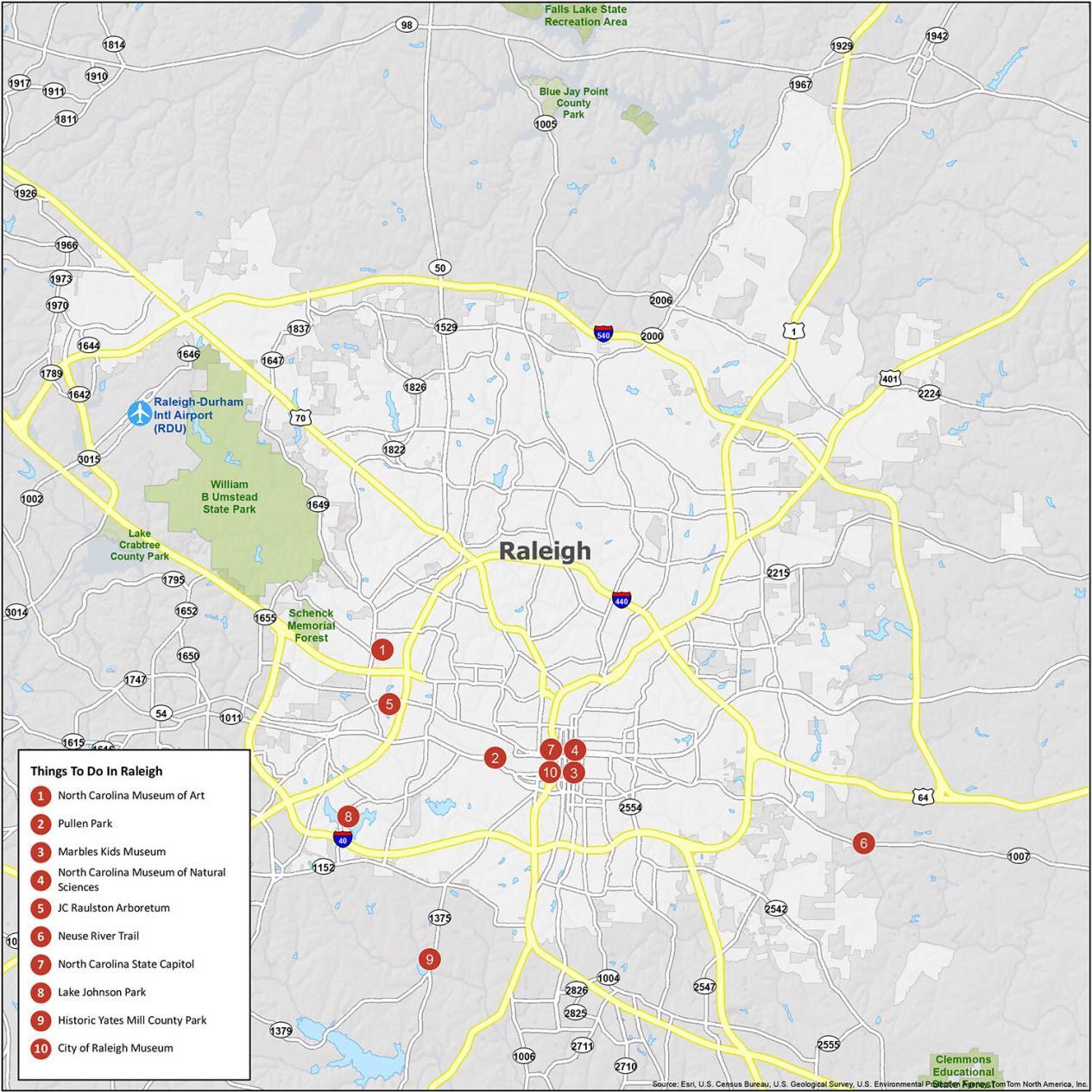 Raleigh is known for its towering oak trees, which are scattered across the city. It also has a fair share of museums and parks for visitor attractions. If you ever travel there, we highly recommend these 10 things to do.
North Carolina Museum of Art
Pullen Park
Marbles Kids Museum
North Carolina Museum of Natural Sciences
JC Raulston Arboretum
Neuse River Trail
North Carolina State Capitol
Lake Johnson Park
Historic Yates Mill County Park
City of Raleigh Museum
Raleigh Reference Map
Get to know the best of the city with this reference map. It shows state parks, forests, preserves, airports, and much more. If you're visiting Raleigh for the first time, this map helps you easily navigate through Raleigh with ease.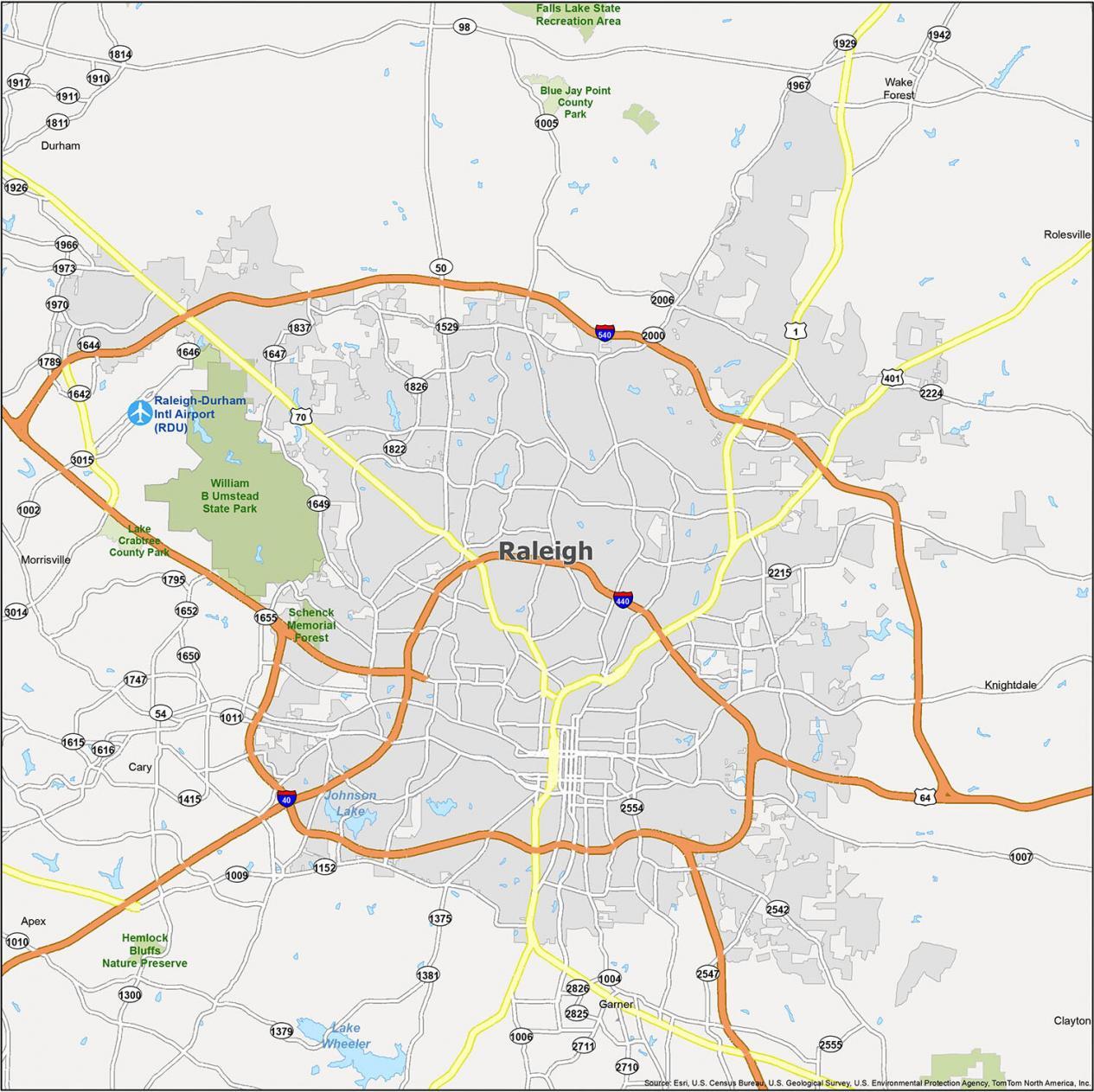 Airports: Raleigh-Durham International Airport (RDU)
Cities: Durham, Raleigh
Towns: Apex, Cary, Clayton, Garner, Knightdale, Morrisville, Rolesville, Wake Forest
Forests/Parks: Hemlock Bluffs Nature Preserve, Lake Crabtree County Park, Schenck Memorial Forest, William B Umstead State Park
Raleigh, North Carolina maps
North Carolina map collection