Map of Rochester, New York

Map of Rochester
This Rochester NY map displays highways/roads, places of interest, and things to do. But first, journey through the city with our interactive map of Rochester, New York provided by Google Maps.
Rochester is located in the northwest of the state of New York. It's situated along Lake Ontario, with Irondequoit Bay just a short drive away. The Genesee River cuts through the city of Rochester, which flows to the west of the Finger Lakes.
It's known for its architecture and culture, as well as its many attractions. Our comprehensive guide to the area gives you everything you need to know about this vibrant city. From history to its downtown area, we've got you covered.
Jump To: Interactive Map | Printable Road Map | 10 Things to Do | Reference Map
Rochester map collection
Interactive Map of Rochester
Get the lowdown on what's happening, what's nearby, and where the best restaurants are. With our easy-to-use and interactive map, you can explore all that Rochester has to offer. This map shows the most interesting places in Rochester, NY. It includes restaurants, museums, bars, parks, and more.
Rochester Road Map
Our map is designed to help you find your way around the city and learn more about the city. Whether you are a tourist or a local, this map will help you find the best Rochester has to offer. It's the perfect way to get around the city with ease with color-coded highways and major roads. But if you want to escape the city for a road trip, then check out this road map of New York with highways and roads.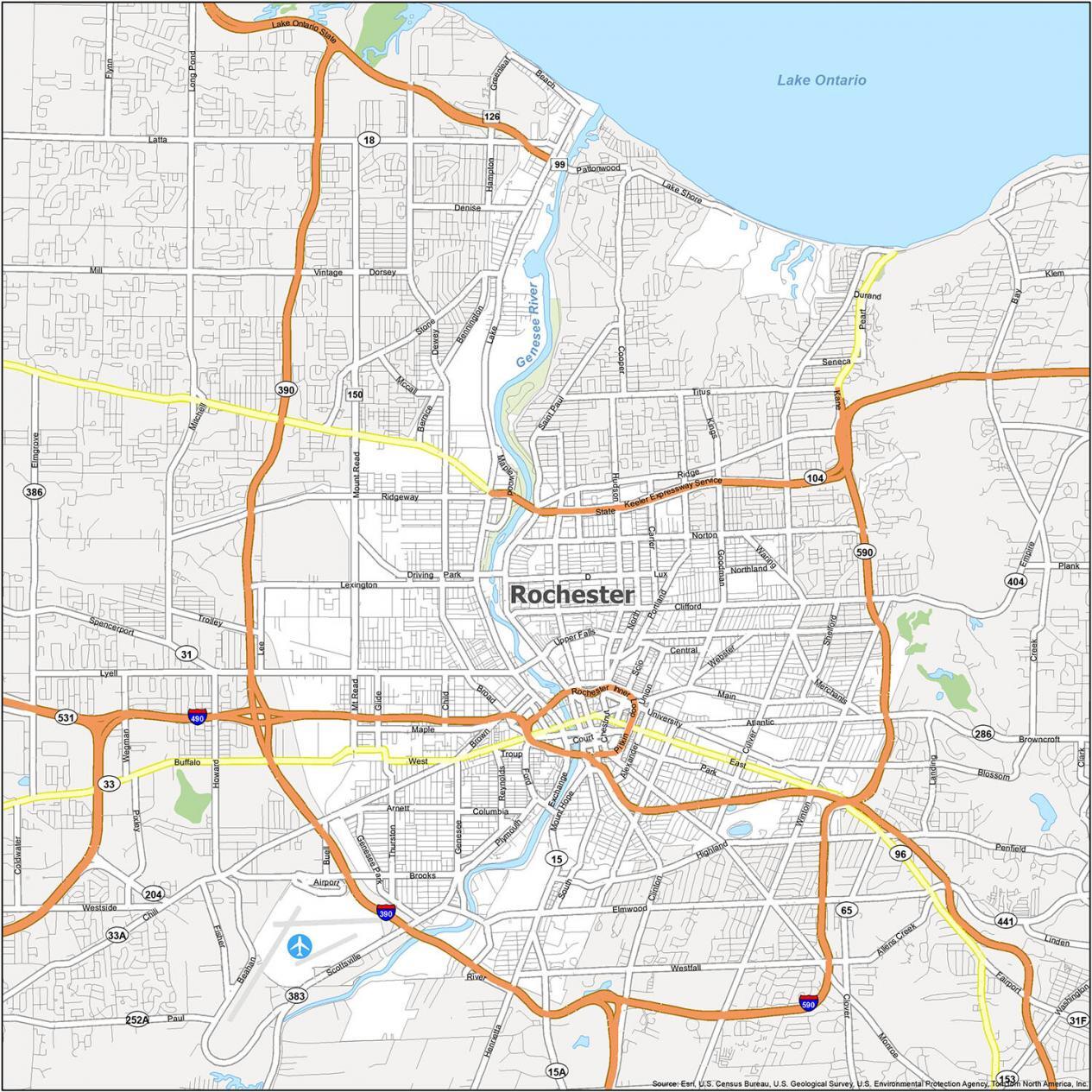 Interstate Highways: I-390, I-490, I-590
US Highways: 31, 33, 96, 99, 104, 120, 154, 204, Rochester Inner Loop Hwy, State Hwy
Expressways/Parkways: Culver Pky, Lake Ontario State Pky, Seneca Pky
Major Roads: Broad St, Brooks Ave, Chestnut St, Clinton Ave, Court St, Culver Rd, Dewey Ave, Durand Blvd, East Ave, Exchange Blvd, Lake Ave, Lake Shore Blvd, Lyell Ave, Main St, Monroe Ave, Pattonwood Dr, Pitkin St, Ridge Rd, South Ave, Woodbury Blvd
10 Things To Do in Rochester
Get the most out of your visit with this map. From historical sites, parks, museums, and trails, you can explore the best of Rochester in one quick glance. This map is essential for your next trip to Rochester. It provides you with all the details you need to find the best places to visit, including how far one point of interest is from the next. Get a quick overview of the city on this map. It will help you plan your next visit and see what attractions are close by.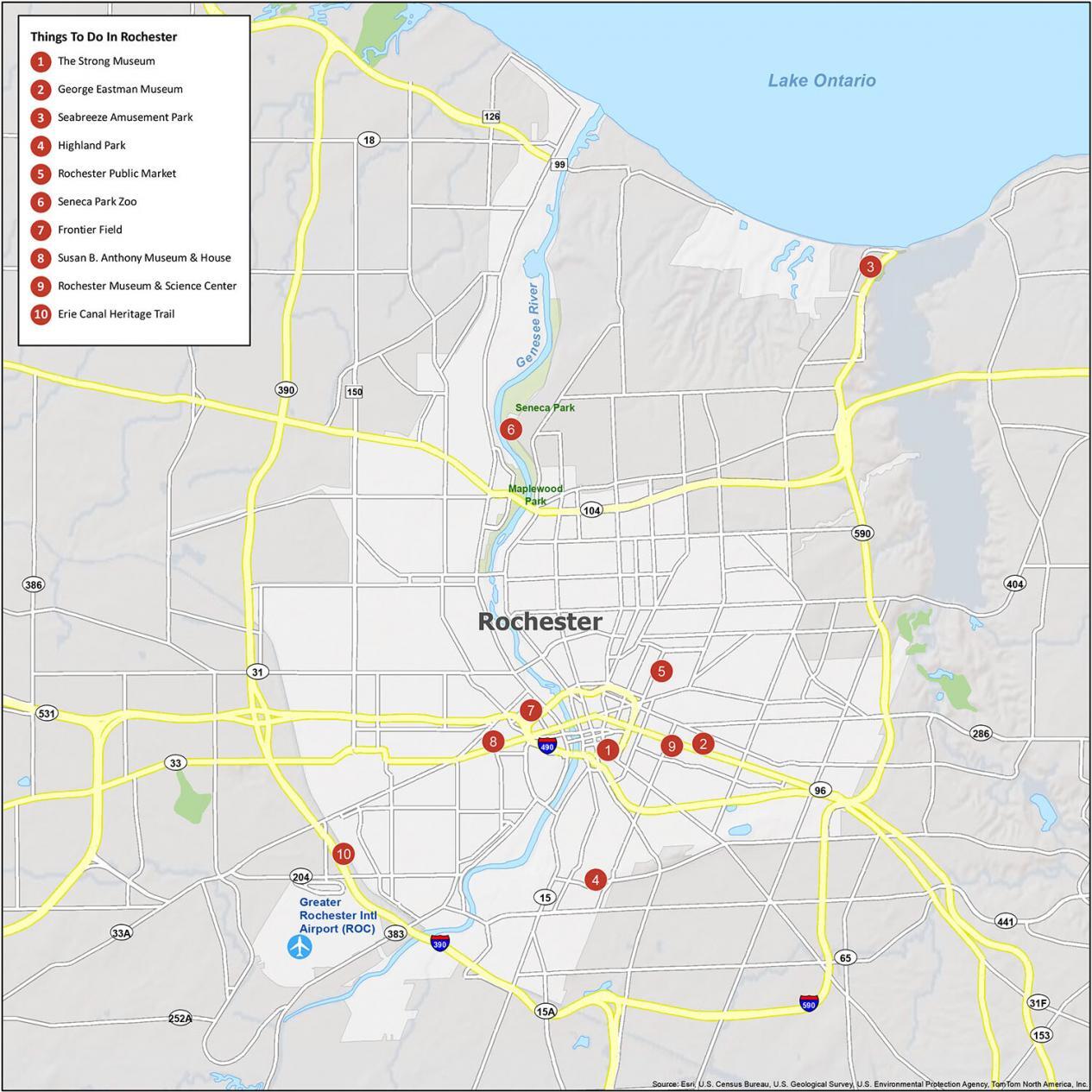 Rochester is known for being the "Flower City" in the United States because of its annual lilac festival. If you ever travel to Rochester, we highly recommend these 10 things to do.
The Strong Museum
George Eastman Museum
Seabreeze Amusement Park
Highland Park
Rochester Public Market
Seneca Park Zoo
Frontier Field
Susan B. Anthony Museum & House
Rochester Museum & Science Center
Erie Canal Heritage Trail
Rochester Reference Map
This reference map is designed to help you locate your way around and find the right place to take in Rochester. Whether you are planning a visit to the city, or are just curious about it, this guide will help you find your way. This map will help provide you with a basic layout of the city and nearby populated places.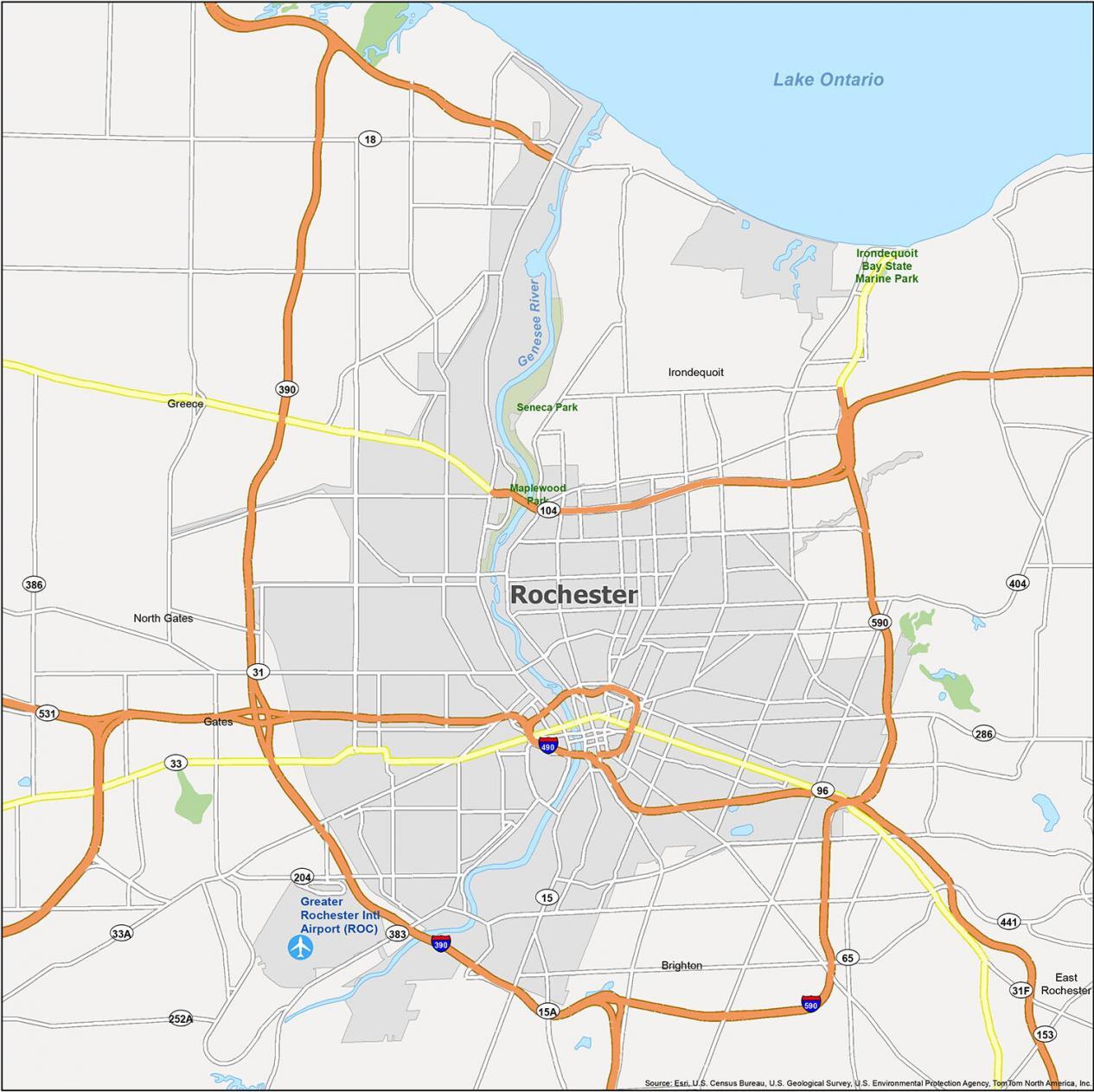 Airports: Greater Rochester International Airport (ROC)
Villages: East Rochester, Pittsford
Census-designated place (CDP): Brighton, Gates, Greece, Irondequoit, North Gates
Forests/Parks: Irondequoit Bay State Marine Park, Maplewood Park, Seneca Park
Lakes/Rivers: Genesee River, Lake Ontario
New York State map collection
References