About the map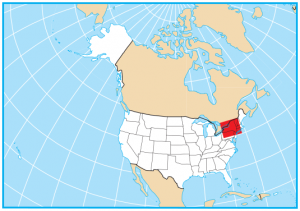 This New York county map displays its 62 counties. New York City is divided into New York County (Manhattan), Kings County (Brooklyn), Bronx County (The Bronx), Queens County (Queens) and Richmond County (Staten Island). So, despite the fact New York City is the most populated city in the United States at 8.4 million people, its populations are distributed rather evenly between these 5 counties.
New York's most populated county is King's County with over 2.5 million people. Next, Queens County has a bit over 2.25 millions. This is followed by New York County, Suffolk County and Bronx County. The county with the lowest population in New York is Hamilton County with under 5,000 people.
For size, Saint Lawrence County is the largest with an area of 2821.3 square miles. The smallest county is New York County with just under 23 square miles of area. The counties that belong to Long Island are Kings, Queens, Nassau and Suffolk from west to east.
New York county map
References
Free US Maps
Select a state to view its map
Still looking for a real map?
National Geographic
carries a full range of Country Maps, US Maps, World Maps, Regional Maps, Historical Maps and Celestial Maps.