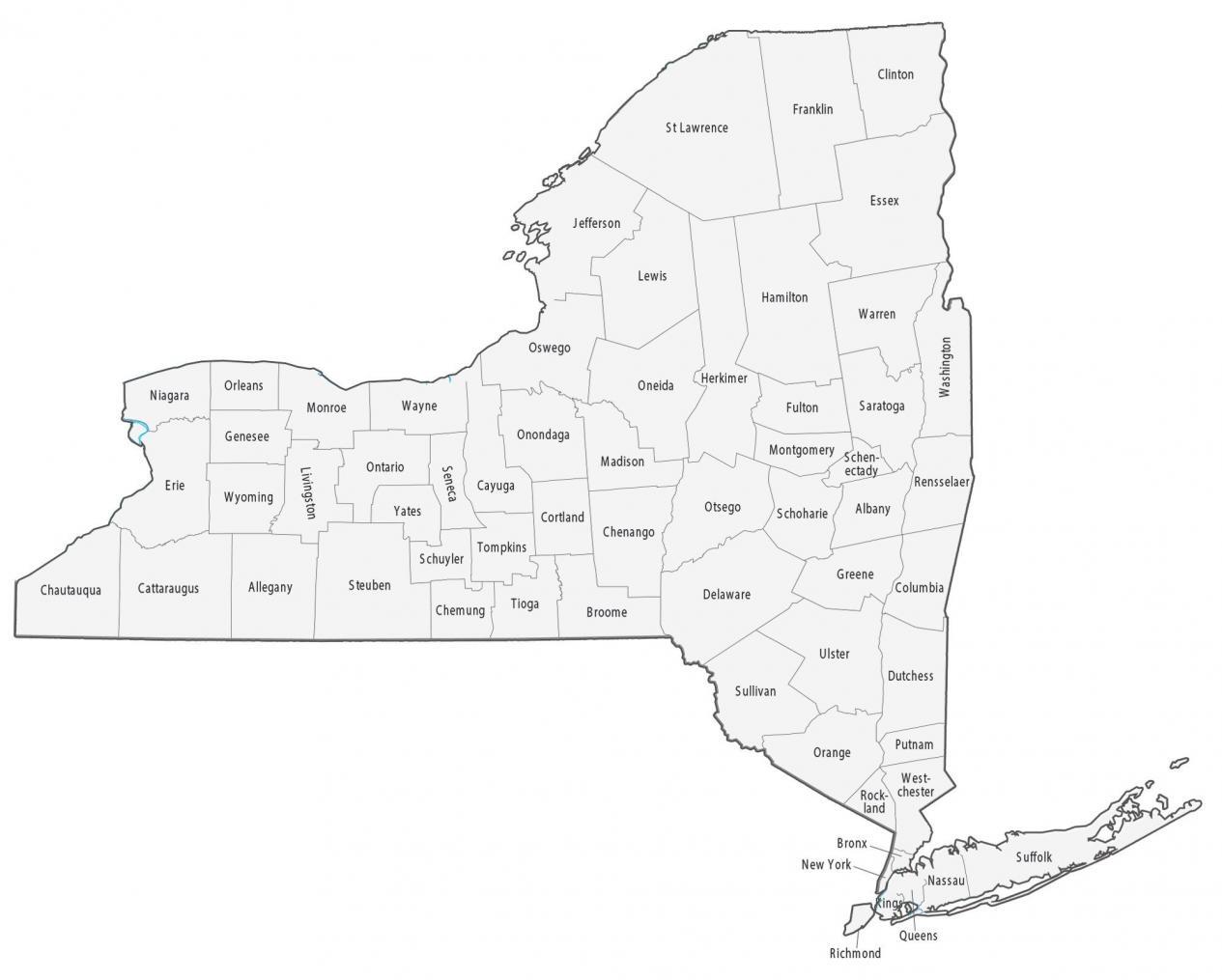 New York map collection
You are free to use our county map of New York for educational and commercial uses. Attribution is required. How to attribute?
About the map
This New York county map displays its 62 counties. New York City is divided into New York County (Manhattan), Kings County (Brooklyn), Bronx County (The Bronx), Queens County (Queens), and Richmond County (Staten Island). So, despite the fact New York City is the most populated city in the United States with 8.4 million people, its populations are distributed rather evenly between these 5 counties.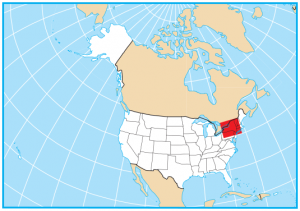 New York's most populated county is King's County with over 2.5 million people. Next, Queens County has a bit over 2.25 million. This is followed by New York County, Suffolk County, and Bronx County. The county with the lowest population in New York is Hamilton County with under 5,000 people.
For size, Saint Lawrence County is the largest with an area of 2821.3 square miles. The smallest county is New York County with just under 23 square miles of area. The counties that belong to Long Island are Kings, Queens, Nassau, and Suffolk from west to east.
New York County List
| County Name | Population (est 2020) | County Map | Area (sq mi) | Locator Map | FIPS Code |
| --- | --- | --- | --- | --- | --- |
| Albany County | 303,654 | Albany County | 533.1 | Albany County Map | 36001 |
| Allegany County | 45,587 | Allegany County | 1035.1 | Allegany County Map | 36003 |
| Bronx County | 1,401,142 | Bronx County | 42.8 | Bronx County Map | 36005 |
| Broome County | 189,420 | Broome County | 714.2 | Broome County Map | 36007 |
| Cattaraugus County | 75,863 | Cattaraugus County | 1323.2 | Cattaraugus County Map | 36009 |
| Cayuga County | 76,029 | Cayuga County | 734.1 | Cayuga County Map | 36011 |
| Chautauqua County | 126,032 | Chautauqua County | 1085.3 | Chautauqua County Map | 36013 |
| Chemung County | 82,622 | Chemung County | 412.8 | Chemung County Map | 36015 |
| Chenango County | 46,730 | Chenango County | 899.4 | Chenango County Map | 36017 |
| Clinton County | 79,778 | Clinton County | 1118.7 | Clinton County Map | 36019 |
| Columbia County | 59,534 | Columbia County | 648.3 | Columbia County Map | 36021 |
| Cortland County | 47,173 | Cortland County | 501.5 | Cortland County Map | 36023 |
| Delaware County | 43,938 | Delaware County | 1468.5 | Delaware County Map | 36025 |
| Dutchess County | 293,293 | Dutchess County | 825.4 | Dutchess County Map | 36027 |
| Erie County | 917,241 | Erie County | 1045.8 | Erie County Map | 36029 |
| Essex County | 36,891 | Essex County | 1916.6 | Essex County Map | 36031 |
| Franklin County | 49,965 | Franklin County | 1697.5 | Franklin County Map | 36033 |
| Fulton County | 52,812 | Fulton County | 532.9 | Fulton County Map | 36035 |
| Genesee County | 56,994 | Genesee County | 495.3 | Genesee County Map | 36037 |
| Greene County | 47,177 | Greene County | 658.1 | Greene County Map | 36039 |
| Hamilton County | 4,345 | Hamilton County | 1807.8 | Hamilton County Map | 36041 |
| Herkimer County | 60,945 | Herkimer County | 1458.4 | Herkimer County Map | 36043 |
| Jefferson County | 108,095 | Jefferson County | 1344.3 | Jefferson County Map | 36045 |
| Kings County | 2,538,934 | Kings County | 70.6 | Kings County Map | 36047 |
| Lewis County | 26,187 | Lewis County | 1289.9 | Lewis County Map | 36049 |
| Livingston County | 62,398 | Livingston County | 640.3 | Livingston County Map | 36051 |
| Madison County | 70,478 | Madison County | 661.5 | Madison County Map | 36053 |
| Monroe County | 740,900 | Monroe County | 666 | Monroe County Map | 36055 |
| Montgomery County | 49,170 | Montgomery County | 410.5 | Montgomery County Map | 36057 |
| Nassau County | 1,351,334 | Nassau County | 291.9 | Nassau County Map | 36059 |
| New York County | 1,611,989 | New York County | 22.9 | New York County Map | 36061 |
| Niagara County | 208,396 | Niagara County | 526.5 | Niagara County Map | 36063 |
| Oneida County | 227,346 | Oneida County | 1257.1 | Oneida County Map | 36065 |
| Onondaga County | 459,214 | Onondaga County | 805.8 | Onondaga County Map | 36067 |
| Ontario County | 110,091 | Ontario County | 662.7 | Ontario County Map | 36069 |
| Orange County | 385,234 | Orange County | 839.4 | Orange County Map | 36071 |
| Orleans County | 39,978 | Orleans County | 393.1 | Orleans County Map | 36073 |
| Oswego County | 116,346 | Oswego County | 1014.6 | Oswego County Map | 36075 |
| Otsego County | 58,701 | Otsego County | 1015.4 | Otsego County Map | 36077 |
| Putnam County | 98,532 | Putnam County | 246.3 | Putnam County Map | 36079 |
| Queens County | 2,225,821 | Queens County | 109.8 | Queens County Map | 36081 |
| Rensselaer County | 158,108 | Rensselaer County | 665.7 | Rensselaer County Map | 36083 |
| Richmond County | 475,327 | Richmond County | 58.9 | Richmond County Map | 36085 |
| Rockland County | 326,225 | Rockland County | 177.5 | Rockland County Map | 36087 |
| Saint Lawrence County | 107,185 | Saint Lawrence County | 2821.3 | Saint Lawrence County Map | 36089 |
| Saratoga County | 230,298 | Saratoga County | 843.3 | Saratoga County Map | 36091 |
| Schenectady County | 155,358 | Schenectady County | 209.4 | Schenectady County Map | 36093 |
| Schoharie County | 31,132 | Schoharie County | 626.3 | Schoharie County Map | 36095 |
| Schuyler County | 17,685 | Schuyler County | 342.2 | Schuyler County Map | 36097 |
| Seneca County | 33,991 | Seneca County | 390.2 | Seneca County Map | 36099 |
| Steuben County | 94,657 | Steuben County | 1404.5 | Steuben County Map | 36101 |
| Suffolk County | 1,474,273 | Suffolk County | 934.1 | Suffolk County Map | 36103 |
| Sullivan County | 75,802 | Sullivan County | 997.9 | Sullivan County Map | 36105 |
| Tioga County | 47,904 | Tioga County | 520.8 | Tioga County Map | 36107 |
| Tompkins County | 101,058 | Tompkins County | 491.7 | Tompkins County Map | 36109 |
| Ulster County | 177,716 | Ulster County | 1160.8 | Ulster County Map | 36111 |
| Warren County | 63,756 | Warren County | 931.9 | Warren County Map | 36113 |
| Washington County | 60,606 | Washington County | 846.6 | Washington County Map | 36115 |
| Wayne County | 89,339 | Wayne County | 607.1 | Wayne County Map | 36117 |
| Westchester County | 965,802 | Westchester County | 450.7 | Westchester County Map | 36119 |
| Wyoming County | 39,465 | Wyoming County | 596.5 | Wyoming County Map | 36121 |
| Yates County | 24,780 | Yates County | 375.8 | Yates County Map | 36123 |
City Maps of New York
References