Map of Sacramento, California

Map of Sacramento
Explore Sacramento! Take a look at this Sacramento map with highways, roads, places of interest, and things to do. If you really want to get acquainted with Sacramento, the capital city of California, then check out our interactive map.
Sacramento is located in central California in the Sacramento Valley on the east side of the Sacramento River. The population of Sacramento is estimated to be over 500,000 people and is one of the largest cities in northern California.
Sacramento is a city with a lot to offer. From its vibrant neighborhoods to its history, there's something for everyone in Sacramento. And if you're looking for a comprehensive guide to the city, you can discover the city's best places, history, and landmarks all on one map.
Jump To: Interactive Map | Printable Road Map | 10 Things to Do | Reference Map
Sacramento map collection
Interactive Map of Sacramento
This interactive map is the perfect tool to explore the city of Sacramento. Browse around and discover the hidden gems, foodie hotspots, and must-see attractions with ease. With the interactive map of Sacramento, you can find the perfect place for your next outing. Whether you're looking for a new home, planning a visit, or just want to explore your city, our map is your key to getting around.
Sacramento Road Map
Not sure how to get around Sacramento? This map lets you explore the city of Sacramento with ease. It guides you through the most interesting parts of Sacramento and its surrounding areas. Not only does it include major highways and roads, but it's also color-coded to easier visualize. Our map of Sacramento will help you plan your day and find the perfect place to enjoy it. But for any travel outside Sacramento, you will want to use our California road map to navigate around the state.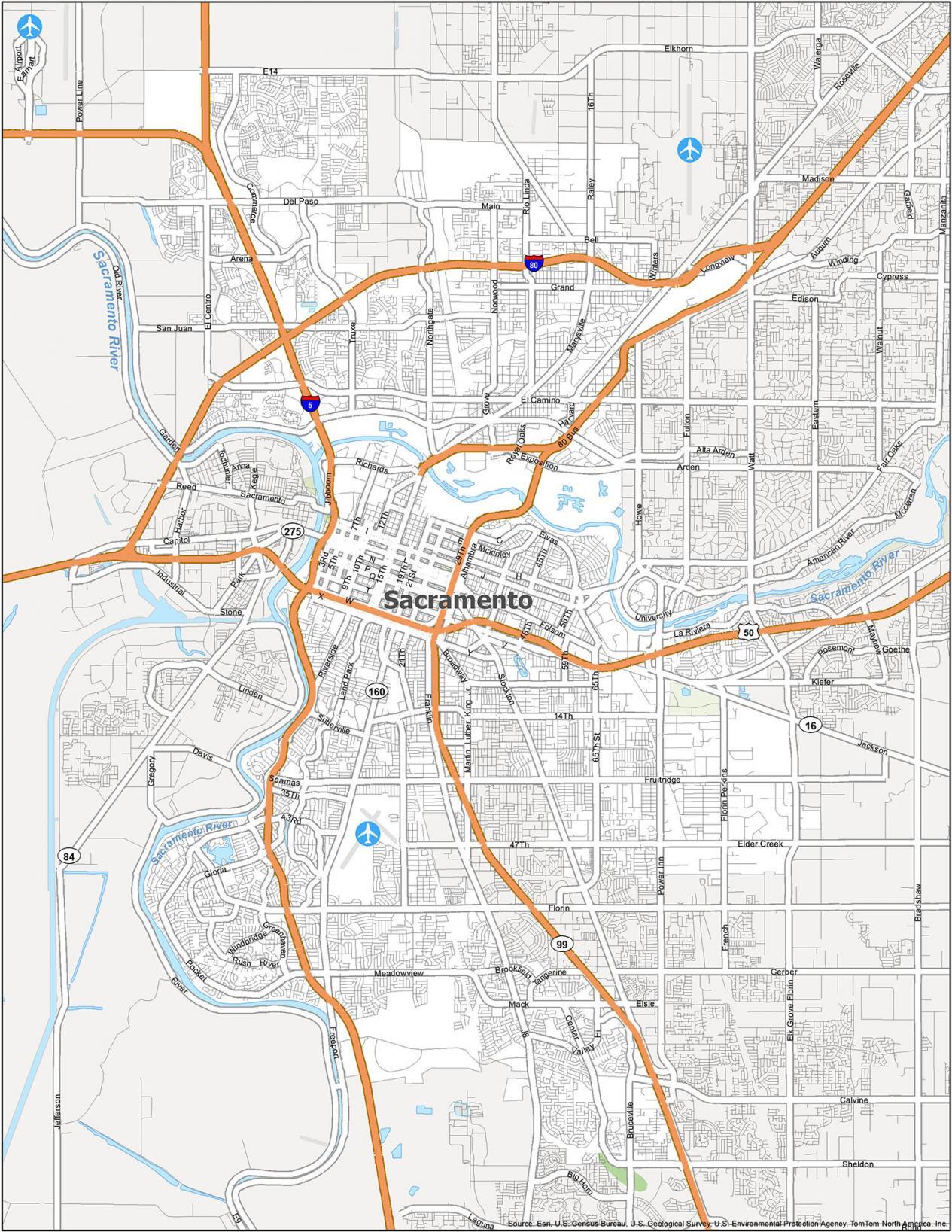 Interstate Highways: I-5, I-80
US Highways: 16, 50, 99, 160, Garden Hwy
Expressways/Parkways: Alta Arden Expy, Center Pky,
Major Roads: 5th St, 12th St, 15th St, 16th St, 19th St, 21st St, 29th St, 30th St, Alhambra Blvd, Broadway, Carlson Dr, College Town Dr, Del Paso Blvd, Esplanade, Exposition Blvd, Fair Oaks Blvd, Florin Rd, Folsom Blvd, Freeport Blvd, H St, Howe Ave, Jackson Rd, Jibboom St, Marysville Blvd, Stockton Blvd
10 Things To Do in Sacramento
Sacramento is a treasure trove of cultural, historic, and natural wonders. Our map is the perfect accompaniment to your vacation and it makes it easy for you to explore all that Sacramento has to offer. From the best local attractions and activities to the top museums and trails, this map will help you explore and find all the places you need to go.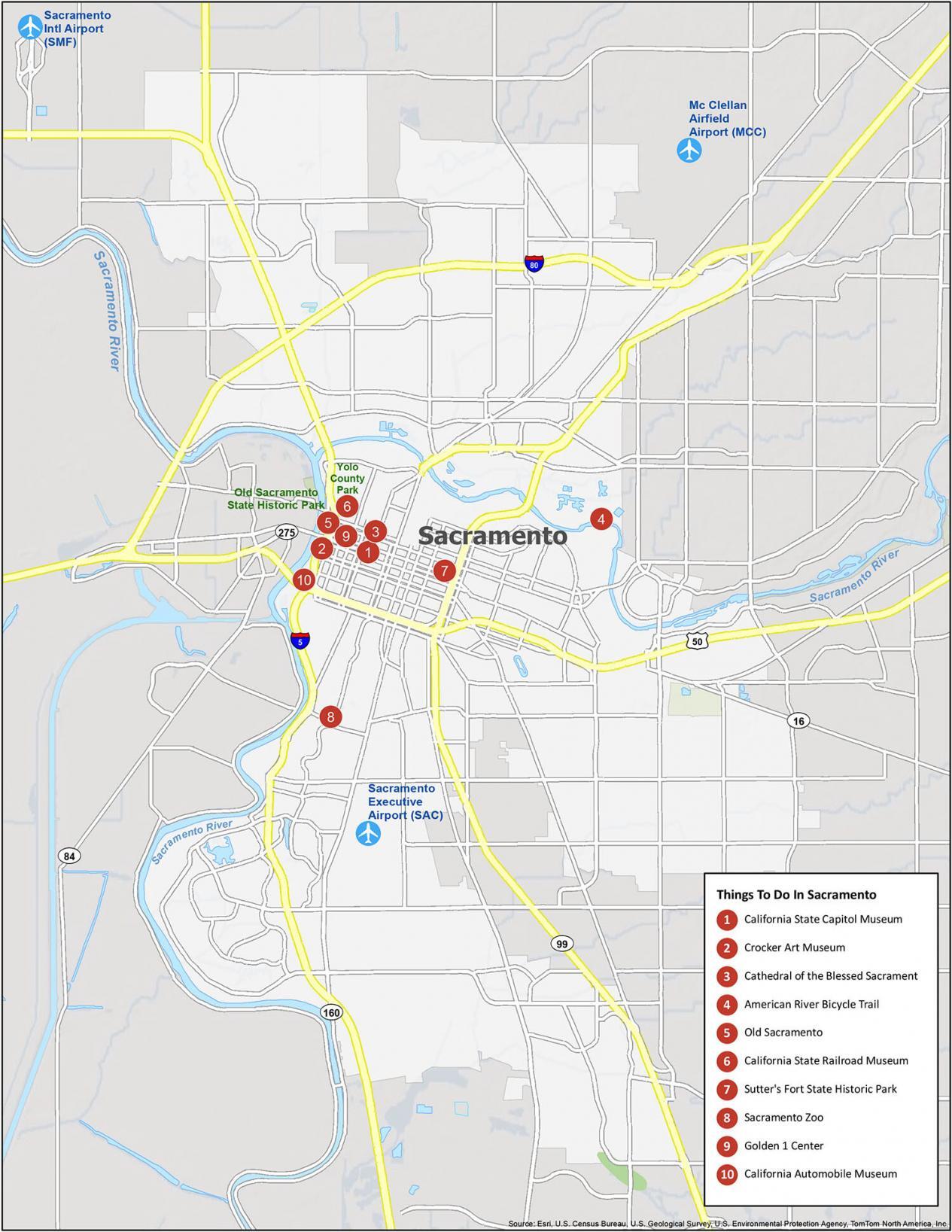 Sacramento is known for its history during the gold rush and is the capital of California. If you ever travel to Sacramento, we highly recommend these 10 things to do.
California State Capitol Museum
Crocker Art Museum
Cathedral of the Blessed Sacrament
American River Bicycle Trail
Old Sacramento
California State Railroad Museum
Sutter's Fort State Historic Park
Sacramento Zoo
Golden 1 Center
California Automobile Museum
Sacramento Reference Map
Want to explore the city of Sacramento? Get inspired anywhere with the goal of discovering a new favorite place. This reference map will show you all the basic information you need to know about Sacramento and its surrounding cities, including parks, points of interest, and natural landmarks. Get familiar with your surroundings and explore the city like a local. Experience all the sights and sounds that Sacramento has to offer—no matter what your interests are.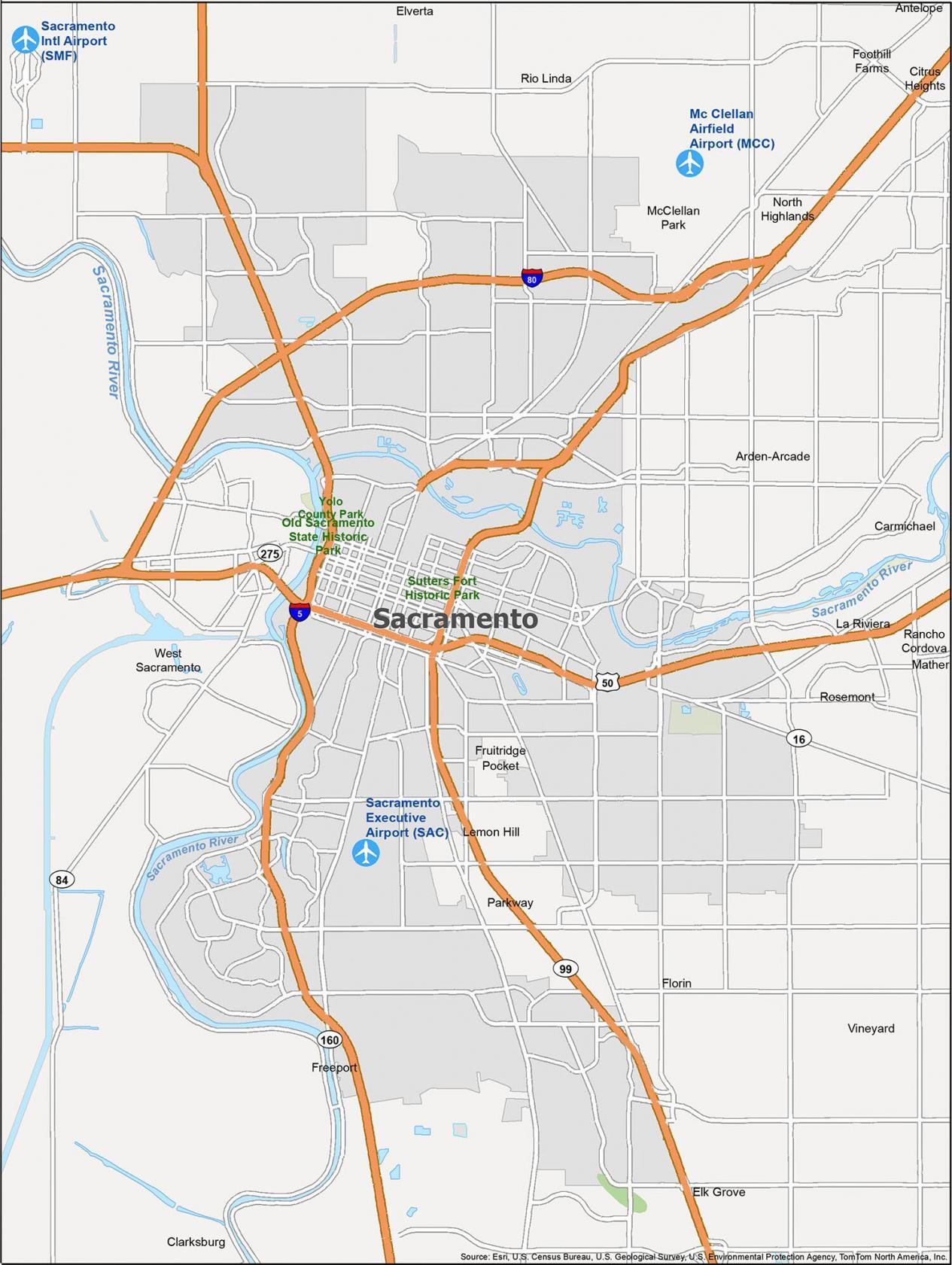 Airports: Sacramento International Airport (SMF)
Cities: Citrus Heights, Elk Grove, Rancho Cordova, Sacramento, West Sacramento
Census-designated place (CDP): Arden-Arcade, Carmichael, Clarksburg, Elverta, Florin, Foothill Farms, Freeport, Fruitridge Pocket, La Riviera, Lemon Hill, Mather, McClellan Park, North Highlands, Parkway, Rio Linda, Rosemont, Vineyard
Forests/Parks: Old Sacramento State Historic Park, Sutters Fort Historic Park, Yolo County Park
Sacramento, California maps
California map collection
References