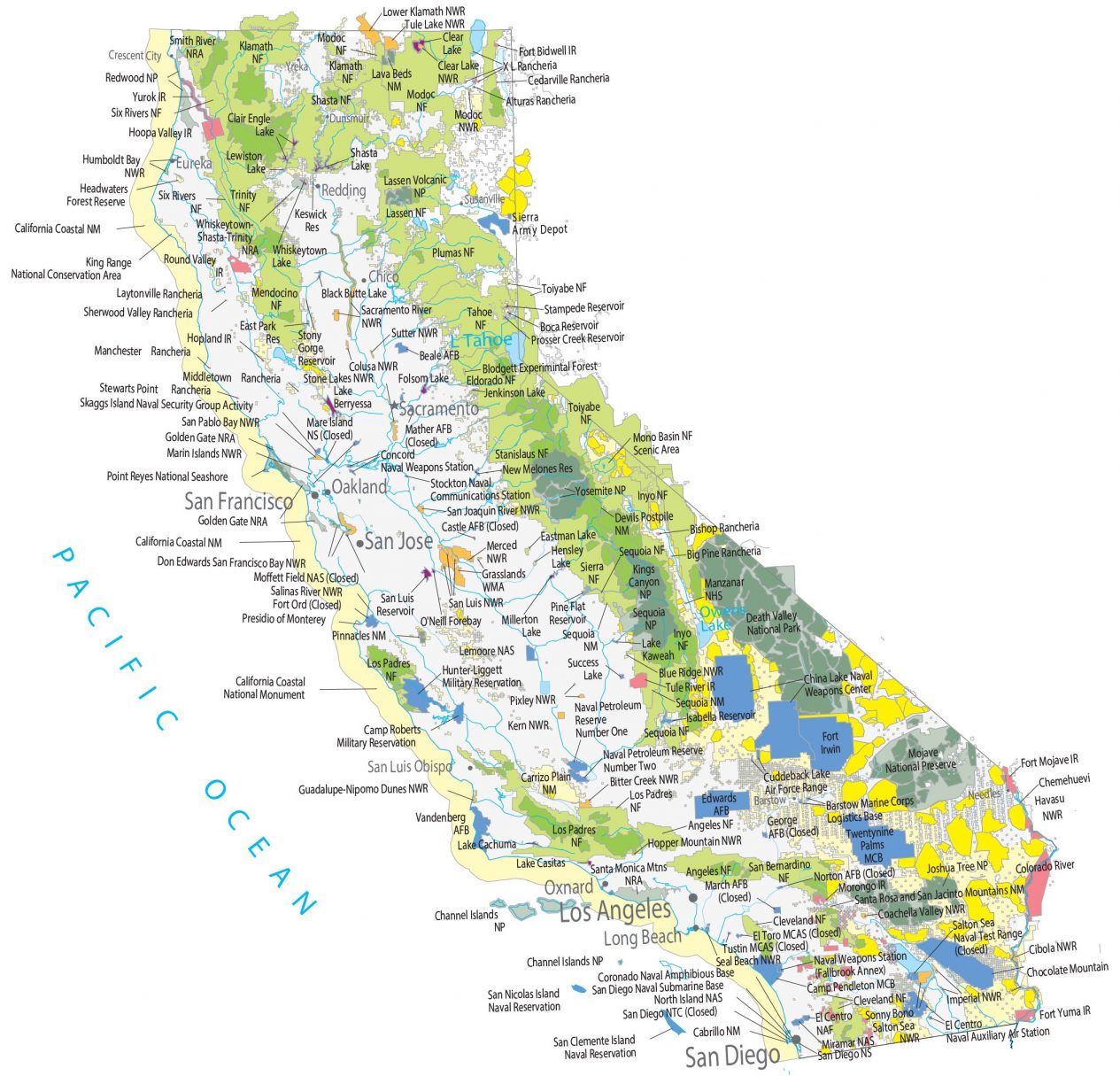 About the map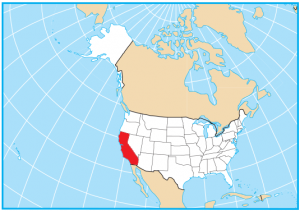 This California State Map shows major landmarks, places, and federal lands. For example, it features everything from national parks, forests, monuments in the state of California.
Just take a look at the map above and notice how it's covered with landmarks and things to do. Start with the iconic Yosemite National Park. It's recognized for its waterfalls, deep valleys, and giant sequoias
Redwood National Park is famous for having some of the tallest trees in the world. Some of the biggest stand 350 feet tall, and are over 2000 years old! But Death Valley National Park is one the hottest and driest place in America, almost like a lifeless wasteland.
California map collection





National parks, forests and preserves
National Park
Redwood NP
Lassen Volcanic NP
Joshua Tree NP
Yosemite NP
Channel Islands NP
Death Valley National Park
Sequoia NP
Kings Canyon NP
Mojave National Preserve
National Monument
Cabrillo NM
Lava Beds NM
California Coastal NM
Pinnacles NM
Carrizo Plain NM
Devils Postpile NM
Sequoia NM
Santa Rosa and San Jacinto Mountains NM
Sequoia NM
California Coastal NM
National Forest
Cleveland NF
Klamath NF
Rogue River NF
Trinity NF
Lassen NF
Modoc NF
Six Rivers NF
Shasta NF
Plumas NF
Mendocino NF
Tahoe NF
Toiyabe NF
Eldorado NF
Toiyabe NF
Los Padres NF
Stanislaus NF
Inyo NF
Mono Basin NF
Los Padres NF
Angeles NF
Sierra NF
Inyo NF
Sequoia NF
Cleveland NF
San Bernardino NF
National Wildlife Refuge
Lower Klamath NWR
Clear Lake NWR
Tule Lake NWR
Modoc NWR
Humboldt Bay NWR
Sacramento River NWR
Sutter NWR
Marin Islands NWR
San Pablo Bay NWR
Stone Lakes NWR
Don Edwards San Francisco Bay NWR
San Joaquin River NWR
Salinas River NWR
San Luis NWR
Merced NWR
Bitter Creek NWR
Guadalupe-Nipomo Dunes NWR
Hopper Mountain NWR
Kern NWR
Pixley NWR
Blue Ridge NWR
Cibola NWR
Imperial NWR
Seal Beach NWR
Colusa NWR
Havasu NWR
Coachella Valley NWR
National Recreation Area
Whiskeytown-Shasta-Trinity NRA
Golden Gate NRA
Santa Monica Mtns NRA
Smith River NRA
Conservation Areas
Blodgett Experimental Forest
Point Reyes National Seashore
O'Neill Forebay WMA
Manzanar NHS
Mojave National Preserve
King Range NCA
Headwaters Forest Reserve
San Diego Naval Station
Coronado Naval Amphibious Base
San Diego Naval Training Center (Closed)
North Island Naval Air Station
San Diego Submarine Base
El Centro Naval Auxiliary Air Station
Sierra Army Depot
Beale Air Force Base
Stockton Naval Station
Concord Naval Weapons Station
Mare Island NS (Closed)
Skaggs Island Naval Security
Mather AFB (Closed)
Presidio of Monterey Army Installation
Fort Ord (Closed)
Moffett Field NAS (Closed)
Hunter-Liggett Reservation
Castle AFB (Closed)
Naval Petroleum Reserve
Camp Roberts Reservation
Vandenberg AFB
Lemoore NAS
China Lake Naval Weapons Center
George AFB (Closed)
Edwards AFB
Air Force Range
Fort Irwin
Barstow Marine Corps
Logistics Base
Tustin MCAS (Closed)
El Toro MCAS (Closed)
Norton AFB (Closed)
Twentynine Palms MCB
Naval Weapons Station
Fallbrook Naval Station
Naval Aerial Gunnery Range
San Nicolas Island Naval Reservation
March AFB (Closed)
Camp Pendleton MCB
Miramar NAS
El Centro NAF
San Clemente Island Naval Reservation
California State Map – Landmarks and places
Los Angeles
San Diego
San Francisco
San Jose
Sacramento
Long Beach
Oakland
Oxnard
San Luis Obispo
Chico
Eureka
Redding
Barstow
Crescent City
Dunsmuir
Needles
Susanville
Yreka
State capital
Sacramento
Lakes, rivers and reservoirs
Clear Lake
Clair Engle Lake
Keswick Reservoir
Shasta Lake
Lewiston Lake
Whiskeytown Lake
Stony Gorge Reservoir
East Park Reservoir
Black Butte Lake
Boca Reservoir
Prosser Creek Reservoir
Stampede Reservoir
Lake Berryessa
Jenkinson Lake
San Luis Reservoir
Hensley Lake
Eastman Lake
Isabella Reservoir
Lake Casitas
Lake Cachuma
New Melones Reservoir
Pine Flat Reservoir
Millerton Lake
Lake Kaweah
Success Lake
Cuddeback Lake
Folsom Lake
Salton Sea
L Tahoe
Owens Lake
Indian Reserves
Hoopa Valley IR
Round Valley IR
Stewarts Point Rancheria
Laytonville Rancheria
Sherwood Valley Rancheria
Manchester Rancheria
Hopland IR
Middletown Rancheria
Colorado River IR
Chemehuevi IR
Morongo IR
Yurok IR
Fort Bidwell IR
Cedarville Rancheria
X L Rancheria
Alturas Rancheria
Bishop Rancheria
Big Pine Rancheria
Tule River IR
Fort Mojave IR
Fort Yuma IR
Free US Maps
Select a state to view its map