About the map
This California county map displays its 58 counties. If you count all counties for each state in the United States, California ranks 27th. Despite having a population more than Canada, it only has 58 counties!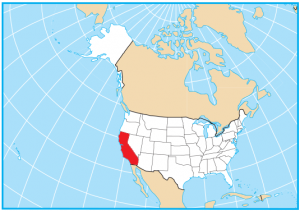 Think about it: If California left the United States, it would be the world's 7th most superpower. So, this means that California has some of the most populated counties in all of America. In fact, Los Angeles has the highest population in the US with over 10 million people. That's almost more than double the second-highest populated county, Cook County in Illinois.
Then, San Diego, Orange, and Riverside County have the next highest population in California. But for size, San Bernardino, Inyo, and Kern County have the highest areas in California. As for the smallest area, San Francisco County is just 46.1 square miles. But it remains a hub for innovation in technology and digital transformation.
California map collection
You are free to use our county map of California for educational and commercial uses. Attribution is required. How to attribute?
California county list
| County Name | Population (2020 est) | County Map | Area (sq mi) | Locator Map | FIPS Code |
| --- | --- | --- | --- | --- | --- |
| Alameda County | 1,662,323 | Alameda County | 744.5 | Alameda County Map | 6001 |
| Alpine County | 1,119 | Alpine County | 740.1 | Alpine County Map | 6003 |
| Amador County | 40,083 | Amador County | 600.4 | Amador County Map | 6005 |
| Butte County | 212,744 | Butte County | 1679 | Butte County Map | 6007 |
| Calaveras County | 46,308 | Calaveras County | 1036.3 | Calaveras County Map | 6009 |
| Colusa County | 21,558 | Colusa County | 1158.9 | Colusa County Map | 6011 |
| Contra Costa County | 1,152,333 | Contra Costa County | 733.7 | Contra Costa County Map | 6013 |
| Del Norte County | 27,968 | Del Norte County | 1013.2 | Del Norte County Map | 6015 |
| El Dorado County | 192,925 | El Dorado County | 1788.5 | El Dorado County Map | 6017 |
| Fresno County | 1,000,918 | Fresno County | 6010.8 | Fresno County Map | 6019 |
| Glenn County | 28,283 | Glenn County | 1323.3 | Glenn County Map | 6021 |
| Humboldt County | 134,977 | Humboldt County | 3584.4 | Humboldt County Map | 6023 |
| Imperial County | 180,267 | Imperial County | 4495.6 | Imperial County Map | 6025 |
| Inyo County | 18,046 | Inyo County | 10223.4 | Inyo County Map | 6027 |
| Kern County | 901,362 | Kern County | 8156.5 | Kern County Map | 6029 |
| Kings County | 152,692 | Kings County | 1387.3 | Kings County Map | 6031 |
| Lake County | 64,479 | Lake County | 1331.8 | Lake County Map | 6033 |
| Lassen County | 30,016 | Lassen County | 4718.5 | Lassen County Map | 6035 |
| Los Angeles County | 9,943,046 | Los Angeles County | 4079.5 | Los Angeles County Map | 6037 |
| Madera County | 157,761 | Madera County | 2151.8 | Madera County Map | 6039 |
| Marin County | 257,332 | Marin County | 526.4 | Marin County Map | 6041 |
| Mariposa County | 17,160 | Mariposa County | 1463.7 | Mariposa County Map | 6043 |
| Mendocino County | 86,061 | Mendocino County | 3513.9 | Mendocino County Map | 6045 |
| Merced County | 279,252 | Merced County | 1972.8 | Merced County Map | 6047 |
| Modoc County | 8,763 | Modoc County | 4201.3 | Modoc County Map | 6049 |
| Mono County | 14,534 | Mono County | 3127.5 | Mono County Map | 6051 |
| Monterey County | 430,906 | Monterey County | 3313.2 | Monterey County Map | 6053 |
| Napa County | 135,965 | Napa County | 785.4 | Napa County Map | 6055 |
| Nevada County | 99,606 | Nevada County | 978.5 | Nevada County Map | 6057 |
| Orange County | 3,166,857 | Orange County | 797.2 | Orange County Map | 6059 |
| Placer County | 402,950 | Placer County | 1498.8 | Placer County Map | 6061 |
| Plumas County | 18,967 | Plumas County | 2613 | Plumas County Map | 6063 |
| Riverside County | 2,489,188 | Riverside County | 7316.2 | Riverside County Map | 6065 |
| Sacramento County | 1,559,146 | Sacramento County | 985.7 | Sacramento County Map | 6067 |
| San Benito County | 64,055 | San Benito County | 1393.5 | San Benito County Map | 6069 |
| San Bernardino County | 2,189,183 | San Bernardino County | 20097.8 | San Bernardino County Map | 6071 |
| San Diego County | 3,332,427 | San Diego County | 4243.4 | San Diego County Map | 6073 |
| San Francisco County | 866,606 | San Francisco County | 48.1 | San Francisco County Map | 6075 |
| San Joaquin County | 767,967 | San Joaquin County | 1427.8 | San Joaquin County Map | 6077 |
| San Luis Obispo County | 282,249 | San Luis Obispo County | 3310.2 | San Luis Obispo County Map | 6079 |
| San Mateo County | 758,308 | San Mateo County | 453.3 | San Mateo County Map | 6081 |
| Santa Barbara County | 444,766 | Santa Barbara County | 2751.2 | Santa Barbara County Map | 6083 |
| Santa Clara County | 1,907,105 | Santa Clara County | 1299.1 | Santa Clara County Map | 6085 |
| Santa Cruz County | 269,925 | Santa Cruz County | 448.3 | Santa Cruz County Map | 6087 |
| Shasta County | 179,027 | Shasta County | 3847.1 | Shasta County Map | 6089 |
| Sierra County | 2,920 | Sierra County | 955 | Sierra County Map | 6091 |
| Siskiyou County | 43,245 | Siskiyou County | 6347.4 | Siskiyou County Map | 6093 |
| Solano County | 446,935 | Solano County | 842.9 | Solano County Map | 6095 |
| Sonoma County | 489,819 | Sonoma County | 1589.8 | Sonoma County Map | 6097 |
| Stanislaus County | 550,081 | Stanislaus County | 1512.5 | Stanislaus County Map | 6099 |
| Sutter County | 96,385 | Sutter County | 609 | Sutter County Map | 6101 |
| Tehama County | 64,494 | Tehama County | 2961.2 | Tehama County Map | 6103 |
| Trinity County | 12,216 | Trinity County | 3206.5 | Trinity County Map | 6105 |
| Tulare County | 468,680 | Tulare County | 4849.5 | Tulare County Map | 6107 |
| Tuolumne County | 54,515 | Tuolumne County | 2277.3 | Tuolumne County Map | 6109 |
| Ventura County | 841,387 | Ventura County | 1856.1 | Ventura County Map | 6111 |
| Yolo County | 219,728 | Yolo County | 1024 | Yolo County Map | 6113 |
| Yuba County | 80,160 | Yuba County | 645.4 | Yuba County Map | 6115 |
City Maps of California
References