San Francisco Map, California

Map of San Francisco
Do you need a map of San Francisco? We have exactly what you need. Our free San Francisco map collection has roads, highways, reference information, and things to do. But first, don't forget to explore the city with our interactive map provided by Google Maps.
San Francisco is located on a peninsula in western California. It's surrounded by the San Francisco Bay to the east, and the Gulf of the Farallones to the west. As the fourth most populous city in California, San Francisco is a global financial and technology hub.
Whether you're looking for its celebrated architecture, the beautiful beaches, or the delicious food, San Francisco has something for everyone. Find everything you need to know in this San Francisco map collection.
Jump To: Interactive Map | Printable Road Map | 10 Things to Do | Reference Map
San Francisco map collection
Interactive Map of San Francisco
Traveling to San Francisco? You should know that San Francisco, California is one of the most vibrant and forward-thinking cities in the United States. Stay on top of everything you want to do, including attractions, shopping, and more. Our interactive map is the ultimate guide to experiencing the best parts of the city.
This map contains the most up-to-date, detailed, and accurate information about San Francisco. Not only is it updated regularly, but it also includes the latest information on all of the top attractions, restaurants, hotels, tourist destinations, and more.
San Francisco Road Map
With this road map, you'll be able to get your bearings and find anything and everything in the city that has it all. Use this San Francisco road map to plan your journey and see what attractions and neighborhoods you should visit while in San Francisco. Don't get lost and get a taste of the city while you are here.
This road map will help you navigate your way around the city. Whether you're visiting or living in San Francisco, this map is indispensable for finding where you have to go. But if you decide to do a road trip outside the city, then refer to our California road map for highway information.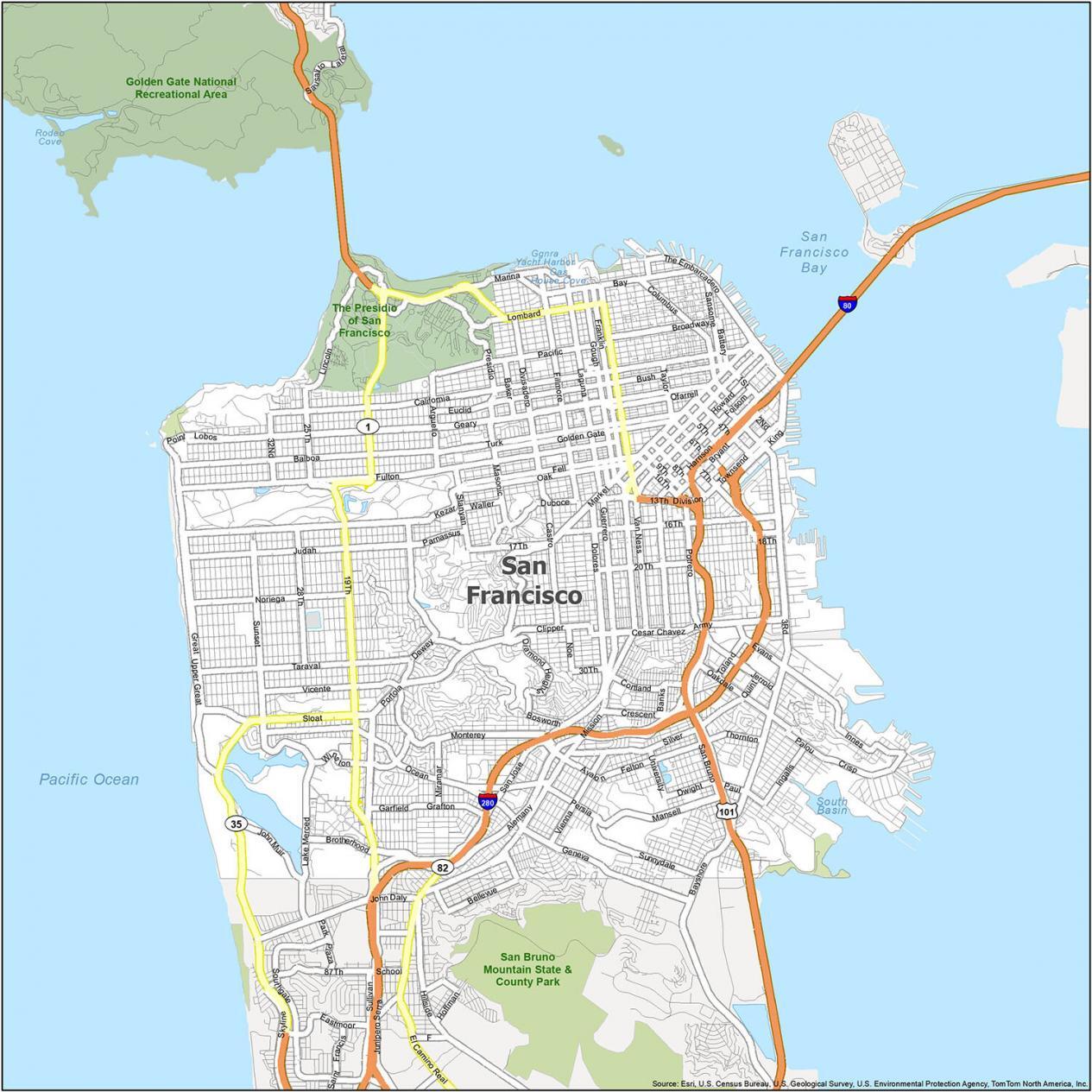 Interstate Highways: I-280, I-80
US Highways: 35, 82, 101, Great Hwy, Upper Great Hwy
Major Roads: 6th St, 19th Ave, Bryant St, Fell St, Franklin St, Geary St, Grant Ave, Harrison St, John F Kennedy Dr, Junipero Serra Blvd, Kennedy Dr, Kezar Dr, Lincoln Way, Lombard St, Market St, Mission St, Oak St, Octavia St, Ofarrell St, Portola Dr, Richardson Ave, Saint Francis Blvd, San Jose Ave, Skyline Blvd, Sloat Blvd, Starr King Way, Van Ness Ave
10 Things To Do in San Francisco
This map is the perfect companion if you are planning a vacation or just visiting the city. From Alcatraz Island to the Golden Gate Bridge, this map shows you the most important places to see and things to do in San Francisco.
With this map, we want to help you discover the many places San Francisco has to offer. Whether you are looking for your next tourist destination or are just curious to see how this area looks, this map will help you get around.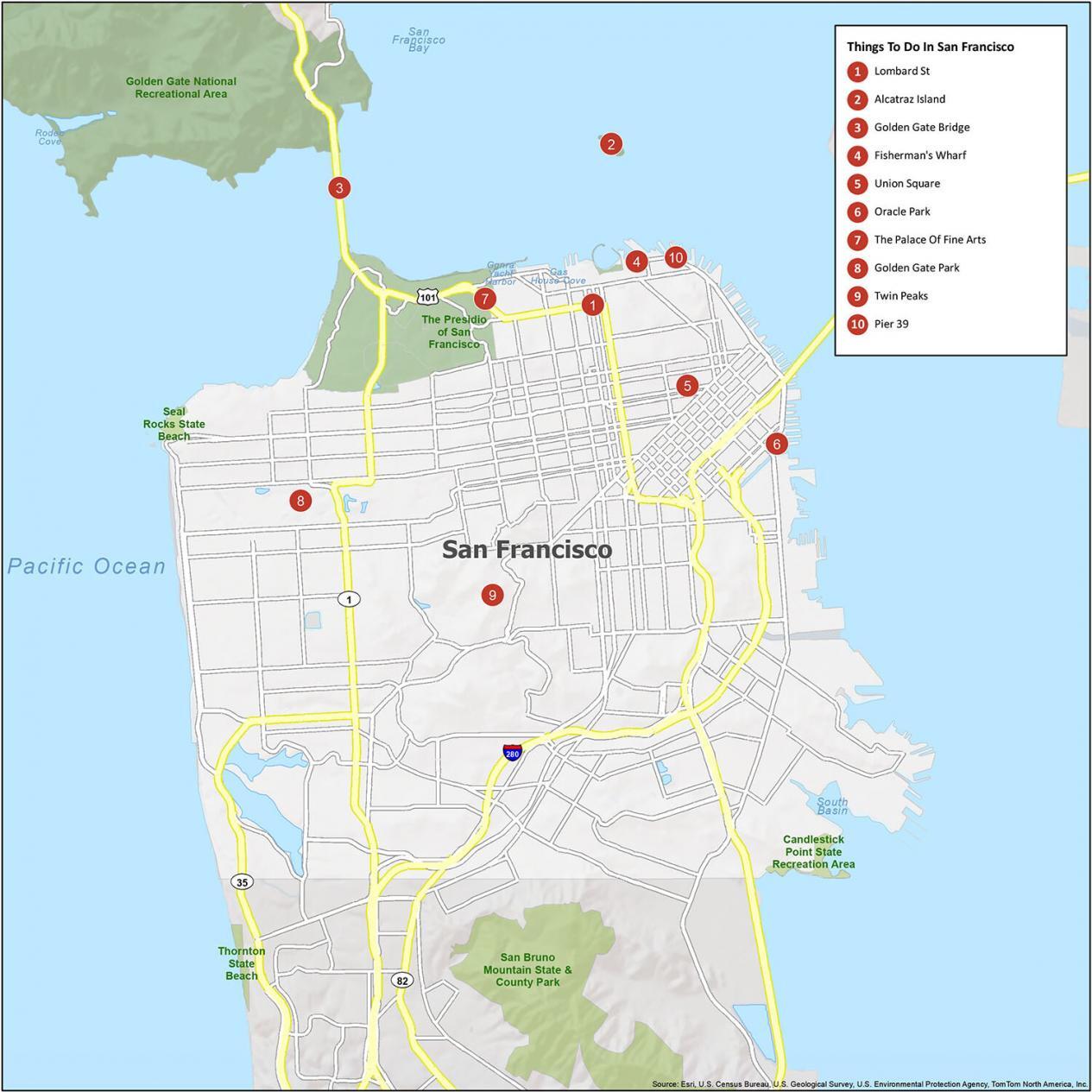 San Francisco is known for its iconic landmarks and being a global technology hub. If you ever travel to San Francisco, we highly recommend these 10 things to do.
Lombard St
Alcatraz Island
Golden Gate Bridge
Fisherman's Wharf
Union Square
Oracle Park
The Palace Of Fine Arts
Golden Gate Park
Twin Peaks
Pier 39
San Francisco Reference Map
What better way to explore San Francisco than with this reference map? This map is great for planning your next vacation or exploring your next San Francisco adventure. It will give you a more complete view of the city and make it easier to find all of its amazing spots.
Get a snapshot of the city and its sights as you travel. Download, print, and use it to plan your route and make the most of your time in San Francisco, California.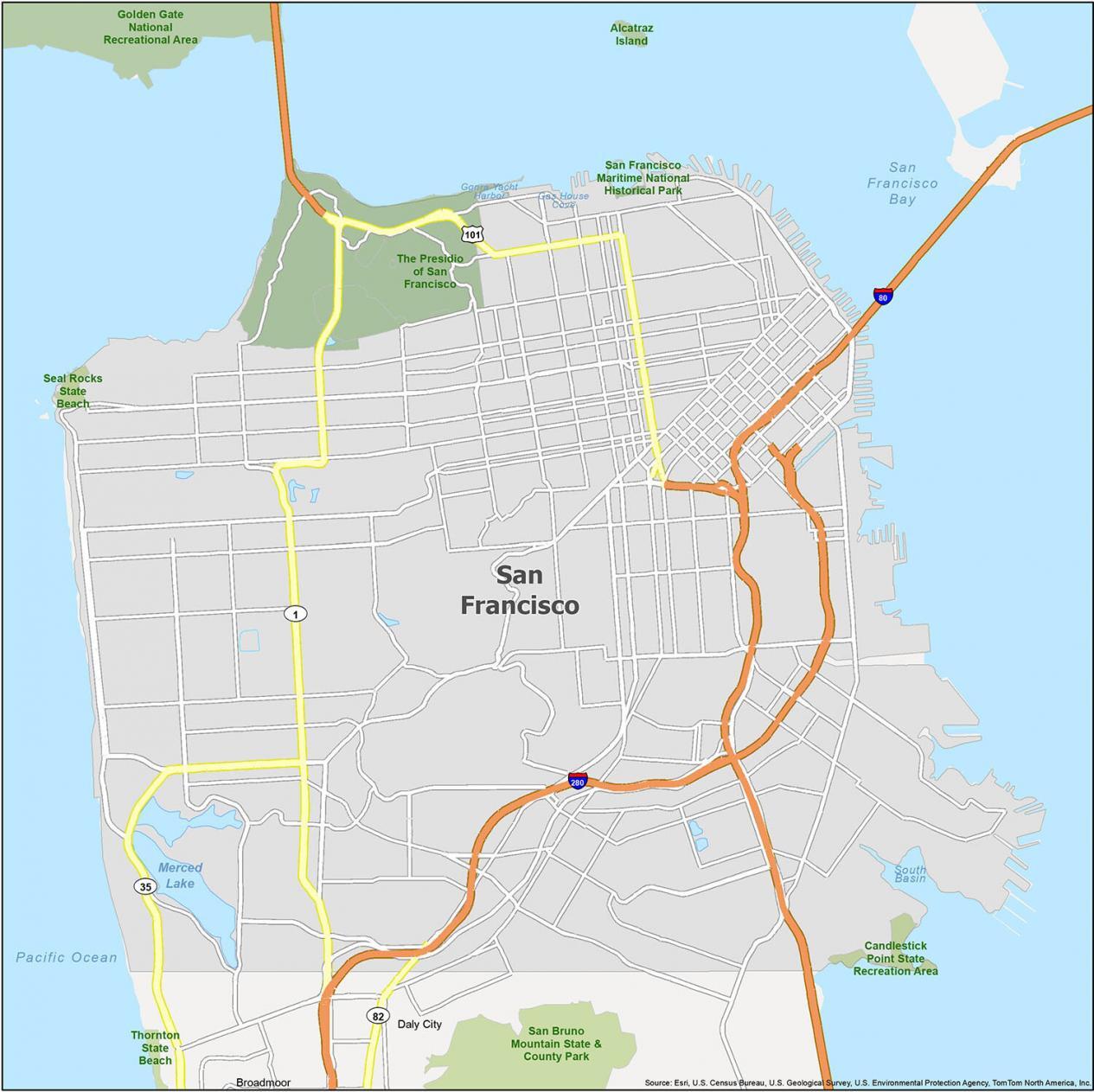 Cities: Alameda, Berkeley, Brisbane, Daly City, Emeryville, Oakland, San Francisco, Sausalito
Towns: Colma, Tiburon
Census-designated place (CDP): Broadmoor
Parks/Recreation: Alcatraz Island, Candlestick Point State Recreation Area, San Francisco Maritime National Historical Park, Seal Rocks State Beach, The Presidio of San Francisco,
Water: Gas House Cove, GGNRA Yacht Harbor, Merced Lake, Pacific Ocean, San Francisco Bay, South Basin
San Francisco map collection
California map collection
References