San Jose Neighborhood Map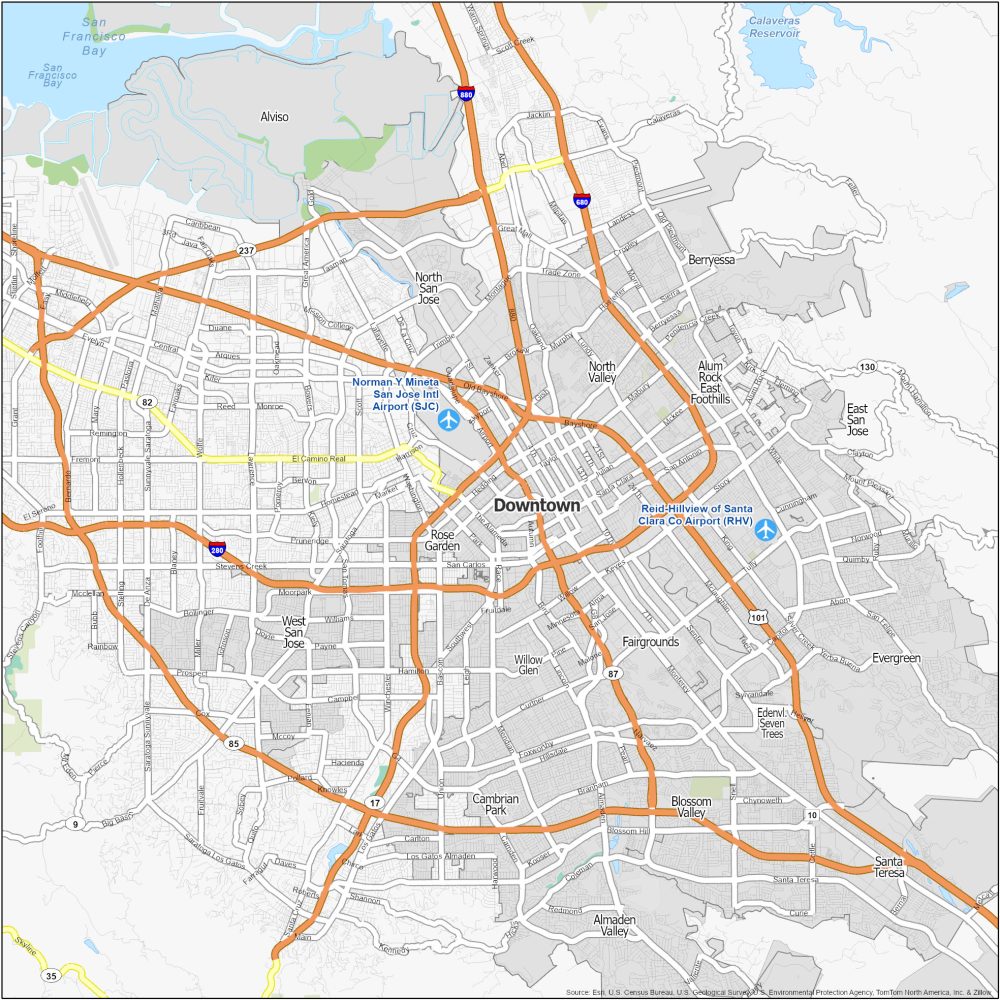 San Jose map collection
Neighborhoods in San Jose
Explore the diverse city of San Jose, California, through this detailed neighborhood map. Discover the distinct districts that contribute to the city's dynamic character and culture.
Willow Glen
Willow Glen is a neighborhood located to the south of downtown San Jose. Known for its tree-lined streets, historic architecture, and downtown area, it exudes a small-town feel within the bustling city. Residents enjoy a variety of local shops, boutiques, cafes, and restaurants. The community also hosts regular events, such as the Dancin' on the Avenue festival, making it a beloved destination for families and young professionals alike.
Rose Garden
Rose Garden, also known as the Rose Garden District, is an established and affluent neighborhood in San Jose. Its name comes from the historic Municipal Rose Garden, which features over 3,500 rose bushes. The area is characterized by well-maintained homes, tree-lined streets, and a strong sense of community. Residents appreciate the beautiful parks, excellent schools, and proximity to downtown San Jose and major freeways.
Downtown San Jose
The heart of the city, Downtown San Jose, is a hub of activity, featuring a mix of commercial, residential, and entertainment spaces. Home to the SAP Center (where the San Jose Sharks NHL team plays), the Tech Museum of Innovation, and numerous dining options, it attracts both locals and tourists. High-rise condos and apartments provide housing options for those seeking an urban lifestyle with easy access to cultural events, theaters, and nightlife.
Evergreen
Situated in the southeastern part of the city, Evergreen is a diverse and family-oriented neighborhood. It features a mix of single-family homes and townhouses, often nestled within the rolling hills and green spaces. Residents appreciate the quality of schools, community centers, and shopping options. The suburban ambiance, combined with proximity to job opportunities in Silicon Valley, makes Evergreen a desirable place to live.
Santana Row
Though technically a shopping and entertainment district, Santana Row has become an increasingly popular place to live in San Jose. Offering a mix of upscale apartments, condos, and townhouses, it attracts a trendy and affluent crowd. Residents enjoy a wide range of luxury retailers, gourmet dining options, and a vibrant nightlife scene, all within a pedestrian-friendly environment.
Japantown
Japantown is a unique neighborhood in San Jose, known for its rich cultural heritage and historical significance. It's one of the last three remaining Japantowns in the United States and offers a blend of traditional Japanese architecture and contemporary influences. The area boasts a wide array of authentic Japanese restaurants, shops, and annual cultural festivals, making it a vibrant and welcoming community.
Almaden Valley
Located in the southwestern part of San Jose, Almaden Valley is a picturesque and affluent neighborhood, surrounded by the scenic Santa Cruz Mountains. It offers a peaceful suburban environment with excellent schools, parks, and recreational areas, making it a popular choice for families. The area also provides various hiking trails, including those in Almaden Quicksilver County Park, which attract outdoor enthusiasts.
California map collection