Santa Barbara California Map
Map of Santa Barbara
Check out this Santa Barbara map with roads, highways, and things to do. It also features an interactive map to see the downtown and surrounding area.
Santa Barbara is a coastal city located in southwest California. With its Mediterranean atmosphere, winding streets, and beautiful architecture, it's a city that's full of history and culture.
Mission Creek flows through Santa Barbara from the upland Rattlesnake Canyon Park. It's the Santa Ynez Mountains that are tucked away to the north of the city of Santa Barbara. Learn more about it below.
Jump To: Interactive Map | Printable Road Map | 10 Things to Do | Reference Map
Santa Barbara map collection
Interactive Map of Santa Barbara
Get a sneak peek of what this city has to offer with this interactive map. With this guide, you'll be able to see all the attractions, restaurants, and nightlife that are worth exploring. This interactive map will help you plan your route and find the best places to visit in Santa Barbara. From its cliffs and beaches to its architecture and wine, the city has something for everyone.
Santa Barbara Road Map
Taking the time to explore Santa Barbara is a great way to get to know the city and its history. This Santa Barbara road map will help you plan your trip, and it will include all the interstates, state highways, and major roads that you need to know about. Get a quick, easy overview of Santa Barbara with this printable map. But for any travel outside the city, you can refer to our California road map for highway information.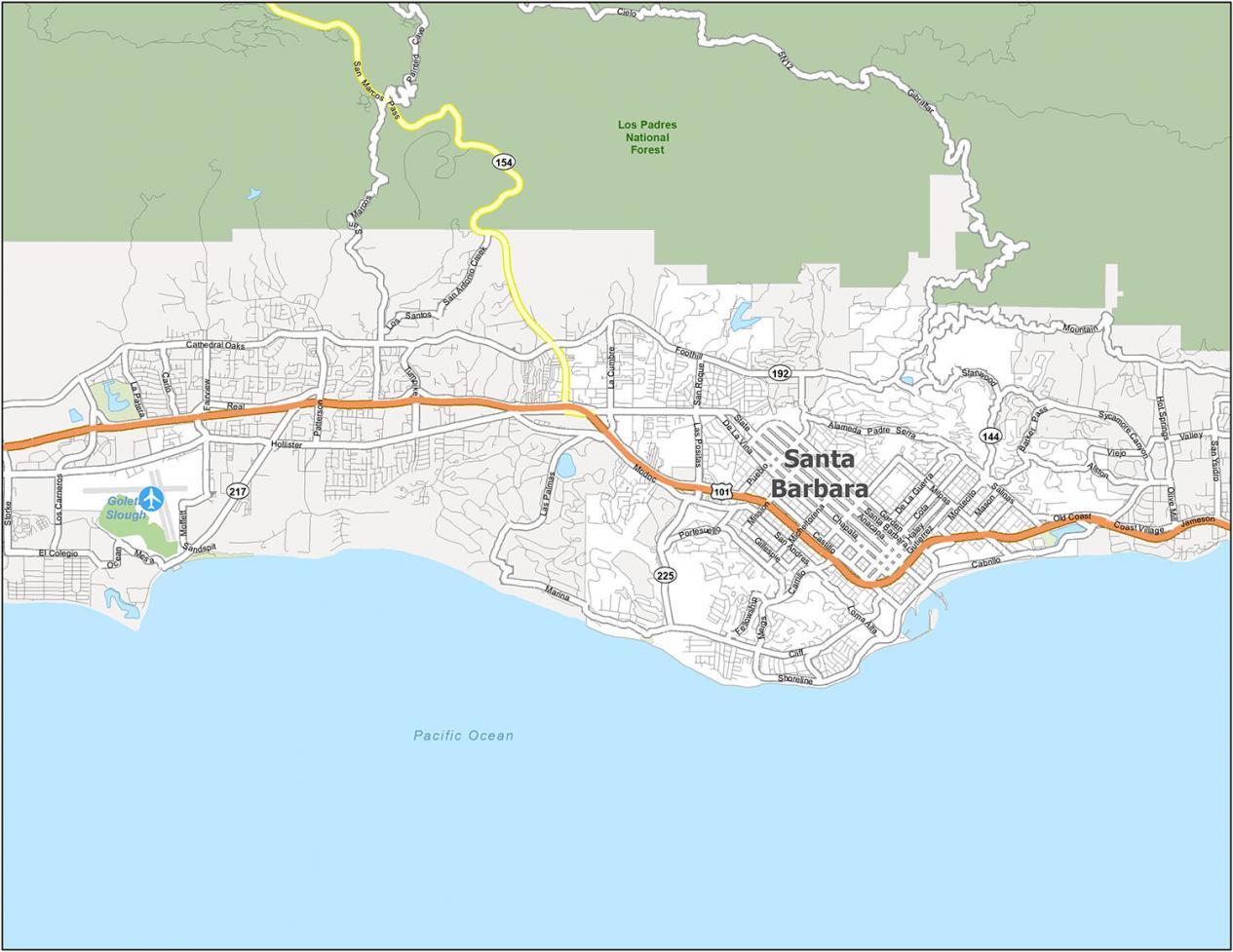 US Highways: 101, 144, 154, 192, 225, Coast Village Hwy,
Major Roads: Cabrillo Blvd, Cliff Dr, Coast Village Rd, Fairview Ave, Foothill Rd, Fowler Rd, Hollister Ave, Las Positas Rd, Loma Alta Dr, Los Patos Way, Mason St, Milpas St, Mission Ridge Rd, Moffett Pl, Mountain Dr, Real, Salinas St, San Roque Rd, Shoreline Dr, Stanwood Dr, State St, Sycamore Canyon Rd
10 Things To Do in Santa Barbara
This guide is perfect for planning your next trip to Santa Barbara. Get a detailed guide to Santa Barbara's best things to do. From Stearns Wharf to Lotusland, this map gives you a sneak peek of some of the top sights and attractions that you'll find in Santa Barbara.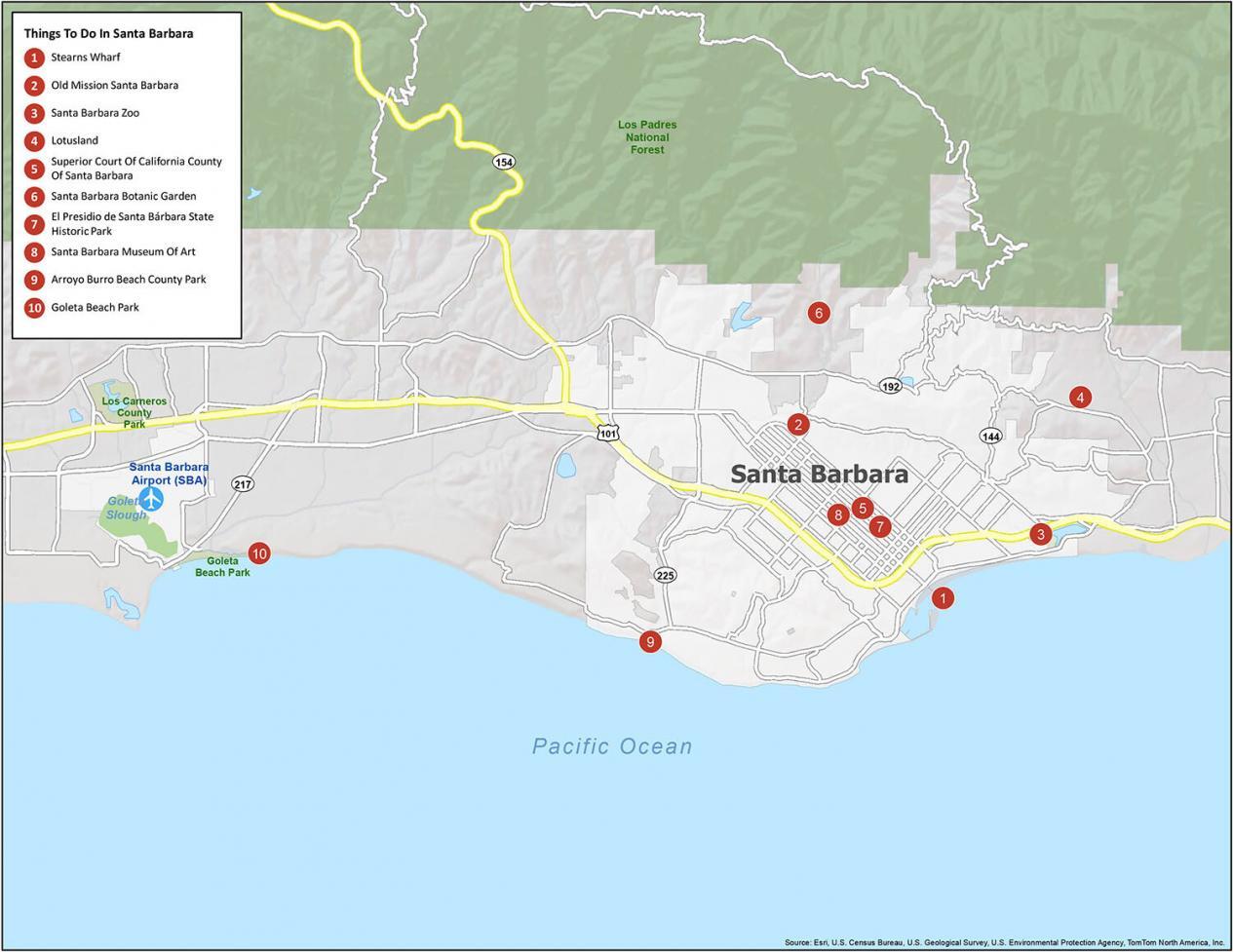 Santa Barbara is known for its beaches, surfing, and iconic Mission landmark. If you ever travel to Santa Barbara, we highly recommend these 10 things to do.
Stearns Wharf
Old Mission Santa Barbara
Santa Barbara Zoo
Lotusland
Superior Court Of California County Of Santa Barbara
Santa Barbara Botanic Garden
El Presidio de Santa Bárbara State Historic Park
Santa Barbara Museum Of Art
Arroyo Burro Beach County Park
Goleta Beach Park
Santa Barbara Reference Map
On this map, you will find the parks, forests, and populated areas so you can get a preview of the city before you go. This reference map will give you a crash course on the city that you can take on your trip to Santa Barbara.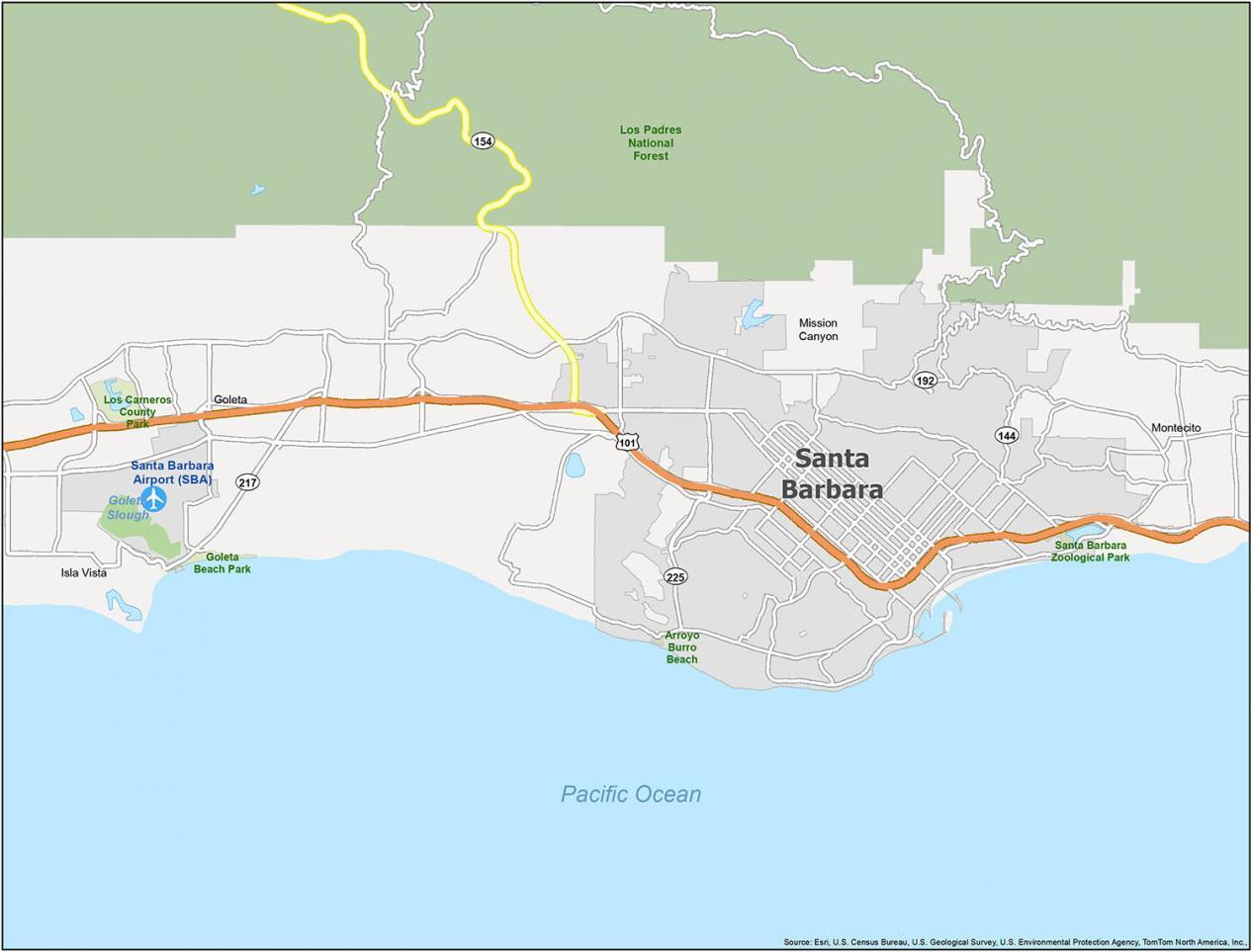 Airports: Santa Barbara Airport (SBA)
Cities: Goleta, Santa Barbara
Census-designated place (CDP): Isla Vista, Mission Canyon, Montecito
Parks/Forests: Arroyo Burro Beach, Goleta Beach Park, Los Carneros County Park, Los Padres National Forest, Santa Barbara Zoological Park
Water Features: Goleta Slough, Pacific Ocean
California map collection
References