This Seattle map collection features:
Seattle is known for a lot! It has a picturesque natural surrounding with mountains and the ocean. It's also famous for coffee, rain and its tech companies.
Seattle Road Map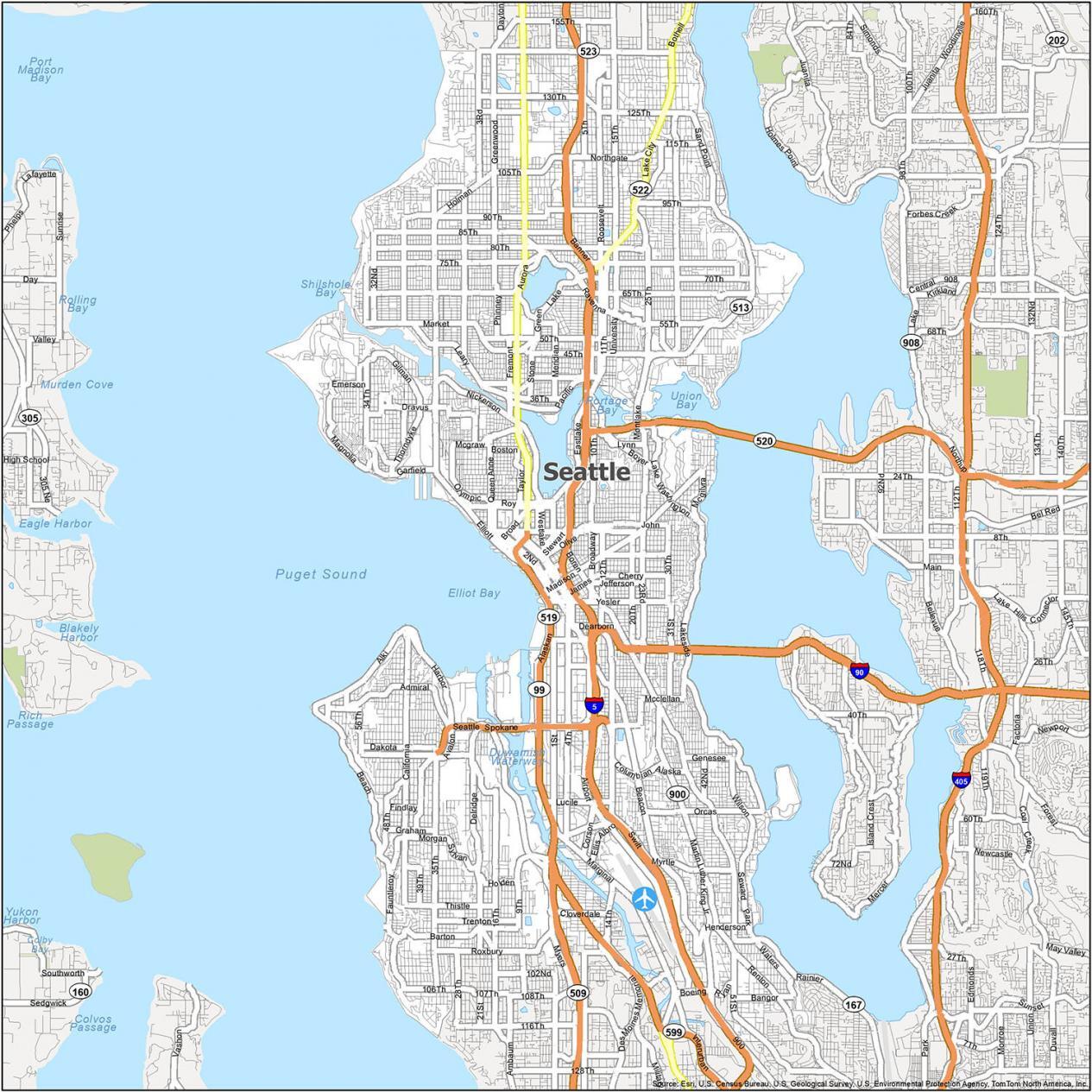 Interstate Highways: I-5, I-90
US Highways: 99, 167, 509, 513, 519, 520, 522, 523, 900
Freeways/Parkways: Seattle Fwy,
Major Roads: 1st Ave, 2nd Ave, 4th Ave, 5th Ave, 6th Ave, 15th Ave, 23rd Ave, 24th Ave, 45th St, 125th St, 145th St, Alaskan Way, Aurora Ave, Barton St, Boren Ave, Columbian Way, Fauntleroy Way, Ferry Rd, Highland Park Way, Lake City Way, Madison St, Marginal Way, Marion St, Martin Luther King Jr Way, Montlake Blvd, Rainier Ave, Royal Brougham Way, Sand Point Way, Turner Way, Union St, University St
10 Things To Do In Seattle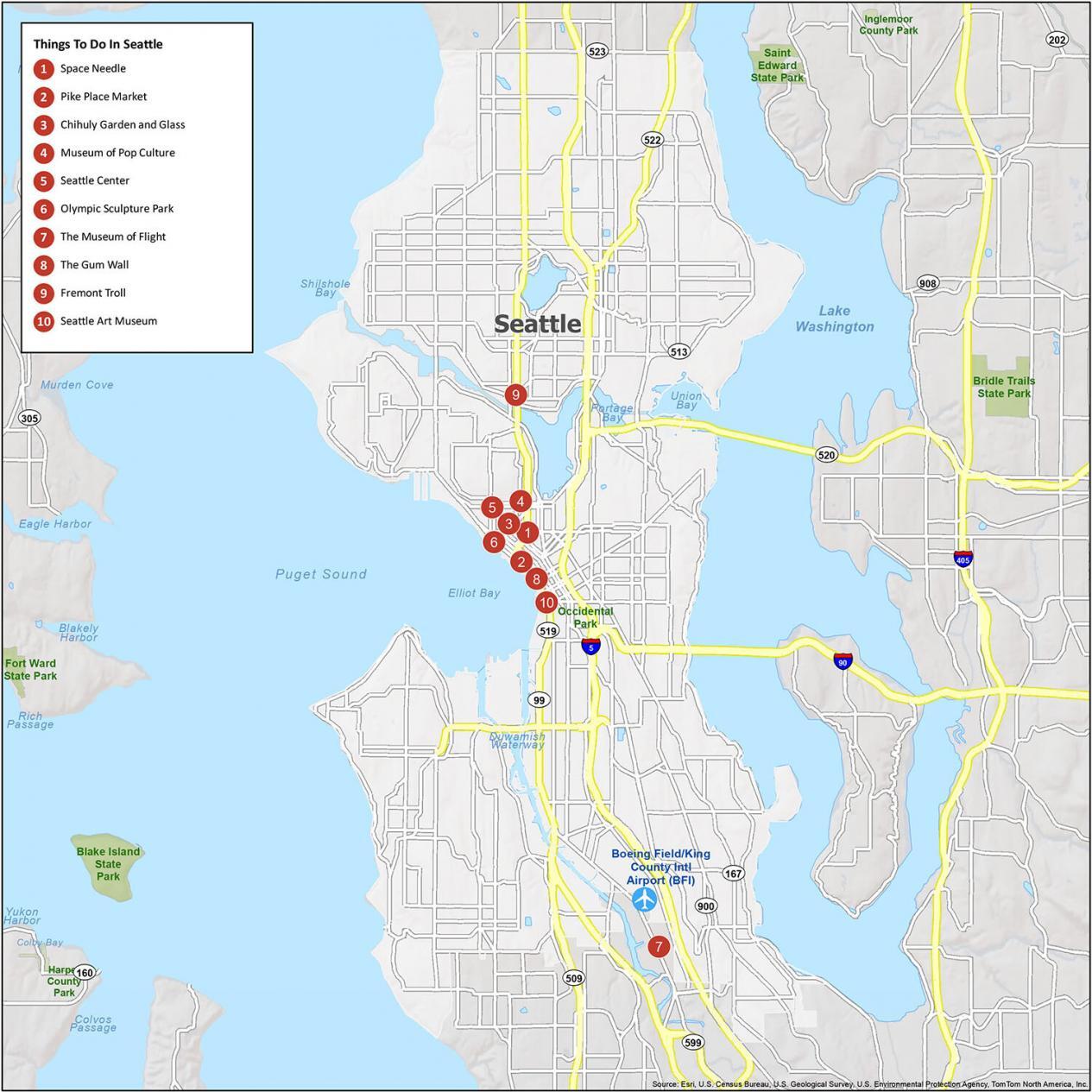 If you ever travel to Seattle, we highly recommend these 10 things to do.
1. Space Needle
2. Pike Place Market
3. Chihuly Garden and Glass
4. Museum of Pop Culture
5. Seattle Center
6. Olympic Sculpture Park
7. The Museum of Flight
8. The Gum Wall
9. Fremont Troll
10. Seattle Art Museum
Seattle Map of Places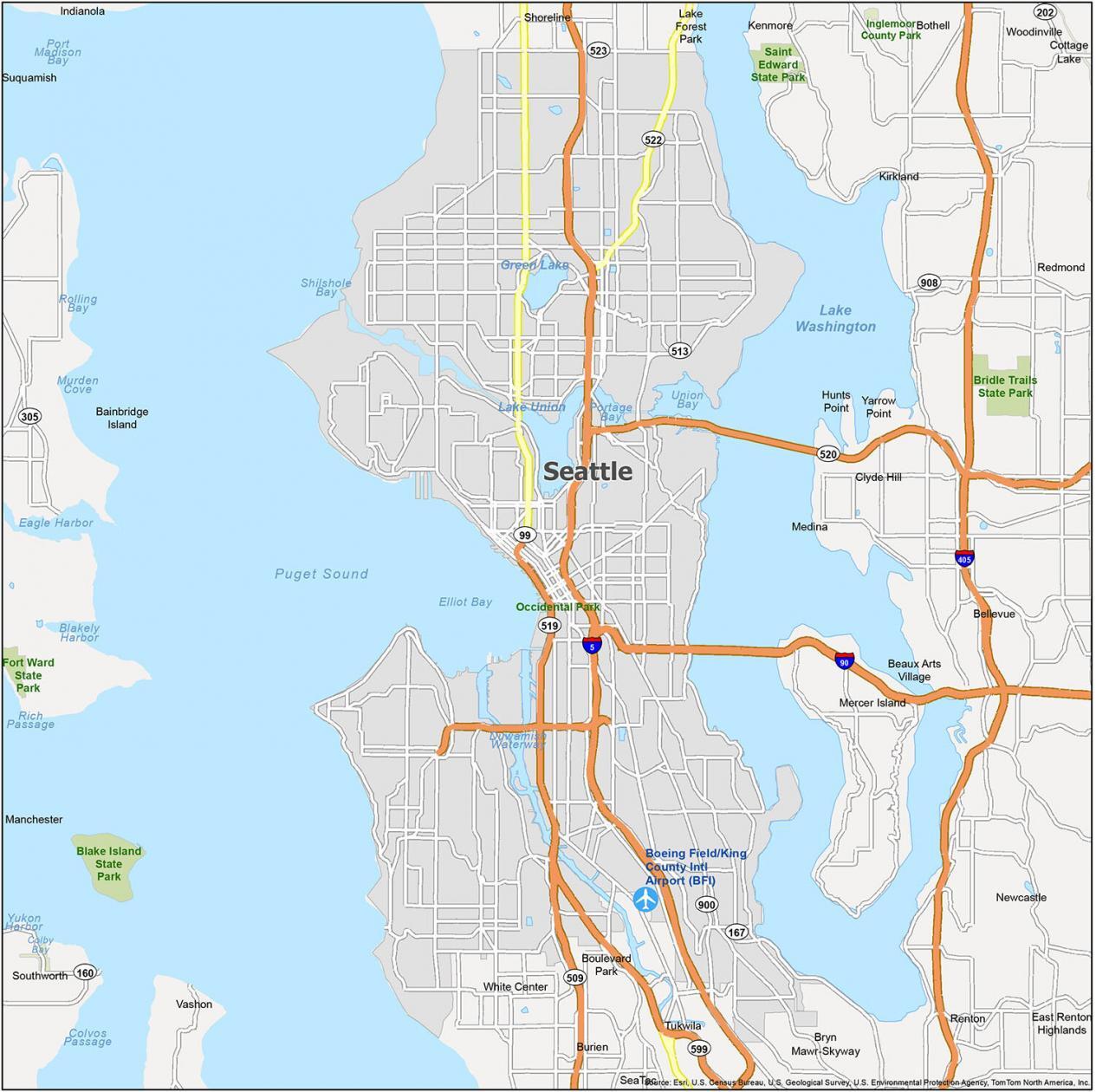 Airports: Boeing Field/King County International Airport (BFI)
Cities: Bainbridge Island, Bellevue, Bothell, Burien, Clyde Hill, Kenmore, Kirkland, Lake Forest Park, Medina, Mercer Island, Newcastle, Redmond, Renton, SeaTac, Seattle, Shoreline, Tukwila, Woodinville
Census-designated place (CDP): Boulevard Park, Bryn Mawr-Skyway, Cottage Lake, East Renton Highlands, Indianola, Manchester, Southworth, Vashon, White Center
Towns: Beaux Arts Village, Hunts Point, Yarrow Point