Map of Seattle, Washington

Map of Seattle
Download our Seattle map collection to help you explore the city on your journeys. It displays highways, roads, and things to do. We also provide an interactive map with the latest information to help you navigate around the city.
Situated along the Puget Sound, Seattle is home to major landmarks like Mount Rainier, the highest volcanic peak in the contiguous United States. Its unique geography also makes it one of the largest cargo seaports in the nation.
With 725,000 residents, Seattle is the largest city in the state of Washington. From being home to countless tech companies like Amazon, Microsoft, and Tableau to its amazing scenic views, Seattle has something for everyone.
Jump To: Interactive Map | Printable Road Map | 10 Things to Do | Reference Map
Seattle map collection
Interactive Map of Seattle
If you're looking for a trip that will take you by surprise, start your journey in Seattle and explore the many attractions that make it such an interesting place to live. Get a crash course in the city with this interactive map.
Find out where all the best restaurants, shopping, and nightlife are in Seattle. Whether you're looking to staycation or explore the city on your own, we've got just what you need here. With so many things to see and do, there's never a dull moment in Seattle.
Seattle Road Map
With this Seattle road map, you'll be able to find your way around the city quickly and easily. You'll be able to see the interstates, highways, and major roads that are important to you.
Whether you're looking to plan your next trip or just learn more about Seattle, our map will help you plan your route and find the best places to stay. But for any travel outside the city, take a look at our Washington road map for more highway information in the state.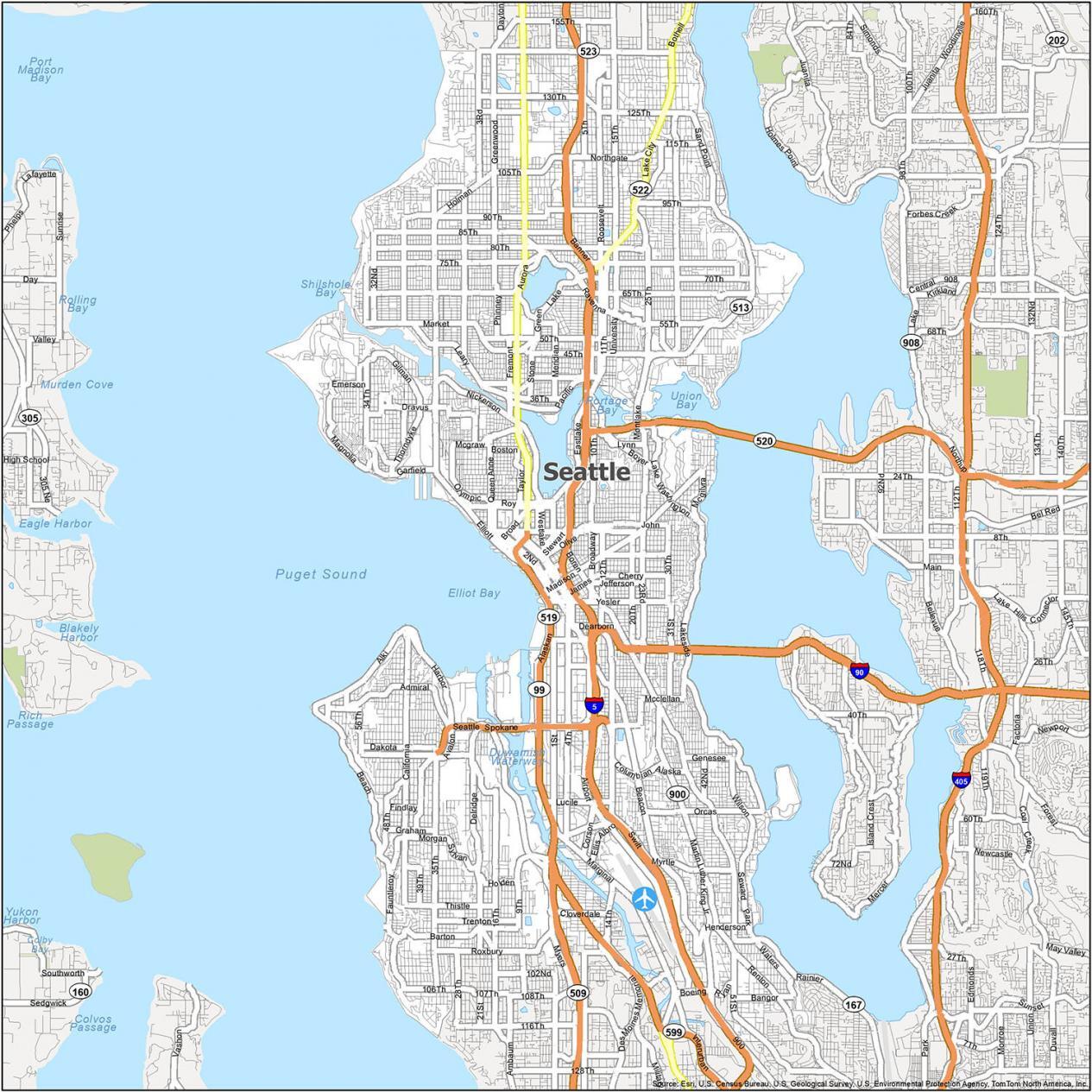 Interstate Highways: I-5, I-90
US Highways: 99, 167, 509, 513, 519, 520, 522, 523, 900
Freeways/Parkways: Seattle Fwy,
Major Roads: 1st Ave, 2nd Ave, 4th Ave, 5th Ave, 6th Ave, 15th Ave, 23rd Ave, 24th Ave, 45th St, 125th St, 145th St, Alaskan Way, Aurora Ave, Barton St, Boren Ave, Columbian Way, Fauntleroy Way, Ferry Rd, Highland Park Way, Lake City Way, Madison St, Marginal Way, Marion St, Martin Luther King Jr Way, Montlake Blvd, Rainier Ave, Royal Brougham Way, Sand Point Way, Turner Way, Union St, University St
10 Things To Do in Seattle
Seattle is an amazing city and it's easy to see why. With a rich history and plenty of sights to see, the city is sure to please tourists no matter where they are looking. From the Space Needle Observation Deck to Pike Place Market, this map provides a comprehensive overview of the city, including its museums, parks, and attractions. Whether you're looking for a destination to explore or a way to plan your travel, explore Seattle with this map.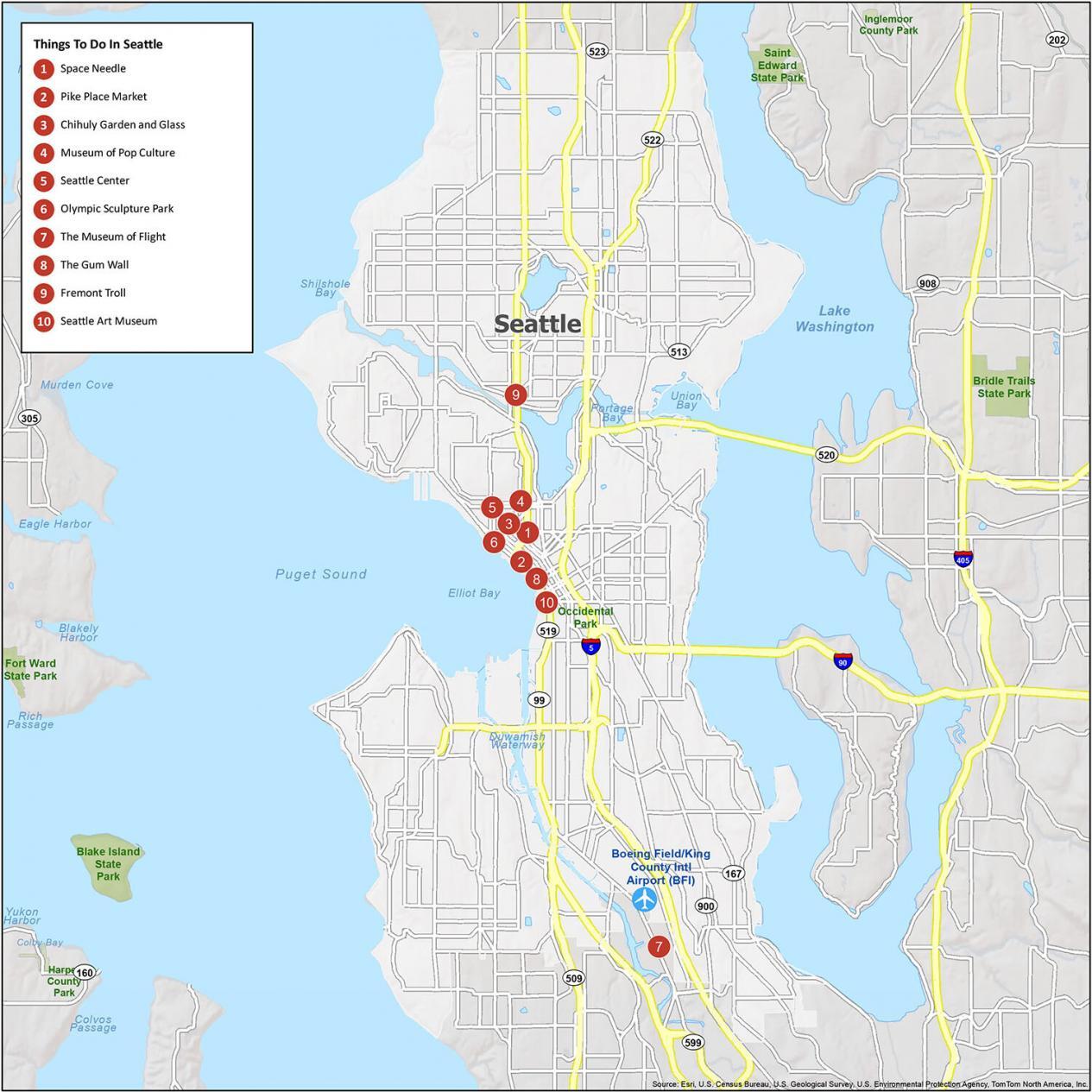 Seattle is known for a lot! It has a picturesque natural surrounding with mountains and the ocean. It's also famous for coffee, rain, and its tech companies. If you ever travel to Seattle, we highly recommend these 10 things to do.
Space Needle
Pike Place Market
Chihuly Garden and Glass
Museum of Pop Culture
Seattle Center
Olympic Sculpture Park
The Museum of Flight
The Gum Wall
Fremont Troll
Seattle Art Museum
Seattle Reference Map
With over 750,000 residents, Seattle is a huge city. It's known for its beautiful scenery and diverse culture, and it's perfect for a vacation or holiday! That's why knowing the layout of the city will help you plan your visit more efficiently and accurately.
With this map, you can get an overview of the lakes, bays, state parks, airports, and populated areas. Use it to plan your next visit, or to find your way around the city without all the legwork.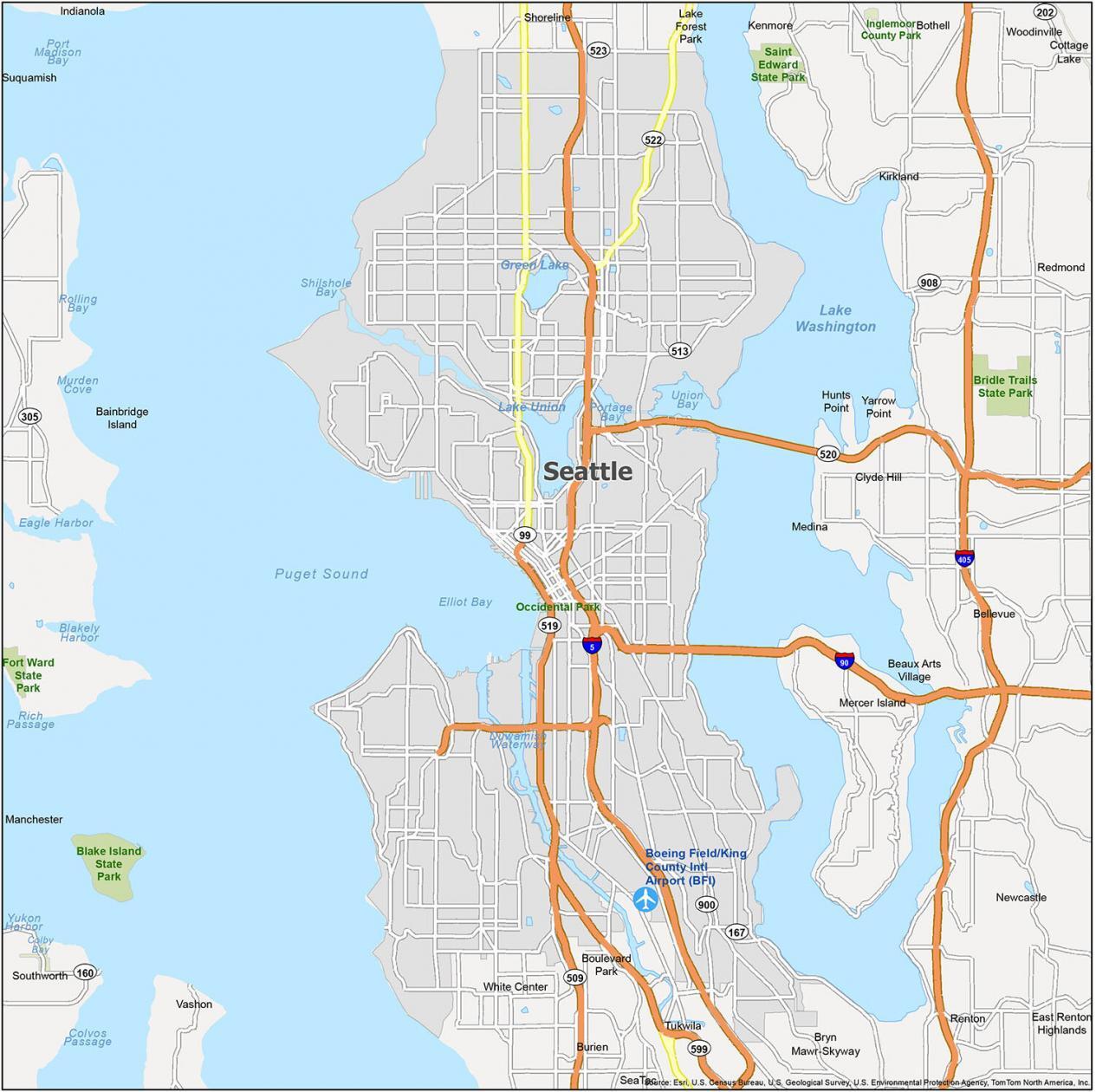 Airports: Boeing Field/King County International Airport (BFI)
Cities: Bainbridge Island, Bellevue, Bothell, Burien, Clyde Hill, Kenmore, Kirkland, Lake Forest Park, Medina, Mercer Island, Newcastle, Redmond, Renton, SeaTac, Seattle, Shoreline, Tukwila, Woodinville
Census-designated place (CDP): Boulevard Park, Bryn Mawr-Skyway, Cottage Lake, East Renton Highlands, Indianola, Manchester, Southworth, Vashon, White Center
Towns: Beaux Arts Village, Hunts Point, Yarrow Point
Seattle map collection
Washington map collection
References