Washington State Map – Places and Landmarks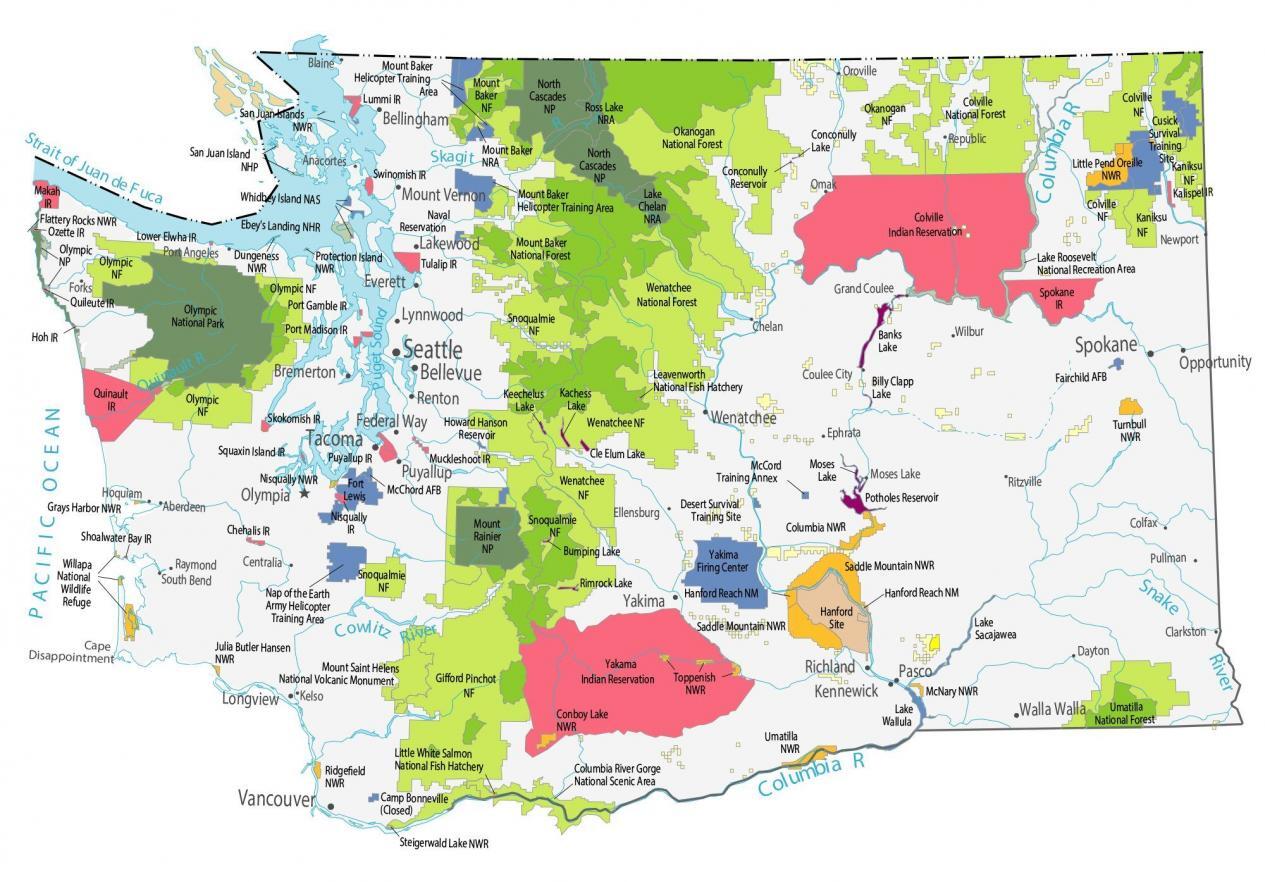 About the map
This Washington State Map shows major landmarks in Washington. For example, the map features national parks, wildlife refuges, national forests, and federal lands in Washington.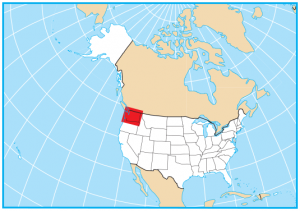 Washington is a state full of history and culture, and there are many places to visit and explore. It's absolutely loaded with national parks, monuments, and scenic areas, including Olympic National Park, North Cascades National Park, Mount Rainier National Park, and the national historic park San Juan Islands.
Mount Saint Helens National Volcanic Monument is a 110,000-acre area set aside for research, recreation, and education. Cape Disappointment is a 2,000+ acre camping park and Protection Island has no paved roads. Washington's national fish hatcheries are Little White Salmon and Leavenworth National Fish Hatchery. Other popular visitor sites include the Columbia River Gorge National Scenic Area, Ebey's Landing National Heritage Reserve, and the Hanford Reach National Monument.
Washington map collection
You are free to use our map of Washington for educational and commercial uses. Attribution is required. How to attribute?
Federal lands
National Park (NP)
Olympic National Park
North Cascades National Park
Mount Rainier National Park
San Juan Islands National Historical Park
Major Landmarks
Columbia River Gorge National Scenic Area
Leavenworth National Fish Hatchery
Mount Saint Helens National Volcanic Monument
Little White Salmon National Fish Hatchery
Mount Baker Helicopter Training Area
Ebey's Landing National Heritage Reserve
Protection Island
Hanford Reach National Monument
Cape Disappointment
National Forests (NF)
Colville NF
Umatilla NF
Kaniksu NF
Wenatchee NF
Okanogan NF
Snoqualmie NF
Gifford Pinchot NF
Mount Baker NF
Olympic NF
National Wildlife Refuge (NWR)
Turnbull NWR
McNary NWR
Little Pend Oreille NWR
Saddle Mountain NWR
Columbia NWR
Toppenish NWR
Umatilla NWR
Steigerwald Lake NWR
Conboy Lake NWR
Ridgefield NWR
Nisqually NWR
Willapa NWR
Julia Butler Hansen NWR
Dungeness NWR
Grays Harbor NWR
Flattery Rocks NWR
National Recreation (NRA)
Lake Roosevelt NRA
Mount Baker NRA
Ross Lake NRA
Lake Chelan NRA
Washington lakes, rivers and reservoirs
Lakes and reservoirs
Banks Lake
Billy Clapp Lake
Potholes Reservoir
Lake Sacajawea
Lake Wallula
Conconully Reservoir
Conconully Lake
Moses Lake
Bumping Lake
Rimrock Lake
Kachess Lake
Keechelus Lake
Howard Hanson Reservoir
Cle Elum Lake
Rivers and streams
Quinault River
Cowlitz River
Columbia River
Pacific Ocean
Puget Sound
Skagit River
Snake River
Strait of Juan de Fuca
Strait of Georgia
Indian Reserves (IR)
Kalispel IR
Yakama IR
Colville IR
Spokane IR
Port Madison IR
Skokomish IR
Squaxin Island IR
Puyallup IR
Muckleshoot IR
Nisqually IR
Chehalis IR
Lummi IR
Swinomish IR
Lower Elwha IR
Tulalip IR
Port Gamble IR
Makah IR
Ozette IR
Quileute IR
Hoh IR
Quinault IR
Shoalwater Bay IR
Army, naval and military
Fairchild Air Force Base
Cusick Survival Training Site
McCord Training Annex
Desert Survival Training Site
Yakima Firing Center
Nap of the Earth Army Helicopter Training Area
Camp Bonneville (Closed)
McChord Air Force Base
Fort Lewis
Whidbey Island Naval Air Station
Washington populated places
Seattle
Olympia
Bellingham
Bremerton
Everett
Kennewick
Lakewood
Longview
Pasco
Puyallup
Renton
Richland
Walla Walla
Yakima
Lynnwood
Federal Way
Wenatchee
Mount Vernon
Opportunity
Bellevue
Spokane
Tacoma
Vancouver
Clarkston
Aberdeen
Centralia
Chelan
Colfax
Coulee City
Dayton
Ellensburg
Ephrata
Forks
Grand Coulee
Hoquiam
Kelso
Moses Lake
Newport
Omak
Oroville
Port Angeles
Raymond
Republic
Ritzville
South Bend
Wilbur
Pullman
Anacortes
Blaine
State capital
Olympia
References