About the map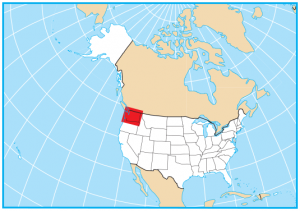 This Washington map contains cities, roads, rivers and lakes. For example, Seattle, Spokane and Tacoma are major cities shown in this map of Washington. But the capital is not any of these more populated cities, it's Olympia.
Washington is the Evergreen State. It's similar to Oregon in it's natural beauty. But it's home to big computer companies like Microsoft, Amazon, and Expedia. Not only tech, but it's also companies like Starbucks and Boeing. So there's a lot going on in Washington State.
It's known for its violent volcanic eruption in the 1980s from the infamous Mount St. Helens. Washington is situated in the northwest of the United. It borders just Oregon and Idaho, as well as the Canadian province of British Columbia.
State capital
Olympia
Major cities and towns
Seattle
Spokane
Tacoma
Bellevue
Vancouver
Olympia
Bellingham
Bremerton
Everett
Kennewick
Lacey
Lakewood
Longview
Pasco
Puyallup
Renton
Richland
Walla Walla
Yakima
Redmond
Lynnwood
Federal Way
Wenatchee
Mount Vernon
Spokane
Valley
Marysville
Aberdeen
Camas
Centralia
Chehalis
Chelan
Colfax
Colville
Coulee City
Dayton
Ellensburg
Ephrata
Forks
Goldendale
Grand Coulee
Hoquiam
Kelso
Moses Lake
Newport
Omak
Oroville
Port Angeles
Raymond
Republic
Ritzville
South Bend
Toppenish
Wilbur
Pullman
Anacortes
Blaine
Clarkston
Ilwaco
Battle Ground
Morton
Enumclaw
Othello
Quincy
Cheney
Winthrop
Oak Harbor
Interstate highways
Interstate-5 (I-5)
Interstate-82 (I-82)
Interstate-90 (I-90)
Lakes, rivers and creeks
Quinault River
Cowlitz River
Yakima River
Columbia River
Skagit River
Snake River
Spokane River
Willapa Bay
Grays Harbor
Pacific Ocean
Pend Oreille River
Okanogan River
Franklin D Roosevelt Lake
Potholes Reservoir
Lake Chelan
Banks Lake
Ross Lake
Strait of Juan de Fuca
Strait of Georgia
Puget Sound
Mountains and Landmarks in Washington
Olympic Mountains
Wenatchee Mountains
Columbia Basin
Cascade Range
Blue Mountains
Mount Rainier
Mount Adams
Mount Baker
Glacier Peak
Mount St Helens
Mount Olympus
References
Free US Maps
Select a state to view its map