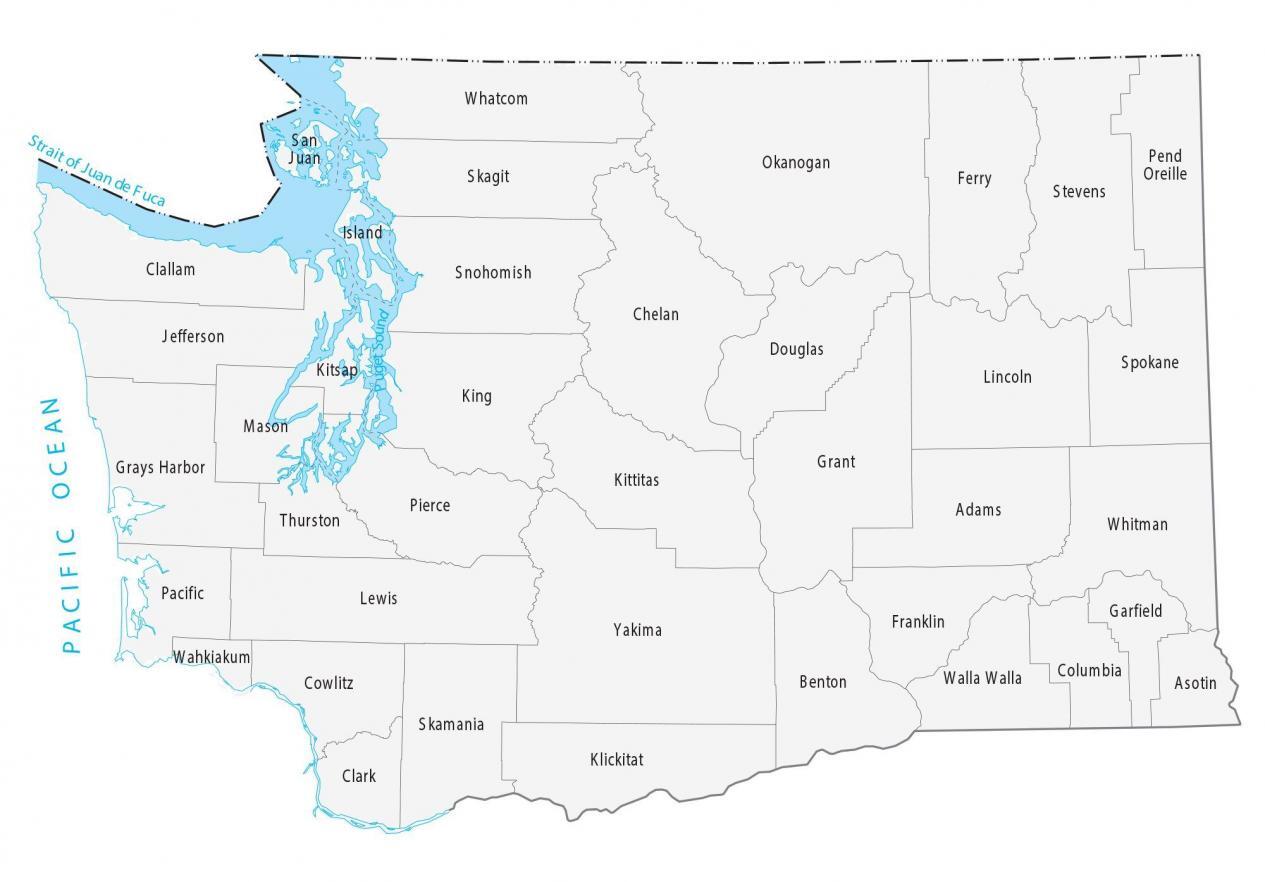 About the map
This Washington county map displays its 39 counties. For example, King County, Pierce County, and Snohomish County are some of the most populated counties in Washington.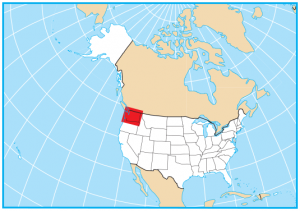 Most notably, King County has the highest population in Washington with 2.25 million people. In fact, it's so populated that it ranks as the 13th highest in the United States. It's home to Seattle, which is a major seaport city on the west coast of Washington.
For size, Okanogan County in the north of Washington is the largest, occupying an area of over 5300 square miles. Conversely, the smallest county is San Juan County with an area of about 175 square miles. This archipelago is sandwiched between the west coast of Washington and Vancouver Island in the Pacific Northwest.
Washington map collection
You are free to use our county map of Washington for educational and commercial uses. Attribution is required. How to attribute?
Washington County List
| County Name | Population (2020 est) | County Map | Area (sq mi) | Locator Map | FIPS Code |
| --- | --- | --- | --- | --- | --- |
| Adams County | 20,027 | Adams County | 1929.6 | Adams County Map | 53001 |
| Asotin County | 22,820 | Asotin County | 639.2 | Asotin County Map | 53003 |
| Benton County | 206,426 | Benton County | 1760.1 | Benton County Map | 53005 |
| Chelan County | 77,574 | Chelan County | 2994.2 | Chelan County Map | 53007 |
| Clallam County | 78,067 | Clallam County | 1765.5 | Clallam County Map | 53009 |
| Clark County | 496,865 | Clark County | 654.9 | Clark County Map | 53011 |
| Columbia County | 4,048 | Columbia County | 873.5 | Columbia County Map | 53013 |
| Cowlitz County | 111,371 | Cowlitz County | 1167.8 | Cowlitz County Map | 53015 |
| Douglas County | 43,560 | Douglas County | 1848.2 | Douglas County Map | 53017 |
| Ferry County | 7,759 | Ferry County | 2261 | Ferry County Map | 53019 |
| Franklin County | 97,075 | Franklin County | 1265.3 | Franklin County Map | 53021 |
| Garfield County | 2,290 | Garfield County | 718.2 | Garfield County Map | 53023 |
| Grant County | 99,377 | Grant County | 2790.4 | Grant County Map | 53025 |
| Grays Harbor County | 75,950 | Grays Harbor County | 1929.9 | Grays Harbor County Map | 53027 |
| Island County | 86,014 | Island County | 210.2 | Island County Map | 53029 |
| Jefferson County | 32,700 | Jefferson County | 1818.3 | Jefferson County Map | 53031 |
| King County | 2,274,315 | King County | 2189.2 | King County Map | 53033 |
| Kitsap County | 272,787 | Kitsap County | 398.2 | Kitsap County Map | 53035 |
| Kittitas County | 49,204 | Kittitas County | 2334.3 | Kittitas County Map | 53037 |
| Klickitat County | 22,697 | Klickitat County | 1905.4 | Klickitat County Map | 53039 |
| Lewis County | 82,109 | Lewis County | 2435.2 | Lewis County Map | 53041 |
| Lincoln County | 11,090 | Lincoln County | 2339.7 | Lincoln County Map | 53043 |
| Mason County | 68,224 | Mason County | 973.8 | Mason County Map | 53045 |
| Okanogan County | 42,620 | Okanogan County | 5313.4 | Okanogan County Map | 53047 |
| Pacific County | 22,984 | Pacific County | 935.6 | Pacific County Map | 53049 |
| Pend Oreille County | 14,144 | Pend Oreille County | 1422.1 | Pend Oreille County Map | 53051 |
| Pierce County | 913,890 | Pierce County | 1691.4 | Pierce County Map | 53053 |
| San Juan County | 17,492 | San Juan County | 176.3 | San Juan County Map | 53055 |
| Skagit County | 130,789 | Skagit County | 1756.6 | Skagit County Map | 53057 |
| Skamania County | 12,107 | Skamania County | 1685.4 | Skamania County Map | 53059 |
| Snohomish County | 830,393 | Snohomish County | 2108 | Snohomish County Map | 53061 |
| Spokane County | 528,225 | Spokane County | 1778.1 | Spokane County Map | 53063 |
| Stevens County | 46,360 | Stevens County | 2536.5 | Stevens County Map | 53065 |
| Thurston County | 294,074 | Thurston County | 736.4 | Thurston County Map | 53067 |
| Wahkiakum County | 4,498 | Wahkiakum County | 265.4 | Wahkiakum County Map | 53069 |
| Walla Walla County | 61,292 | Walla Walla County | 1299.2 | Walla Walla County Map | 53071 |
| Whatcom County | 231,016 | Whatcom County | 2163.8 | Whatcom County Map | 53073 |
| Whitman County | 49,500 | Whitman County | 2174.8 | Whitman County Map | 53075 |
| Yakima County | 251,879 | Yakima County | 4312.4 | Yakima County Map | 53077 |
References