Map of Sioux Falls, South Dakota
Map of Sioux Falls
This Sioux Falls map collection features roads, highways, and things to do. If you want to tour around the city, check out our interactive map provided by Google Maps.
Sioux Falls is the most populous city in South Dakota. It's located in the southeast of South Dakota, near the states of Iowa and Minnesota. The Big Sioux River is the major river that flows through the city.
If you're looking for a map of Sioux Falls, SD, you've come to the right place! This map is especially useful for exploring the city, as it provides an overview of all the important areas.
Jump To: Interactive Map | Printable Road Map | 10 Things to Do | Reference Map
Sioux Falls map collection
Interactive Map of Sioux Falls
If you're looking for a place to relax and enjoy the natural beauty of Sioux Falls, it's time to check out our interactive map. This map includes all of the information you need to find everything you need in town, as well as a range of attractions and businesses like hotels, restaurants, and shopping.
Sioux Falls Road Map
If you're looking for a city with a rich history and plenty of attractions, Sioux Falls, SD is the place to be. However, it can be hard to find your way around the city. This is especially true if you're looking for a specific destination or want to explore different parts of the city. That's why we've created a road map of Sioux Falls so you can easily find your way around the city. But if you want to get out of the city, then check out this South Dakota road map for more highway information.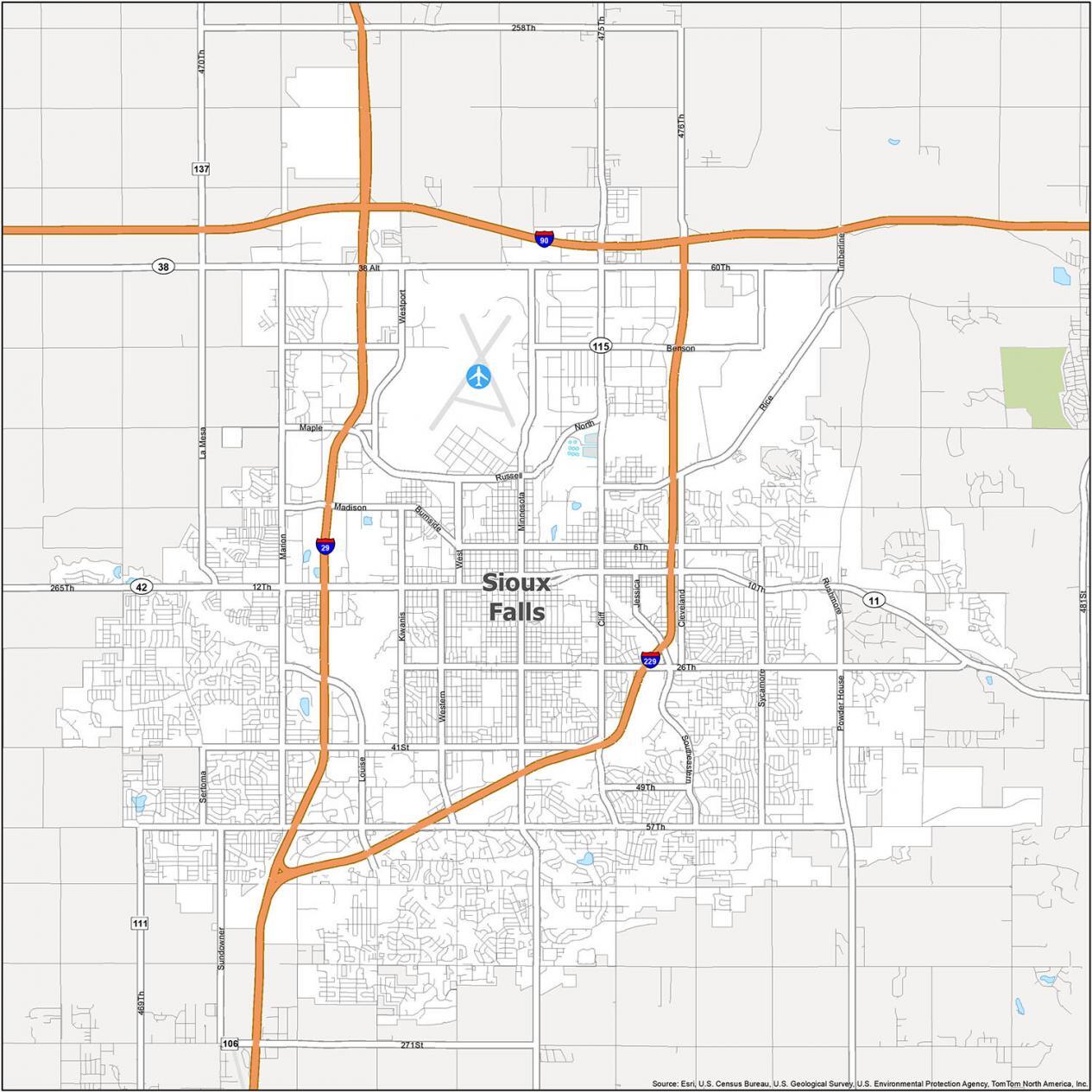 Interstate Highways: I-29, I-90, I-229
US Highways: 11, 38, 42, 111, 115, 121, 131
Major Roads: 6th St, 10th St, 11th St, 12th St, 26th St, 41st St, 265th St, 49th St, 57th St, 60th St, 469th Ave, 471st Ave, Benson Rd, Burnside St, Cleveland Ave, Cliff Ave, Jessica Ave, Kiwanis Ave, La Mesa Dr, Louise Ave, Madison St, Maple St, Marion Rd, Menlo Ave, Minnesota Ave, North Dr, Powder House Rd, Rice St, Rushmore Rd, Russell St, Sertoma Ave, Southeastern Ave, Sundowner Ave, Sycamore Ave, Timberline Ave, West Ave, Western Ave, Westport Ave
10 Things To Do in Sioux Falls
If you're looking for a city to explore, Sioux Falls is the place to go. It has a diverse history and a wide range of attractions to offer visitors. Whether you're looking for a one-time trip or you're looking for something to keep you busy for weeks on end, Sioux Falls has something for everyone.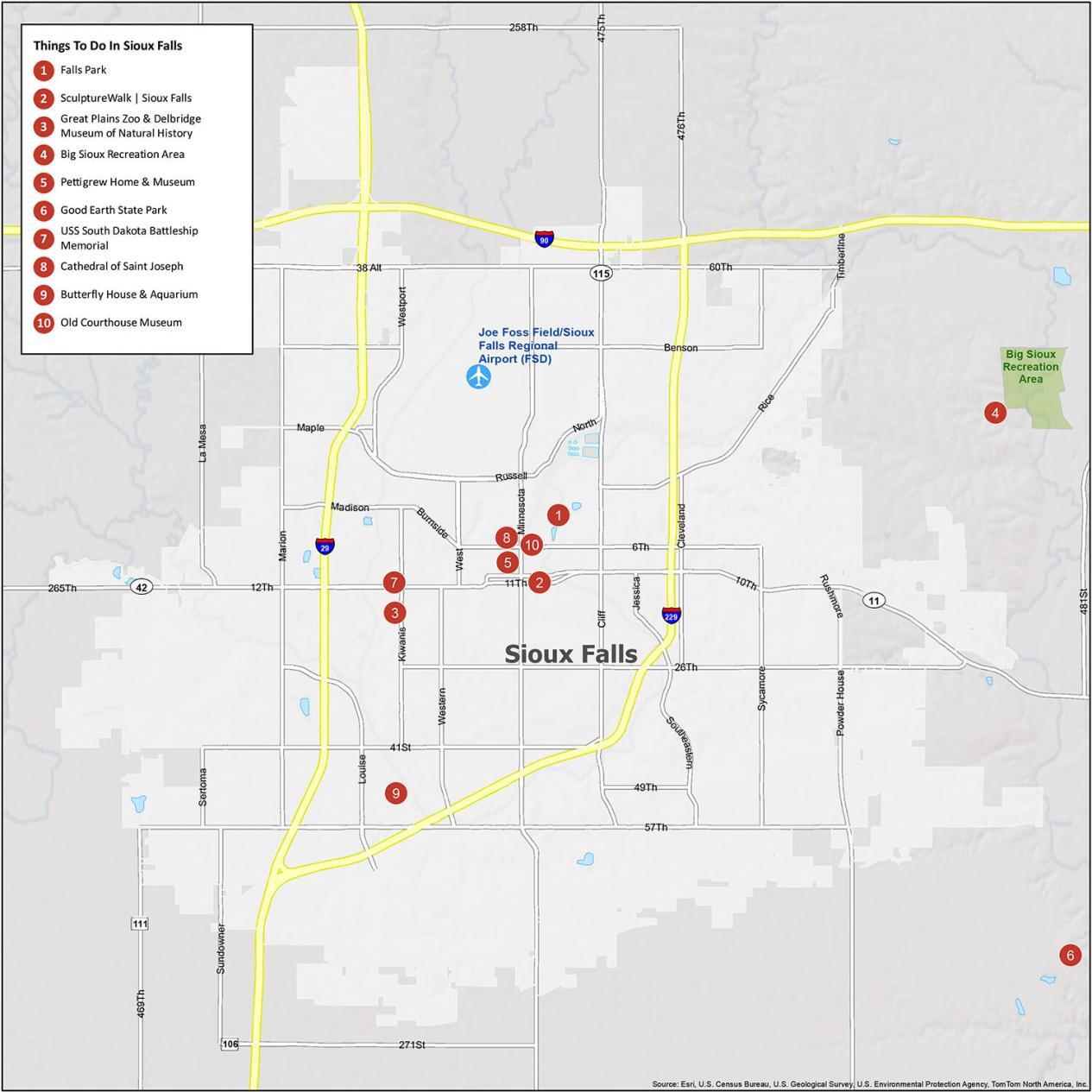 Sioux Falls is known for its parks, greenways, and heritage sites. If you ever travel to Sioux Falls, we highly recommend these 10 things to do.
Falls Park
SculptureWalk | Sioux Falls
Great Plains Zoo & Delbridge Museum of Natural History
Big Sioux Recreation Area
Pettigrew Home & Museum
Good Earth State Park
USS South Dakota Battleship Memorial
Cathedral of Saint Joseph
Butterfly House & Aquarium
Old Courthouse Museum
Sioux Falls Reference Map
When you're looking for a city, it can be tough to decide where to start. We've arranged a basic reference map in order to make getting around town as easy as possible. It includes Sioux Falls Regional Airport and other populated places. You can download, print, and sketch it out to make it your own.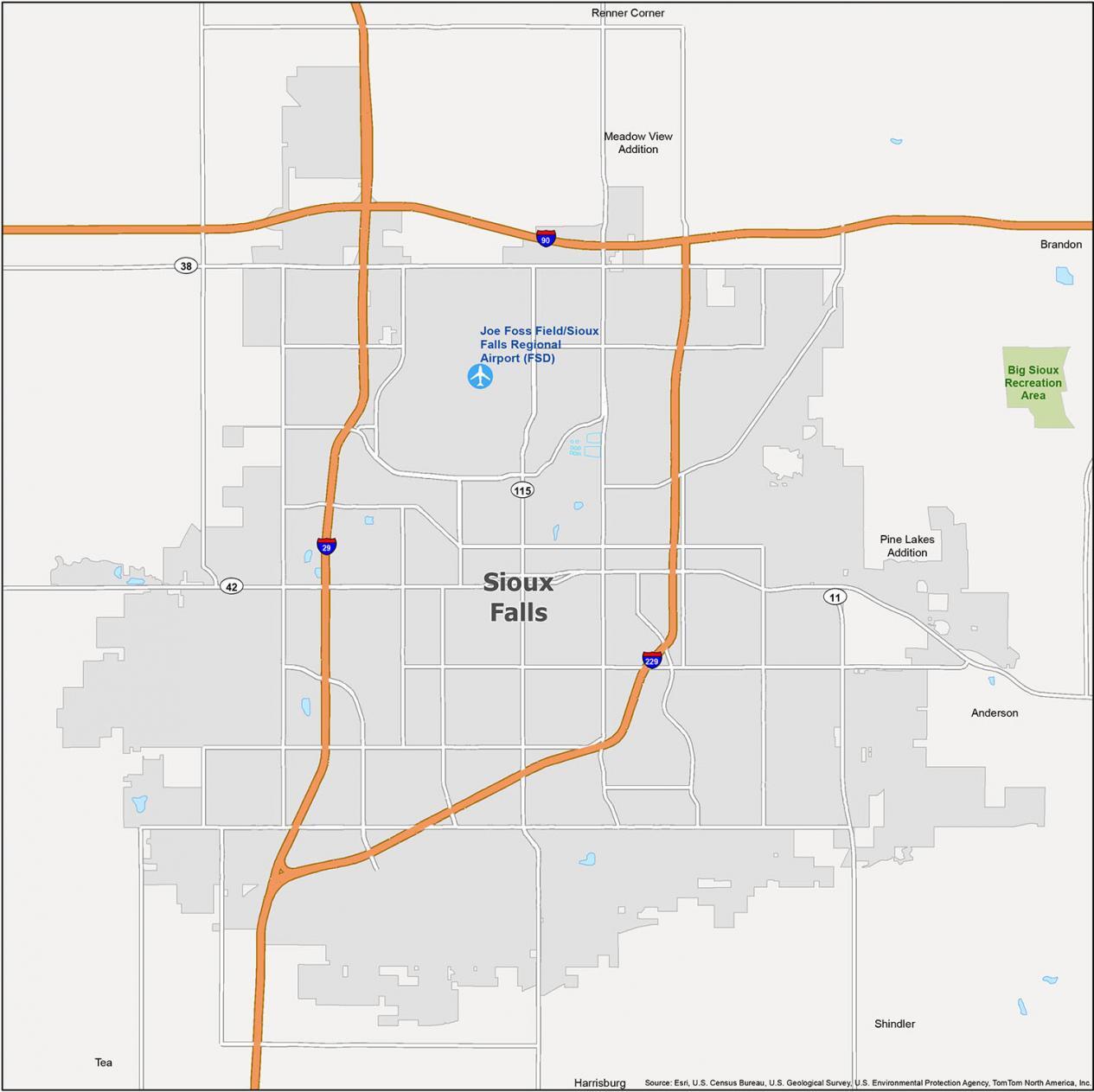 Airports: Joe Foss Field/Sioux Falls Regional Airport (FSD)
Cities: Brandon, Harrisburg, Sioux Falls, Tea
Census-designated place (CDP): Anderson, Meadow View Addition, Pine Lakes Addition, Renner Corner, Shindler
Parks/Recreation: Big Sioux Recreation Area
South Dakota map collection
References