South Dakota Maps
City in South Dakota
You are free to use our county map of South Dakota for educational and commercial uses. Attribution is required. How to attribute?
About the map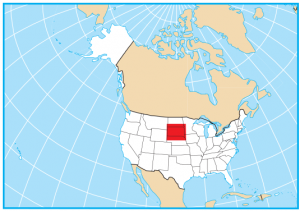 This South Dakota county map displays its 66 counties. The Missouri River cuts through South Dakota, and it's this river that delineates several county boundaries separating South Dakota into western and eastern portions.
For size, the largest county in South Dakota is Meade County, occupying an area of close to 3500 square miles. Conversely, the smallest county is Clay County and is just 417 square miles in size. South Dakota borders North Dakota, Nebraska, Minnesota, Iowa, Wyoming and Montana.
The most populous county in South Dakota is Minnehaha County. Minnehaha County has close to 200,000 residents and home to South Dakota's largest city, Sioux Falls. Jones County has the lowest population with less than 1000 people. In fact, its tally of residents is so low that it's in the bottom 50 for the lowest population in the United States.
South Dakota county list
| County Name | Population (2020 est) | County Map | Area (sq mi) | Locator Map | FIPS Code |
| --- | --- | --- | --- | --- | --- |
| Aurora County | 2,730 | Aurora County | 712.7 | Aurora County Map | 46003 |
| Beadle County | 18,513 | Beadle County | 1264.8 | Beadle County Map | 46005 |
| Bennett County | 3,399 | Bennett County | 1190 | Bennett County Map | 46007 |
| Bon Homme County | 6,848 | Bon Homme County | 584.6 | Bon Homme County Map | 46009 |
| Brookings County | 35,603 | Brookings County | 804.9 | Brookings County Map | 46011 |
| Brown County | 38,738 | Brown County | 1730.9 | Brown County Map | 46013 |
| Brule County | 5,254 | Brule County | 845.2 | Brule County Map | 46015 |
| Buffalo County | 1,956 | Buffalo County | 487.7 | Buffalo County Map | 46017 |
| Butte County | 10,538 | Butte County | 2266.3 | Butte County Map | 46019 |
| Campbell County | 1,380 | Campbell County | 771.4 | Campbell County Map | 46021 |
| Charles Mix County | 9,262 | Charles Mix County | 1150.2 | Charles Mix County Map | 46023 |
| Clark County | 3,802 | Clark County | 967.5 | Clark County Map | 46025 |
| Clay County | 14,246 | Clay County | 417.4 | Clay County Map | 46027 |
| Codington County | 28,186 | Codington County | 717.2 | Codington County Map | 46029 |
| Corson County | 4,031 | Corson County | 2529 | Corson County Map | 46031 |
| Custer County | 9,017 | Custer County | 1559.1 | Custer County Map | 46033 |
| Davison County | 19,812 | Davison County | 436.9 | Davison County Map | 46035 |
| Day County | 5,345 | Day County | 1091.1 | Day County Map | 46037 |
| Deuel County | 4,346 | Deuel County | 636.7 | Deuel County Map | 46039 |
| Dewey County | 5,789 | Dewey County | 2444.6 | Dewey County Map | 46041 |
| Douglas County | 2,906 | Douglas County | 433.4 | Douglas County Map | 46043 |
| Edmunds County | 3,817 | Edmunds County | 1151.1 | Edmunds County Map | 46045 |
| Fall River County | 6,708 | Fall River County | 1746.2 | Fall River County Map | 46047 |
| Faulk County | 2,306 | Faulk County | 1005.8 | Faulk County Map | 46049 |
| Grant County | 7,000 | Grant County | 687.4 | Grant County Map | 46051 |
| Gregory County | 4,219 | Gregory County | 1053.5 | Gregory County Map | 46053 |
| Haakon County | 1,861 | Haakon County | 1827.4 | Haakon County Map | 46055 |
| Hamlin County | 6,234 | Hamlin County | 538.1 | Hamlin County Map | 46057 |
| Hand County | 3,127 | Hand County | 1440 | Hand County Map | 46059 |
| Hanson County | 3,489 | Hanson County | 435.4 | Hanson County Map | 46061 |
| Harding County | 1,311 | Harding County | 2678.1 | Harding County Map | 46063 |
| Hughes County | 17,336 | Hughes County | 800.7 | Hughes County Map | 46065 |
| Hutchinson County | 7,282 | Hutchinson County | 814.4 | Hutchinson County Map | 46067 |
| Hyde County | 1,281 | Hyde County | 866.2 | Hyde County Map | 46069 |
| Jackson County | 3,321 | Jackson County | 1871.6 | Jackson County Map | 46071 |
| Jerauld County | 1,985 | Jerauld County | 532.7 | Jerauld County Map | 46073 |
| Jones County | 938 | Jones County | 971 | Jones County Map | 46075 |
| Kingsbury County | 4,987 | Kingsbury County | 863.8 | Kingsbury County Map | 46077 |
| Lake County | 12,488 | Lake County | 575.2 | Lake County Map | 46079 |
| Lawrence County | 26,221 | Lawrence County | 800.5 | Lawrence County Map | 46081 |
| Lincoln County | 63,019 | Lincoln County | 579.1 | Lincoln County Map | 46083 |
| Lyman County | 3,797 | Lyman County | 1708.1 | Lyman County Map | 46085 |
| Marshall County | 4,884 | Marshall County | 886.2 | Marshall County Map | 46091 |
| McCook County | 5,520 | McCook County | 576.9 | McCook County Map | 46087 |
| McPherson County | 2,363 | McPherson County | 1151.5 | McPherson County Map | 46089 |
| Meade County | 28,588 | Meade County | 3482.7 | Meade County Map | 46093 |
| Mellette County | 2,089 | Mellette County | 1310.4 | Mellette County Map | 46095 |
| Miner County | 2,202 | Miner County | 571.9 | Miner County Map | 46097 |
| Minnehaha County | 196,659 | Minnehaha County | 813.9 | Minnehaha County Map | 46099 |
| Moody County | 6,525 | Moody County | 520.8 | Moody County Map | 46101 |
| Oglala Lakota County | 14,070 | Shannon County | 2096.5 | Shannon County Map | 46113 |
| Pennington County | 115,926 | Pennington County | 2784.3 | Pennington County Map | 46103 |
| Perkins County | 2,832 | Perkins County | 2890 | Perkins County Map | 46105 |
| Potter County | 2,163 | Potter County | 898.8 | Potter County Map | 46107 |
| Roberts County | 10,331 | Roberts County | 1137.7 | Roberts County Map | 46109 |
| Sanborn County | 2,322 | Sanborn County | 570.5 | Sanborn County Map | 46111 |
| Spink County | 6,319 | Spink County | 1509.8 | Spink County Map | 46115 |
| Stanley County | 3,121 | Stanley County | 1517.7 | Stanley County Map | 46117 |
| Sully County | 1,391 | Sully County | 1070.3 | Sully County Map | 46119 |
| Todd County | 10,313 | Todd County | 1389.9 | Todd County Map | 46121 |
| Tripp County | 5,377 | Tripp County | 1617 | Tripp County Map | 46123 |
| Turner County | 8,368 | Turner County | 617.7 | Turner County Map | 46125 |
| Union County | 16,192 | Union County | 470.4 | Union County Map | 46127 |
| Walworth County | 5,336 | Walworth County | 744.6 | Walworth County Map | 46129 |
| Yankton County | 22,742 | Yankton County | 532 | Yankton County Map | 46135 |
| Ziebach County | 2,656 | Ziebach County | 1970.1 | Ziebach County Map | 46137 |
References
US State Maps
Select a state to view its map