About the map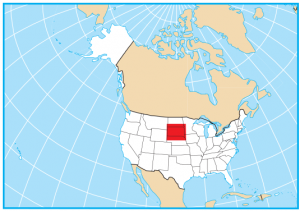 This South Dakota county map displays its 66 counties. The Missouri River cuts through South Dakota, and it's this river that delineates several county boundaries separating South Dakota in an western and eastern portion.
The most populous county in South Dakota is Minnehaha County. Minnehaha County has close to 200,000 residents and home to South Dakota's largest city, Sioux Falls. Jones County has the lowest population with less than 1000 people. In fact, its tally of residents is so low that it's in the bottom 50 for lowest population in the United States.
For size, the largest county in South Dakota is Meade County, occupying an area of close to 3500 square miles. Conversely, the smallest county is Clay County and is just 417 square miles in size. South Dakota borders North Dakota, Nebraska, Minnesota, Iowa, Wyoming and Montana.
South Dakota county map
References
Free US Maps
Select a state to view its map
Still looking for a real map?
National Geographic
carries a full range of Country Maps, US Maps, World Maps, Regional Maps, Historical Maps and Celestial Maps.