Map of Spokane
Are you looking for a map of Spokane, Washington? Look no further. Our collection of maps has everything you need like highways, roads, things to do, and an interactive map.
Spokane is a city located in the eastern region of the State of Washington, near Idaho. Spokane River is the main water feature that cuts through the heart of the downtown area flowing westward.
From its historic buildings to its natural beauty like the Upper Spokane Falls, this growing community offers visitors an amazing amount to see and do. The Spokane map collection is free to use so you can start navigating around the city of Spokane today.
Jump To: Interactive Map | Printable Road Map | 10 Things to Do | Reference Map
Spokane map collection
Interactive Map of Spokane
This Spokane Washington interactive map is a fun and immersive way to explore the city. With the latest updated information, this map shows you everything from hotels and restaurants to historical landmarks. The map is easy to use and is perfect for exploring the city on your own.
Spokane Road Map
Do you ever feel lost when trying to find your way around Spokane? This map will help you navigate your way around the city, and it's the perfect tool for anyone who wants to know their way around town. You can find out more about its interstates like I-90, state highways, and major roads. But if you want to get out of the city, then check out this Washington road map for more details on highways in the state.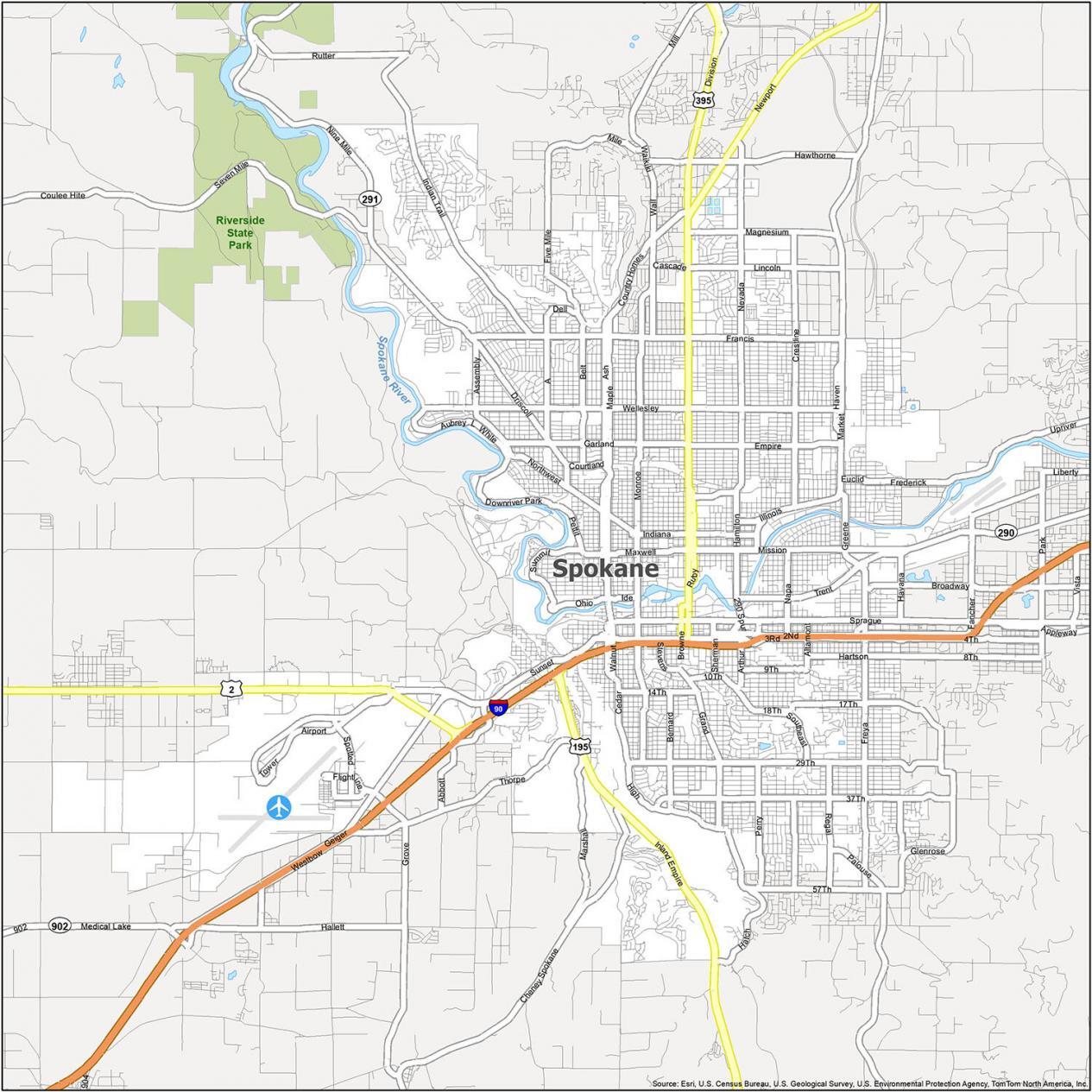 Interstate Highways: I-90
US Highways: 2, 195, 290, 291, 395, Newport Hwy, Palouse Hwy, Sunset Hwy
Parkways: Aubrey L White Pky
Major Roads: Browne St, Division St, Downriver Park Dr, Inland Empire Way, Garden Springs Rd, Greene St, Francis Ave, Hamilton St, Hawthorne Rd, Lincoln St, Maple St, Market St, Nine Mile Rd, Northwest Blvd, Ruby St, Sherman St, Trent Ave, Wellesley Ave
10 Things To Do in Spokane
Spokane is a great place to live, work, and recreation. But with so many things to do, it's hard to know where to start. From downtown to its museums and parks, Spokane has something for everyone. This map helps you get started on your adventure showing you the top attractions in the city.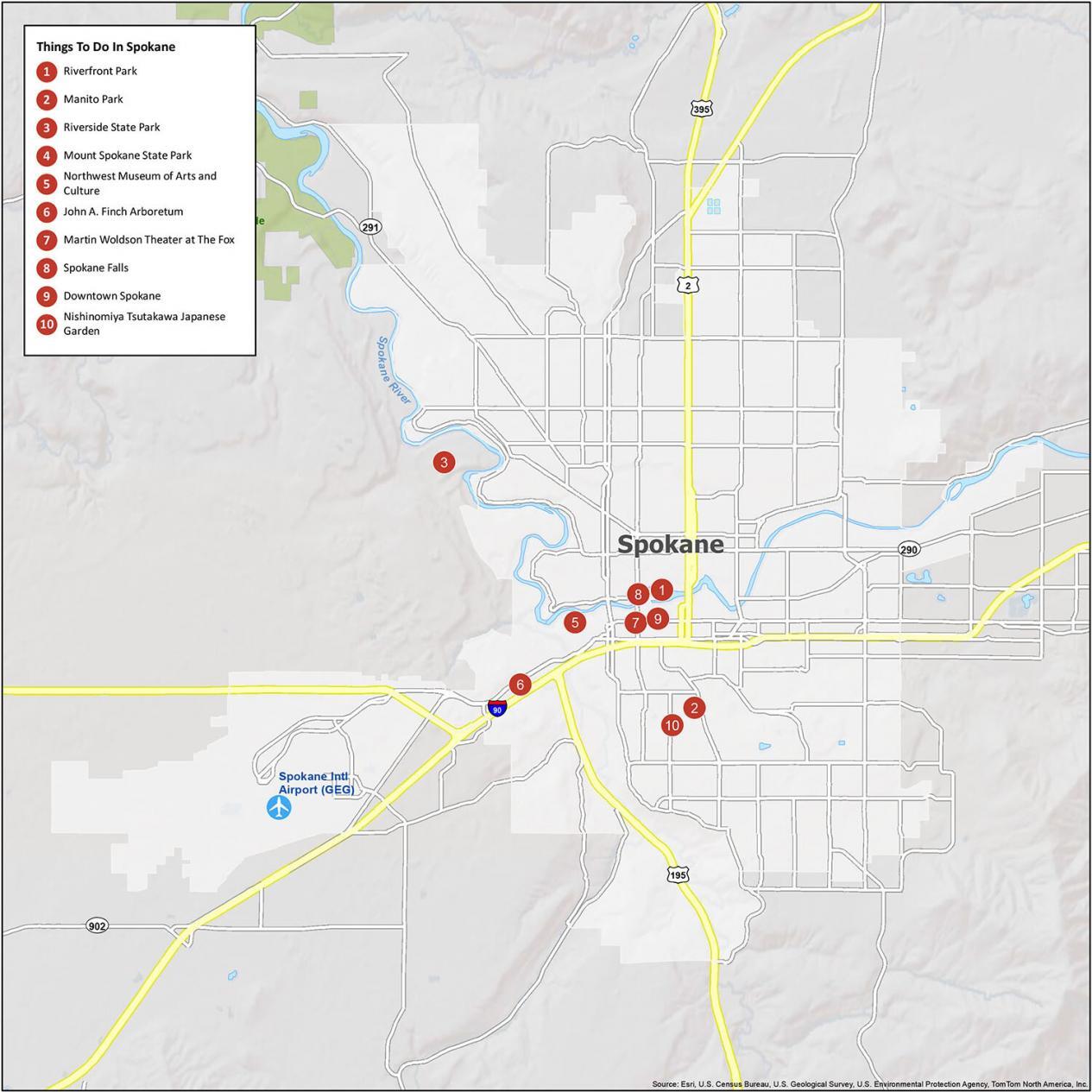 Spokane is known for its parks, forests, and nature. If you ever travel to Spokane, we recommend these 10 things to do.
Riverfront Park
Manito Park
Riverside State Park
Mount Spokane State Park
Northwest Museum of Arts and Culture
John A. Finch Arboretum
Martin Woldson Theater at The Fox
Spokane Falls
Downtown Spokane
Nishinomiya Tsutakawa Japanese Garden
Spokane Reference Map
You can find information about the city of Spokane on this reference map. It provides information about several aspects of the city, from its natural areas to its populated places. The map includes several places of interest and it's ideal for you to mark up and help you plan your next trip to Spokane.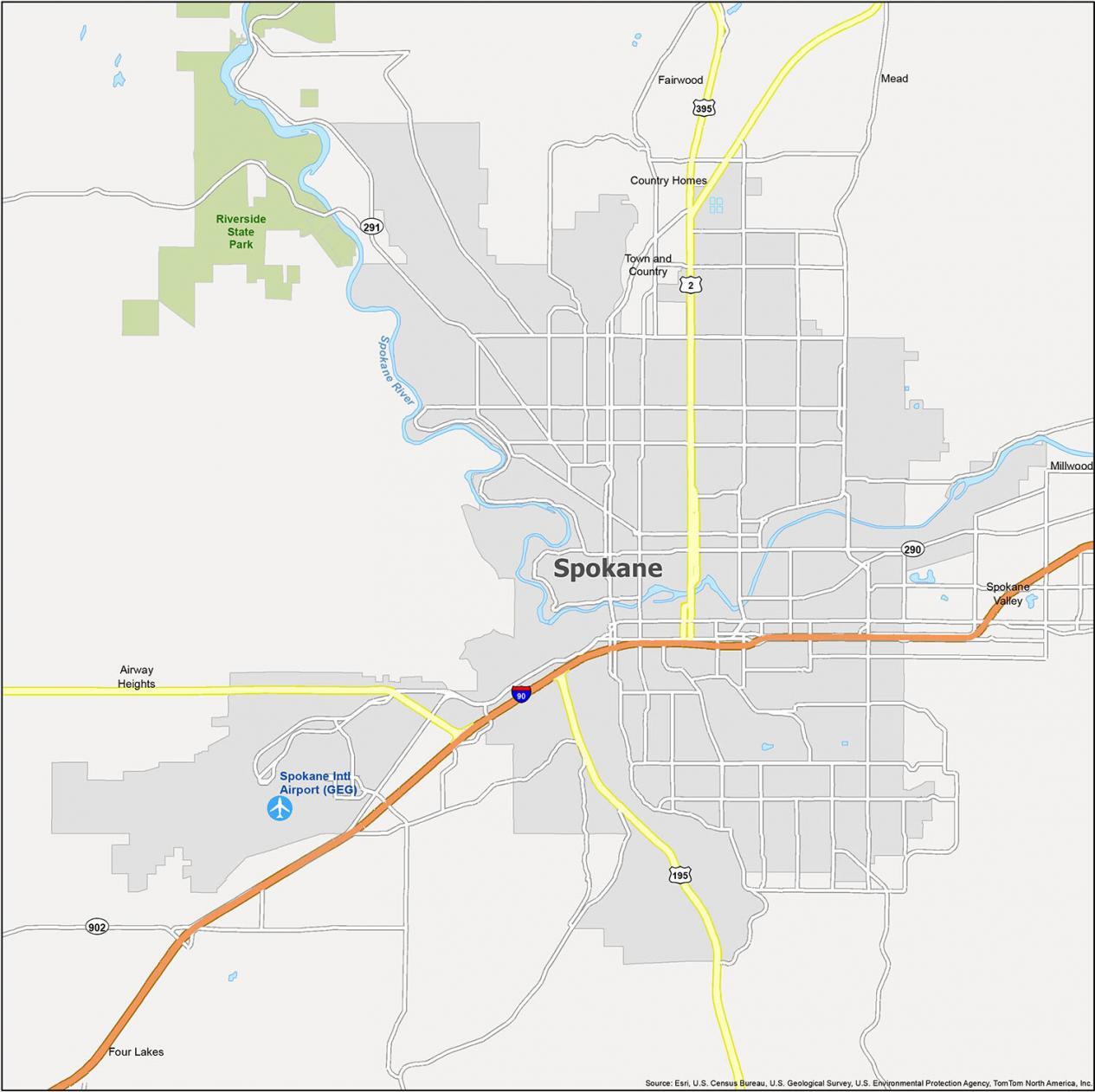 Airports: Spokane International Airport (GEG)
Cities: Airway Heights, Millwood, Spokane, Spokane Valley
Census-designated place (CDP): Country Homes, Fairwood, Four Lakes, Mead
Parks/Recreation: Riverside State Park
Rivers/Lakes: Spokane River
Washington map collection
References