Map of St. Louis
If you need a map of St. Louis, look no further than this map collection. It includes a road map, interactive map, and things to do. These are free to download and use to navigate the city of St. Louis.
From baseball to arts and culture, St. Louis is situated in the heartland of the US. Its major landmark, the Gateway Arch, is one of the most popular tourist destinations in the city. But there's more to St. Louis than its iconic monument.
Whether it's the St. Louis Blues (hockey) or the Cardinals (baseball), this city has some of the most loyal sports fans. Nicknamed the Gateway to the West, this is because many expeditions, including Lewis and Clark, started their journeys to the West from St. Louis, Missouri.
Jump To: Interactive Map | Printable Road Map | 10 Things to Do | Reference Map
St. Louis map collection
Interactive Map of St. Louis
Get a quick and easy overview of the city with this interactive map. Zoom in and out to see everything that is important, from landmarks to neighborhoods. With this map, you can see where different businesses and attractions are located, as well as get an idea of the size and shape of the city.
St. Louis Road Map
Learn the streets of St. Louis by following this road map. It will help you plan your route and get a better sense of where you need to go. It includes interstate routes, highways, and major roads for exploring the city on a more in-depth level. But if you're planning a road trip outside the city, don't forget to look at our Missouri road map for statewide highway information.
Interstate Highways: I-44, I-55, I-64, I-70, I-270
US Highways: 30, 100, 115, 180, 231, 267, 340, 366, 367,
Parkways: Des Peres Pky, Forest Park Pky, Skinker Pky,
Major Roads: 13th St, 3rd St, 4th St, 6th St, 7th Blvd, 7th St, Adelaide Ave, Alabama Ave, Bellefontaine Rd, Bircher Blvd, Branch St, Broadway St, Carondelet Blvd, Chestnut St, Chippewa St, Chouteau Ave, Collins St, Clayton Rd, Cole St, Convention Plz, Delmar Blvd, Dr. Martin Luther King Dr, Florissant Ave, Gasconade St, Germania St, Grand Ave, Grand Blvd, Gratiot St, Gravois Rd, Hall St, Halls Ferry Rd, Hampton Ave, Holly Hills Ave, Jefferson Ave, Kingshighway Blvd, Lafayette Ave, Lewis And Clark Blvd, Lindell Blvd, Manchester Ave, Marceau St, Market St, Martin Luther King Bridge, McCausland Ave, Memorial Dr, Mullanphy St, Natural Bridge Ave, Olive St, Page Blvd, Palm St, Parnell St, Potomac St, President St, Riverview Blvd, Riverview Dr, Tucker Blvd, Union Blvd, Vandeventer Ave, Warne Ave, Washington Ave, Watson Rd, Weber Rd
10 Things To Do in St. Louis
Discover all of the sights and attractions that make St. Louis so captivating. With this map, you'll have the perfect travel plan for your next visit to this city. From touring the Cathedral Basilica of Saint Louis to visiting the Gateway Arch and taking a walk on the riverfront, there are plenty of things to do in this city.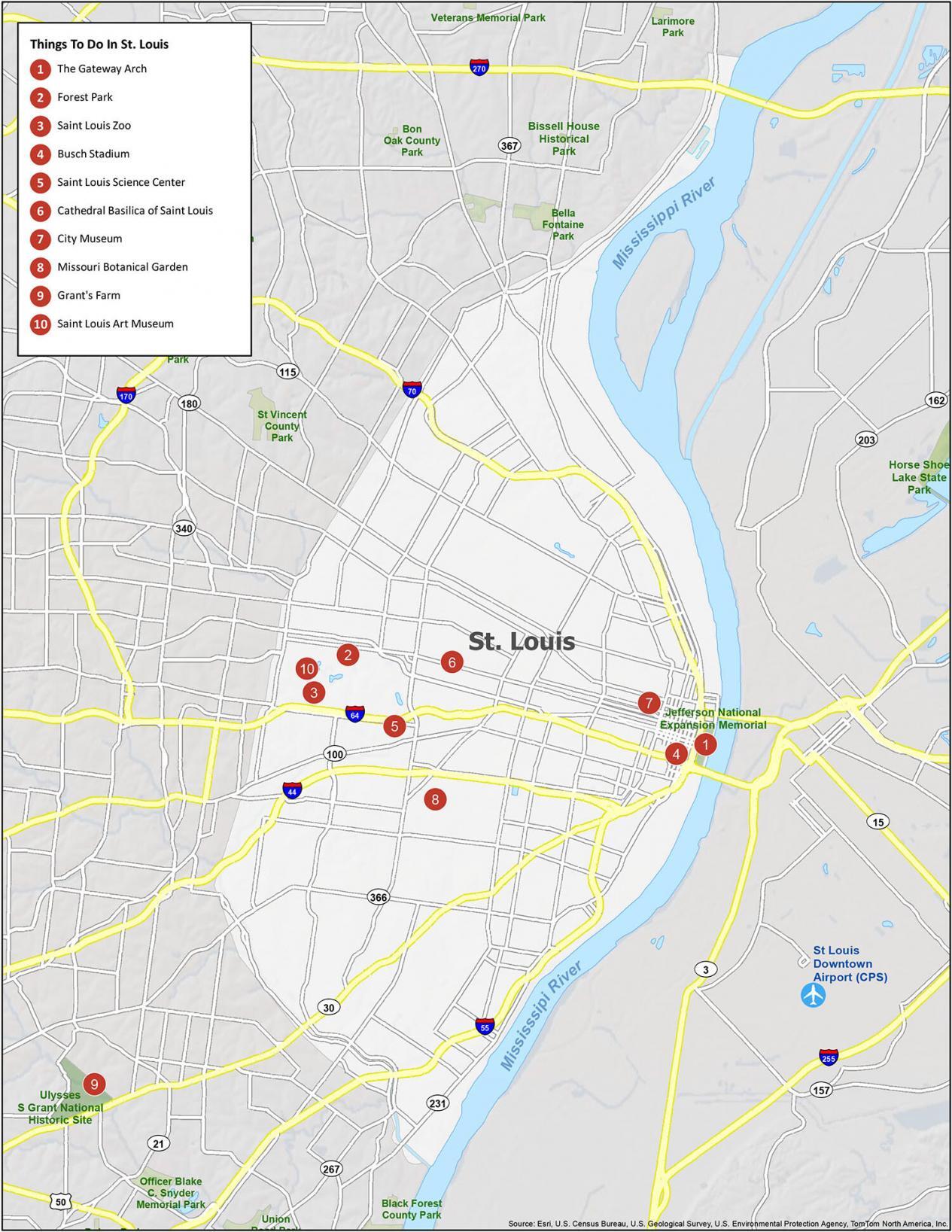 Baseball, beer, and the Gateway Arch! That's what St. Louis, Missouri is known for! If you ever travel to St. Louis, we recommend these 10 things to do.
The Gateway Arch
Forest Park
Saint Louis Zoo
Busch Stadium
Saint Louis Science Center
Cathedral Basilica of Saint Louis
City Museum
Missouri Botanical Garden
Grant's Farm
Saint Louis Art Museum
St. Louis Reference Map
This St. Louis reference map includes everything from nearby cities, towns, and census information. Plus, it includes lakes, rivers, parks, and the St. Louis Lambert International Airport. Get a detailed view of the city and its attractions with this road map. You'll be able to find major areas of the city – and even find your way around if you're lost.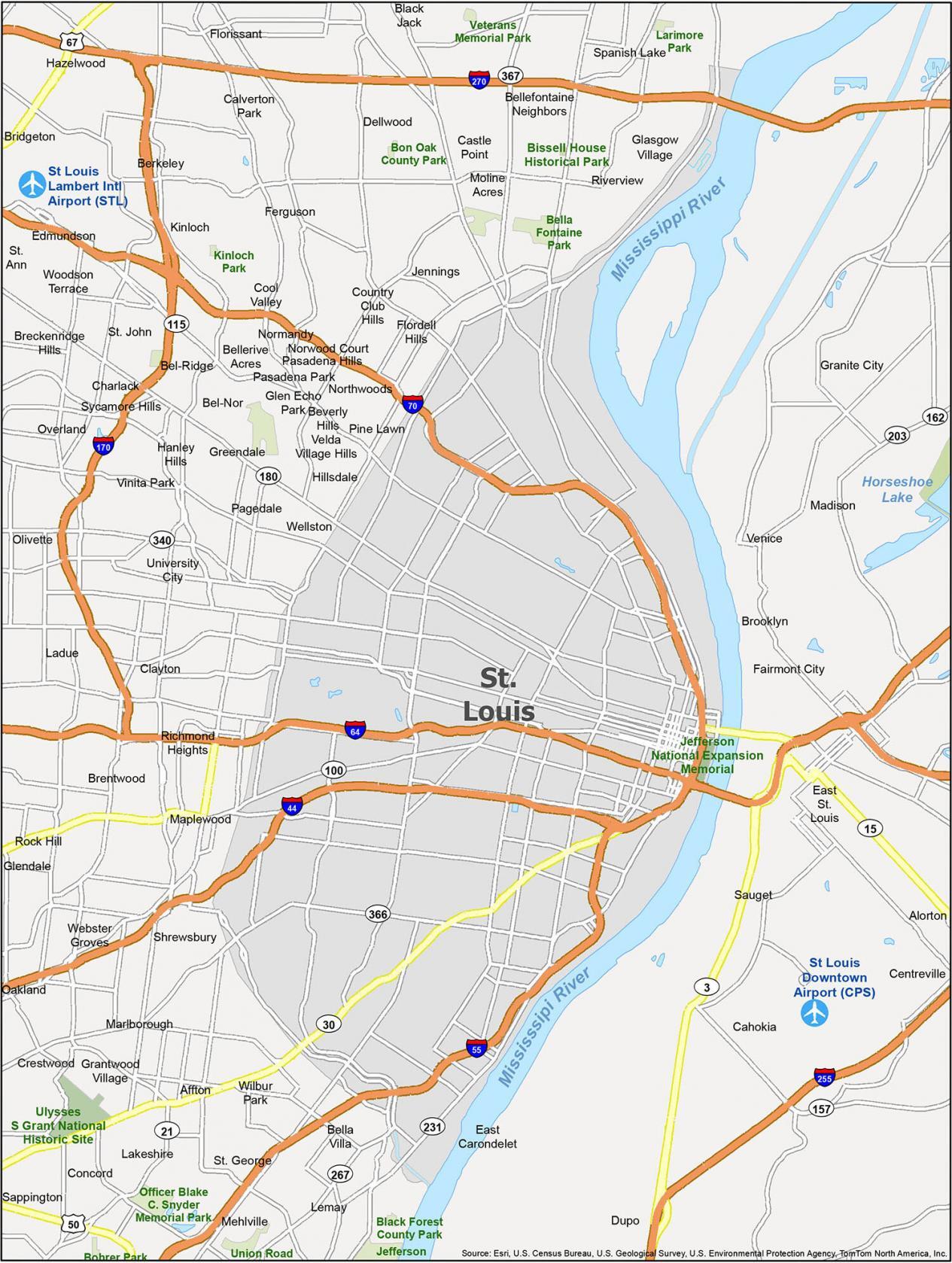 Airports: St. Louis Lambert International Airport (STL)
Census-designated place (CDP): Affton, Castle Point, Concord, Glasgow Village, Lemay, Mehlville, Sappington, Spanish Lake, St. George
Towns: Grantwood Village, Norwood Court
Villages: Alorton, Bel-Nor, Bel-Ridge, Brooklyn, Cahokia, Dupo, East Carondelet, Fairmont City, Glen Echo Park, Hanley Hills, Hillsdale, Marlborough, Pasadena Park, Riverview, Sauget, Sycamore Hills, Uplands Park, Wilbur Park
Cities: Bella Villa, Bellefontaine Neighbors, Bellerive Acres, Berkeley, Beverly Hills, Black Jack, Breckenridge Hills, Brentwood, Bridgeton, Calverton Park, Centreville, Charlack, Clayton, Cool Valley, Country Club Hills, Crestwood, Dellwood, East St. Louis, Edmundson, Ferguson, Flordell Hills, Florissant, Glendale, Granite City, Green Park, Greendale, Hazelwood, Jennings, Kinloch, Ladue, Lakeshire, Madison, Maplewood, Moline Acres, Normandy, Northwoods, Oakland, Olivette, Overland, Pagedale, Pasadena Hills, Pine Lawn, Richmond Heights, Rock Hill, Shrewsbury, St. Ann, St. John, St. Louis, University City, Velda City, Velda Village Hills, Venice, Vinita Park, Webster Groves, Wellston, Woodson Terrace
St. Louis map collection
Missouri map collection
References