Map of Syracuse, New York

Map of Syracuse
If you're searching for a map of Syracuse, download any of these from our map collection. It includes highways, roads, things to do, and an interactive map of the city.
Syracuse is a city in central New York with a population of 150,000 people. One of the prominent features is Onondaga Lake, situated to the northwest of Syracuse.
Although it's a small city with a population of about 142,000 people, Syracuse has some of the best parks in central New York, making it a great place to explore if you have time on your hands. Learn more about this exciting city below.
Jump To: Interactive Map | Printable Road Map | 10 Things to Do | Reference Map
Syracuse map collection
Interactive Map of Syracuse
Get a little closer to Syracuse and its history with this interactive map. Use the tools to browse hotels, restaurants, businesses, attractions, and other features in Syracuse. Plus, you can use the zoom tools to get a better understanding of all the different neighborhoods and attractions. Whether you're looking to go for a weekend visit or plan a week-long adventure, this interactive map is perfect for your needs.
Syracuse Road Map
Get a glimpse of the city with this Syracuse road map showing interstates, highways, and major roads of Syracuse. This map will help you plan your route and get a better sense of what you need to see while in town. Our road map will take you from the heart of the city to its suburbs and outlying villages. Print it off before you go and enjoy the convenience of it when traveling. But for any travel outside of Syracuse, take a look at our road map of New York state for more highway information.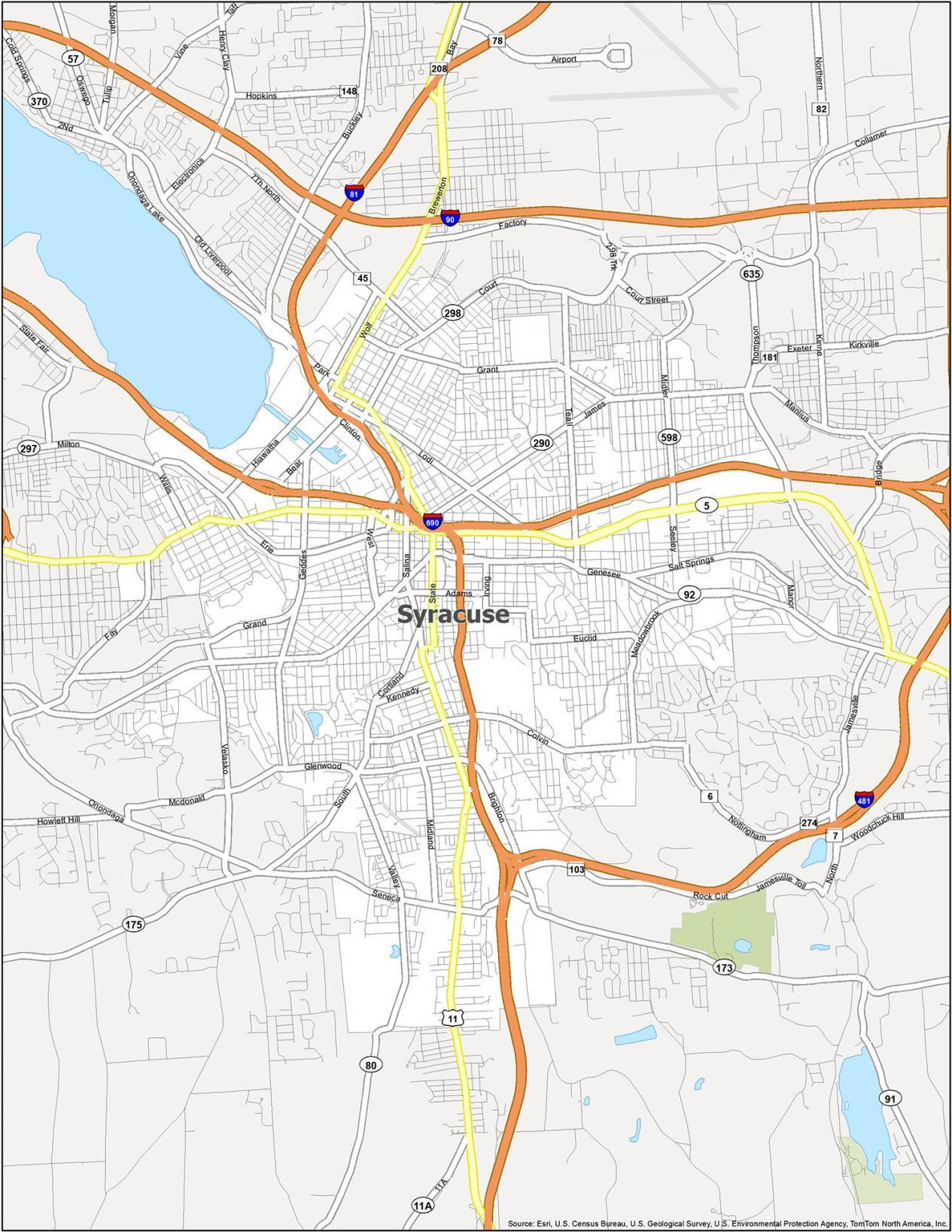 Interstate Highways: I-81, I-481, I-690
US Highways: 5, 11, 39, 45, 80, 92, 173, 290, 298, 370, 598, 635, Seneca Tpke
Parkways: Onondaga Lake Pky
Major Roads: Adams St, Bear St, Brighton Ave, Butternut St, Clinton St, Colvin St, Court St, Erie Blvd, Franklin St, Genant Dr, Genesee St, Herald Pl, James St, Kennedy St, Raynor Ave, Rock Cut Rd, Salina St, South Ave, State St, Sunset Ave, Thompson Rd, Valley Dr, West St, Wolf St
10 Things To Do in Syracuse
Get a sneak peek of what the city has to offer with this map. It includes a wealth of tourist attractions and activities that you and your family can take part in Syracuse. From the Rosamond Gifford Zoo to Onondaga Lake Park, this map offers a unique and exciting way to explore Syracuse and gives you some great ideas for things to do while you're there.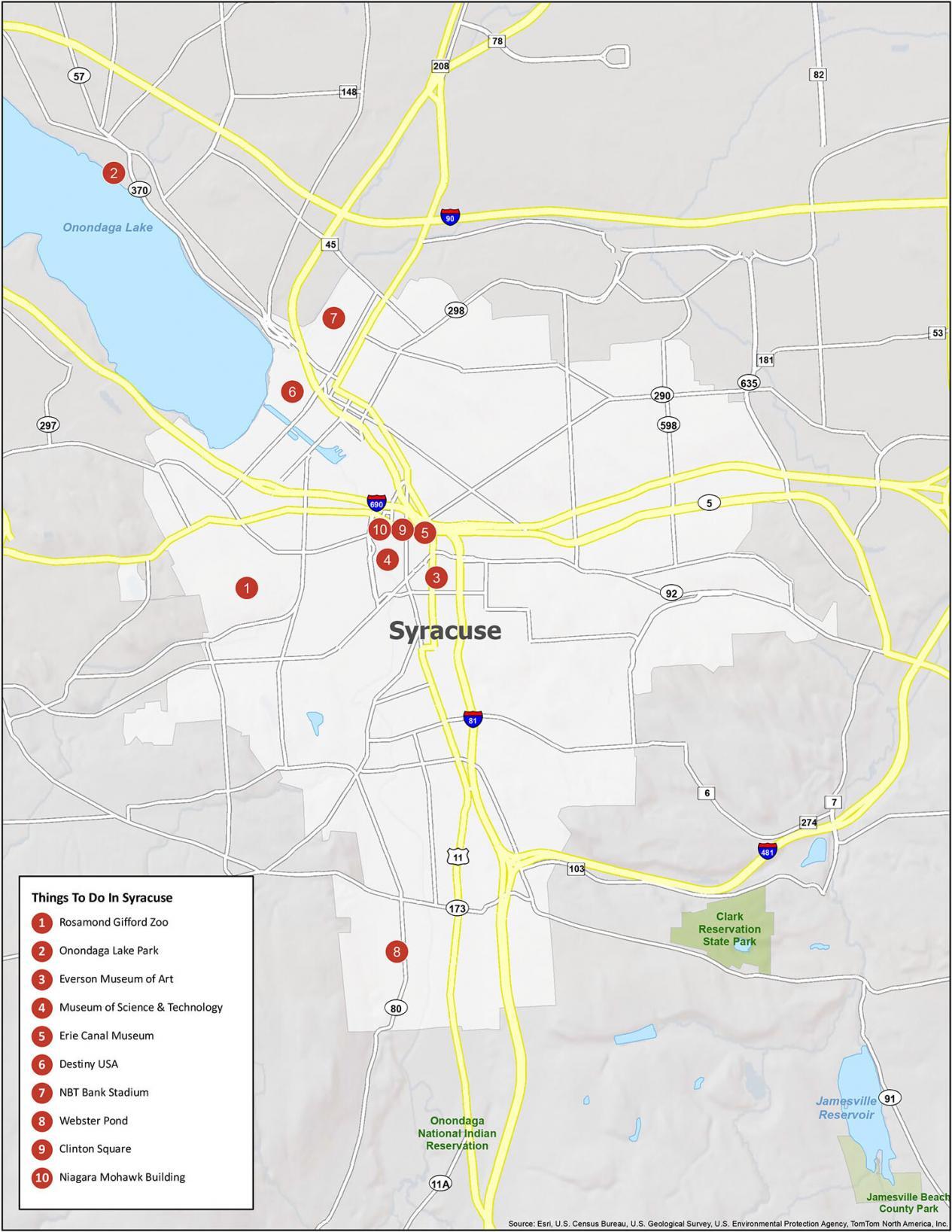 If you ever travel to Syracuse, we highly recommend these 10 things to do.
Rosamond Gifford Zoo
Onondaga Lake Park
Everson Museum of Art
Museum of Science & Technology
Erie Canal Museum
Destiny USA
NBT Bank Stadium
Webster Pond
Clinton Square
Niagara Mohawk Building
Syracuse Reference Map
Get a quick overview of the city and its neighborhoods to help find your way around and plan your next trip to Syracuse. This reference map includes everything from nearby cities, towns, lakes, rivers, and parks. You'll see everything from the city center to the outskirts, and you can use it for free.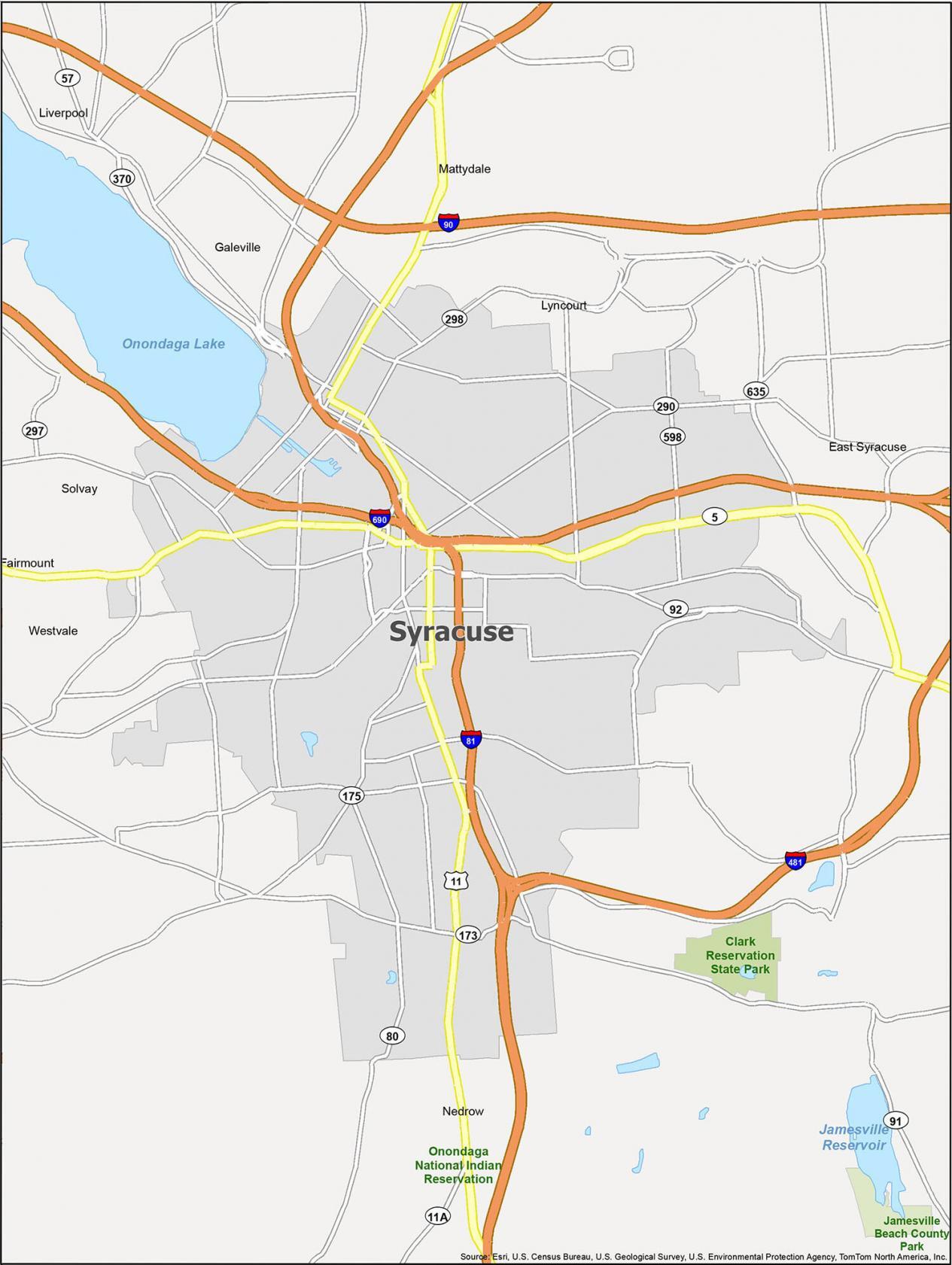 Census-designated place (CDP): Galeville, Lyncourt, Mattydale, Nedrow, Westvale
Villages: East Syracuse, Liverpool, Solvay
Lakes/Rivers: Jamesville Reservoir, Onondaga Lake
Parks/Recreation: Clark Reservation State Park, Jamesville Beach County Park, Onondaga National Indian Reservation
New York State map collection
References