Map of Tallahassee, Florida

Map of Tallahassee
Download our Tallahassee city map to help you navigate in the wonderful city of Tallahassee, Florida. Our map of Tallahassee, Florida highlights major roads, highways, and things to do.
Tallahassee is located in northwest Florida and is the capital city of Florida. It is the largest city in Florida's panhandle region known as the "Big Bend". These areas have significant marshy coasts ideal for boating and wildlife watching.
Although the city has a modern downtown area, most of the city has a traditional small-town feel. That's because the city is home to close to 100 parks with hundreds of miles of walking trails. If you're looking for an adventure, explore Tallahassee and the surrounding area.
Jump To: Interactive Map | Printable Road Map | 10 Things to Do | Reference Map
Tallahassee map collection
Interactive Map of Tallahassee
Take a tour of your city, find out about the local entertainment and see what's happening in any neighborhood. Explore Tallahassee Florida's best attractions, restaurants, hotels, and more with this map. This interactive map will help you explore Tallahassee. From the top attractions to the best local spots, this interactive map has you covered.
Tallahassee Road Map
There is no better way to get to know the city than by exploring it with a Tallahassee road map. Save yourself from spending hours driving around town looking for the best place or the best place for you. You can explore every interstate, highway, and major road of this beautiful city in just a few minutes. But for any road trips outside the city, check out our free Florida road map for statewide highway information.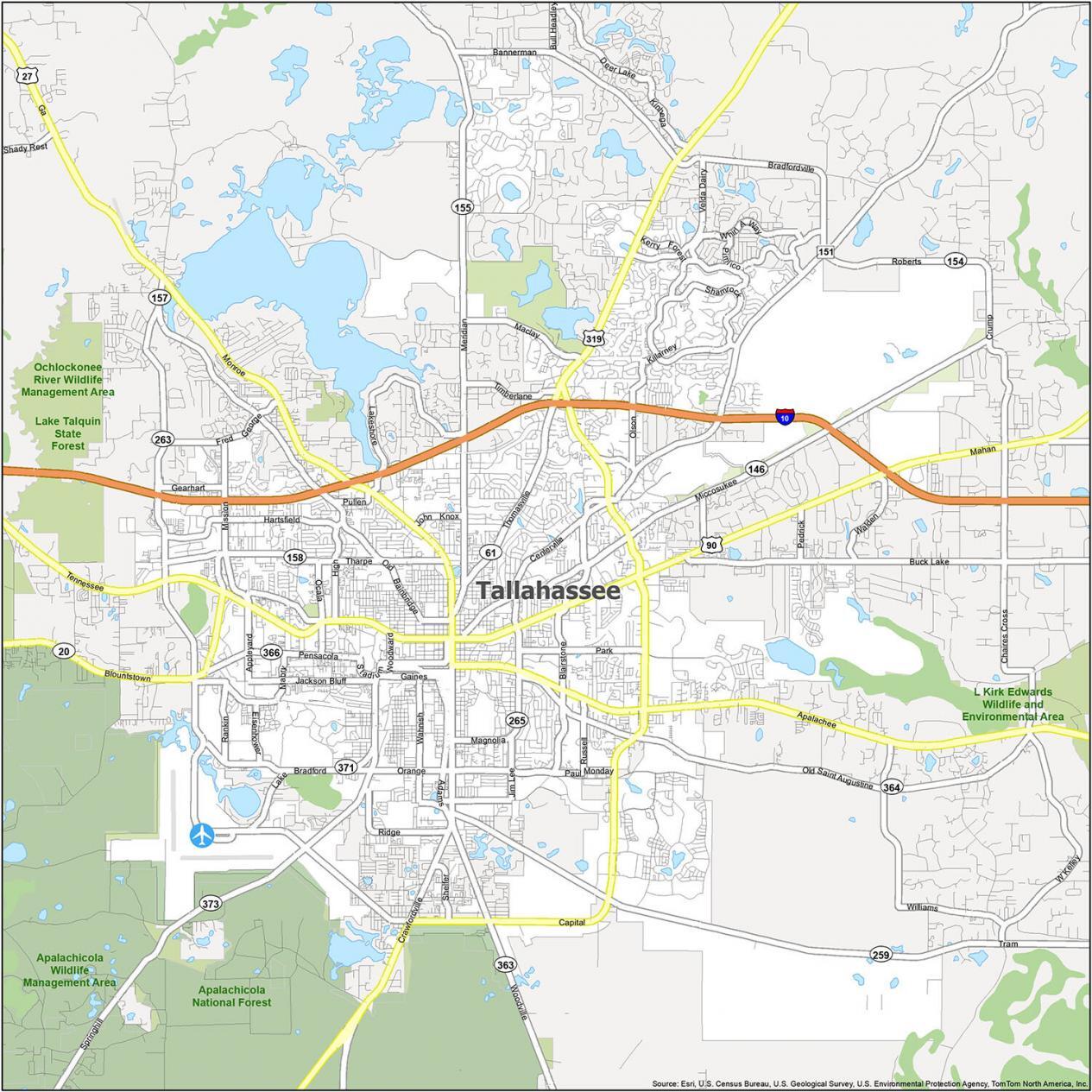 Interstate Highways: I-10
US Highways: 20, 27, 61, 90, 151, 155, 158, 259, 263, 265, 319, 366, 371, 373, Blountstown Hwy,
Parkways: Apalachee Pky, Kerry Forest Pky
Major Roads: Adams St, Capital Cir, Crawfordville Rd, Fred George Rd, Gaines St, Hospitality St, Jefferson St, Lake Bradford Rd, Madison St, Magnolia Dr, Mahan Dr, Meridian Rd, Monroe St, Orange Ave, Paul Russell Rd, Pensacola St, Saint Augustine St, Springhill Rd, Stadium Dr, Tennessee St, Thomasville Rd, Tram Rd, Woodville Hwy, Woodward Ave
10 Things To Do in Tallahassee
This Tallahassee map is your go-to for exploring Tallahassee Florida for things to do. From Cascades Park to the Tallahassee Museum, it includes all the places to see in the area. Our map is the perfect way to explore Tallahassee, Florida with the best attractions the city has to offer.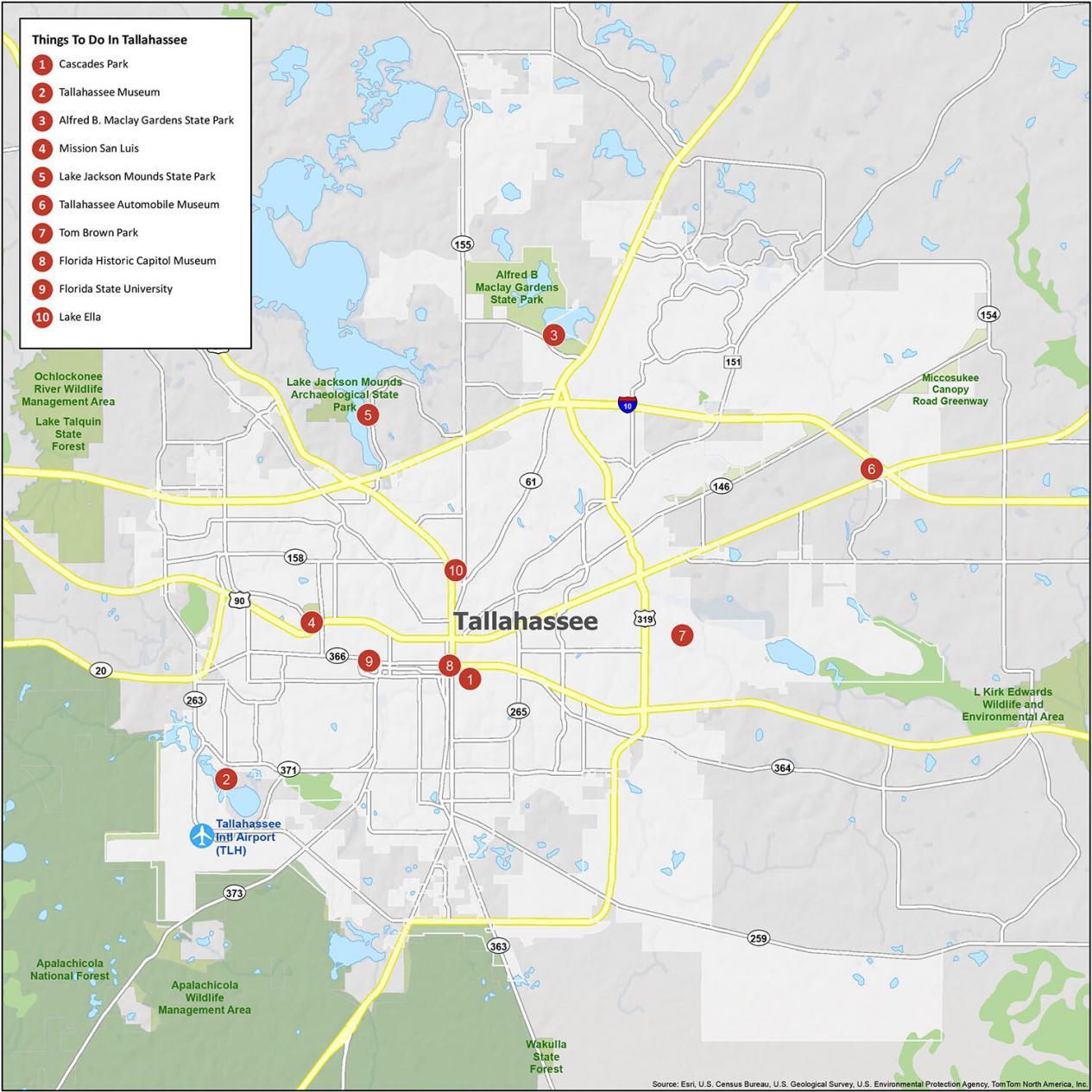 Tallahassee is known for its beautiful scenery and its historical landmarks. If you ever travel to Tallahassee, we recommend these 10 things to do.
Cascades Park
Tallahassee Museum
Alfred B. Maclay Gardens State Park
Mission San Luis
Lake Jackson Mounds State Park
Tallahassee Automobile Museum
Tom Brown Park
Florida Historic Capitol Museum
Florida State University
Lake Ella
Tallahassee Reference Map
Tallahassee is a great place to visit with family or friends. Whether you're looking for a fun-filled vacation or an educational experience, Tallahassee has something for everyone. This map covers the entire city and includes points of interest, rivers, lakes, and populated places.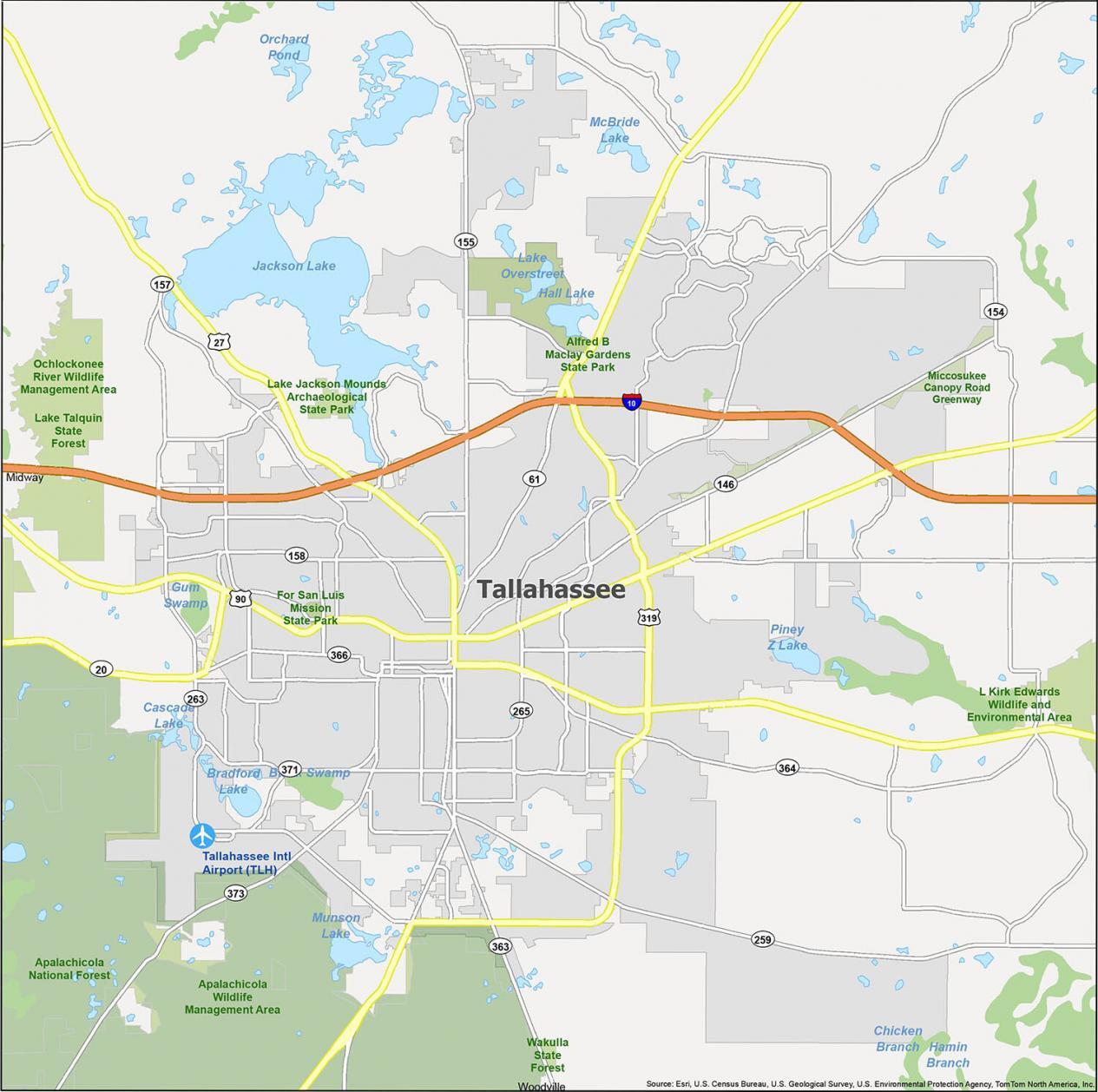 Airports: Tallahassee International Airport (TLH)
Cities: Midway
Census-designated place (CDP): Woodville
Lakes/Rivers: Black Swamp, Bradford Lake, Cascade Lake, Hall Lake, Jackson Lake, Lake Overstreet, McBride Lake, Munson Lake, Piney Z Lake
Parks/Recreation: Alfred B Maclay Gardens State Park, Apalachicola Wildlife Management Area, For San Luis Mission State Park, Lake Jackson Mounds Archaeological State Park, L Kirk Edwards Wildlife and Environmental Area, Miccosukee Canopy Road Greenway, Wakulla State Forest
Florida map collection
References