This Tallahassee map collection features three maps of the capital of Florida.
Tallahassee is known for its beautiful scenery and its historical landmarks. Download our Tallahassee city map to help you navigate and play in.
Tallahassee Road Map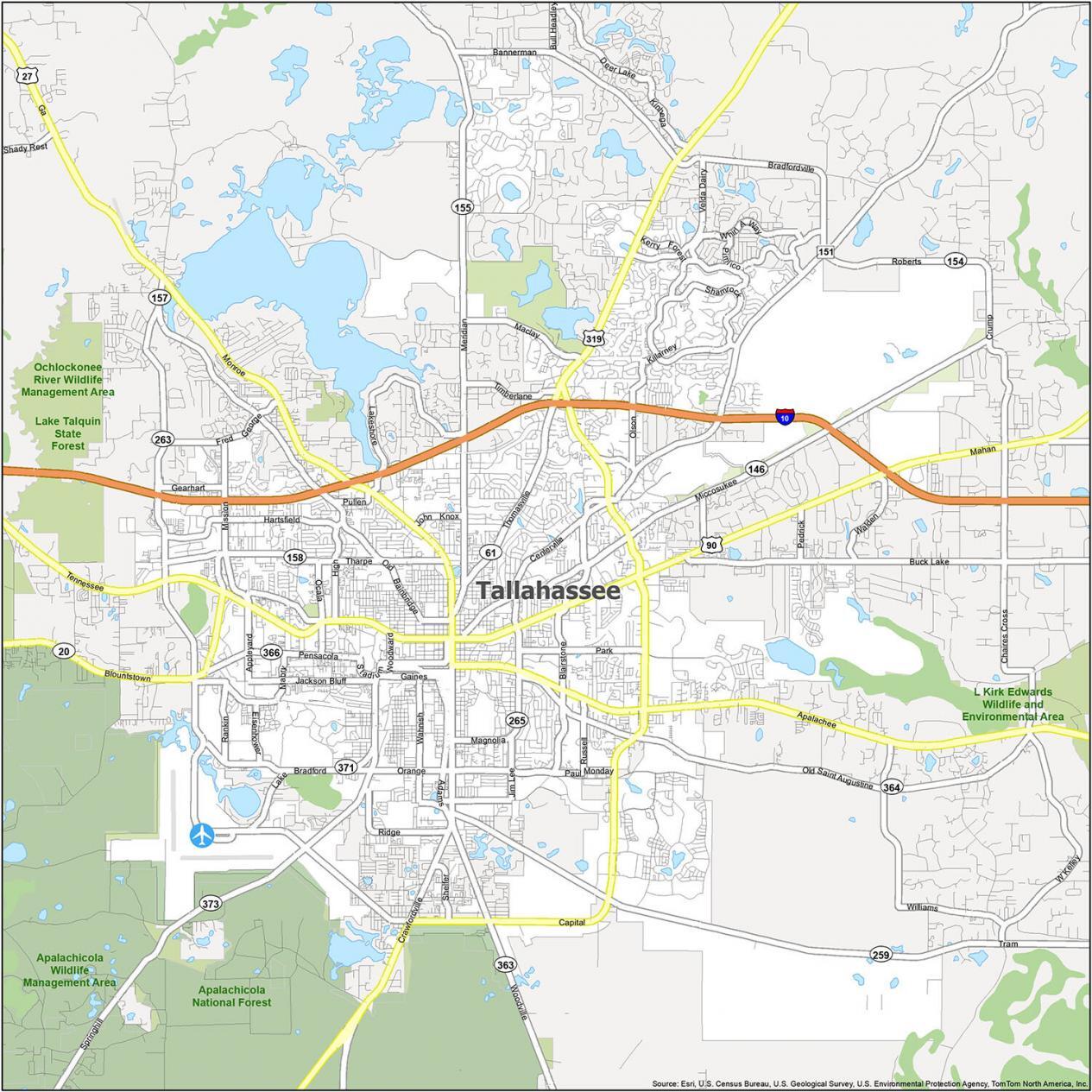 Interstate Highways: I-10
US Highways: 20, 27, 61, 90, 151, 155, 158, 259, 263, 265, 319, 366, 371, 373, Blountstown Hwy,
Parkways: Apalachee Pky, Kerry Forest Pky
Major Roads: Adams St, Capital Cir, Crawfordville Rd, Fred George Rd, Gaines St, Hospitality St, Jefferson St, Lake Bradford Rd, Madison St, Magnolia Dr, Mahan Dr, Meridian Rd, Monroe St, Orange Ave, Paul Russell Rd, Pensacola St, Saint Augustine St, Springhill Rd, Stadium Dr, Tennessee St, Thomasville Rd, Tram Rd, Woodville Hwy, Woodward Ave
10 Things To Do In Tallahassee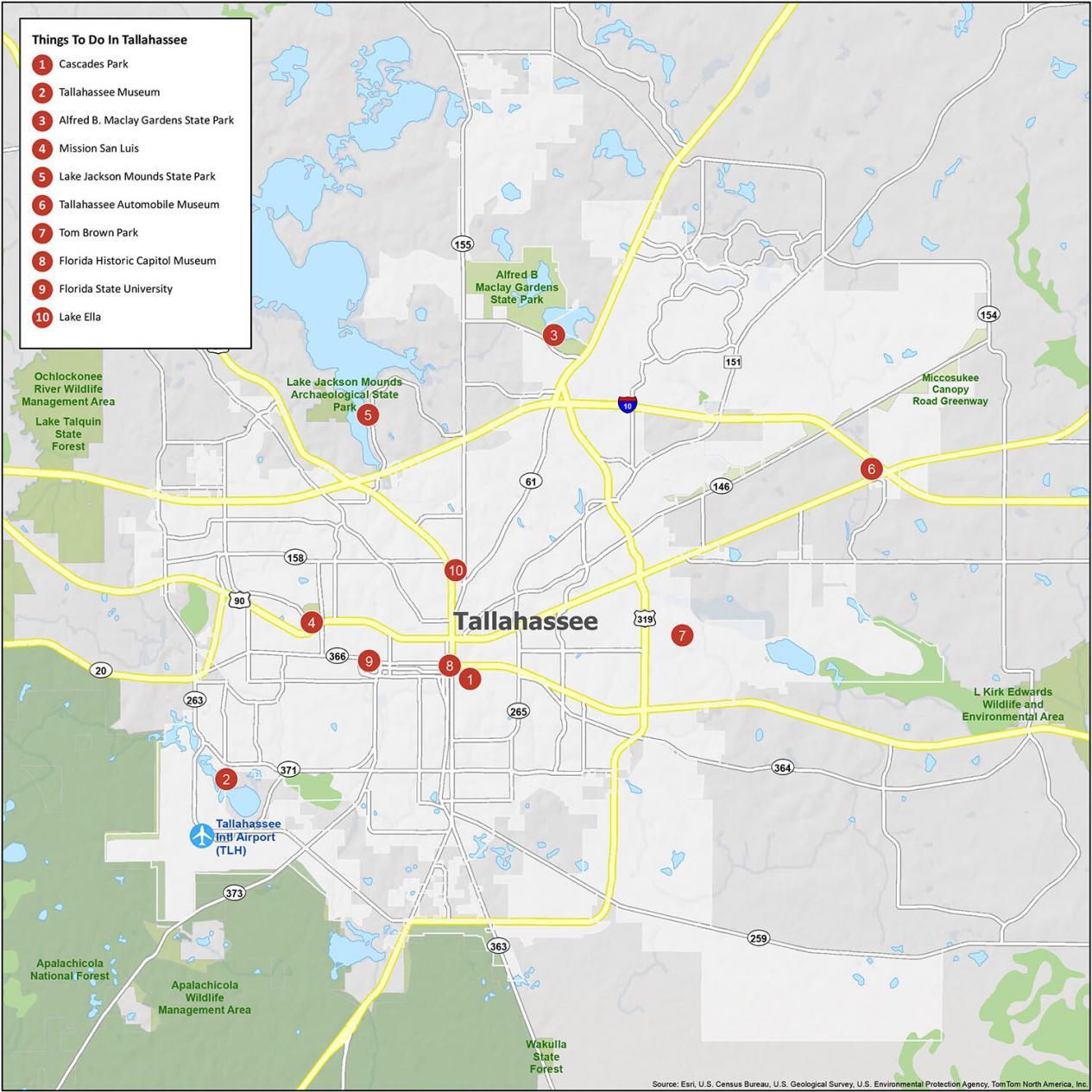 If you ever travel to Tallahassee, we recommend these 10 things to do.
1. Cascades Park
2. Tallahassee Museum
3. Alfred B. Maclay Gardens State Park
4. Mission San Luis
5. Lake Jackson Mounds State Park
6. Tallahassee Automobile Museum
7. Tom Brown Park
8. Florida Historic Capitol Museum
9. Florida State University
10. Lake Ella
Tallahassee Map of Places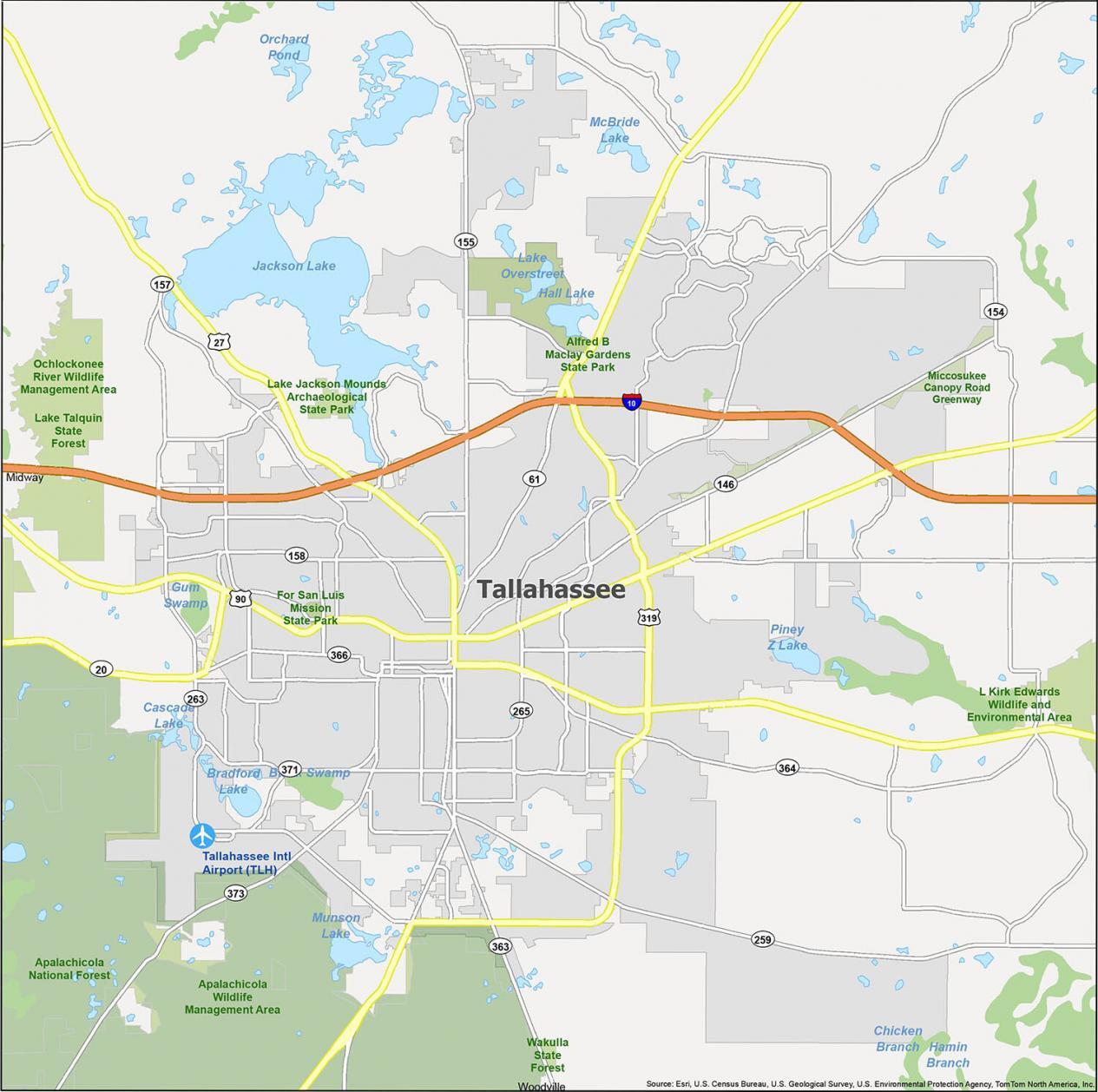 Airports: Tallahassee International Airport (TLH)
Cities: Midway
Census-designated place (CDP): Woodville
Lakes/Rivers: Black Swamp, Bradford Lake, Cascade Lake, Hall Lake, Jackson Lake, Lake Overstreet, McBride Lake, Munson Lake, Piney Z Lake
Parks/Recreation: Alfred B Maclay Gardens State Park, Apalachicola Wildlife Management Area, For San Luis Mission State Park, Lake Jackson Mounds Archaeological State Park, L Kirk Edwards Wildlife and Environmental Area, Miccosukee Canopy Road Greenway, Wakulla State Forest