Map of Tucson
This Tucson map collection highlights the Arizona city known for its deserts, parks, and rich history. It's not just a single map of Tucson. Instead, it features several maps with roads, reference information, and things to do.
Home to the prestigious University of Arizona, Tucson has a thriving arts and culture scene, as well as a host of shopping, dining, and entertainment options. Tucson is a medium-sized city in the south region of Arizona and sits in the Sonoran Desert.
Download and print any from the Tucson map collection to help you navigate through the Arizona desert city. But first, explore the city with this interactive map provided by Google Maps.
Jump To: Interactive Map | Printable Road Map | 10 Things to Do | Reference Map
Tucson map collection
Interactive Map of Tucson
Discover the best of what Tucson has to offer with this interactive map. This map will show you the best food, attractions, and shopping that Tucson Arizona has to offer. Tour Tucson Arizona before you go with this interactive map and check out the city in the desert.
Tucson Road Map
Explore Tucson Arizona with this road map and get to know the city like a local. Whether you are a first-time visitor or a longtime resident, it will show you all the things that make Tucson Arizona an amazing place to live. Learn about its highways and streets. But if you plan on leaving the city, refer to our Arizona road map for highway information in the state.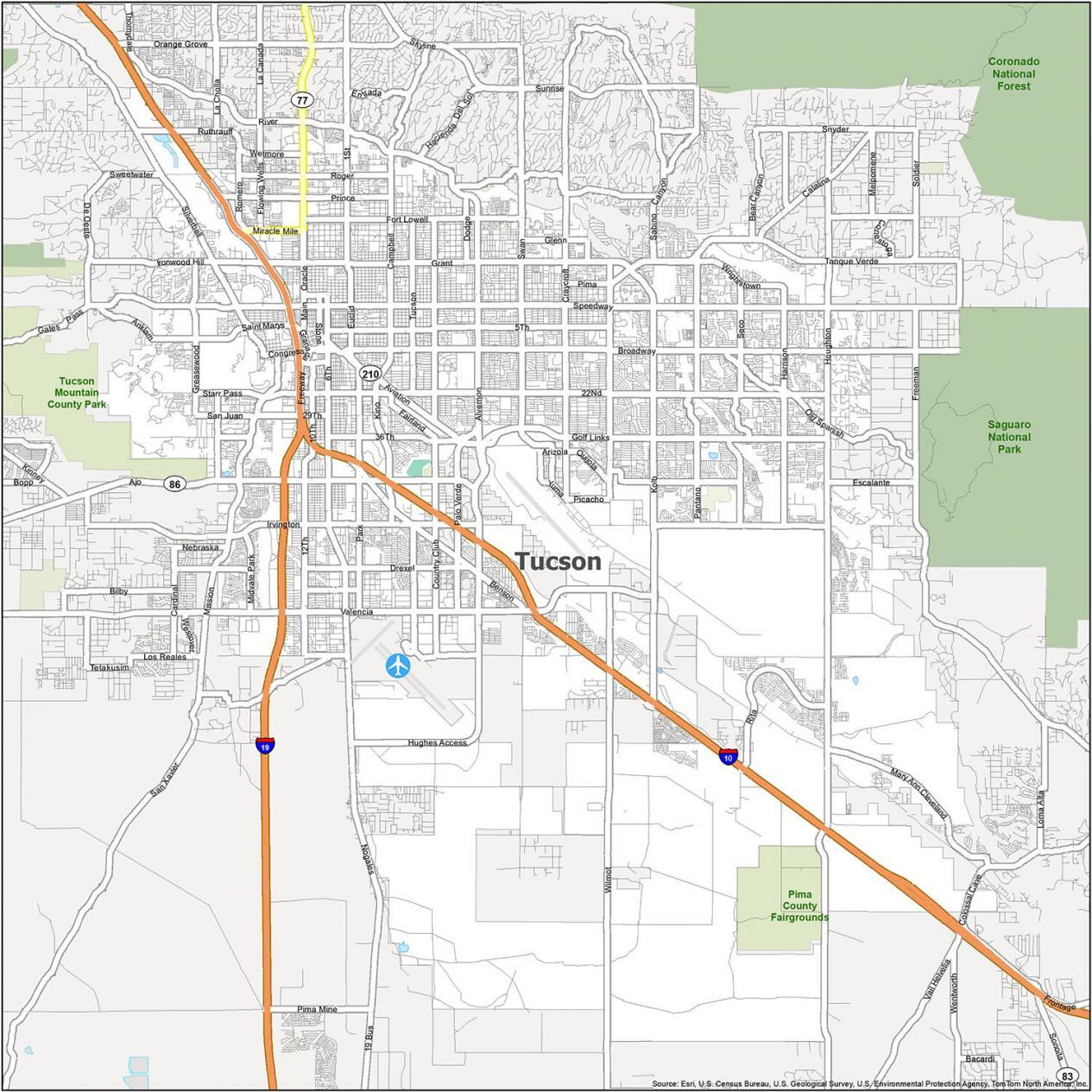 Interstate Highways: I-10, I-19
US Highways: 77, 86, 210, Benson Hwy, Casa Grande Hwy, Nogales Hwy
Parkways: Aviation Pky, Kino Pky
Major Roads: 4th Ave, 6th Ave, Ajo Way, Alvernon Way, Broadway Blvd, Business Center Dr, Campbell Ave, Congress St, Drachman St, Freeway Rd, Golf Links Rd, Grant Rd, Houghton Rd, Kolb Rd, Main Ave, Miracle Mile, Oracle Rd, River Rd, Sabino Canyon Rd, Speedway Blvd, Stone Ave, Tanque Verde Rd, Thornydale Rd, Toole Ave, Tucson Blvd, Valencia Rd
10 Things To Do in Tucson
Tucson residents are sure to love the ease and convenience of this way to travel. Get to know the hidden gems of Tucson, Arizona, and explore the city in a whole new way. Explore the city and see the new experiences that await you. From museums to parks, this guide will show you where to go so you can better plan your route.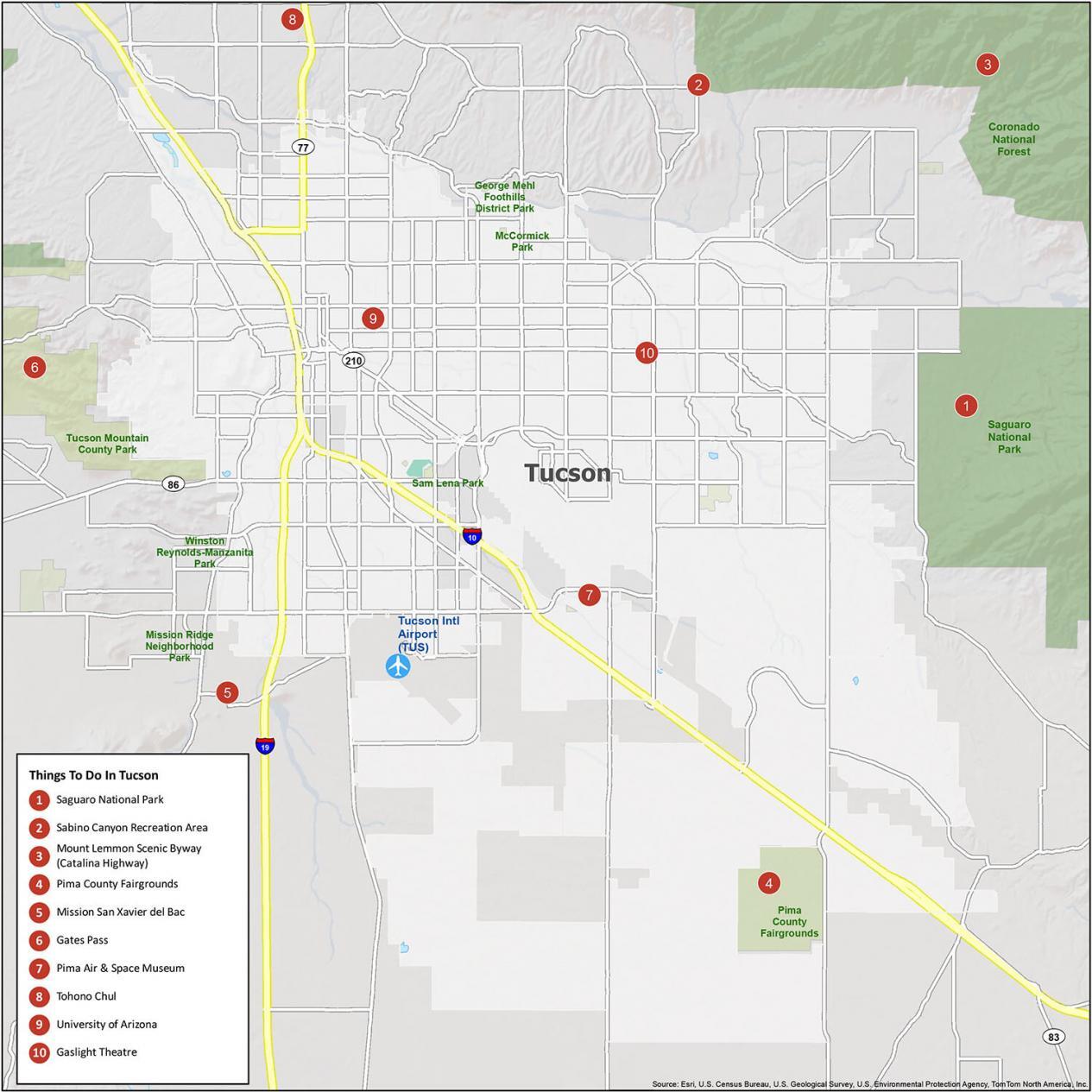 If you ever travel to Tuscon, we recommend these 10 things to do.
Saguaro National Park
Sabino Canyon Recreation Area
Mount Lemmon Scenic Byway (Catalina Highway)
Pima County Fairgrounds
Mission San Xavier del Bac
Gates Pass
Pima Air & Space Museum
Tohono Chul
University of Arizona
Gaslight Theatre
Tucson Reference Map
Get exploring and find the best places in Tucson. Be your own tour guide and plan your perfect day. The guide is packed with useful information, including parks, airports, and populated areas. Get the most out of your visit with this smart travel companion.
Airports: Tucson International Airport (TUS)
Cities: South Tucson, Tucson
Towns: Marana, Sahuarita
Census-designated place (CDP): Casas Adobes, Catalina Foothills, Drexel Heights, Flowing Wells, Rincon Valley, Summit, Tanque Verde, Tucson Estates, Vail, Valencia West
Parks/Recreation: George Mehl Foothills District Park, McCormick Park, Tucson Mountain County Park, Winston Reynolds-Manzanita Park, Willie Blake Park, Sam Lena Park, Mission Ridge Neighborhood Park, Pima County Fairgrounds
Tucson, Arizona maps
Arizona map collection
References