Arizona State Maps
City Maps of Arizona
About the map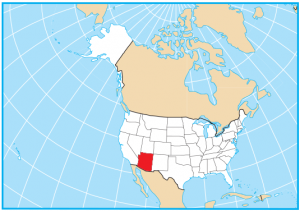 In this Arizona county map, it displays its 15 counties. Arizona's tally of 15 counties is the 8th fewest in the United States. Only Massachusetts, Vermont, New Hampshire, Connecticut, Hawaii, Rhode Island and Delaware have fewer counties than Arizona.
Maricopa, Pima, and Pinal are some of the largest counties in Arizona in terms of population. But in terms of area, Coconino County is the largest. In fact, it's second in size compared to the contiguous United States, behind San Bernardino, one of the counties in California. Meanwhile, the smallest county is Santa Cruz in the south.
The Apache County has a geographic extent that's long in the north-south direction. Part of this county is assigned to the Fort Apache Indian Reservation. Mohave County contains parts of Grand Canyon National Park. The eastern portion of the Grand Canyon stretches into Coconino County.
Arizona county list
References
US State Maps