Arizona Map – Cities and Roads
Arizona State Maps
City Maps of Arizona
About the map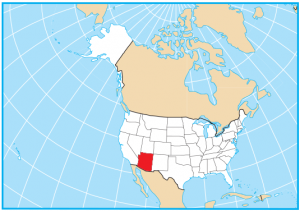 This map of Arizona displays cities, roads, rivers and lakes. For example, Phoenix, Tucson and Mesa are some of the major cities shown in this Arizona map.
Arizona is nicknamed the Grand Canyon state because of this one-mile-deep natural wonder of the world. It's also known as the king desert state because half of it is desert. It's home to viewing some of the most unique geological formations, and even the Barringer Crater in Coconino County, Arizona.
Arizona is home to Navajo reservation, which is the largest Indian reservation in the US. It occupies an area of about 25,000 square miles, which is close to the size of the state of West Virginia.
State capital
Phoenix
Cities, towns and villages
Phoenix
Chandler
Glendale
Mesa
Scottsdale
Tempe
Tucson
Bullhead City
Flagstaff
Lake Havasu City
Prescott
Sierra Vista
Yuma
Oro Valley
Casa Grande
Interstate highways
Interstate-19 (I-19)
Interstate-17 (I-17)
Interstate-15 (I-15)
Interstate-8 (I-8)
Interstate-19 (I-10)
Interstate-40 (I-40)
Populated Places
Benson
Bisbee
Clifton
Cottonwood
Douglas
Eloy
Florence
Gila Bend
Globe
Holbrook
Kingman
Nogales
Page
Parker
Safford
St Johns
Show Low
Superior
Tombstone
Wickenburg
Willcox
Williams
Winslow
Window Rock
Miami
Payson
Sedona
Chinle
Lukeville
Ajo
Alpine
Ash Fork
Grand Canyon
Kayenta
Polacca
Peach Springs
Colorado City
Tuba City
Camp Verde
Snowflake
Eagar
Quartzite
San Luis
Buckeye
Sells
Green Valley
Marana
Major mountains and valleys in Arizona
Gila Bend Mts
Galiuro Mts
Black Mesa
Mogollon Rim
Chuska Mts
Coconino Plateau
Shivwits Plateau
Kaibab Plateau
Humphreys Pk
Baldy Peak
Mt Graham
Chiricahua Pk
Mt Wrightson
Hualapai Pk
Monument Valley
Painted Desert
Grand Canyon
Lakes, rivers and creeks
Gulf of California
Lake Powell
Verde River
Theodore Roosevelt Lake
Gila River
Colorado River
Virgin River
Lake Mead
San Carlos Reservoir
San Pedro River
Lake Mohave
Lake Havasu
Salt River
A US road map that displays major interstate highways, limited-access highways and principal roads in the United States including states and capital cities.
Download our lakes and rivers map of the United States. It's free to use for any purpose. Or select from any of the 50 states for detailed lakes and rivers.
How much rain falls in the United States? Take a close look at this US precipitation map to see where it falls the most and least. You'll see it fluctuates.
Arizona State Maps
City Maps of Arizona
Free US Maps
Select a state to view its map