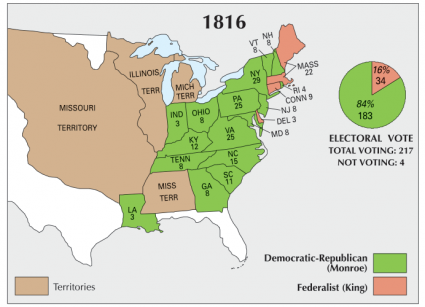 During this election, the War of 1812 ended. Despite the loss in the war, the United States grew as a country.
The Federalists were losing popularity due to their concerns grieved at the Hartford Convention.
Since this election, the Federalist party basically disappeared and was forgotten in the country. James Monroe of the Democratic-Republicans ran for president and won with ease. From here, his popularity grew so much that no one wanted to run against him.
James Monroe
Fifth president of the United States
Vice President: Daniel D. Tompkins
Total Electoral Votes: 183
Electoral Vote: 84%
Political Party: Democratic-Republican
1816 Election Timeline
1804: Thomas Jefferson
1808: James Madison
1812: James Madison
1816: James Monroe
1820: James Monroe
1824: John Quincy Adams
1828: Andrew Jackson
1832: Andrew Jackson

You are free to use our US election maps for educational and commercial uses. Attribution is required. How to attribute?
US election map collection