Thomas Jefferson vs Charles Cotesworth Pinckney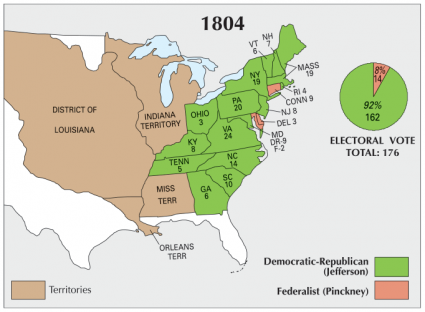 In the 4th presidential election in United States history, incumbent Thomas Jefferson wished for re-election against Charles Cotesworth Pinckney of the Federalist party.
But as Jefferson served his four-year presidency, popularity for him picked up even more. The results tell the tale as he dominated the 1804 election with 162 electoral votes
If you compare this to Pinckney, he picked up just 14 electoral votes. But this didn't stop him from running again in the next presidential election in 1808.

« PREVIOUS
1800 Election Map

NEXT »
1808 Election Map
Thomas Jefferson
Third president of the United States (Second term)
Vice President: George Clinton
Total Electoral Votes: 162
Electoral Vote: 92%
Political Party: Democratic-Republican

1804 Election Timeline
1792: George Washington
1796: John Adams
1800: Thomas Jefferson
1804: Thomas Jefferson

1808: James Madison
1812: James Madison
1816: James Monroe
1820: James Monroe

US Election Map Collection