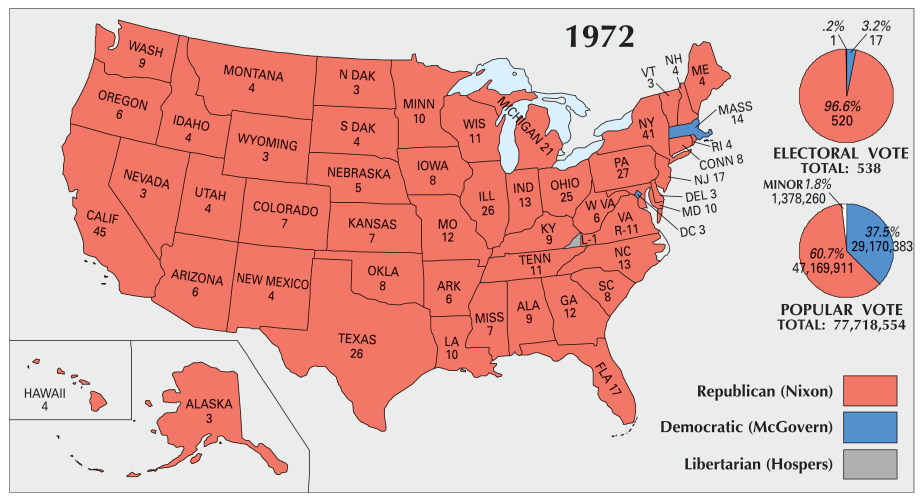 Election of 1972 Summary
The 1972 election marked the first time 18 to 20-year-old citizens could vote. Richard Nixon finished his first term and was running again for re-election. Again, the hot topic was getting troops out of the Vietnam war.
The Democratic party had a whole slew of candidates. But it was George McGovern who stood out most. He especially made it clear that he wanted to bring all the troops home.
The 1972 election was a two-pony race between Nixon and McGovern. But in the end, Nixon dominated with 520 electoral votes. McGovern could only muster 17 electoral votes, which is the biggest landslide in history.
Richard Nixon
Thirty-seventh president of the United States (second term)
Vice President: Gerald Ford
Total Electoral Votes: 520
Electoral Vote: 96.6%
Political Party: Republican
1972 Election Timeline
1960: John F. Kennedy
1964: Lyndon B. Johnson
1968: Richard Nixon
1972: Richard Nixon
1976: Jimmy Carter
1980: Ronald Reagan
1984: Ronald Reagan
1988: George H.W. Bush

You are free to use our US election maps for educational and commercial uses. Attribution is required. How to attribute?
US election map collection