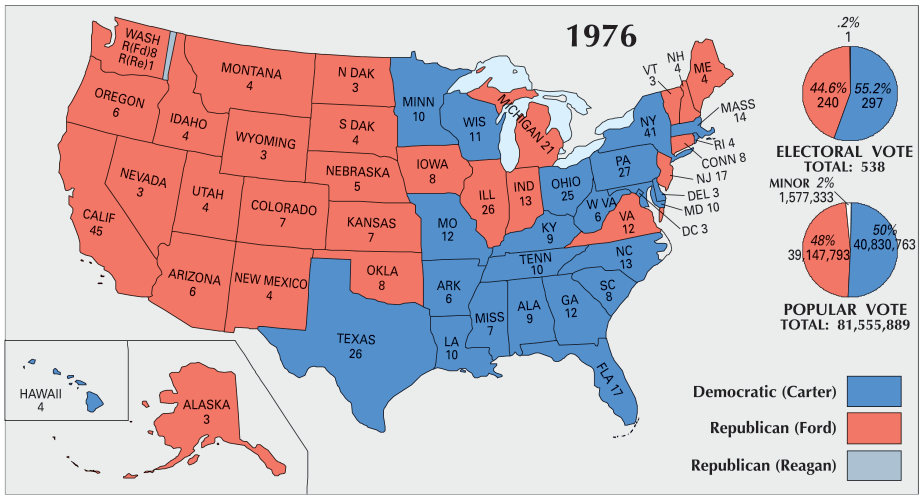 Download
You are free to use our US election maps for educational and commercial uses. Attribution is required. How to attribute?
Election of 1976 Summary
The American people lost trust in their government. It's mainly because Richard Nixon took center stage in the Watergate scandal. In a nutshell, this scandal involved spying on the Democrats which led Nixon to resign in 1974.
Gerald Ford took over the role of president until the 48th presidential election in 1976. His opponent was Jimmy Carter, who stood out the most for the Democratic party.
When the people voted, they picked Jimmy Carter as the 39th president. He won with 297 electoral votes over Ford's 240.

« PREVIOUS
1972 Election Map

NEXT »
1980 Election Map
Jimmy Carter
Thirty-ninth president of the United States
Vice President: Walter Mondale
Total Electoral Votes: 297
Electoral Vote: 55.2%
Political Party: Democratic

1976 Election Timeline
1964: Lyndon B. Johnson
1968: Richard Nixon
1972: Richard Nixon
1976: Jimmy Carter

1980: Ronald Reagan
1984: Ronald Reagan
1988: George H.W. Bush
1992: Bill Clinton

US Election Map Collection