Virginia Beach Map, Virginia

Map of Virginia Beach
This map of Virginia Beach includes a collection of ways to view the city of Virginia Beach. For example, it highlights major roads, highways, and landmarks in the city.
Virginia Beach is one of the nation's most popular coastal resort cities. Boasting miles of Atlantic Ocean beaches and pine-covered dunes, it's also an ideal location for families with children in Virginia.
There are plenty of fun things to do in Virginia Beach, from dining at a waterfront restaurant to taking in a show at a local performing arts center. Download this map collection of Virginia Beach to see it all.
Jump To: Interactive Map | Printable Road Map | 10 Things to Do | Reference Map
Virginia Beach map collection
Interactive Map of Virginia Beach
Tour the city with this detailed and interactive map of Virginia Beach. This map includes 50+ attractions, including must-see landmarks, sweeping beaches, and historical sites. Discover all the sights from the Town Center to the Atlantic Ocean and more. This map will guide you toward the best attractions and accommodations in the city.
Virginia Beach Road Map
If you're looking to explore the city, you'll find it easier than ever before with this Virginia Beach road map. Discover Virginia Beach with this detailed map of all the major roads and highways, so you can plan your route with ease.
It's easy to find your way around the city with the color-coded highways and major roads on this map. But for travel outside the city, download our Virginia road map with highway information of the state.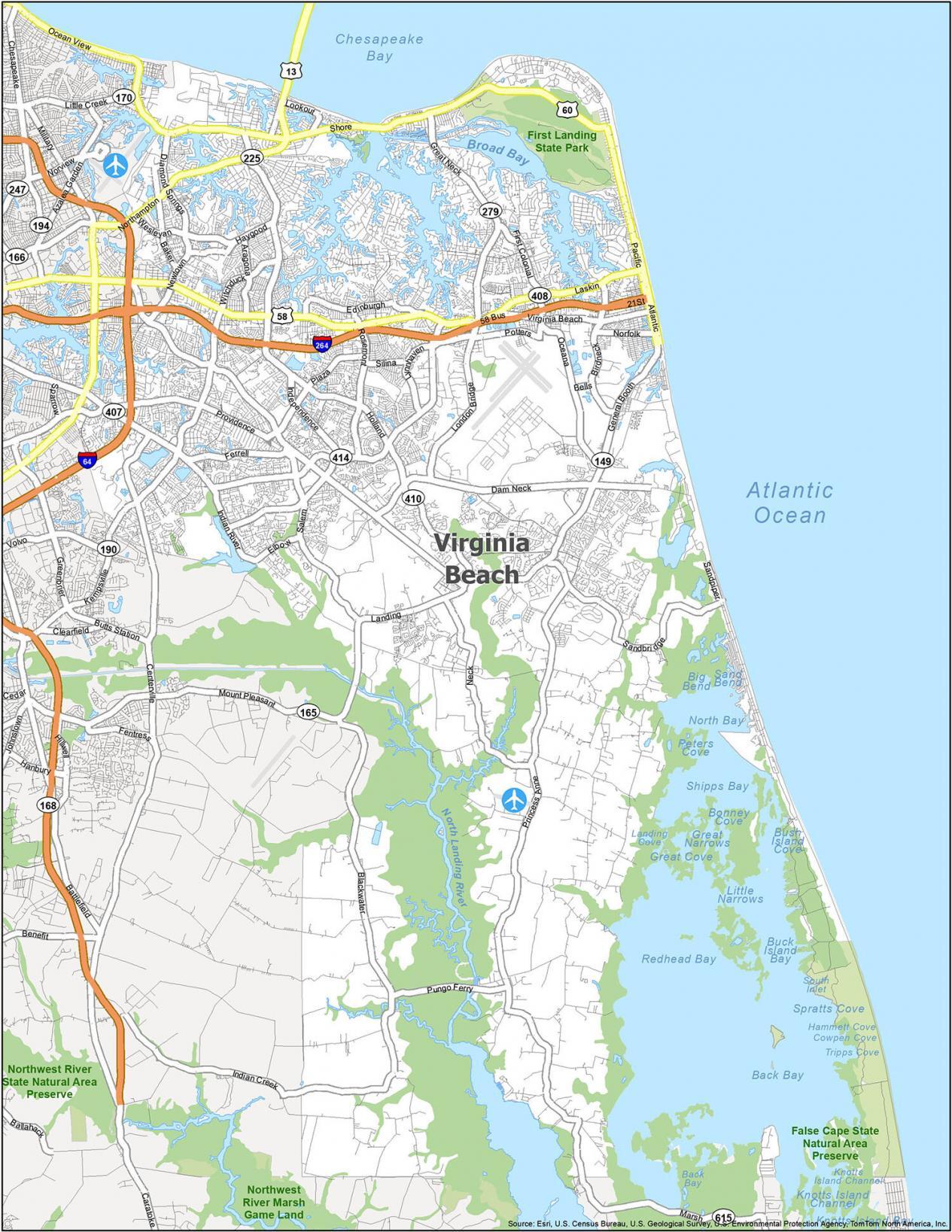 Interstate Highways: I-264, I-64
US Highways: 13, 58, 60, 149, 165, 190, 225, 279, 408, Centerville Tpke, Military Hwy
Parkways: Ferrell Pky, Lynnhaven Pky
Major Roads: 21st St, 22nd St, 5th St, 83rd St, Atlantic Ave, First Colonial Rd, General Booth Blvd, Great Neck Rd, Independence Blvd, Kempsville Rd, Landing Rd, Laskin Rd, Marsh Cswy, Newtown Rd, Northampton Blvd, Pacific Ave, Pembroke Blvd, Princess Anne Rd, Shore Dr, Virginia Beach Blvd, Witchduck Rd
10 Things To Do in Virginia Beach
Get the ultimate guide to the city with this attraction map. It will have you exploring this beautiful destination with ease by displaying major highways and roads on a detailed map. This map includes all the major attractions, including the Virginia Aquarium & Marine Science Center and First Landing State Park.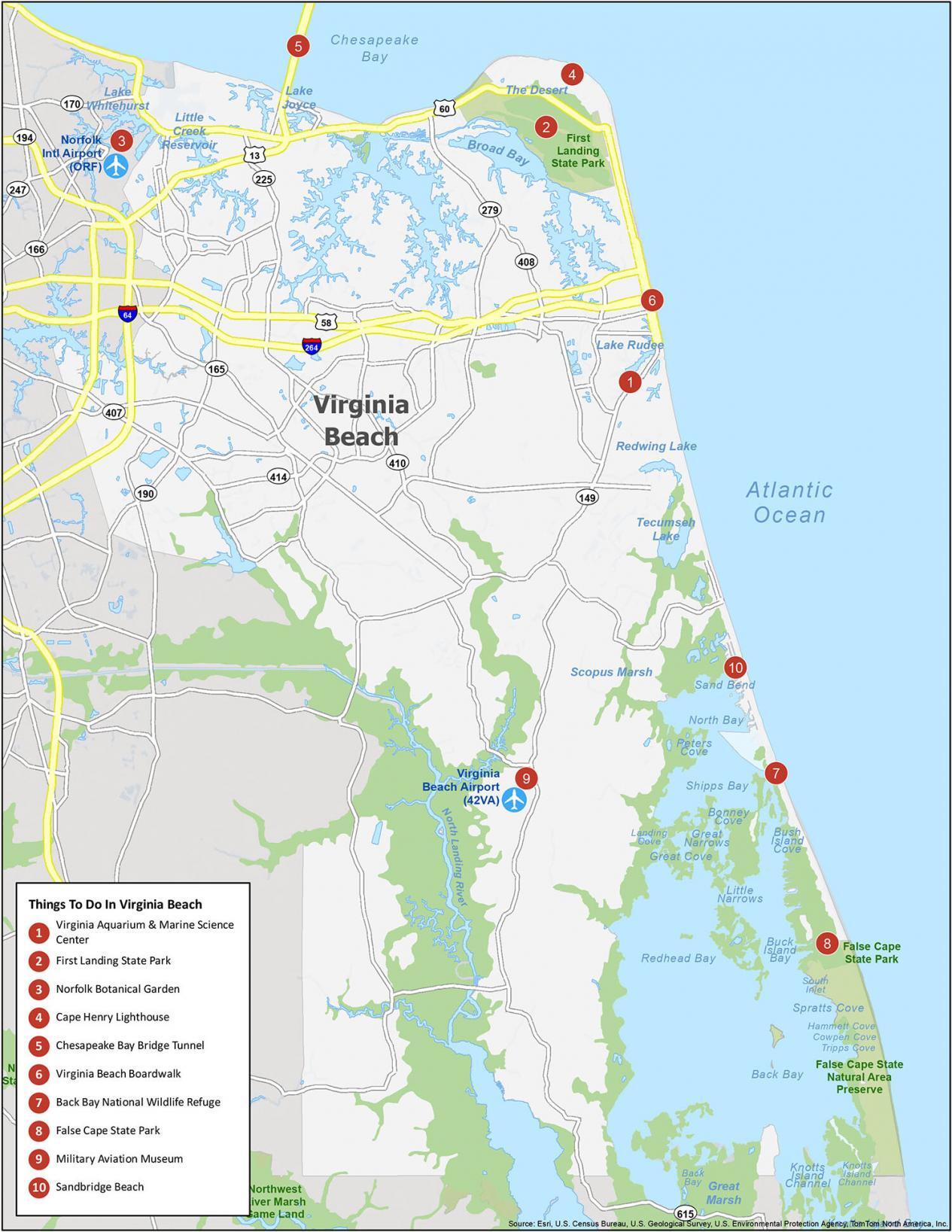 If you ever travel to Virginia Beach, we recommend these 10 things to do. Virginia Beach is known for its boardwalks, oceanfront, and beaches.
Virginia Aquarium & Marine Science Center
First Landing State Park
Norfolk Botanical Garden
Cape Henry Lighthouse
Chesapeake Bay Bridge Tunnel
Virginia Beach Boardwalk
Back Bay National Wildlife Refuge
False Cape State Park
Military Aviation Museum
Sandbridge Beach
Virginia Beach Reference Map
Get the inside scoop on what's ahead. This handy map is packed with insider insights on everything from state parks to lakes and rivers. Find your way around Virginia Beach with ease with this reference map of the city.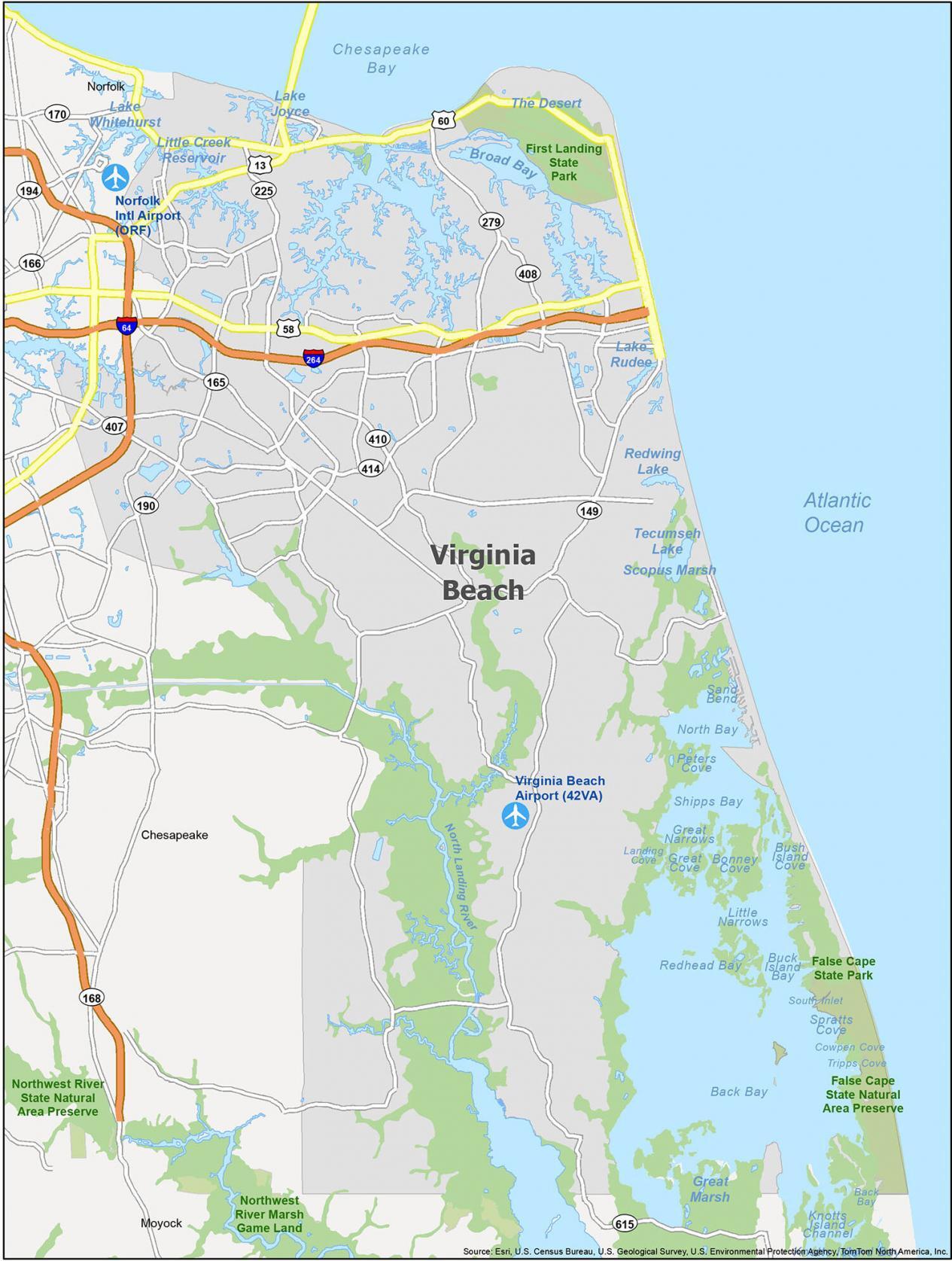 Airports: Norfolk International Airport (ORF), Virginia Beach Airport (42VA)
Cities: Chesapeake, Norfolk, Virginia Beach
Census-designated place (CDP): Moyock
Parks/Recreation: False Cape State Park, First Landing State Park, Northwest River Marsh Game Land
Lakes/Rivers: Back Bay, Broad Bay, Chesapeake Bay, Lake Joyce, Lake Rudee, Lake Whitehurst, Little Creek Reservoir, North Bay, North Landing River, Redhead Bay, Redwing Lake, Scopus Marsh, Shipps Bay, Tecumseh Lake
Virginia Beach maps
Virginia map collection
References