Map of Virginia – Cities and Roads
About the map
This Virginia map contains cities, roads, rivers, and lakes. For example, Virginia Beach, Norfolk, and Chesapeake are major cities shown in this map of Virginia.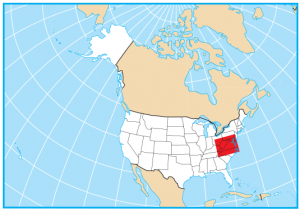 Virginia is located on the east coast of the United States along the coast of the Atlantic Ocean. It borders Maryland, West Virginia, Kentucky, Tennessee, and North Carolina. The state is also renowned for its scenic beauty, including the Blue Ridge Mountains, Shenandoah National Park, and the historic Chesapeake Bay with outdoor recreation and breathtaking landscapes.
Virginia, known as the "Old Dominion," is recognized for its rich historical heritage as the birthplace of the nation, with iconic landmarks like Colonial Williamsburg, Mount Vernon, and Jamestown. Basically, this means that Virginia is where everything started with the United States. It's where the British came in and started a small town and is the origin of the story of Pocahontas.
Virginia map collection
You are free to use our map of Virginia for educational and commercial uses. Attribution is required. How to attribute?
State capital
Richmond
Major cities and towns
Alexandria
Arlington
Chesapeake
Hampton
Newport News
Norfolk
Virginia Beach
Portsmouth
Richmond
Blacksburg
Charlottesville
Danville
Harrisonburg
Leesburg
Lynchburg
Petersburg
Roanoke
Suffolk
Reston
Dale City
Abingdon
Bristol
Buena Vista
Clifton Forge
Covington
Culpeper
Dillwyn
Emporia
Farmville
Franklin
Fredericksburg
Front Royal
Galax
Hillsville
Hopewell
Lexington
Martinsville
Norton
Onancock
Radford
Salem
South Hill
Staunton
Warrenton
Waynesboro
Williamsburg
Winchester
Wytheville
South Boston
Monterey
Marion
Pulaski
Tappahannock
Reedville
Bluefield
Luray
Chincoteague
Saluda
Chester
Interstate highways
Interstate-64 (I-64)
Interstate-66 (I-66)
Interstate-64 (I-64)
Interstate-77 (I-77)
Interstate-81 (I-81)
Interstate-85 (I-85)
Interstate-95 (I-95)
Lakes, rivers and creeks
James River
Potomac River
Roanoke River
Chesapeake Bay
Atlantic Ocean
Clinch River
John H Kerr Reservoir
Rappahannock River
Dismal Swamp
Landmarks in Virginia
Blue Ridge Mountains
Mount Rogers
Cape Charles
References