Map of Alabama – Cities and Roads
Alabama State Maps
Alabama City Maps
About the map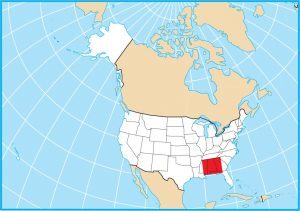 This Alabama map features cities, roads, rivers and lakes. Montgomery is the capital of the state of Alabama. Birmingham, Mobile and Huntsville are some of the major cities shown in this map of Alabama.
Alabama is where confederacy started so you have landmarks scattered all over from the American Civil Rights movement. In fact, Montgomery was its birthplace of the Confederacy because it's where the secession convention took place.
In terms of its geography, Alabama is primarily coastal plains. But in the north, it consists of hills and mountains. For example, Cheaha Mountain is just over 2400 feet in elevation and is north of Talladega National Forest. Birmingham is the largest city in Alabama with over 1 million people.
State capital
Montgomery
Interstate highways
Interstate 10 (I-10)
Interstate 20 (I-20)
Interstate 25 (I-25)
Interstate 59 (I-59)
Interstate 65 (I-65)
Interstate 85 (I-85)
Cities, towns and villages
Birmingham
Huntsville
Mobile
Auburn
Bessemer
Decatur
Dothan
Florence
Gadsden
Madison
Phenix City
Prichard
Tuscaloosa
Hoover
Homewood
Alexander City
Andalusia
Athens
Atmore
Bay Minette
Brewton
Chickasaw
Clanton
Demopolis
Elba
Enterprise
Eufaula
Evergreen
Fayette
Lakes, rivers and creeks
Lakes and reservoirs
Weiss Lake
Lewis Smith Lake
Martin Lake
West Point Lake
Mobile Bay
Walter F George Lake
Wheeler Lake
Mitchell Lake
Guntersville Lake
Rivers and streams
Tennessee River
Coosa River
Tombigbee River
Alabama River
Chattahoochee River
Conecuh River
Black Warrior River
Sipsey River
Tallapoosa River
Coosa River
References
Download our satellite map of the United States. It's free to use for any purpose. Or choose from any of the 50 states for more satellite maps of the USA.
A US road map that displays major interstate highways, limited-access highways and principal roads in the United States including states and capital cities.
A US national parks map that displays the 5 regions and 62 national parks of the United States. Hawaii and Alaska have inset maps with outlines and names.
US State Maps
Select a state to view its map