Map of Birmingham
Sweet Home Alabama! This map of Birmingham, Alabama shows major roads/highways, things to do, and general landmarks in the city. Also, it features an interactive map that highlights local attractions, restaurants, and hotels.
Birmingham is the second-largest city in Alabama with just over 200,000 people. The city of Birmingham has the best of both worlds. With a rich history and a diverse culture, it's the perfect place to explore.
Birmingham Alabama is home to a wide variety of activities such as shopping, restaurants, museums, music venues, and more. Get more out of your next trip to Birmingham by using this map to find the best attractions and things to do.
Jump To: Interactive Map | Printable Road Map | 10 Things to Do | Reference Map
Birmingham map collection
Interactive Map of Birmingham
The Birmingham interactive map is a popular tool that helps visitors get around the city and find what they are looking for with ease. The map features a variety of amenities such as restaurants, shopping centers, parks, and more. Whether you are visiting or living in Birmingham, this interactive map is a great way to find things to do and help you navigate your new city!
Birmingham Road Map
If you have never been to Birmingham Alabama, then this detailed map of the city will give you all the important information about it. If you're traveling to this city, Birmingham, Alabama is accessible from I-20 and I-65. But If you're looking for the big picture of the "Heart of the Dixie", then check out this Alabama road map to get a bird's eye statewide view of interstates, highways, and major roads.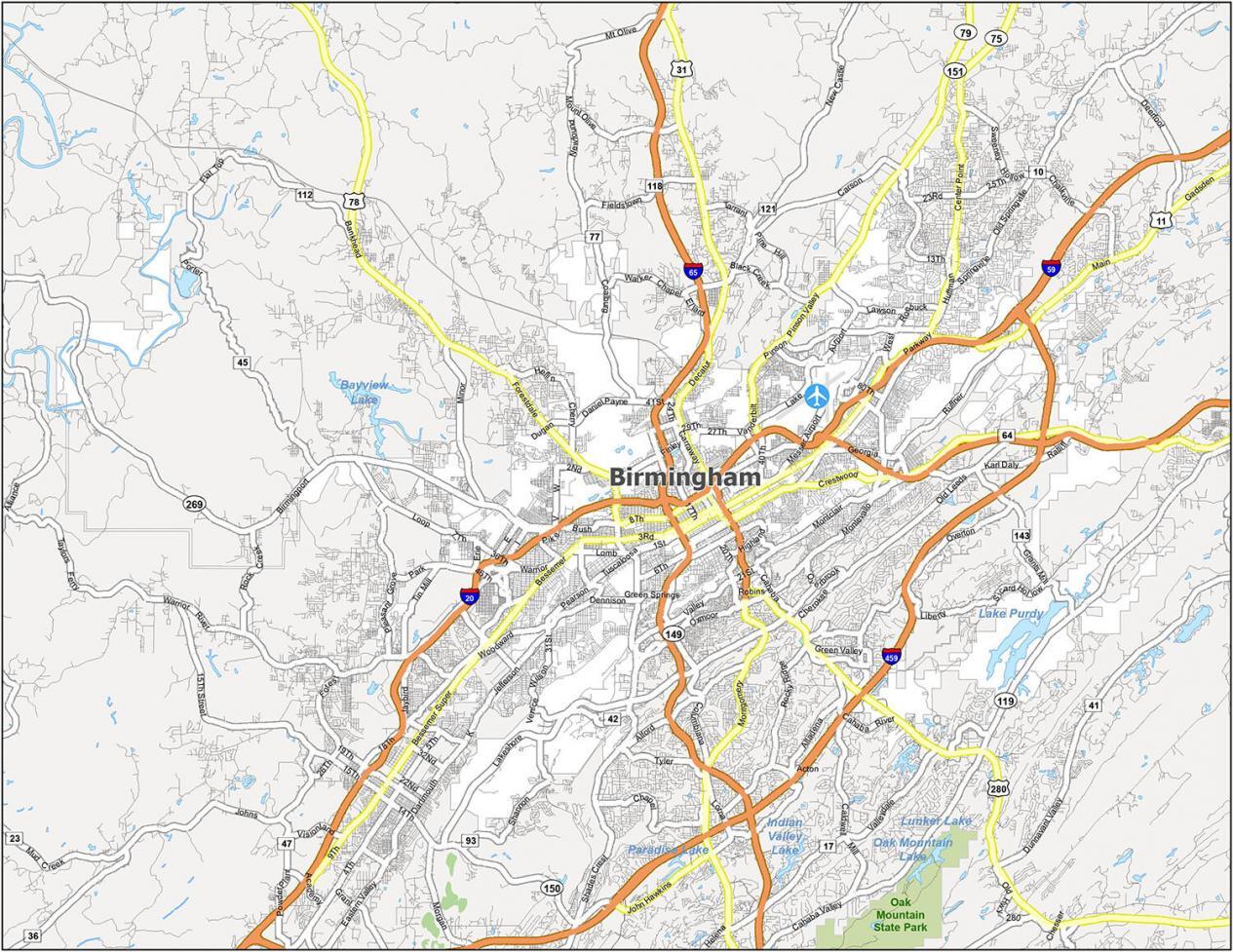 Interstate Highways: I-20, I-59, I-65, I-459
US Highways: 11, 31, 42, 56, 75, 77, 78, 79, 93, 119, 143, 269, 280, Bankhead Hwy, Bessemer Super Hwy, Decatur Hwy, Gadsden Hwy
Parkways: Center Point Pky, Pinson Valley Pky, Roebuck Pky,
Major Roads: 1st Ave, 20th St, 24th St, 3rd Ave, 4th Ave, 5th Ave, 8th Ave, 9th St, Arkadelphia Rd, Bessemer Rd, Birmingport Rd, Cahaba Valley Rd, Carraway Blvd, Crestwood Blvd, Eastern Valley Rd, Finley Blvd, Forestdale Blvd, Montevallo Rd, Oporto Madrid Blvd, Tallapoosa St, Vanderbilt Rd
10 Things To Do in Birmingham
Birmingham is a vibrant city with lots to see and do. With this Alabama map in hand, you will be able to easily find your way around. If you're headed to the beautiful city of Birmingham, you'll find a wide variety of things to do. For example, if you are looking for some incredible cuisine and traditional southern cooking, head downtown to the historic Railroad Park.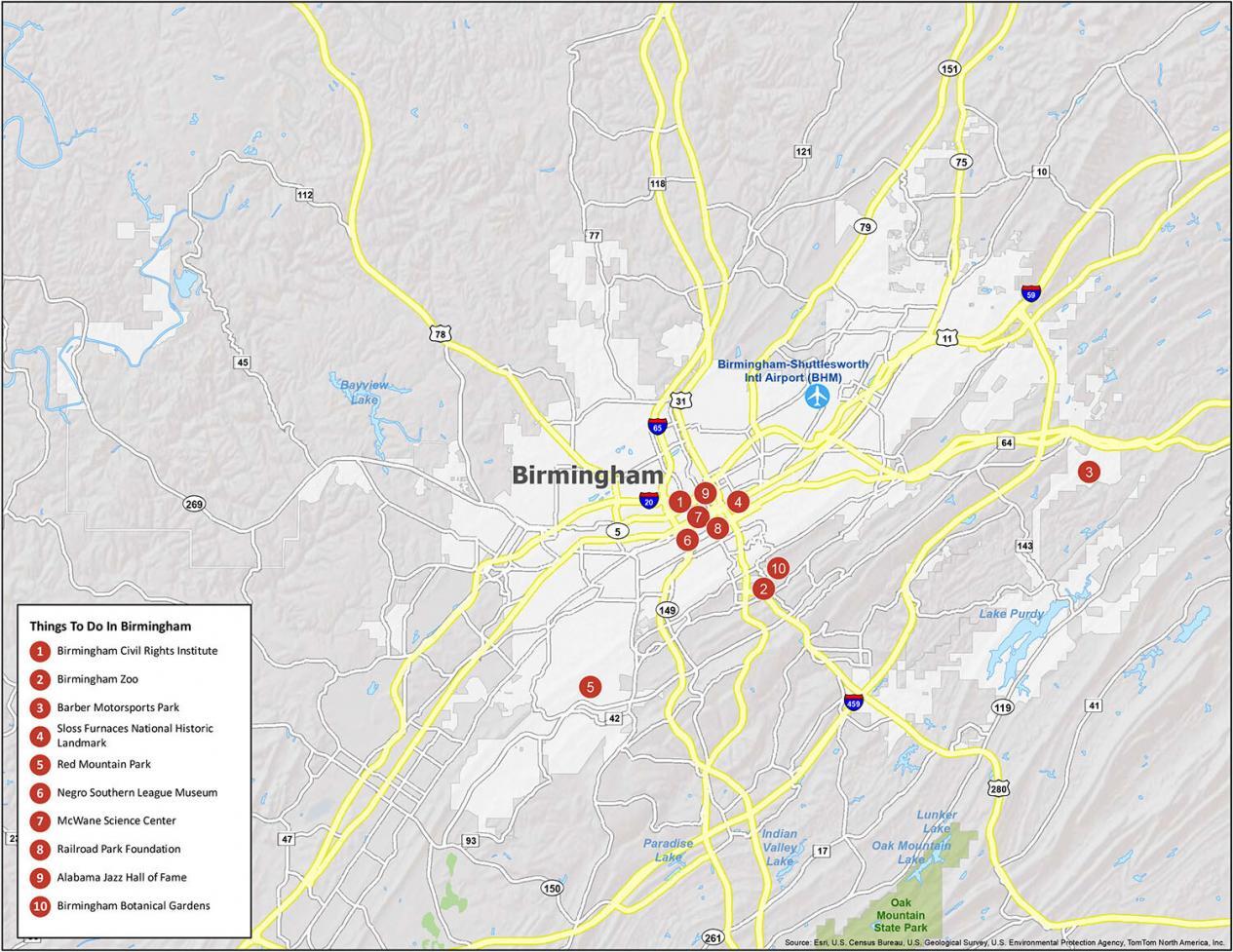 Birmingham Civil Rights Institute
Birmingham Zoo
Barber Motorsports Park
Sloss Furnaces National Historic Landmark
Red Mountain Park
Negro Southern League Museum
McWane Science Center
Railroad Park Foundation
Alabama Jazz Hall of Fame
Birmingham Botanical Gardens
Birmingham Reference Map
Birmingham is a city with a rich history in Alabama. It was established in 1871 and was named after Birmingham, England. Today, the population is over 200,000 residents and growing. Birmingham has been known as a cultural hub in the south since its founding because of its diverse and abundant arts and entertainment communities. With this detailed layout and map of the city, this map will let you explore Birmingham and other nearby cities.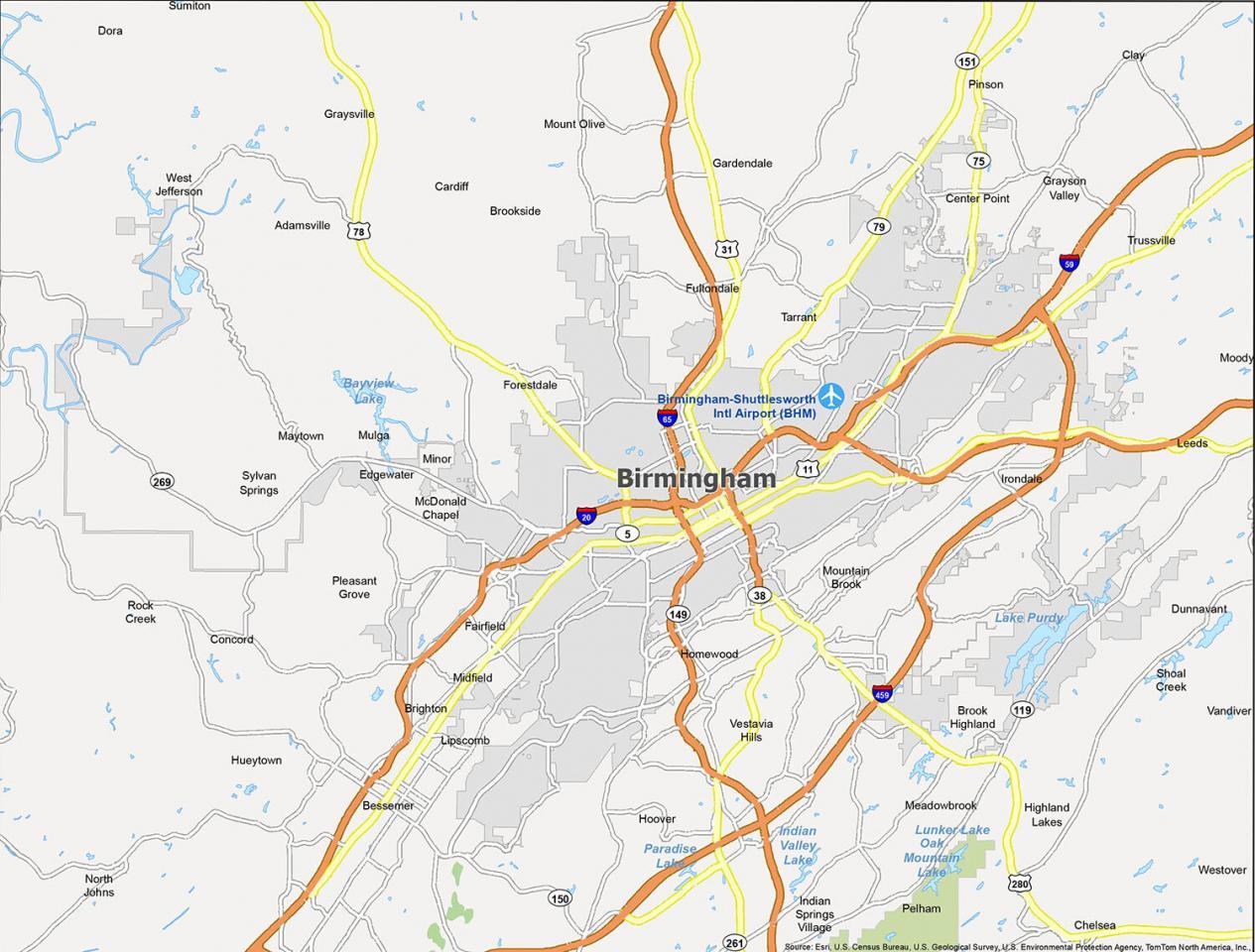 Airport: Birmingham-Shuttlesworth International Airport (BMH)
Cities: Adamsville, Bessemer, Birmingham, Brighton, Center Point, Chelsea, Clay, Dora, Fairfield, Fultondale, Gardendale, Graysville, Homewood, Hoover, Hueytown, Indian Springs Village, Irondale, Leeds, Lipscomb, Midfield, Moody, Mountain Brook, Pelham, Pinson, Pleasant Grove, Sumiton, Tarrant, Trussville, Vestavia Hills
Towns: Brookside, Cardiff, Maytown, Mulga, North Johns, Sylvan Springs, West Jefferson, Westover
Census-Designated Places (CDP): Brook Highland, Concord, Dunnavant, Edgewater, Forestdale, Grayson Valley, Highland Lakes, McDonald Chapel, Meadowbrook, Minor, Mount Olive, Rock Creek, Shoal Creek, Vandiver