Alabama State Maps
Alabama City Maps
About the map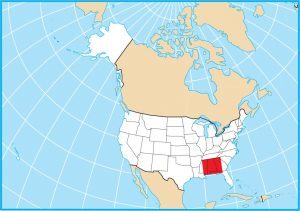 This Alabama County map displays its 67 counties. Alabama's count of 67 counties represents the same number as the states of Florida and Pennsylvania. So, Alabama ranks 20th for its tally of counties, tied with these two states.
The most populous county in Alabama is Jefferson County because the largest city of Alabama, Birmingham, is located within. Other major counties with high populations include Mobile, Madison, and Montgomery. Conversely, the least populous county is Greene County with just over 8000 people.
In terms of area, Baldwin County is the largest at about 1633.5 square miles. Baldwin County has a north-south orientation and borders the Gulf of Mexico in the south. The smallest county is Etowah County just 548.6 square miles in area.
Alabama county list
References
Free US Maps
Select a state to view its map