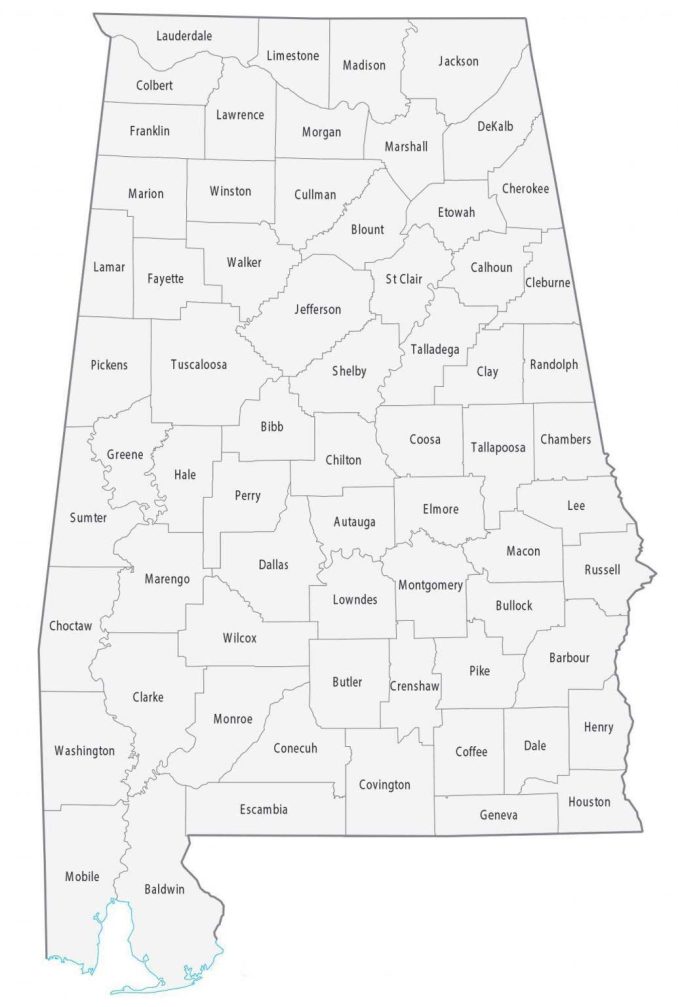 About the map
This Alabama County map displays its 67 counties. Alabama's count of 67 counties represents the same number as the states of Florida and Pennsylvania. So, Alabama ranks 20th for its tally of counties, tied with these two states.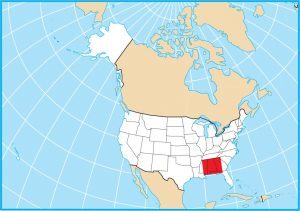 Jefferson County is the most populous county in Alabama because the largest city of Alabama, Birmingham, is located within. Other major counties with high populations include Mobile, Madison, and Montgomery. Conversely, Greene County is the least populous county with just over 8000 people.
In terms of area, Baldwin County is the largest at about 1633.5 square miles. Baldwin County has a north-south orientation and borders the Gulf of Mexico in the south. The smallest county is Etowah County just 548.6 square miles in area.
Alabama map collection
You are free to use our county map of Alabama for educational and commercial uses. Attribution is required. How to attribute?
Alabama county list
| County Name | Population (2020 est) | County Map | Area (sq mi) | County Locator | FIPS Code |
| --- | --- | --- | --- | --- | --- |
| Autauga County | 56145 | Autauga County | 604.3 | Autauga County Map | 1001 |
| Baldwin County | 229287 | Baldwin County | 1633.5 | Baldwin County Map | 1003 |
| Barbour County | 24589 | Barbour County | 904 | Barbour County Map | 1005 |
| Bibb County | 22136 | Bibb County | 626.2 | Bibb County Map | 1007 |
| Blount County | 57879 | Blount County | 650.6 | Blount County Map | 1009 |
| Bullock County | 9976 | Bullock County | 625.4 | Bullock County Map | 1011 |
| Butler County | 19504 | Butler County | 777.9 | Butler County Map | 1013 |
| Calhoun County | 113469 | Calhoun County | 612.4 | Calhoun County Map | 1015 |
| Chambers County | 32865 | Chambers County | 604.3 | Chambers County Map | 1017 |
| Cherokee County | 26294 | Cherokee County | 600 | Cherokee County Map | 1019 |
| Chilton County | 44397 | Chilton County | 700.5 | Chilton County Map | 1021 |
| Choctaw County | 12418 | Choctaw County | 920.9 | Choctaw County Map | 1023 |
| Clarke County | 23291 | Clarke County | 1252.7 | Clarke County Map | 1025 |
| Clay County | 13112 | Clay County | 606 | Clay County Map | 1027 |
| Cleburne County | 14967 | Cleburne County | 561 | Cleburne County Map | 1029 |
| Coffee County | 53230 | Coffee County | 680.5 | Coffee County Map | 1031 |
| Colbert County | 55411 | Colbert County | 622.8 | Colbert County Map | 1033 |
| Conecuh County | 11851 | Conecuh County | 852.6 | Conecuh County Map | 1035 |
| Coosa County | 10650 | Coosa County | 666.6 | Coosa County Map | 1037 |
| Covington County | 36930 | Covington County | 1043.7 | Covington County Map | 1039 |
| Crenshaw County | 13681 | Crenshaw County | 610.9 | Crenshaw County Map | 1041 |
| Cullman County | 84515 | Cullman County | 754.6 | Cullman County Map | 1043 |
| Dale County | 48959 | Dale County | 562.7 | Dale County Map | 1045 |
| Dallas County | 36098 | Dallas County | 993.6 | Dallas County Map | 1047 |
| DeKalb County | 71658 | DeKalb County | 778.3 | DeKalb County Map | 1049 |
| Elmore County | 82158 | Elmore County | 657 | Elmore County Map | 1051 |
| Escambia County | 36281 | Escambia County | 953.1 | Escambia County Map | 1053 |
| Etowah County | 102371 | Etowah County | 548.6 | Etowah County Map | 1055 |
| Fayette County | 16241 | Fayette County | 629.4 | Fayette County Map | 1057 |
| Franklin County | 31507 | Franklin County | 646.5 | Franklin County Map | 1059 |
| Geneva County | 26411 | Geneva County | 578.9 | Geneva County Map | 1061 |
| Greene County | 7990 | Greene County | 659.7 | Greene County Map | 1063 |
| Hale County | 14670 | Hale County | 656.4 | Hale County Map | 1065 |
| Henry County | 17223 | Henry County | 569.2 | Henry County Map | 1067 |
| Houston County | 106580 | Houston County | 582.5 | Houston County Map | 1069 |
| Jackson County | 51582 | Jackson County | 1126.7 | Jackson County Map | 1071 |
| Jefferson County | 655342 | Jefferson County | 1123.8 | Jefferson County Map | 1073 |
| Lamar County | 13764 | Lamar County | 605.5 | Lamar County Map | 1075 |
| Lauderdale County | 93368 | Lauderdale County | 719.3 | Lauderdale County Map | 1077 |
| Lawrence County | 32857 | Lawrence County | 717.9 | Lawrence County Map | 1079 |
| Lee County | 166831 | Lee County | 617.9 | Lee County Map | 1081 |
| Limestone County | 102228 | Limestone County | 607.6 | Limestone County Map | 1083 |
| Lowndes County | 9641 | Lowndes County | 725 | Lowndes County Map | 1085 |
| Macon County | 17895 | Macon County | 613.2 | Macon County Map | 1087 |
| Madison County | 379453 | Madison County | 812.7 | Madison County Map | 1089 |
| Marengo County | 18733 | Marengo County | 982.7 | Marengo County Map | 1091 |
| Marion County | 29703 | Marion County | 743.6 | Marion County Map | 1093 |
| Marshall County | 96990 | Marshall County | 623.3 | Marshall County Map | 1095 |
| Mobile County | 412716 | Mobile County | 1258.3 | Mobile County Map | 1097 |
| Monroe County | 20459 | Monroe County | 1034.7 | Monroe County Map | 1099 |
| Montgomery County | 224639 | Montgomery County | 799.7 | Montgomery County Map | 1101 |
| Morgan County | 119883 | Morgan County | 598.9 | Morgan County Map | 1103 |
| Perry County | 8687 | Perry County | 724.3 | Perry County Map | 1105 |
| Pickens County | 19793 | Pickens County | 890.2 | Pickens County Map | 1107 |
| Pike County | 32966 | Pike County | 673.2 | Pike County Map | 1109 |
| Randolph County | 22920 | Randolph County | 584.1 | Randolph County Map | 1111 |
| Russell County | 58237 | Russell County | 648.1 | Russell County Map | 1113 |
| Saint Clair County | 90739 | Saint Clair County | 653.4 | Saint Clair County Map | 1115 |
| Shelby County | 221428 | Shelby County | 809.4 | Shelby County Map | 1117 |
| Sumter County | 12225 | Sumter County | 913.5 | Sumter County Map | 1119 |
| Talladega County | 79985 | Talladega County | 760.7 | Talladega County Map | 1121 |
| Tallapoosa County | 40133 | Tallapoosa County | 766.7 | Tallapoosa County Map | 1123 |
| Tuscaloosa County | 210758 | Tuscaloosa County | 1351.3 | Tuscaloosa County Map | 1125 |
| Walker County | 63143 | Walker County | 805.4 | Walker County Map | 1127 |
| Washington County | 15976 | Washington County | 1088.4 | Washington County Map | 1129 |
| Wilcox County | 10206 | Wilcox County | 907.2 | Wilcox County Map | 1131 |
| Winston County | 23508 | Winston County | 632 | Winston County Map | 1133 |
References
Government of Alabama (Official Website)
USGS National Map Viewer