Map of Ann Arbor
This Ann Arbor map collection is a guide for the Michigan city nicknamed "Tree Town". It includes a road map, top 10 things to do, major parks, and an interactive map of the city. As shown in this map of Michigan, the city is situated just west of Detroit.
Ann Arbor is a city in the state of Michigan, and it has been voted one of America's most livable cities. Ann Arbor offers everything from parks and trails to cultural institutions, shopping malls, and entertainment venues.
It is located west of the geographic center of the Detroit metropolitan area. This large and diverse city is home to 120,000 residents and has emerged as a leader in education, environmental activism, human rights, and independent media production.
Jump To: Interactive Map | Printable Road Map | 10 Things to Do | Reference Map
Ann Arbor map collection
Interactive Map of Ann Arbor
This is an interactive map that displays restaurants, businesses, parks, and other locations in Ann Arbor. Ann Arbor is a city that is known for its tree-lined streets and rich history. As you can see from the size of the city boundary, it's a small, walkable area. Whether you are looking for a new job, live in the area, or just want to explore this beautiful town, this interactive map will provide you with everything you need to know about Ann Arbor.
Ann Arbor Road Map
Ann Arbor, Michigan is a city surrounded by wilderness, where nature and culture meet. The city is known for its many universities, cultural events, and of course, its beer gardens. While the city is small in size, it has a lot to offer residents and visitors alike. To learn more about the city's natural beauty and cultural opportunities, take a look at this map of Ann Arbor for your next getaway. Plus, don't forget our Michigan road map for statewide travel.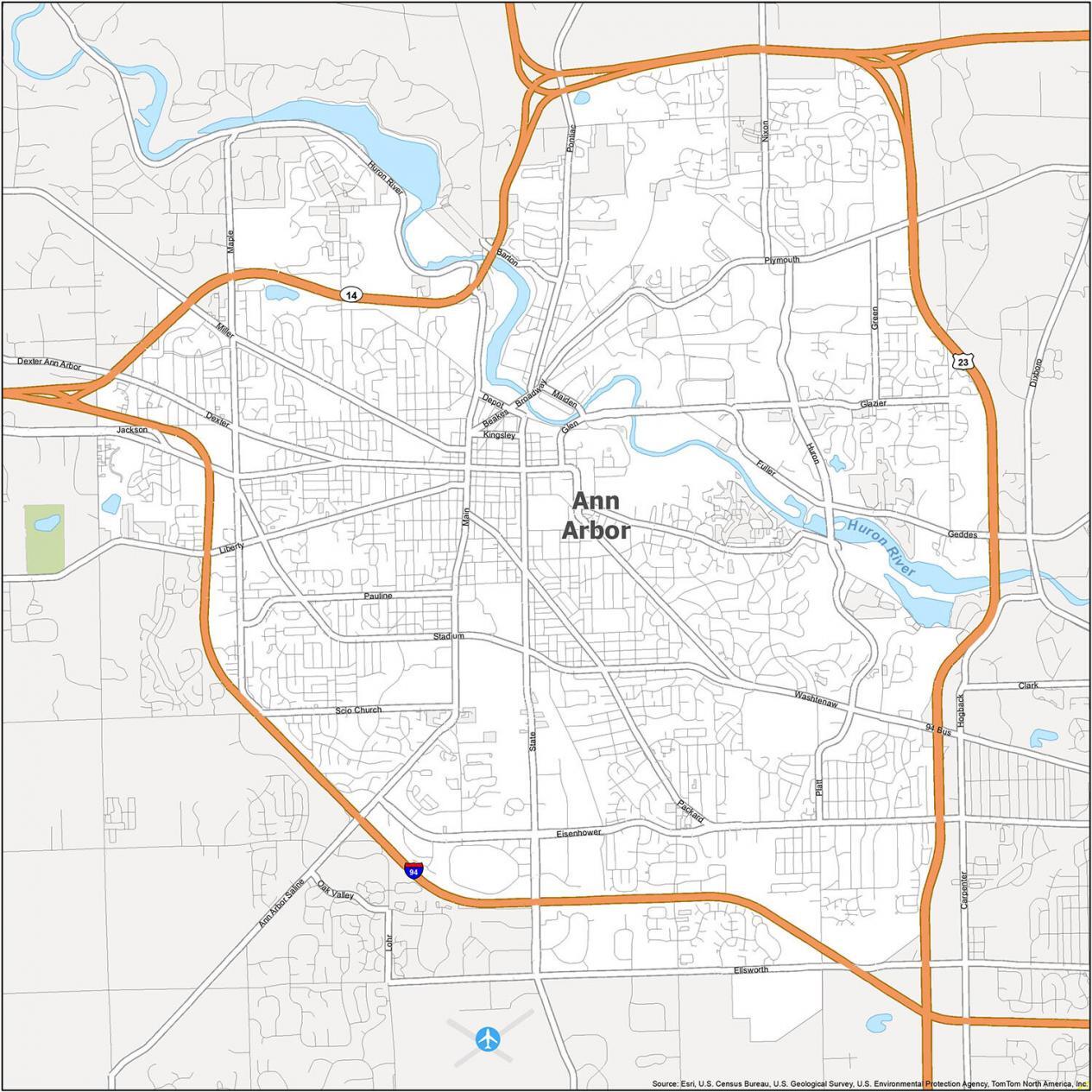 Major Highways: I-94
Highways: Highway 14, Highway 23
Parkways: Eisenhower Pky, Huron Pky
Major Roads: Ann Arbor, Saline Rd, Beakes St, Broadway St, Ellsworth Rd, Glen Ave, Huron St, Jackson Ave, Jackson Rd, Maiden Ln, Main St, Packard St, Plymouth Rd, Stadium Blvd, State St, Washtenaw Ave
Roads: Barton Dr, Depot St, Dexter Ave, Fuller Rd, Geddes Ave, Glazier Way, Green Rd, Huron River Dr, Kingsley St, Liberty St, Maple Rd, Miller Ave, Nixon Rd, Packard St, Pauline Blvd, Platt Rd, Pontiac Trl, Scio Church Rd, State St
10 Things To Do in Ann Arbor
Downtown Ann Arbor is the main attraction in the city. You can find many shops and restaurants that are open during all hours of the day. Whereas the outskirts of the city are a popular place for visitors and locals alike for their natural beauty. Some popular destinations include the University of Michigan's campus and its beautiful parks throughout the city like Gallup Park and Matthaei Botanical Gardens.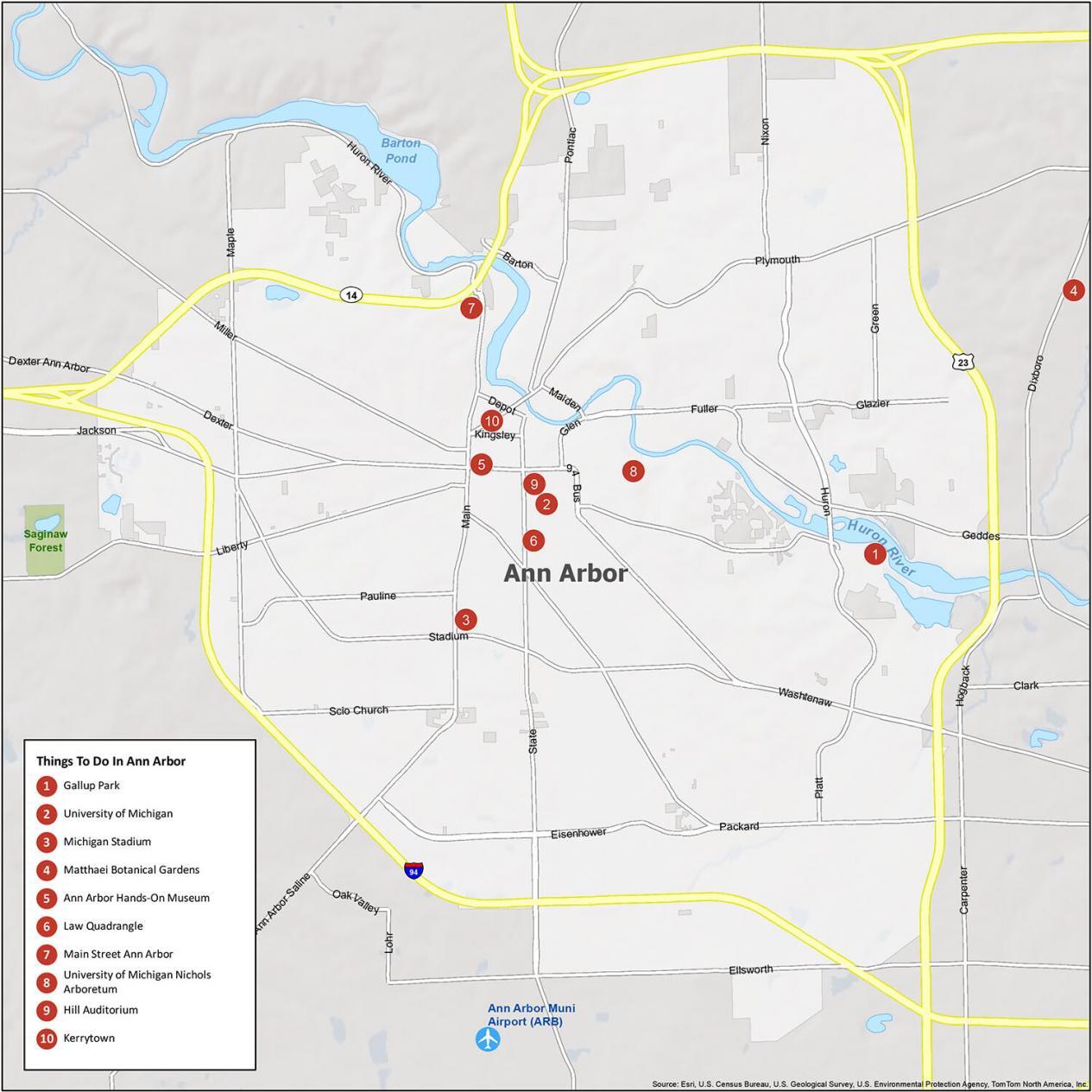 Gallup Park
University of Michigan
Michigan Stadium
Matthaei Botanical Gardens
Ann Arbor Hands-On Museum
Law Quadrangle
Main Street Ann Arbor
University of Michigan Nichols Arboretum
Hill Auditorium
Kerrytown
Ann Arbor Reference Map
There are plenty of reasons to visit Ann Arbor, Michigan. It's a college town known for its vibrant arts scene, quaint downtown, world-class museums, and the University of Michigan. Michigan is also home to some of the most beautiful fall colors in North America – it's no wonder that this is such a popular destination for autumnal getaways. In addition to all these attractions, Ann Arbor also happens to be a great place for foodies who want to experience farm-to-table dining without having to move far from home.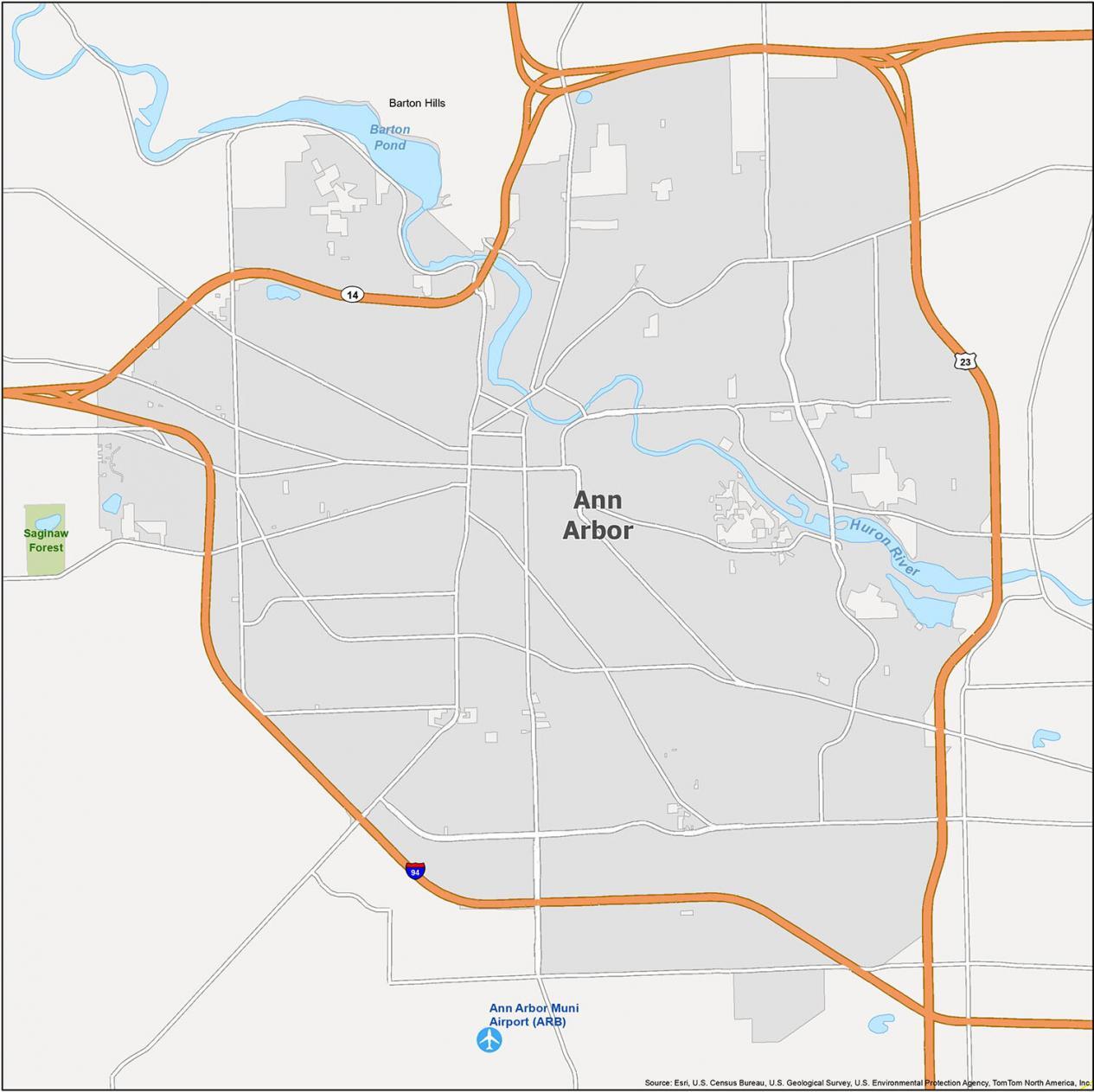 Airport: Ann Arbor Municipal Airport (ARB)
Census Designated Place (CDP): Barton Hills
City: Ann Arbor
Rivers: Barton Pond, Huron River
Forest: Saginaw Forest
Michigan map collection
References