Map of Atlanta
Atlanta is home to the World of Coca‑Cola and the world's busiest airport, Hartsfield–Jackson Atlanta International Airport. If you ever plan to go, explore the city's most iconic attractions, or find the perfect place for your next trip with our Atlanta map collection.
Explore and discover what makes Atlanta great. For example, you can find major highways with a printable road map of Atlanta. Plus, you can also find the top 10 things to do and major landmarks like Martin Luther King, Jr. National Historical Park. If you're going to travel outside of Atlanta, then make sure to also check out our Georgia map.
This Atlanta map is a comprehensive guide to all of the neighborhoods, attractions, and sights Atlanta has to offer. Atlanta has a unique location that appeals to a wide variety of people. Use this Atlanta map collection to tour the best neighborhoods, historical sites, and cultural hotspots.
Jump To: Interactive Map | Printable Road Map | 10 Things to Do | Reference Map
Atlanta map collection
Interactive Map of Atlanta
Explore the Atlanta area with this interactive map. Search, explore, and discover what you like and need to know. This map is designed to introduce you to all of the things you can see, do, and eat in the Atlanta area. It's easy to explore if you're new or familiar with Atlanta. When you're on the go, this map can help you find your way around the city.
Atlanta Road Map
One of the best cities in the US is Atlanta, Georgia. With a rich history and diverse culture, Atlanta offers great food, fun attractions, and beautiful natural landscapes. With a population of about 500,000 people, it's also the capital city of Georgia. This Atlanta map is a comprehensive guide to all of the neighborhoods, attractions, and sights Atlanta has to offer. For general highway information, take a look at our Georgia road map.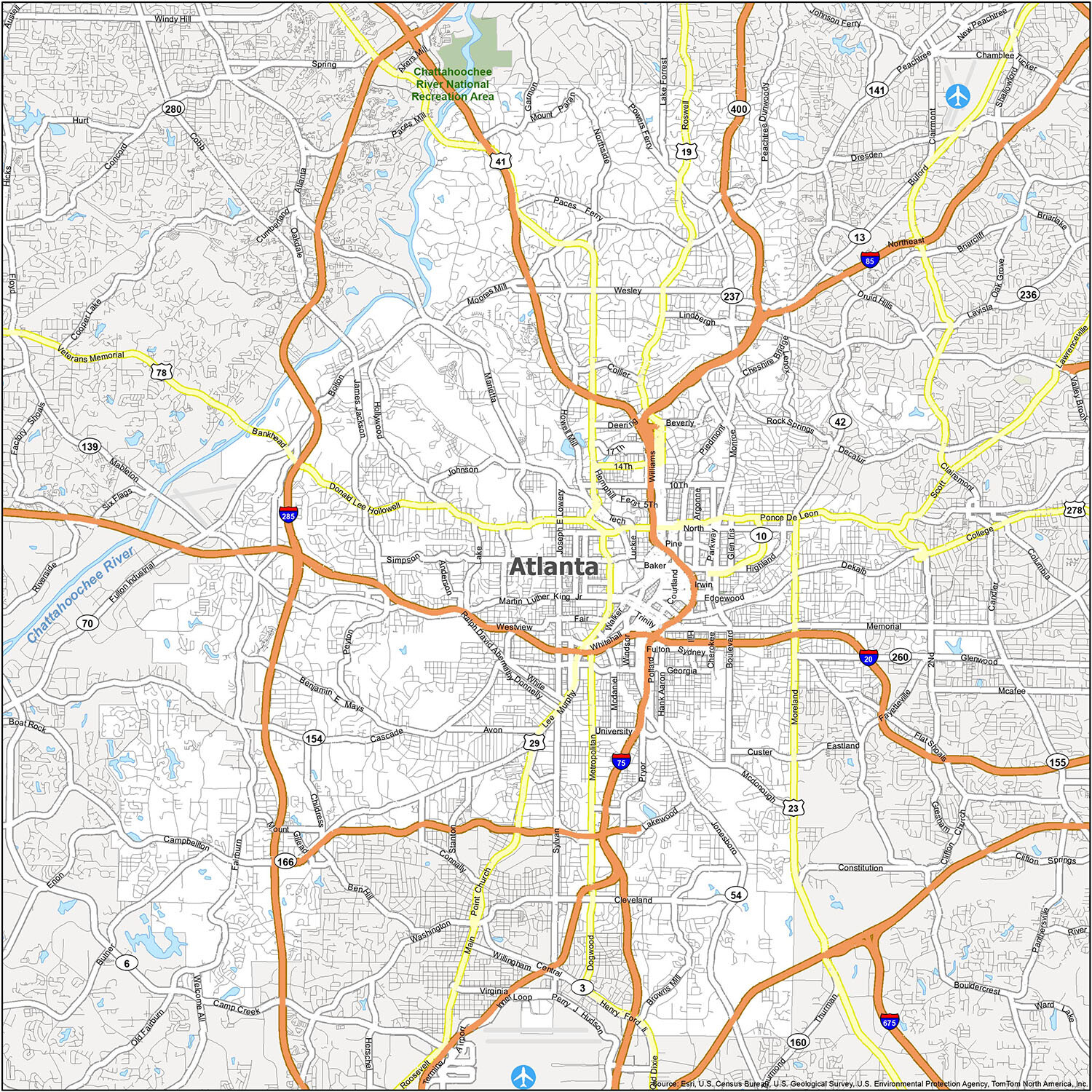 Interstate Highways: I-20, I-75, I-85, I-285
US Highways: 19, 23, 29, 41, 78, 278
State Routes: SR-6, SR-10, SR-13, SR-54, SR-70, SR-78, SR-139, SR-141, SR-154, SR-166, SR-236, SR-237, SR-260, SR-280, SR-400
Highways: Bankhead Hwy, Buford Hwy, Old Dixie Hwy
Parkways: Camp Creek Pky, James Jackson Pky, Metropolitan Pky, Donald Lee Hollowell Pky, Northside Pky
Major Roads: 14th St, 16th St, 17th St, Briarcliff Rd, Buckhead Loop, Burton Rd, Campbellton Rd, Candler Rd, Cascade Ave, Clairmont Rd, Cleveland Ave, College Ave, Crown Rd, Fulton Industrial Blvd, Glenwood Rd, Hamilton E Holmes Dr, Hill St, Isom Way, Jonesboro Rd, Juniper St, Lakewood Ave, Lavista Rd, Lee St, Lenox Rd, Lindbergh Dr, Main St, Martin Luther King Jr Dr, Mcdaniel St, Mcdonough Blvd, Memorial Dr, Moreland Ave, Mount Paran Rd, North Ave, Northside Dr, Paces Ferry Rd, Park Pl, Peachtree St, Peters St, Piedmont Rd, Ponce De Leon Ave, Ralph David Abernathy Blvd, Rhodes Ctr, Roswell Rd, Spring St, State St, Techwood Dr, Trinity Ave, University Ave, Westland Blvd, Whitehall St, Williams St
10 Things To Do in Atlanta
There are many different things to see and do in Atlanta, so it's a great place for tourists or residents of the area to explore. You can spend a day visiting Martin Luther King, Jr. National Historic Site. You can also pay a visit to the world-famous Georgia Aquarium, experience the Atlanta Botanical Garden, and see where Coca-Cola started its history with tours of the World of Coca-Cola.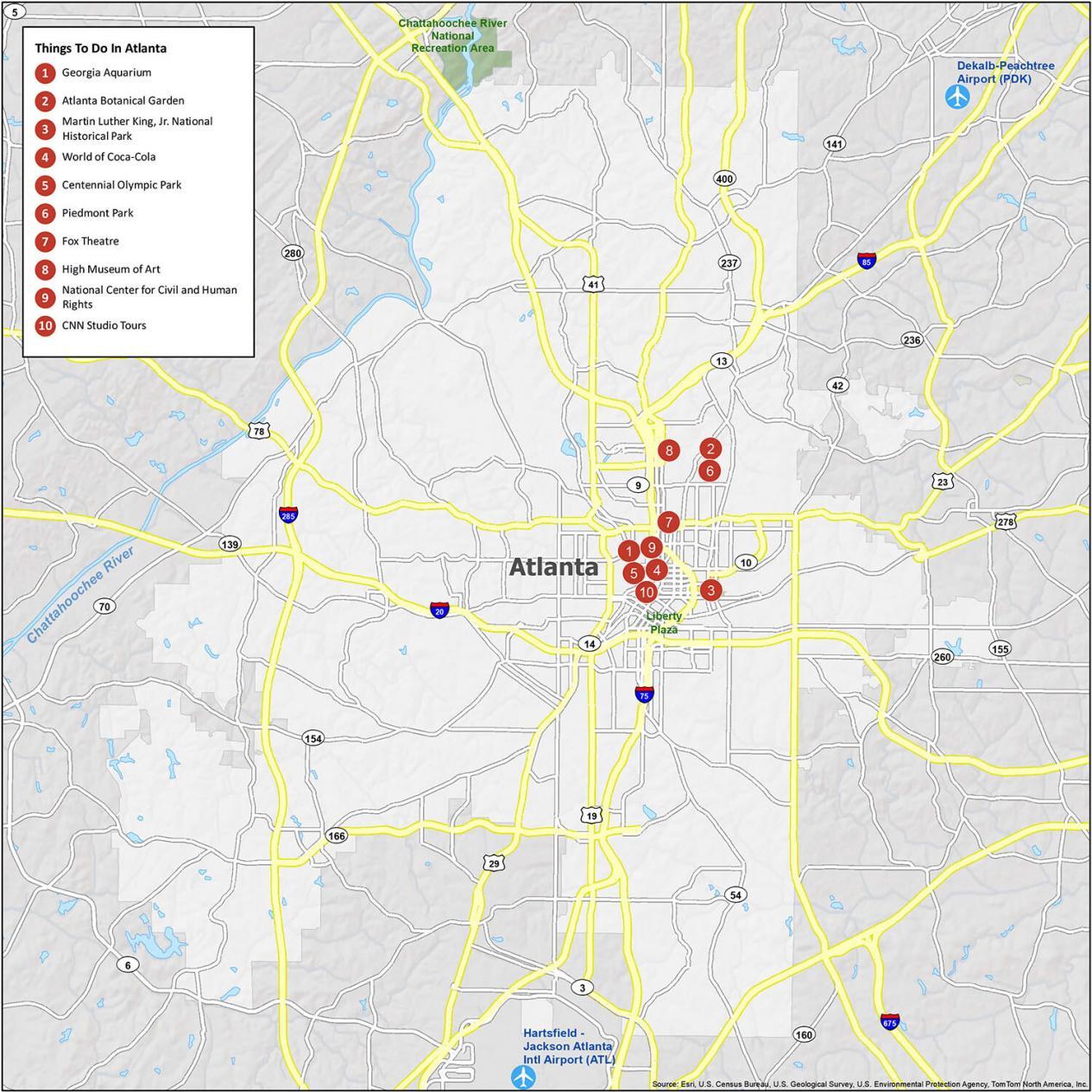 Georgia Aquarium
Atlanta Botanical Garden
Martin Luther King, Jr. National Historical Park
World of Coca-Cola
Centennial Olympic Park
Piedmont Park
Fox Theatre
High Museum of Art
National Center for Civil and Human Rights
CNN Studio Tours
Reference Map of Atlanta, Georgia
Atlanta is a vibrant city with a diverse population and neighborhoods. It played an important role during the Civil War and American Civil Rights Movement. It's the birthplace of Martin Luther King Jr, who was a visible spokesman for racial equality in the United States. With its historical roots in Atlanta, it's easy to see why this city has gained so much attention for its attractions.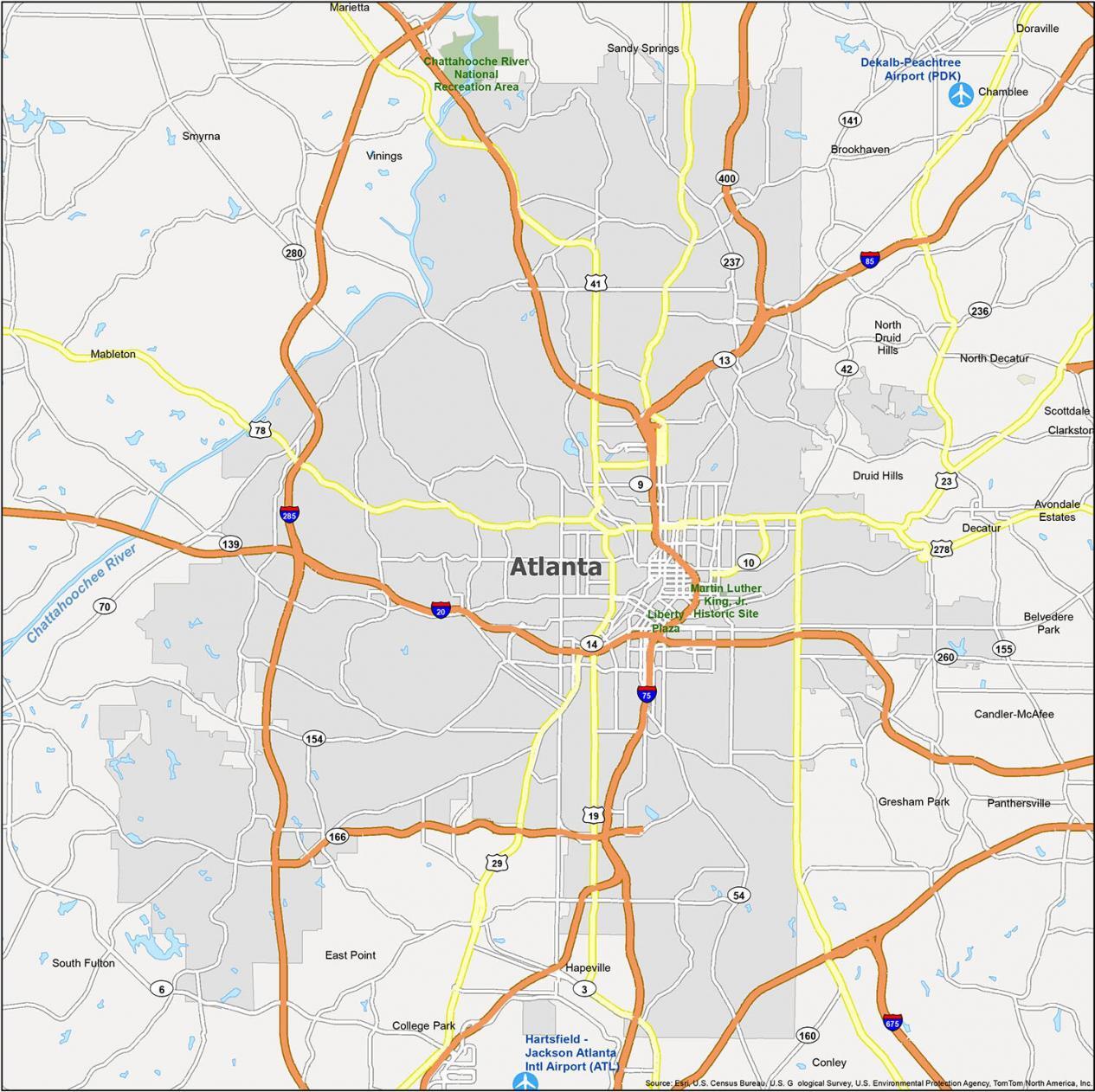 Airport: Hartsfield–Jackson Atlanta International Airport (ATL)
Cities: Atlanta, Avondale Estates, Brookhaven, Chamblee, Clarkston, College Park, Decatur, Doraville, East Point, Forest Park, Hapeville, Marietta, Sandy Springs, Smyrna, South Fulton
Census-Designated Places (CDP): Belvedere Park, Candler-McAfee, Conley, Druid Hills, Gresham Park, Mableton, North Decatur, North Druid Hills, Panthersville, Scottdale, Vinings
Major Parks: Liberty Plaza, Chattahoochee River National Recreation Area, Martin Luther King, Jr. Historic Site
Atlanta map collection
Georgia map collection
References