Georgia State Map – Places and Landmarks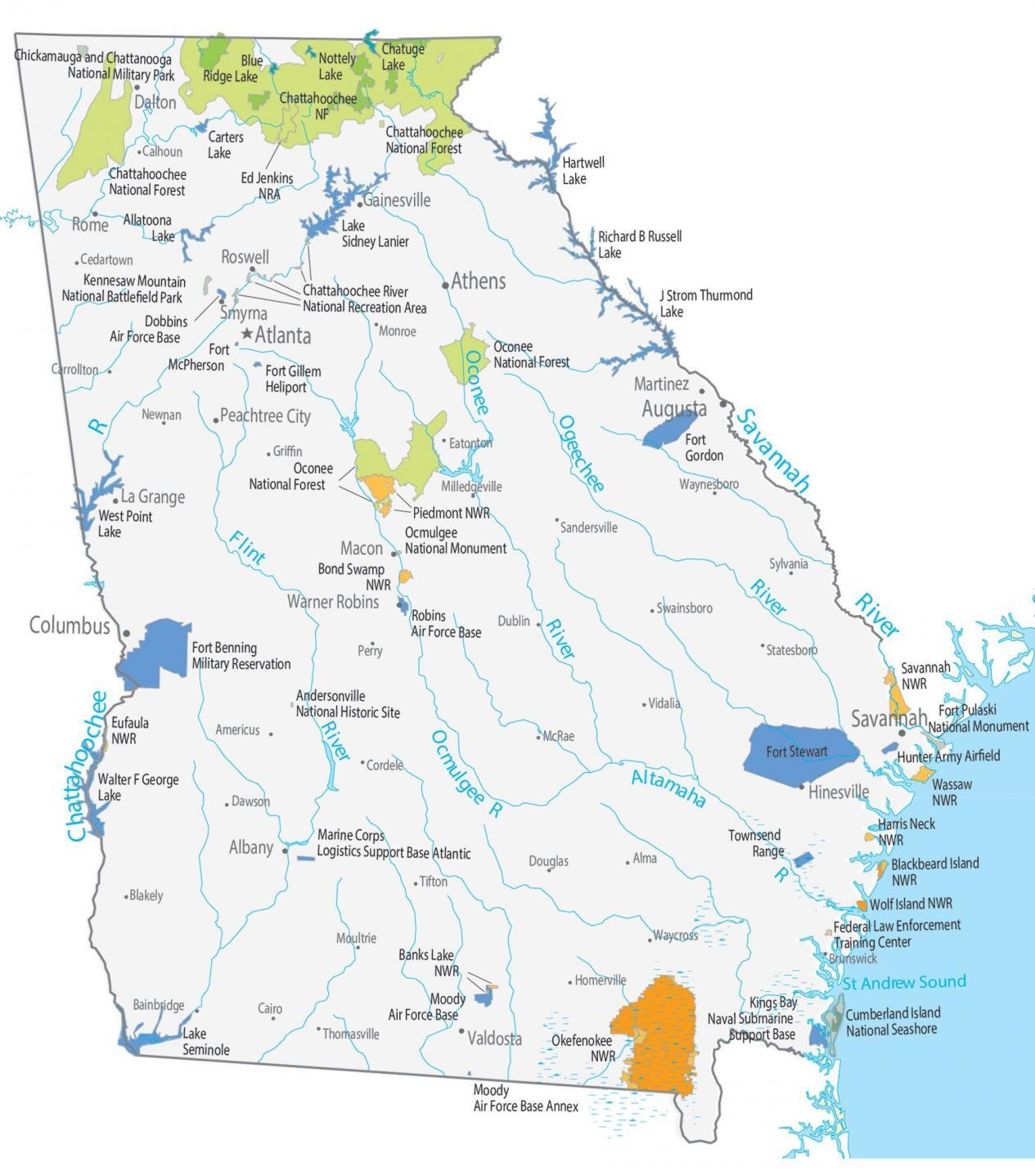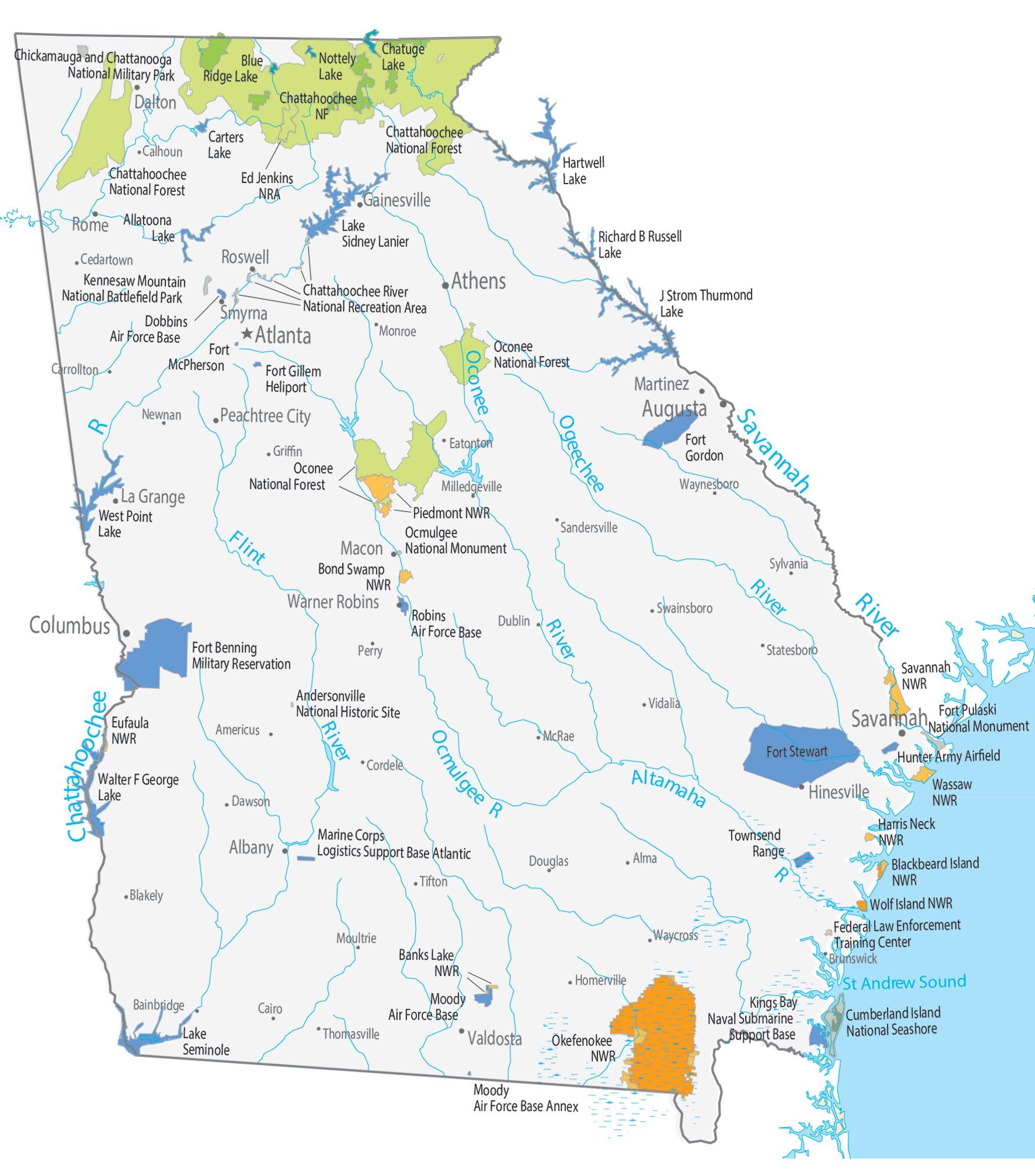 About the map
This Georgia State Map shows major landmarks and places in Georgia. For example, it features national forests, wildlife preserves, and other federal lands in Georgia.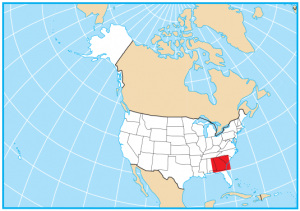 Ocmulgee National Monument is a prehistoric American Indian site where American Indians hunted Ice Age mammals thousands of years ago. Next, Cumberland Island National Seashore consists of undeveloped beaches, marshes, and sand dunes with freshwater lakes scattered in Camden County, Georgia.
For example, the largest national forest in Georgia is the Chattahoochee. It extends out to 750,000 acres of mountainous forest land all the way to the Nantahala National Forest in Tennessee. Also, Springer Mountain in Chattahoochee is the start of the 2000+ mile Appalachian Trail.
Georgia map collection
You are free to use our map of Georgia for educational and commercial uses. Attribution is required. How to attribute?
Federal lands
National Forests (NF)
Oconee NF
Chattahoochee NF
National Wildlife Refuge (NWR)
Bond Swamp NWR
Piedmont NWR
Eufaula NWR
Savannah NWR
Wassaw NWR
Harris Neck NWR
Blackbeard Island NWR
Okefenokee NWR
Banks Lake NWR
Wolf Island NWR
National Recreation (NRA)
Ed Jenkins NRA
Other Landmarks
Andersonville National Historic Site
Ocmulgee National Monument
Fort Pulaski National Monument
Cumberland Island National Seashore
Georgia lakes, rivers and reservoirs
Lakes and reservoirs
West Point Lake
Walter F George Lake
Lake Seminole
Lake Sidney Lanier
Chattahoochee River
Allatoona Lake
Lake Hartwell
Lake J Strom Thurmond
Lake Richard B Russell
Lake Kings Bay
Blue Ridge Lake
Nottely Lake
Chatuge Lake
Rivers and streams
Altamaha River
Chattahoochee River
Ogeechee River
Oconee River
Flint River
Savannah River
Ocmulgee River
St Andrew Sound
Army, naval and military
Fort Benning Military Reservation
Robins Air Force Base
Fort Gillem Heliport
Fort McPherson
Marine Corps Logistics Support Base Atlantic
Fort Gordon
Fort Stewart
Hunter Army Airfield
Townsend Range
Federal Law Enforcement Training Center
Moody Air Force Base
Dobbins Air Force Base
Kennesaw Mountain National Battlefield Park
Naval Submarine Support Base
Chickamauga and Chattanooga National Military Park
Cities and populated places
Atlanta
Albany
Hinesville
La Grange
Rome
Roswell
Smyrna
Valdosta
Warner Robins
Martinez
Macon
Gainesville
Dalton
Peachtree City
Savannah
Columbus
Athens
Augusta
Vidalia
Eatonton
Cordele
Monroe
Waynesboro
McRae
Sylvania
Alma
Americus
Bainbridge
Blakely
Brunswick
Cairo
Calhoun
Carrollton
Cedartown
Dawson
Douglas
Dublin
Griffin
Homerville
Milledgeville
Moultrie
Newnan
Perry
Sandersville
Statesboro
Swainsboro
Thomasville
Tifton
Waycross
State capital
Atlanta
References