Bakersfield Map, California
Bakersfield, California is a city known for its sunshine and warm weather. It is one of the fastest-growing cities in California due to its well-developed economy and location in the south-central region of California. If you plan to go, check this Bakersfield map collection for one of the most underestimated cities in California.
Bakersfield is just a hop, skip, and jump away from Los Angeles. It's just a 2-hour drive, about 110 miles (175 km) northwest of Los Angeles, California. It's also just a short distance of 110 miles (180 km) away from Sequoia National Park.
Our Bakersfield map shows highways, roads, and other major landmarks. Also, our map of Bakersfield lists the top 10 things to do in the city. But if you're looking for a larger perspective map, then check out this California map to see where it all fits in statewide.
Jump To: Interactive Map | Printable Road Map | 10 Things to Do | Reference Map
Bakersfield map collection
Interactive Map of Bakersfield
Bakersfield is located in southern California and is the most populous city in Kern County. This interactive map allows you to easily zoom in and out, find the location you are looking for, and explore Bakersfield, California. Discover the best restaurants, attractions, and more from our interactive map of Bakersfield.
Bakersfield Road Map
Whether you're visiting or trying to find your way around town, this Bakersfield road map will help you navigate around the city. If you want to travel outside the city, you will never get lost again with this California road map. It can also help you find other attractions around the heart of California including its parks and mountain ranges.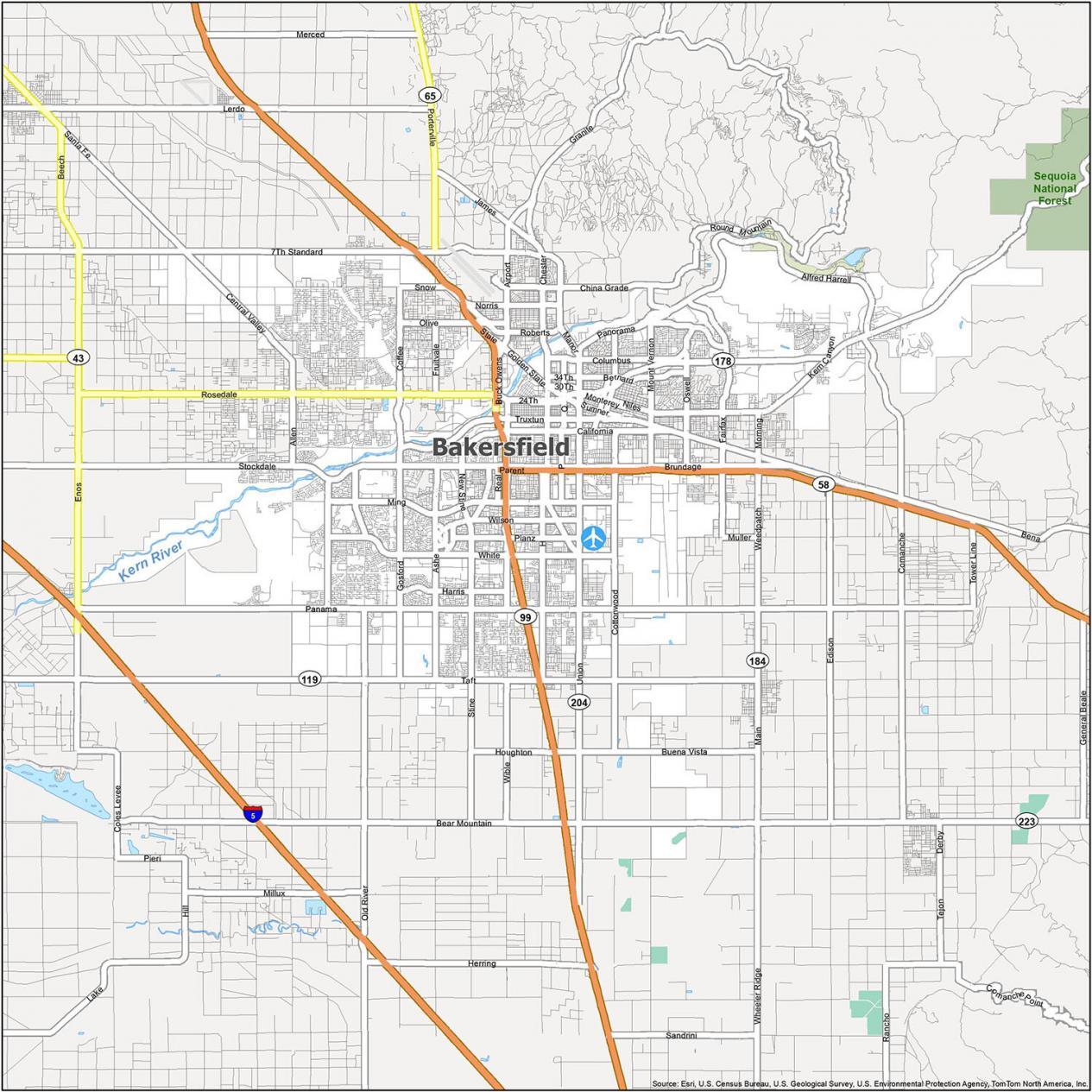 Interstate Highways: I-5
US Highways: 58, 99, 178, 184, 204, Rosedale Hwy, Stockdale Hwy, Taft Hwy
Major Roads: 23rd St, 24th St, 30th St, 7th Standard Rd, Airport Dr, Allen Rd, Brundage Ln, Buck Owens Blvd, California Ave, Chester Ave, Coffee Rd, Cottonwood Rd, Dr. Martin Luther King Jr Blvd, Enos Ln, Espee St, Frontage Rd, Golden State Ave, Gosford Rd, Kern Canyon Rd, Manor St, Ming Ave, Monterey St
10 Things To Do in Bakersfield
Bakersfield is an amazing city with a lot to offer. Tourist maps are a great way to explore new places and learn about the best things to do in Bakersfield. With this map, you can find the best spots to visit, the key attractions, and other points of interest to help you plan your trip. You're actually just a short distance from Kern River Canyon, which is known for its beautiful hiking with amazing scenery.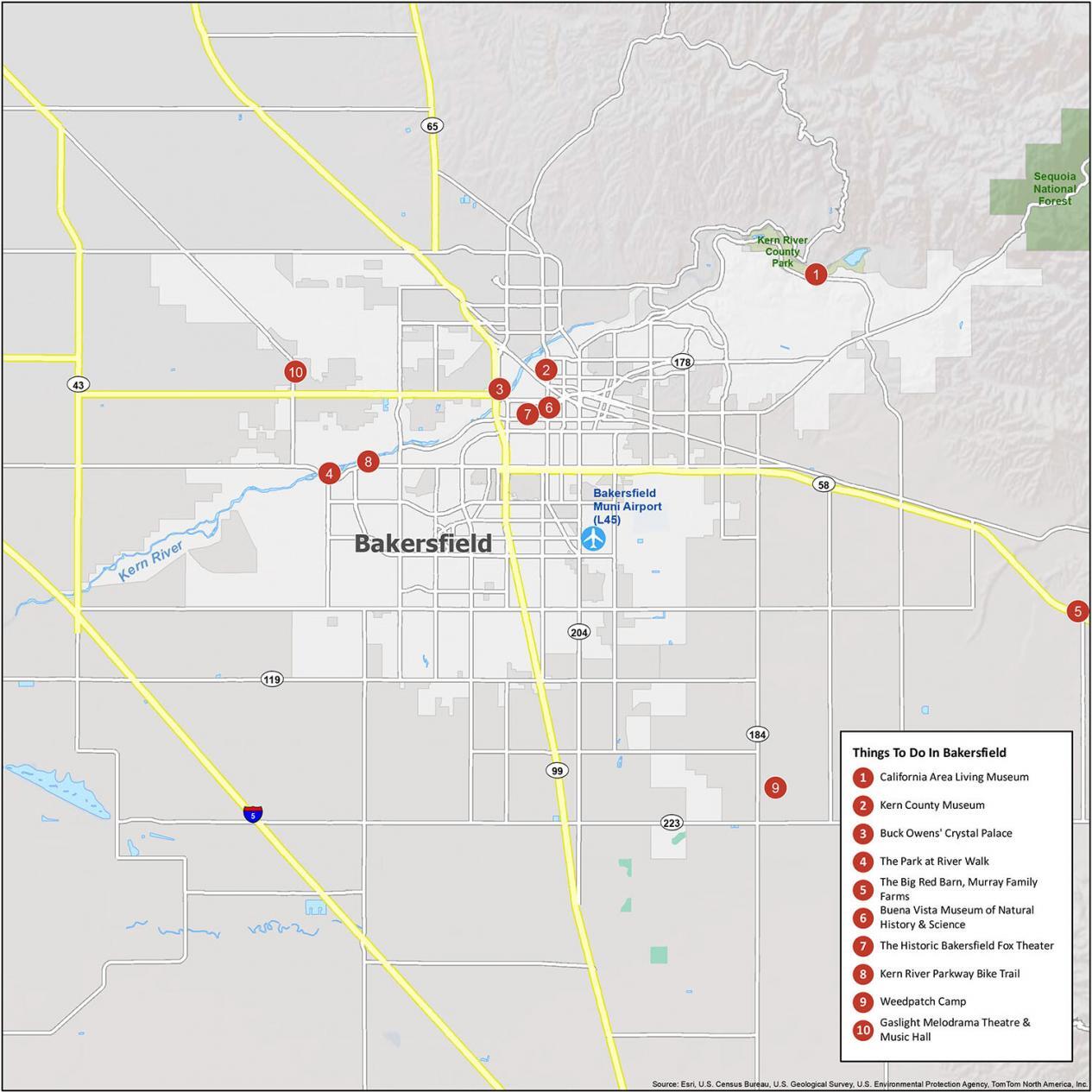 California Area Living Museum
Kern County Museum
Buck Owens' Crystal Palace
The Park at River Walk
The Big Red Barn, Murray Family Farms
Buena Vista Museum of Natural History & Science
The Historic Bakersfield Fox Theater
Kern River Parkway Bike Trail
Weedpatch Camp
Gaslight Melodrama Theatre & Music Hall
Reference Map of Bakersfield
With this Bakersfield map, you can explore the area and find out what the different neighborhoods offer. It was founded in 1869 and has since been known as a rough and ready town with a population that's largely made up of people who work in the oil fields. Since then, it is now home to almost 400,000 residents.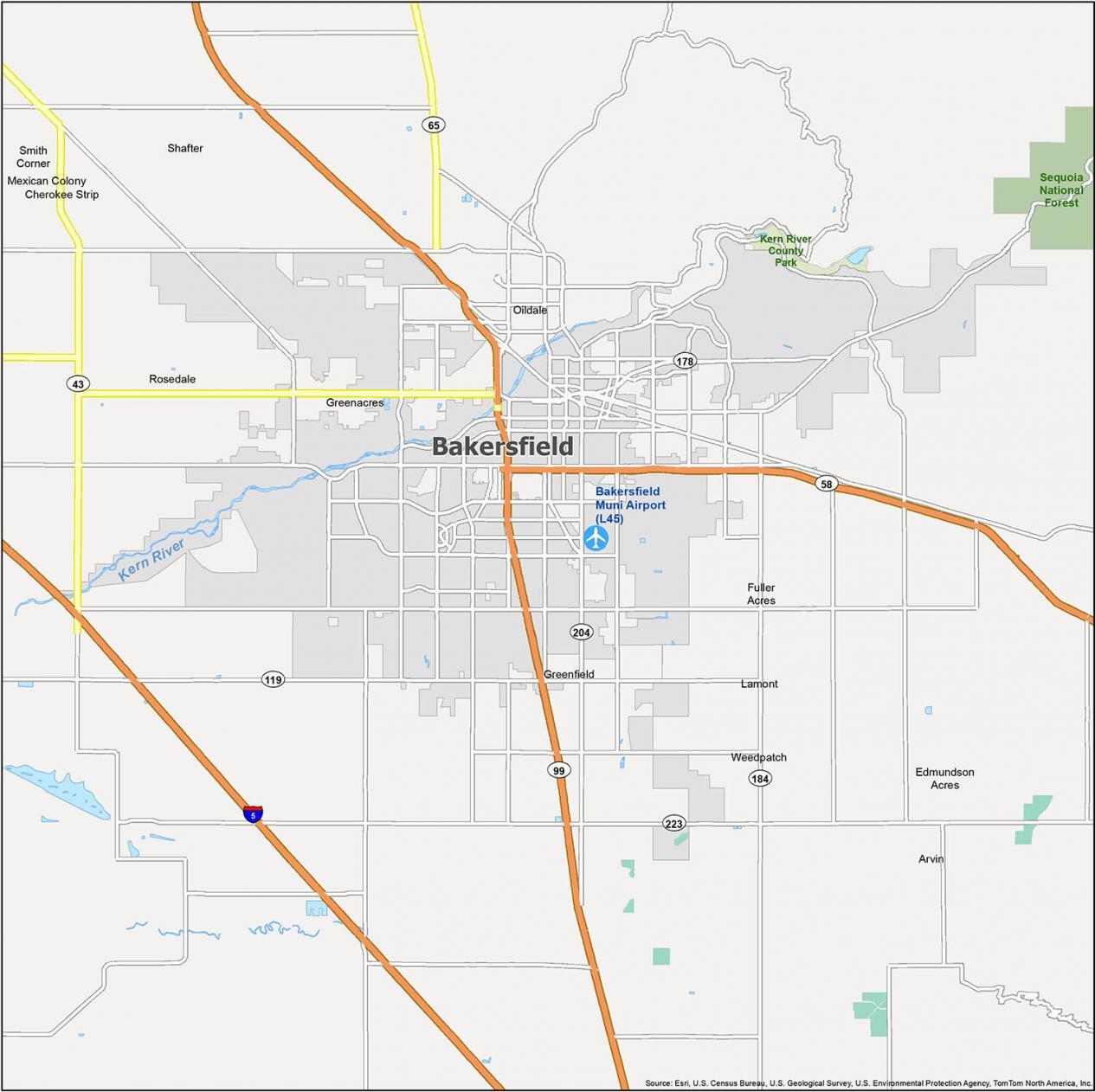 Airport: Bakersfield Municipal Airport (L45)
Cities: Arvin, Bakersfield, Shafter
Census-Designated Places (CDP): Cherokee Strip, Edmundson Acres, Fuller Acres, Greenacres, Greenfield, Lamont, Mexican Colony, Oildale, Rosedale, Smith Corner, Weedpatch
Bakersfield, California maps
California map collection