Map of Los Angeles, California

Map of Los Angeles
This map of Los Angeles (L.A.) features highways, roads, attractions, and places to visit. Located on the west coast of Southern California, there are few cities in the world quite as diverse as Los Angeles. It's famous for beaches, palm trees, and critically-acclaimed movies.
While it may have long been a center of the film industry and a cultural hub for the arts, it is also the second-largest city in the United States and the most populous metropolitan area in California. It's not only home to Hollywood, Beverly Hills, and Santa Monica, but it also has some of the most iconic tourist attractions in the world.
Los Angeles is a major center of business, international trade, education, and culture. Whether you are looking for the perfect place for a romantic getaway, a place to call home, or just a great place to visit, the City of Angels is a perfect destination. And there's no better way to learn about it with this Los Angeles map collection.
Jump To: Interactive Map | Printable Road Map | 10 Things to Do | Reference Map
Los Angeles map collection
Interactive Map of Los Angeles
This interactive map of Los Angeles will help you navigate your way around this beautiful city. Because one of the best things about Los Angeles, California is that it is home to some of the best attractions, landmarks, and restaurants in the United States. So whether you are looking for a family-friendly activity, a local restaurant, or a five-star hotel, Los Angeles is the place to be. Explore what Los Angeles California has to offer with this interactive map of the city, complete with highways, roads, and hidden treasures of the city.
Los Angeles Road Map
Looking for a road map of Los Angeles? A map that shows you the roads, highways, and streets of Los Angeles, California? This Los Angeles road map will help you get around, find your way and get access to the info you need to know about this coastal city in southern California. For instance, you will find interstates, highways, and major roads in one convenient and printable map. Use it for free so you will never get lost in the City of Angels again. But if you're going to be traveling outside Los Angeles, then take a look at this California road map for highway information.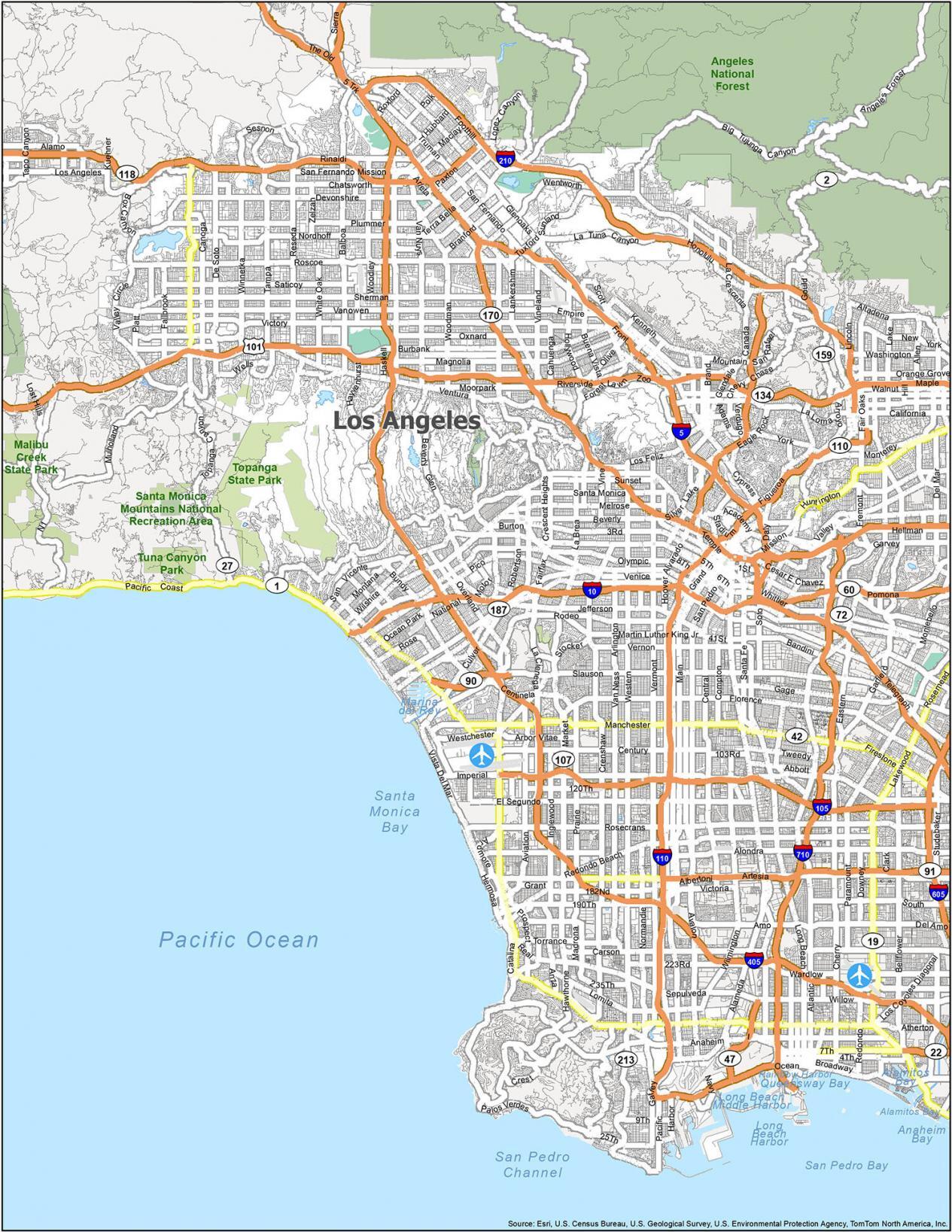 Interstate Highways: I-5, I-10, 105, 110, 210, 405
US Highways: 2, 5, 10, 27, 42, 47, 60, 90, 91, 101, 105, 110, 118, 134, 170, 210, 213, 405, Marina Expy, Mulholland Hwy, Pacific Coast Hwy, Sierra Hwy
Freeways/Parkways: Colorado St Fwy, Imperial Hwy, San Bernardino Fwy, Westchester Pky
Major Roads: 25th St, 9th St, Alameda St, Alvarado St, Cahuenga Blvd, Central Ave, Century Blvd, Chandler Blvd, Channel St, Columbus Ave, Del Mar, Figueroa St, Firestone Blvd, Gaffey St, Glendale Blvd, Highland Ave, La Cienega Blvd, Laurel Canyon Blvd, Lincoln Blvd, Lorena St, Main St, Manchester Ave, Pacific Ave, Palisades Beach Rd, Parthenia Pl, Parthenia St, Rinaldi St, Santa Monica Blvd, Sepulveda Blvd, Shepard St, Slauson Ave, Topanga Canyon Blvd, Valley Blvd, Van Nuys Blvd, Western Ave, Whittier Blvd, Wilshire Blvd, World Way
10 Things To Do in Los Angeles
Los Angeles is known for its warm and sunny weather, as well as for its extensive beaches. But the city also has many cultural attractions that attract millions of visitors annually. Whether you're a first-time explorer or an expert at outdoor activities, you can explore the local gems that make up this diverse metropolis. Or whether you love art, architecture, or history, L.A. has something to offer everyone.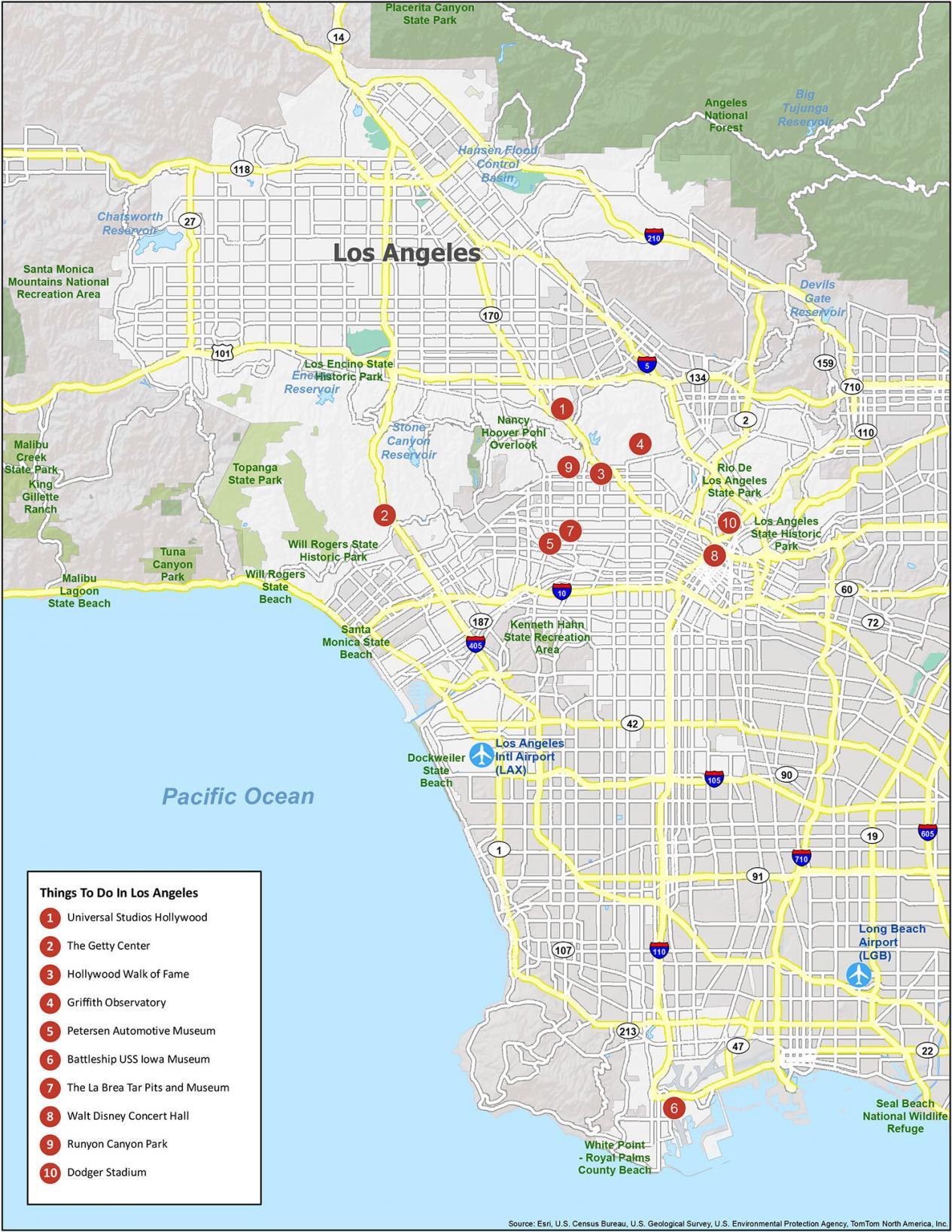 Los Angeles is not only a cultural capital of the world, but it's also an entertainment hub including pioneers such as Walt Disney and Jean-Paul Getty. In fact, our top 3 attractions are all about entertainment including Universal Studios, the Getty Center, and Hollywood
It's a magnet for tourists with over 50 million visitors per year. But if you only could see 10 sites in Los Angeles, California, here are our recommendations for the top 10 things to do.
Universal Studios Hollywood
The Getty Center
Hollywood Walk of Fame
Griffith Observatory
Petersen Automotive Museum
Battleship USS Iowa Museum
The La Brea Tar Pits and Museum
Walt Disney Concert Hall
Runyon Canyon Park
Dodger Stadium
Los Angeles Reference Map
Los Angeles is home to some of the greatest museums and cultural institutions in the country. But its diversity is reflected in the city's neighborhoods, which contain everything from affluent areas to low-income communities. The diversity of Los Angeles neighborhoods is a wonderful reflection of the city's character and history. If you're looking to get to know the city in a more personal way, take a look at this Los Angeles map with populated places, cities, bays, and much more.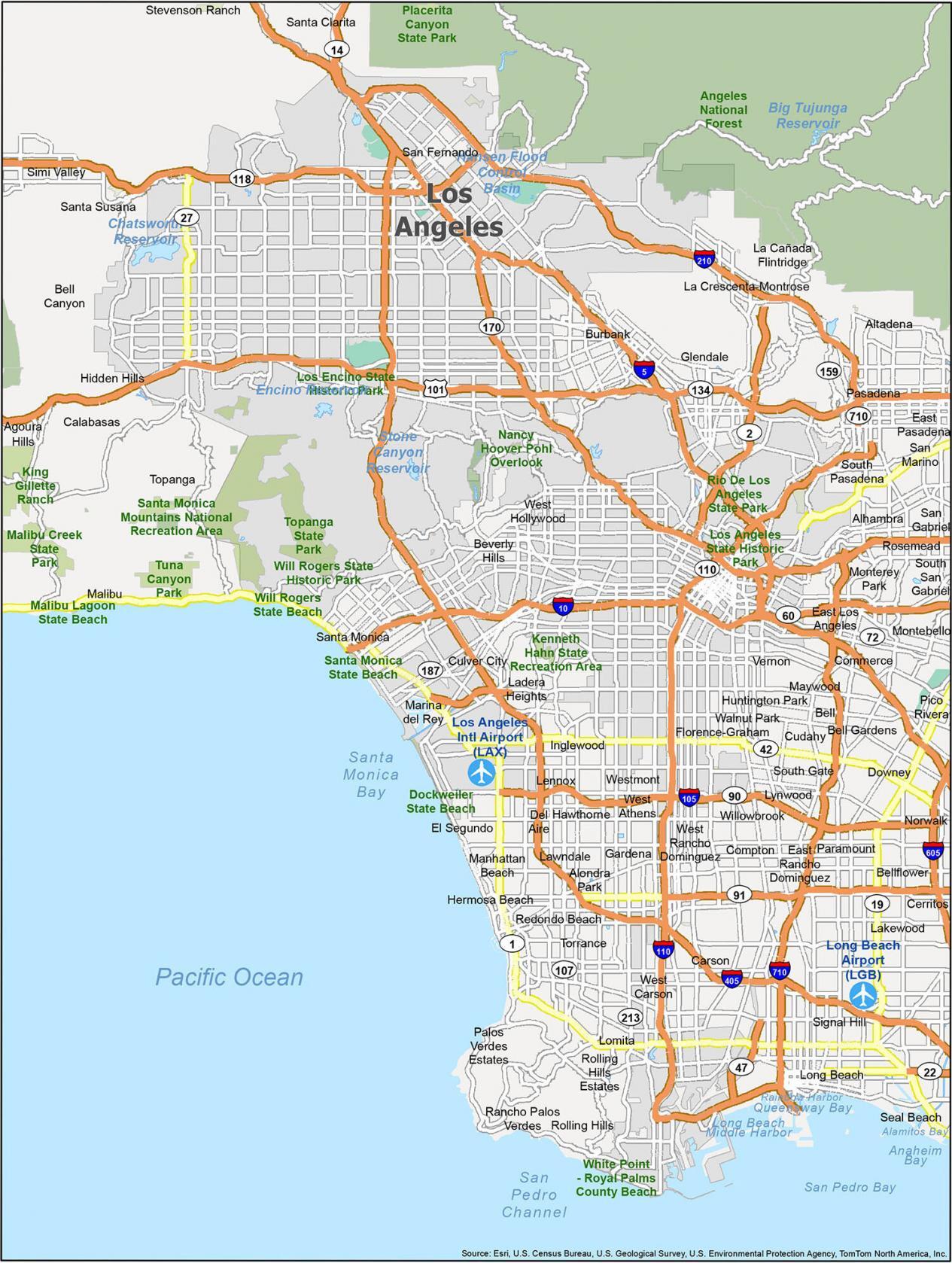 Airports: Los Angeles International Airport (LAX)
Census-designated place (CDP): Alondra Park, Altadena, Bell Canyon, Del Aire, East Los Angeles, East Pasadena, East Rancho Dominguez, Florence-Graham, La Crescenta-Montrose, Ladera Heights, Lennox, Marina del Rey, San Pasqual, Santa Susana, South San Gabriel, Stevenson Ranch, Topanga, View Park-Windsor Hills, Walnut Park, West Athens, West Carson, West Rancho Dominguez, Westmont, Willowbrook
Water Features: Anaheim Bay, Chatsworth Reservoir, Hansen Flood Control Basin, Pacific Ocean, Santa Monica Bay, San Pedro Bay, San Pedro Channel, Stone Canyon Reservoir
Cities: Agoura Hills, Alhambra, Bell, Bell Gardens, Bellflower, Beverly Hills, Burbank, Calabasas, Carson, Cerritos, Commerce, Compton, Cudahy, Culver City, Downey, El Segundo, Gardena, Glendale, Hawthorne, Hermosa Beach, Hidden Hills, Huntington Park, Inglewood, La Cañada Flintridge, Lakewood, Lawndale, Lomita, Long Beach, Los Angeles, Lynwood, Malibu, Manhattan Beach, Maywood, Montebello, Monterey Park, Norwalk, Palos Verdes Estates, Paramount, Pasadena, Pico Rivera, Rancho Palos Verdes, Redondo Beach, Rolling Hills, Rolling Hills Estates, Rosemead, San Fernando, San Gabriel, San Marino, Santa Clarita, Santa Fe Springs, Santa Monica, Seal Beach, Signal Hill, Simi Valley, South Gate, South Pasadena, Torrance, Vernon, West Hollywood
Los Angeles map collection
California map collection
References