Map of Baltimore
When you think of Baltimore, the first thing that probably comes to mind must be its picturesque harbors and seaports. Coupled with its friendly people living there, this is probably why it's nicknamed the "charm city". If you're planning your next trip, here is a Baltimore map to keep in mind before you head out. It displays major routes/highways, landmarks, things to do, and an interactive map of Baltimore.
Baltimore is the most populous city in Maryland with close to 600,000 people. Besides its inner harbor and historic seaports, the city has been the backdrop for the popular TV show House of Cards. Plus, Baltimore is a hot spot for history enthusiasts and those who are looking to explore some of the surrounding areas, including Annapolis and Baltimore County.
It's a thriving city that has a lot of history and diversity, especially for people who love the arts. The culture of Baltimore is rich with architecture ranging from the iconic Oriole Park at Camden Yards stadium to historic neighborhoods like Little Italy and Highlandtown to the funky Fells Point. It's also home to some amazing food and drink, including crab cakes and other seafood.
Jump To: Interactive Map | Printable Road Map | 10 Things to Do | Reference Map
Baltimore map collection
Interactive Map of Baltimore
This map is an interactive tool that you can use to plan your visit to Baltimore. It has details about attractions, things to do, transportation, and more. You can zoom, pan, and explore all the neighborhoods, landmarks, and businesses that Baltimore has to offer. It's not only for sightseeing, but you can also view Baltimore's intriguing topography like the Piedmont Plateau and the Atlantic coastal plain.
Baltimore Road Map
It's easy to get lost in a big city like Baltimore. So that's why we suggest that you print this map of Baltimore to help navigate around. Baltimore is one of the largest and most diverse cities in the US, and this map is a great starting point for your next adventure. But if you're going to travel out of state, give try out this Maryland road map for a road trip.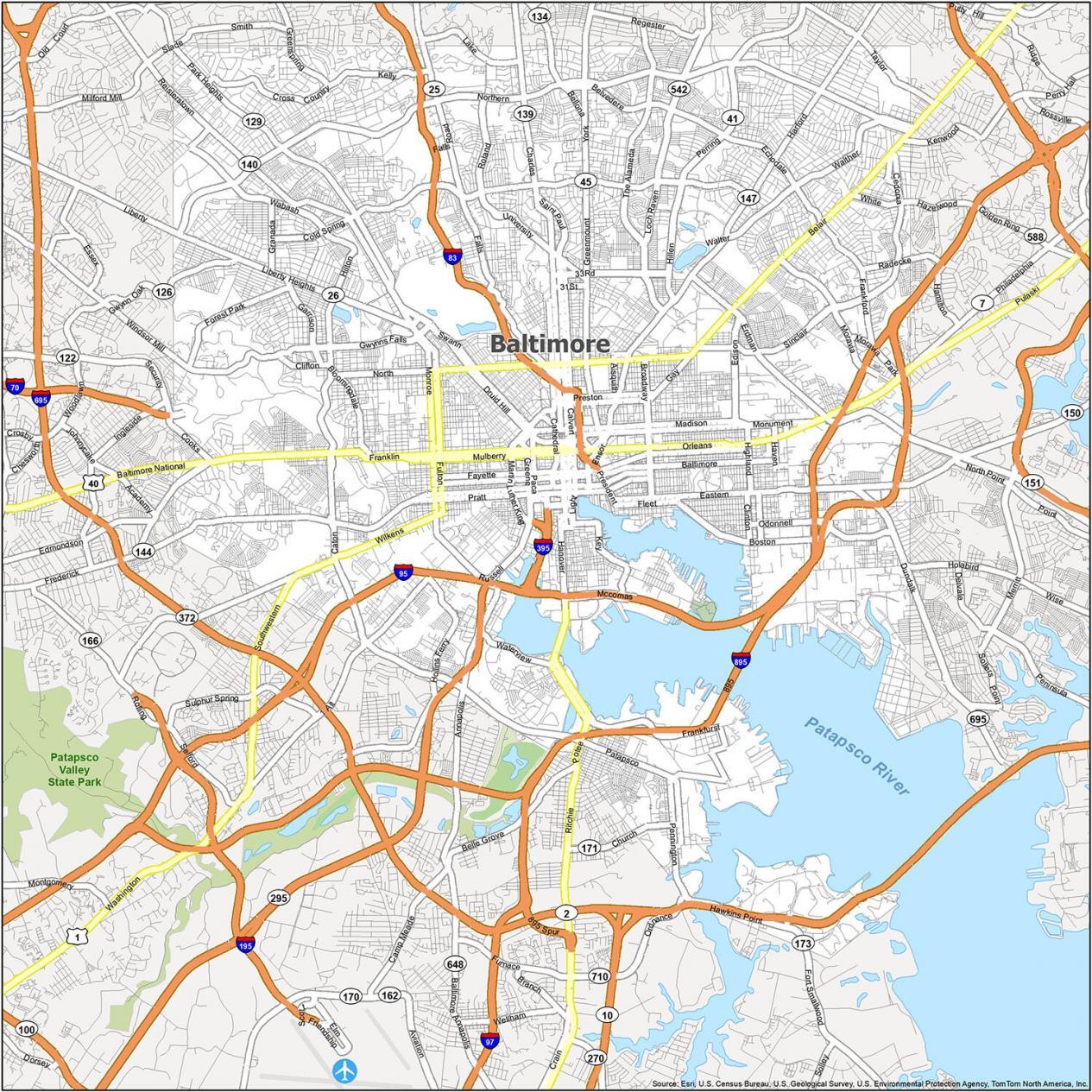 Interstate Highways: I-95, I-70, I-83, I-395, I-695, I-895
US Highways: 1, 2, 25, 26, 40, 41, 45, 129, 134, 139, 140, 144, 147, 150, 151, 173, 295, 372, 395, 542, 648, Pulaski Hwy
Parkways: Perring Pky, University Pky
Major Roads: 29th St, 31st St, 33rd St, Annapolis Rd, Baltimore National Pike, Baltimore St, Bellona Ave, Broadway, Curtis Ave, Druid Hill Ave, Eastern Ave, Falls Rd, Falls Road Ter, Fayette St, Forrest St, Fulton Ave, Greene St, Hanover St, Harford Ave, Hillen Rd, Hilton St, Lafayette Ave, Lanvale St, Lee St, Liberty Heights Ave, Loch Raven Blvd, Lombard St, Martin Luther King Jr Blvd, Maryland Ave, Monument St, Moravia Rd, Orleans St, Pennington Ave, Pennsylvania Ave, President St, Reisterstown Rd, Russell St, Southwestern Blvd, Swann Dr, The Alameda, Washington Blvd, York Rd
10 Things To Do in Baltimore
Baltimore, Maryland is a large city with a lot of interesting features. From the waterfront to the Inner Harbor, Oriole Park at Camden Yards, and Fort McHenry National Monument & Historic Shrine, there are plenty of things to see and do in Baltimore. The Baltimore Maryland map is an easy way for you to find out about the area. You can use this Baltimore map to explore its beautiful landmarks and keep yourself up-to-date.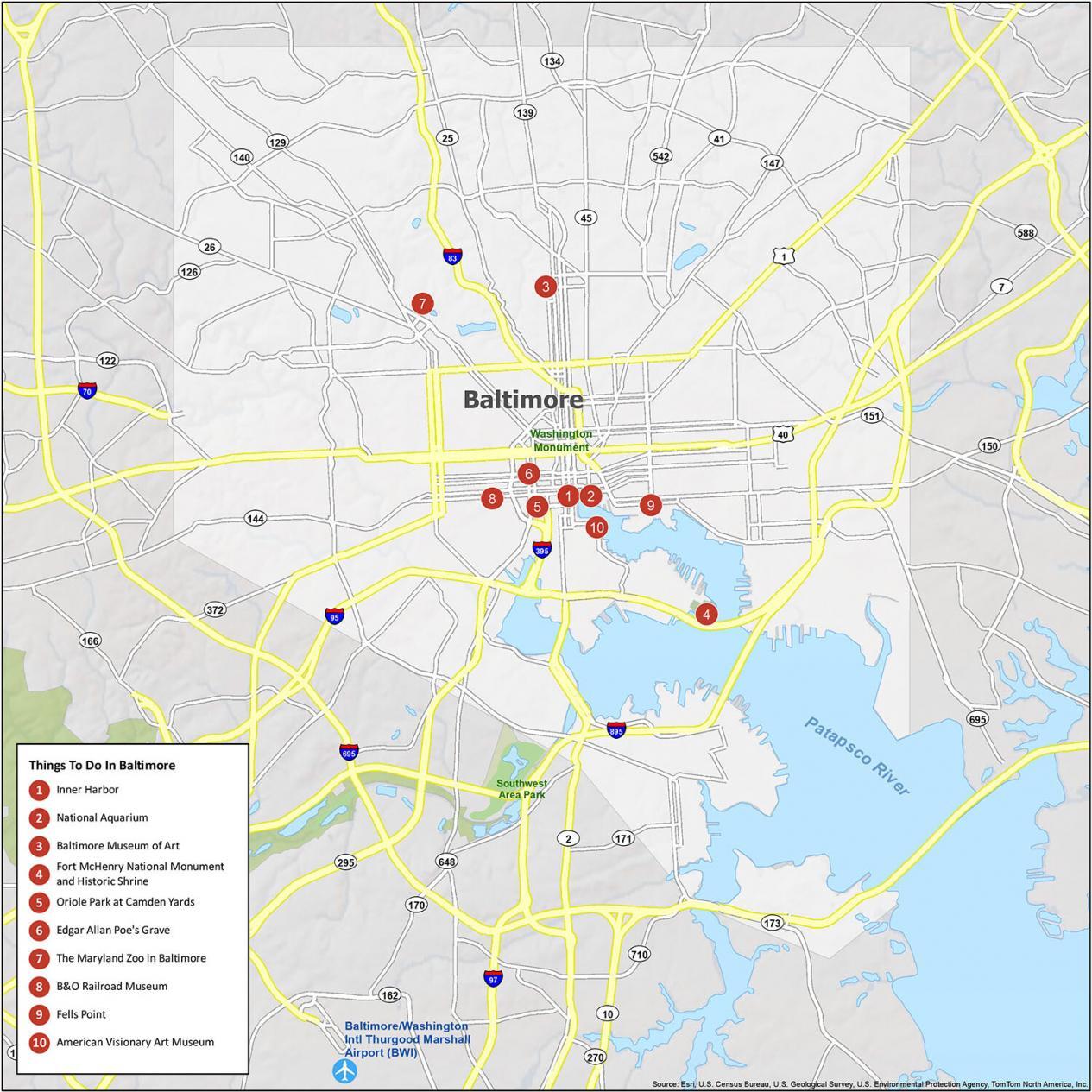 Inner Harbor
National Aquarium
Baltimore Museum of Art
Fort McHenry National Monument and Historic Shrine
Oriole Park at Camden Yards
Edgar Allan Poe's Grave
The Maryland Zoo in Baltimore
B&O Railroad Museum
Fells Point
American Visionary Art Museum
Baltimore Reference Map and Surrounding Area
Baltimore Maryland is a city that boasts of rich history and culture. Its identity comes from its special foods, neighborhoods, and the people who call it home. Each neighborhood has its own unique characteristics that have molded Baltimore into what it is today. If you want to see where the different neighborhoods are located within the city, this map is the perfect way to explore the city.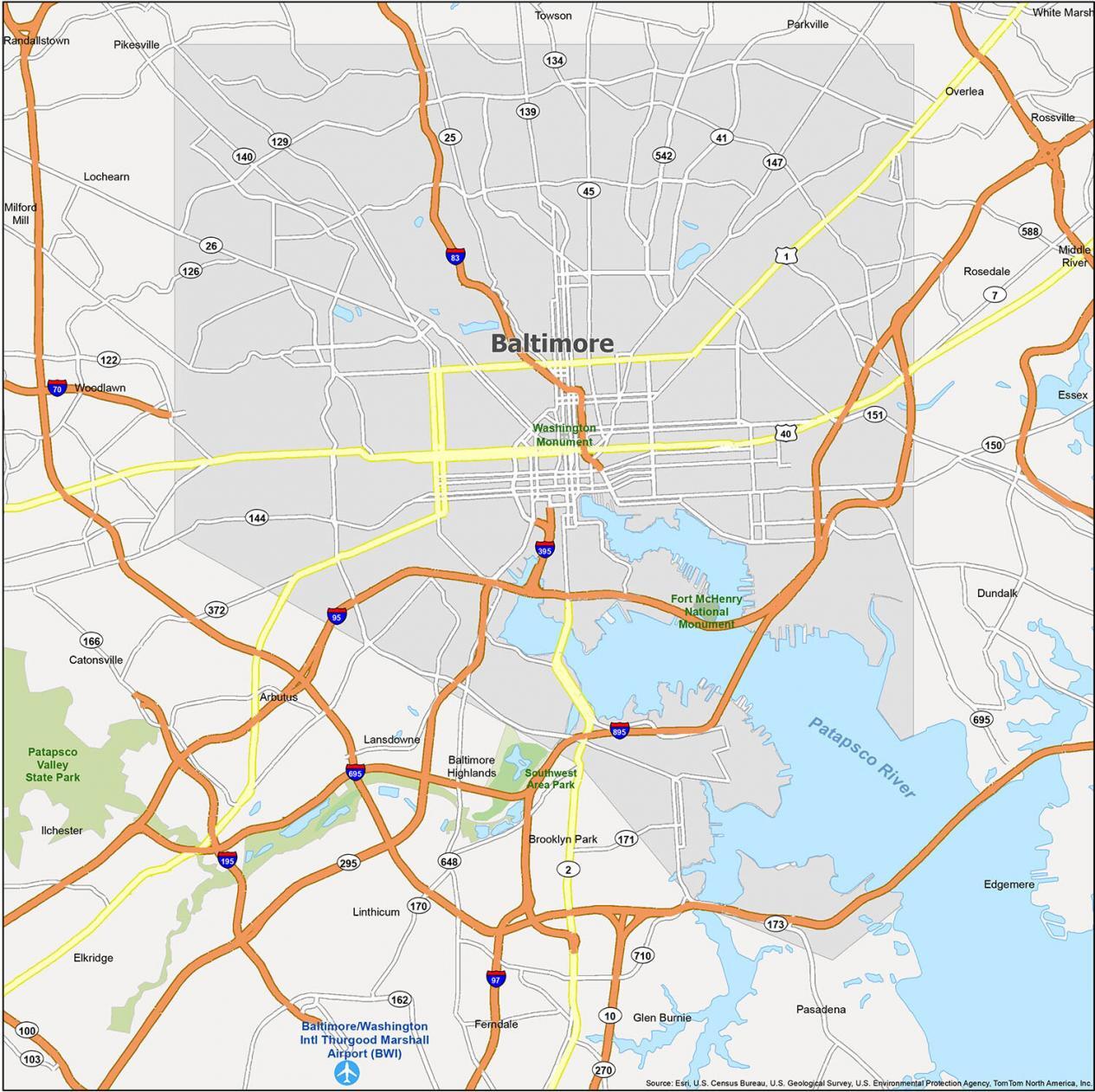 Airport: Baltimore/Washington International Thurgood Marshall Airport (BWI)
Cities: Baltimore
Census-Designated Places (CDP): Arbutus, Baltimore Highlands, Brooklyn Park, Catonsville, Dundalk, Edgemere, Elkridge, Essex, Ferndale, Glen Burnie, Ilchester, Lansdowne, Linthicum, Lochearn, Middle River, Milford Mill, Overlea, Parkville, Pasadena, Perry Hall, Pikesville, Randallstown, Riviera Beach, Rosedale, Rossville, Towson, White Marsh, Woodlawn