Maryland County Map and Independent City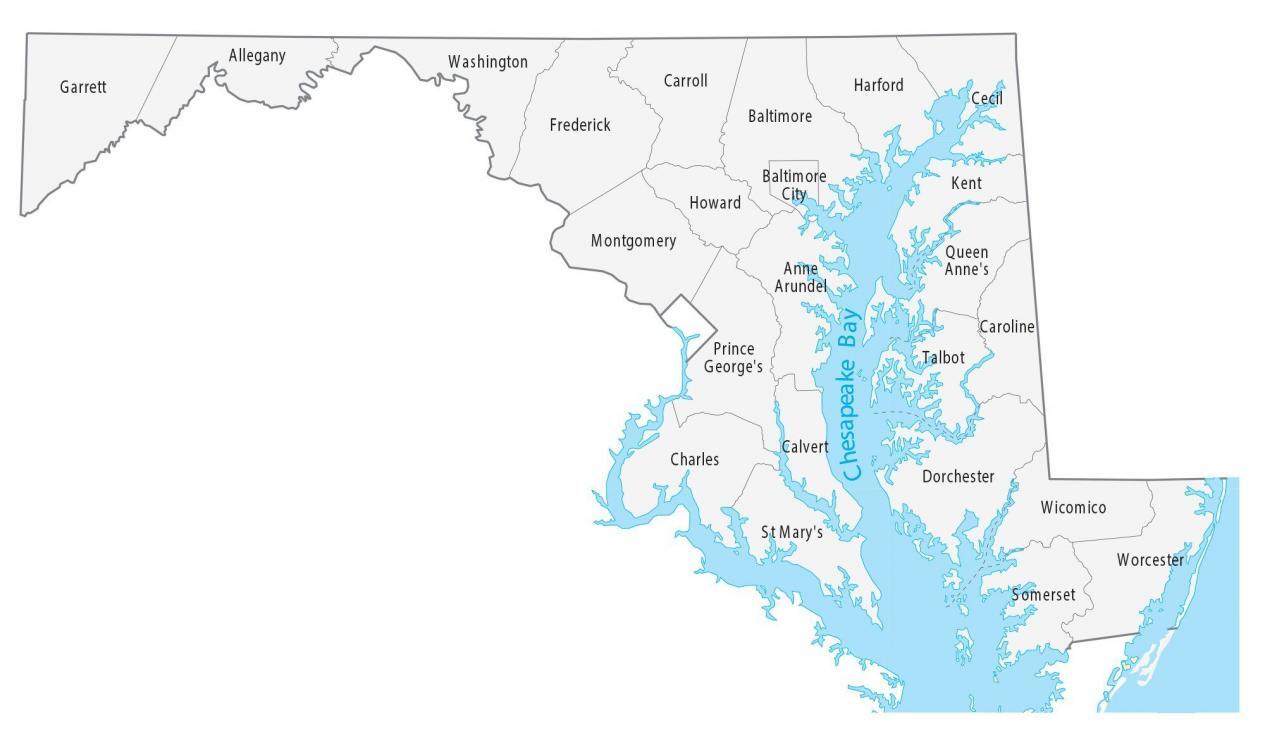 About the map
This Maryland county map displays its 23 counties and one independent city. Maryland (along with Missouri, Nevada, and Virginia) also has independent cities, and government units outside the jurisdiction of any county.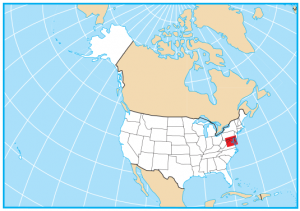 Montgomery County has the highest population in Maryland and is adjacent to the District of Columbia. Prince George's and Baltimore County are other populated counties in Maryland. Conversely, Kent County has the lowest population with less than 20,000 people.
For size, Frederick County is the largest occupying 667.7 square miles of area. If you include Baltimore City, it's just 81.4 square miles. Then, Calvert County is the next smallest area along the Chesapeake Bay.
Maryland map collection
You are free to use our county map of Maryland for educational and commercial uses. Attribution is required. How to attribute?
Maryland county list
| County Name | Population (2020 est) | County Map | Area (sq mi) | Locator Map | FIPS Code |
| --- | --- | --- | --- | --- | --- |
| Allegany County | 70,057 | Allegany County | 428.3 | Allegany County Map | 24001 |
| Anne Arundel County | 582,777 | Anne Arundel County | 422.3 | Anne Arundel County Map | 24003 |
| Baltimore County | 826,017 | Baltimore County | 608.1 | Baltimore County Map | 24005 |
| Calvert County | 93,072 | Calvert County | 215.9 | Calvert County Map | 24009 |
| Caroline County | 33,492 | Caroline County | 323.7 | Caroline County Map | 24011 |
| Carroll County | 169,092 | Carroll County | 452.3 | Carroll County Map | 24013 |
| Cecil County | 103,419 | Cecil County | 356.7 | Cecil County Map | 24015 |
| Charles County | 164,436 | Charles County | 461.7 | Charles County Map | 24017 |
| Dorchester County | 31,853 | Dorchester County | 574.4 | Dorchester County Map | 24019 |
| Frederick County | 265,161 | Frederick County | 667.7 | Frederick County Map | 24021 |
| Garrett County | 28,852 | Garrett County | 653 | Garrett County Map | 24023 |
| Harford County | 256,805 | Harford County | 444.9 | Harford County Map | 24025 |
| Howard County | 328,200 | Howard County | 253.5 | Howard County Map | 24027 |
| Kent County | 19,192 | Kent County | 281.9 | Kent County Map | 24029 |
| Montgomery County | 1,051,816 | Montgomery County | 507.1 | Montgomery County Map | 24031 |
| Prince George's County | 909,612 | Prince George's County | 487 | Prince George's County Map | 24033 |
| Queen Anne's County | 51,167 | Queen Anne's County | 371.8 | Queen Anne's County Map | 24035 |
| Saint Mary's County | 114,687 | Saint Mary's County | 365.1 | Saint Mary's County Map | 24037 |
| Somerset County | 25,453 | Somerset County | 328.1 | Somerset County Map | 24039 |
| Talbot County | 36,972 | Talbot County | 276.2 | Talbot County Map | 24041 |
| Washington County | 151,146 | Washington County | 464.8 | Washington County Map | 24043 |
| Wicomico County | 103,990 | Wicomico County | 382.8 | Wicomico County Map | 24045 |
| Worcester County | 52,403 | Worcester County | 475.2 | Worcester County Map | 24047 |
| Baltimore City | 586,131 | Baltimore City | 81.4 | Baltimore City Map | 24510 |
City Maps of Maryland
References