Maryland State Map – Places and Landmarks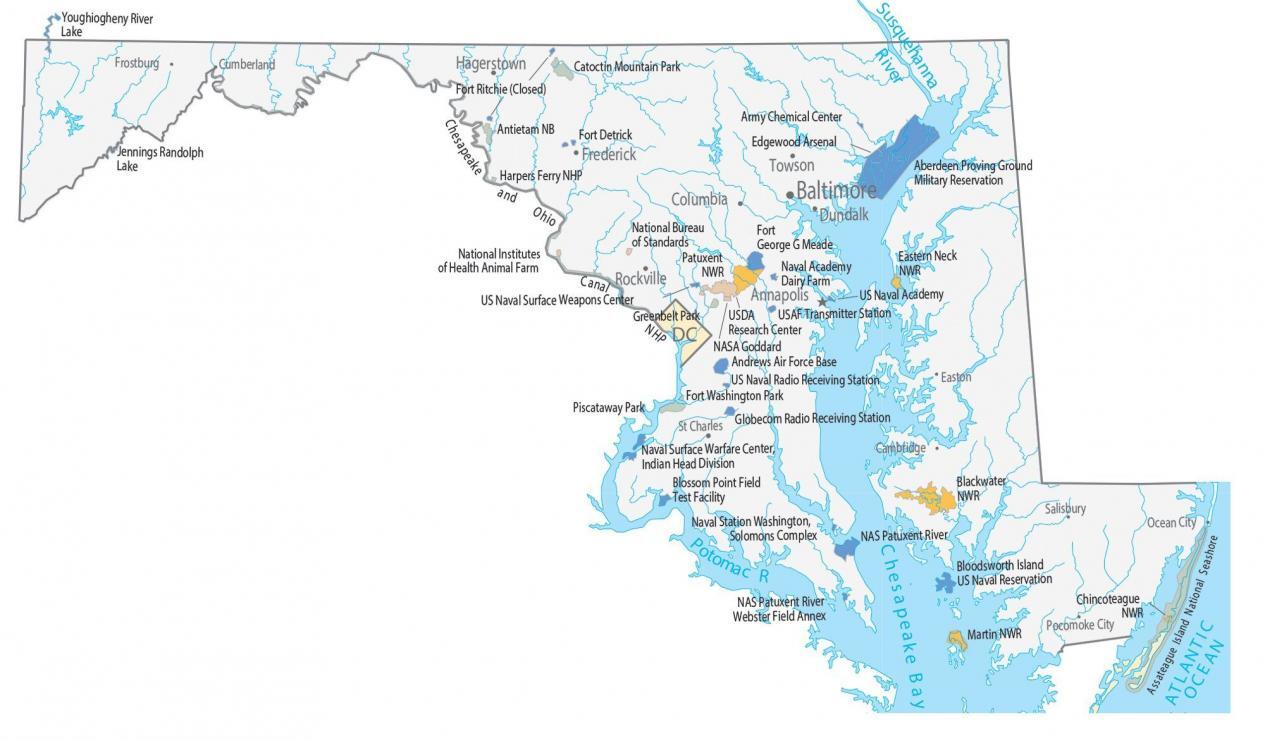 About the map
This Maryland State Map shows major landmarks and places in Maryland. For example, it features national parks, military bases, research facilities, wildlife refuges, and federal lands.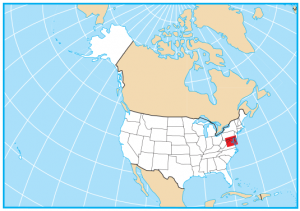 Maryland has several points of interest for federally-managed parks. At one point, was the only fort that protected the nation's capital, Washington, D.C.
Greenbelt Park is for camping and recreation located near Greenbelt, Maryland. Next, Assateague Island National Seashore is known for wild horses along the beaches and salty marshes of the seashore. There are many historic sites to explore as well, including Fort McHenry, USS Constellation, and many others in the City of Baltimore.
Maryland map collection
You are free to use our map of Maryland for educational and commercial uses. Attribution is required. How to attribute?
Federal lands
National Park (NP)
Fort Washington Park
Greenbelt Park
Assateague Island National Seashore
National Wildlife Refuge (NWR)
Eastern Neck NWR
Patuxent NWR
Blackwater NWR
Chincoteague NWR
Martin NWR
Other Landmarks
Harpers Ferry NHP
Chesapeake and Ohio Canal NHP
National Bureau of Standards
NASA Goddard
USDA Research Center
National Institutes of Health Animal Farm
Maryland lakes, rivers and reservoirs
Lakes, rivers and reservoirs
Chesapeake Bay
Susquehanna River
Chesapeake Bay
Youghiogheny River
Potomac River
Delaware Bay
Jennings Randolph Lake
Army, naval and military
Fort Ritchie (Closed)
Aberdeen Proving Ground Military Reservation
Catoctin Mountain Park Army Chemical Center
Edgewood Arsenal
Antietam National Battlefield
Fort Detrick
Fort George G Meade
US Naval Academy
Andrews Air Force Base
US Naval Radio Receiving Station
Piscataway Park
Naval Surface Warfare Center, Indian Head Division
Naval Station Washington, Solomons Complex
Naval Air Station Patuxent River
Bloodsworth Island US Naval Reservation
Blossom Point Field Test Facility
USAF Transmitter Station
NAS Patuxent River
Webster Field Annex
Naval Academy Dairy Farm
US Naval Surface Weapons Center
Maryland landmarks and places
Baltimore
Annapolis
Frederick
Hagerstown
Rockville
St Charles
Columbia
Dundalk
Cambridge
Towson
Cumberland
Easton
Frostburg
Ocean City
Pocomoke City
Salisbury
State capital
Annapolis
References