Map of Baton Rouge, Louisiana

Map of Baton Rouge
If you ever plan to go to Baton Rouge, use our collection of maps for the capital city of Louisiana. This includes a road map, 10 things to do, and a general reference map. We also have an interactive map of Baton Rouge to learn more about this intriguing city.
French for "Red Stick", Baton Rouge is actually named for a red stick! The city of Baton Rouge was founded more than 300 years ago, where explorers found a stick stained with the blood of fish and animals.
With a population of over 225,000 and an area of 230 square kilometers, it is located in southeastern Louisiana along the Mississippi River. This city is known for its southern charm, rich cultural history, and French roots that go back hundreds of years.
Jump To: Interactive Map | Printable Road Map | 10 Things to Do | Reference Map
Baton Rouge map collection
Interactive Map of Baton Rouge
In this zoomable and scrollable map, you can explore the city of Baton Rouge and discover the best places to visit. The map depicts the Greater Baton Rouge area and contains major highways, airports, shopping centers, restaurants, hospitals, and much more. This interactive map lets you adventure around the city of Baton Rouge and is for tourists and residents alike.
Baton Rouge Road Map
When you're traveling or just want to learn more about the city, this map will give you a quick overview of Baton Rouge. The city is situated on the eastern bank of the Mississippi River and straddles I-110 and I-12, which connect to one another across the river.
This map is the perfect tool for anyone who needs to know where they are or to find a new place to explore. And if you plan on exploring beyond Baton Rouge, make sure to take a look at our Louisiana map for statewide highways and roads.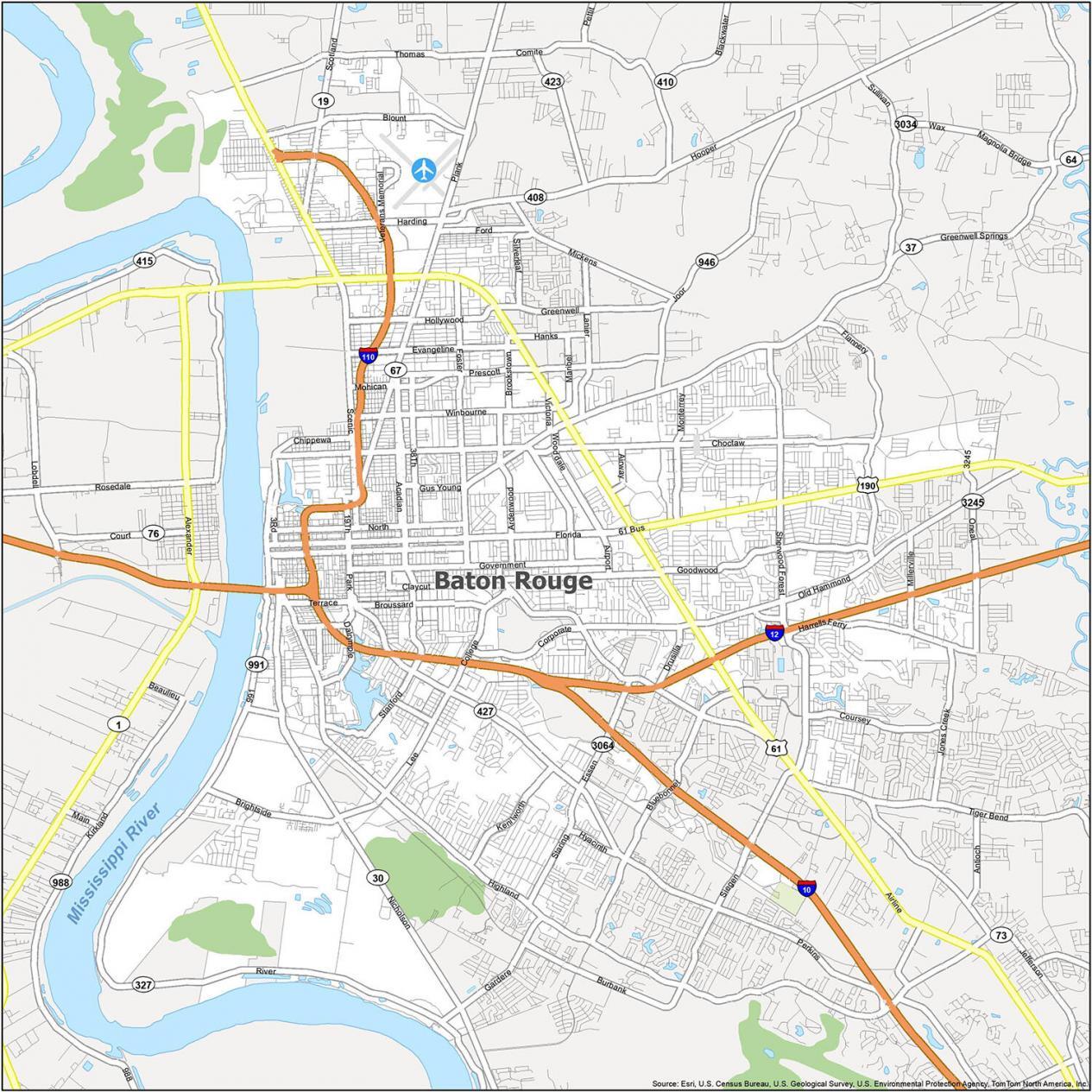 Interstate Highways: I-10, I-12, I-110
US Highways: 19, 30, 37, 61, 67, 73, 190, 327, 408, 423, 427, 991, 1068, 3064, Airline Hwy, Scenic Hwy
Major Roads: 3rd St, Acadian Thwy, Chippewa St, Drusilla Ln, Essen Ln, Florida Blvd, Florida St, Foster Dr, Government St, Greenwell Springs Rd, Harding Blvd, Hooper Rd, Jefferson Hwy, Joor Rd, Nicholson Dr, Park Blvd, Perkins Rd, Plank Rd, River Rd, Riverside St, Saint Louis St, Scotland Ave, South Blvd, Terrace Ave, Thomas Rd, Veterans Memorial Blvd
10 Things To Do in Baton Rouge
Baton Rouge offers a wide range of attractions including museums, food and drink, shopping, nightlife, and more. Baton Rouge is well known for its diverse culture and great food. With cultural festivals throughout the year, it's no wonder that so many people flock to this city for their next vacation.
Whether you're looking for a fun day at the museum or want to spend your weekends exploring the outdoors, Baton Rouge is a great place for you. Explore all of the interesting places in Baton Rouge, Louisiana with this landmarks map, or take a look at our Louisiana landmarks map for much more travel information.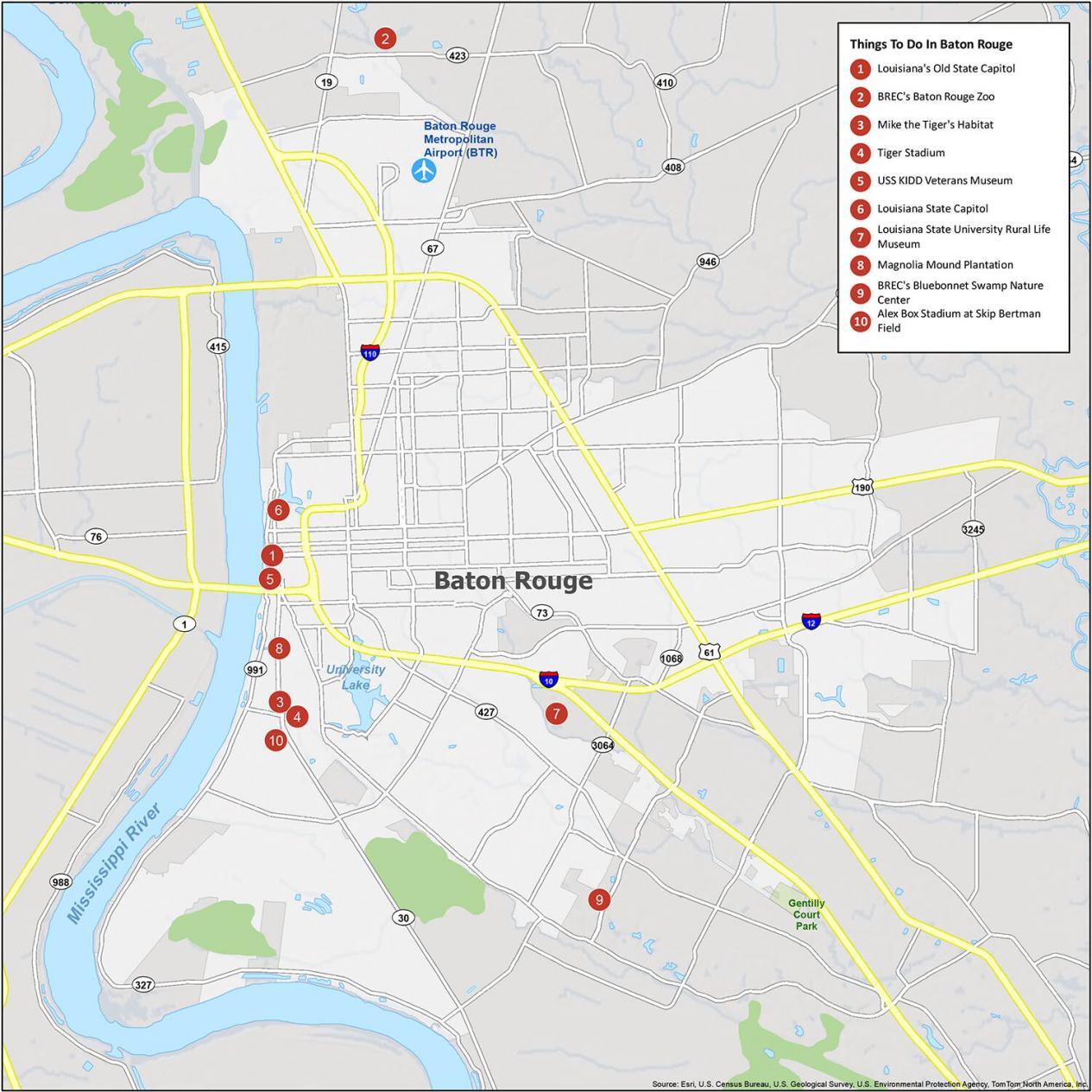 Louisiana's Old State Capitol
BREC's Baton Rouge Zoo
Mike the Tiger's Habitat
Tiger Stadium
USS KIDD Veterans Museum
Louisiana State Capitol
Louisiana State University Rural Life Museum
Magnolia Mound Plantation
BREC's Bluebonnet Swamp Nature Center
Alex Box Stadium at Skip Bertman Field
Baton Rouge Reference Map
Baton Rouge is home to many expansive neighborhoods such as Highland Road and Old North Baton Rouge known for its large community gardens. As the second-largest metropolitan area in Louisiana (after New Orleans), you can explore the map and get a sense of how the city is laid out and what is nearby. Gain a better understanding of the geography of Baton Rouge. Then, take your pick of the city's most popular destinations for your itinerary.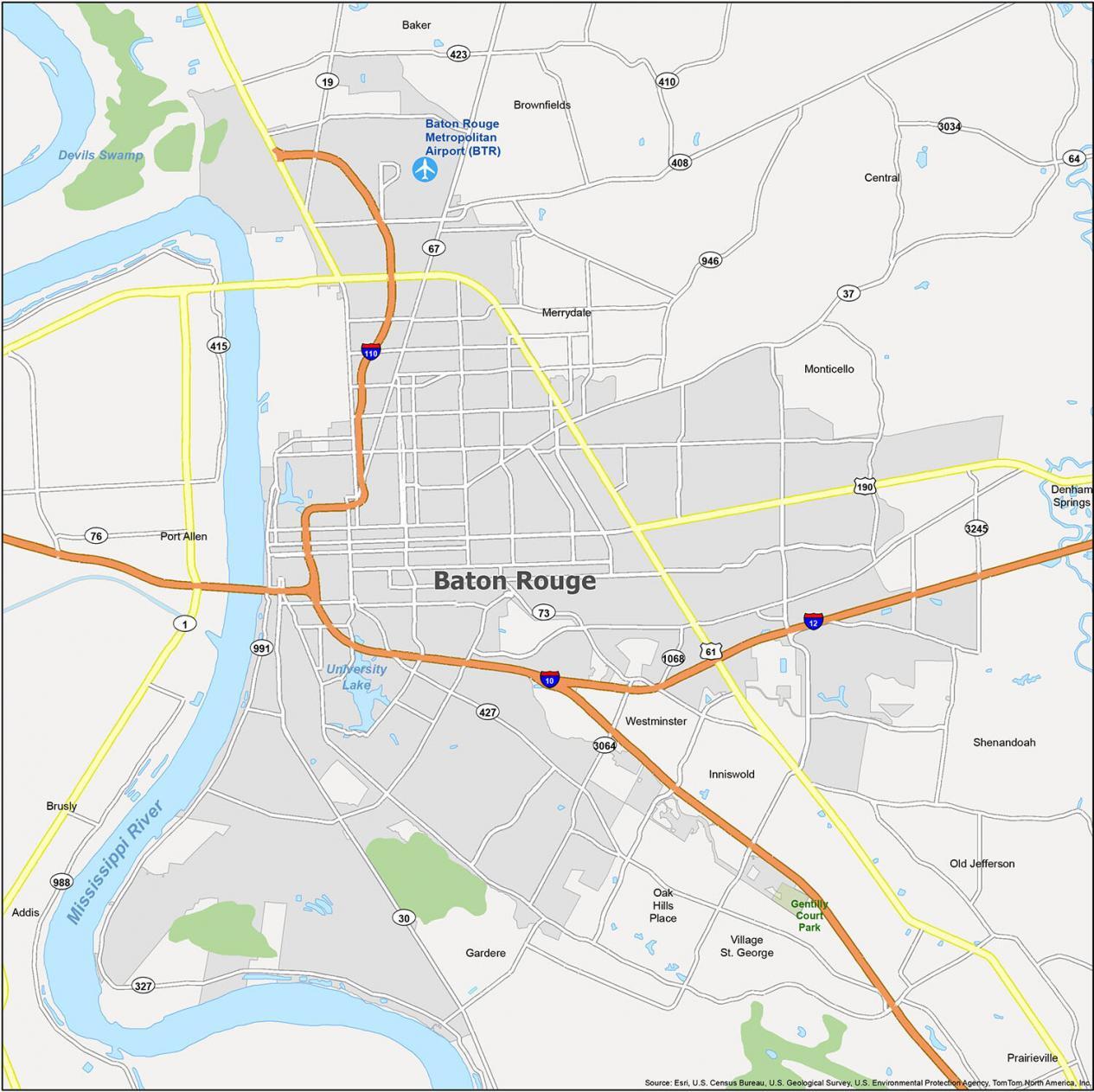 Airport: Baton Rouge Metropolitan Airport (BTR)
Cities: Baker, Baton Rouge, Central, Denham Springs, Port Allen
Towns: Addis, Brusly
Census-Designated Places (CDP): Brownfields, Gardere, Inniswold, Merrydale, Monticello, Oak Hills Place, Old Jefferson, Prairieville, Shenandoah, Village St. George, Westminster
Baton Rouge, Louisiana maps
Louisiana map collection
References