About the map
Unlike most other states, Louisiana uses parishes and has no counties. Ever since the early 1800s, it kept these administrative units with an underlying church parish system. The origin comes from the early rule of France and Spain in Louisiana.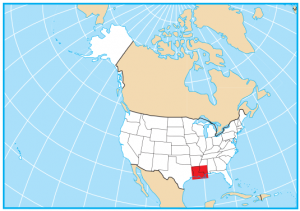 This Louisiana parish map displays its 64 parishes, like East Baton Rouge, Jefferson, and Orleans. The most populated parish in Louisiana is East Baton Rouge because it includes its state capital, Baton Rouge. But the parish with the lowest population is Tensas Parish with just over 4000 people.
For size, Cameron Parish is the largest at 1651.9 square miles in southwest Louisiana. This parish borders Texas along the Gulf of Mexico with an east-west orientation. The smallest parish in Louisiana is West Baton Rouge Parish occupying an area of just 203.8 square miles.
Louisiana map collection
You are free to use our parish map of Louisiana for educational and commercial uses. Attribution is required. How to attribute?
Louisiana parish list
| Parish Name | Population (2020 est) | Parish Map | Area (sq mi) | Locator Map | FIPS Code |
| --- | --- | --- | --- | --- | --- |
| Acadia Parish | 61,918 | Acadia Parish | 656.9 | Acadia Parish Map | 22001 |
| Allen Parish | 25,440 | Allen Parish | 765.7 | Allen Parish Map | 22003 |
| Ascension Parish | 128,665 | Ascension Parish | 302.8 | Ascension Parish Map | 22005 |
| Assumption Parish | 21,621 | Assumption Parish | 364.5 | Assumption Parish Map | 22007 |
| Avoyelles Parish | 39,966 | Avoyelles Parish | 865.7 | Avoyelles Parish Map | 22009 |
| Beauregard Parish | 37,881 | Beauregard Parish | 1166 | Beauregard Parish Map | 22011 |
| Bienville Parish | 12,983 | Bienville Parish | 822.3 | Bienville Parish Map | 22013 |
| Bossier Parish | 127,275 | Bossier Parish | 867 | Bossier Parish Map | 22015 |
| Caddo Parish | 237,479 | Caddo Parish | 936.5 | Caddo Parish Map | 22017 |
| Calcasieu Parish | 203,310 | Calcasieu Parish | 1094.1 | Calcasieu Parish Map | 22019 |
| Caldwell Parish | 9,839 | Caldwell Parish | 541.1 | Caldwell Parish Map | 22021 |
| Cameron Parish | 7,003 | Cameron Parish | 1651.9 | Cameron Parish Map | 22023 |
| Catahoula Parish | 9,226 | Catahoula Parish | 739.5 | Catahoula Parish Map | 22025 |
| Claiborne Parish | 15,508 | Claiborne Parish | 767.5 | Claiborne Parish Map | 22027 |
| Concordia Parish | 18,914 | Concordia Parish | 747.4 | Concordia Parish Map | 22029 |
| De Soto Parish | 27,650 | De Soto Parish | 894 | De Soto Parish Map | 22031 |
| East Baton Rouge Parish | 439,729 | East Baton Rouge Parish | 470.5 | East Baton Rouge Parish Map | 22033 |
| East Carroll Parish | 6,589 | East Carroll Parish | 447.3 | East Carroll Parish Map | 22035 |
| East Feliciana Parish | 18,882 | East Feliciana Parish | 455.6 | East Feliciana Parish Map | 22037 |
| Evangeline Parish | 33,276 | Evangeline Parish | 679.6 | Evangeline Parish Map | 22039 |
| Franklin Parish | 19,723 | Franklin Parish | 634.8 | Franklin Parish Map | 22041 |
| Grant Parish | 22,254 | Grant Parish | 664.6 | Grant Parish Map | 22043 |
| Iberia Parish | 68,991 | Iberia Parish | 625.8 | Iberia Parish Map | 22045 |
| Iberville Parish | 32,070 | Iberville Parish | 652.8 | Iberville Parish Map | 22047 |
| Jackson Parish | 15,574 | Jackson Parish | 580.4 | Jackson Parish Map | 22049 |
| Jefferson Davis Parish | 31,208 | Jefferson Davis Parish | 658.6 | Jefferson Davis Parish Map | 22053 |
| Jefferson Parish | 432,346 | Jefferson Parish | 483.2 | Jefferson Parish Map | 22051 |
| La Salle Parish | 15,021 | Lafayette Parish | 662.4 | Lafayette Parish Map | 22059 |
| Lafayette Parish | 246,518 | Lafourche Parish | 269.1 | Lafourche Parish Map | 22055 |
| Lafourche Parish | 97,596 | La Salle Parish | 1203.2 | La Salle Parish Map | 22057 |
| Lincoln Parish | 46,552 | Lincoln Parish | 472.3 | Lincoln Parish Map | 22061 |
| Livingston Parish | 143,737 | Livingston Parish | 702.9 | Livingston Parish Map | 22063 |
| Madison Parish | 10,635 | Madison Parish | 650.8 | Madison Parish Map | 22065 |
| Morehouse Parish | 24,227 | Morehouse Parish | 805.3 | Morehouse Parish Map | 22067 |
| Natchitoches Parish | 37,655 | Natchitoches Parish | 1299.1 | Natchitoches Parish Map | 22069 |
| Orleans Parish | 389,476 | Orleans Parish | 349.3 | Orleans Parish Map | 22071 |
| Ouachita Parish | 152,439 | Ouachita Parish | 632.6 | Ouachita Parish Map | 22073 |
| Plaquemines Parish | 23,113 | Plaquemines Parish | 1021 | Plaquemines Parish Map | 22075 |
| Pointe Coupee Parish | 21,529 | Pointe Coupee Parish | 589.8 | Pointe Coupee Parish Map | 22077 |
| Rapides Parish | 128,567 | Rapides Parish | 1362 | Rapides Parish Map | 22079 |
| Red River Parish | 8,286 | Red River Parish | 402.5 | Red River Parish Map | 22081 |
| Richland Parish | 20,014 | Richland Parish | 564.2 | Richland Parish Map | 22083 |
| Sabine Parish | 23,803 | Sabine Parish | 1011.5 | Sabine Parish Map | 22085 |
| Saint Bernard Parish | 47,647 | Saint Bernard Parish | 486 | Saint Bernard Parish Map | 22087 |
| Saint Charles Parish | 52,987 | Saint Charles Parish | 410.5 | Saint Charles Parish Map | 22089 |
| Saint Helena Parish | 10,081 | Saint Helena Parish | 409.9 | Saint Helena Parish Map | 22091 |
| Saint James Parish | 20,727 | Saint James Parish | 257.9 | Saint James Parish Map | 22093 |
| Saint John the Baptist Parish | 42,516 | Saint John the Baptist Parish | 347.6 | Saint John the Baptist Parish Map | 22095 |
| Saint Landry Parish | 81,440 | Saint Landry Parish | 939 | Saint Landry Parish Map | 22097 |
| Saint Martin Parish | 52,954 | Saint Martin Parish | 816.5 | Saint Martin Parish Map | 22099 |
| Saint Mary Parish | 48,330 | Saint Mary Parish | 681.4 | Saint Mary Parish Map | 22101 |
| Saint Tammany Parish | 263,446 | Saint Tammany Parish | 1113.8 | Saint Tammany Parish Map | 22103 |
| Tangipahoa Parish | 136,765 | Tangipahoa Parish | 823.1 | Tangipahoa Parish Map | 22105 |
| Tensas Parish | 4,178 | Tensas Parish | 640.7 | Tensas Parish Map | 22107 |
| Terrebonne Parish | 109,859 | Terrebonne Parish | 1413.4 | Terrebonne Parish Map | 22109 |
| Union Parish | 22,170 | Union Parish | 905.4 | Union Parish Map | 22111 |
| Vermilion Parish | 59,378 | Vermilion Parish | 1302 | Vermilion Parish Map | 22113 |
| Vernon Parish | 47,894 | Vernon Parish | 1341.6 | Vernon Parish Map | 22115 |
| Washington Parish | 45,773 | Washington Parish | 675.9 | Washington Parish Map | 22117 |
| Webster Parish | 37,943 | Webster Parish | 615 | Webster Parish Map | 22119 |
| West Baton Rouge Parish | 26,792 | West Baton Rouge Parish | 203.8 | West Baton Rouge Parish Map | 22121 |
| West Carroll Parish | 10,646 | West Carroll Parish | 360.4 | West Carroll Parish Map | 22123 |
| West Feliciana Parish | 15,465 | West Feliciana Parish | 426.7 | West Feliciana Parish Map | 22125 |
| Winn Parish | 13,839 | Winn Parish | 956.9 | Winn Parish Map | 22127 |
City Maps of Louisiana
References