Louisiana State Map – Places and Landmarks
Louisiana Maps
Louisiana Cities
About the map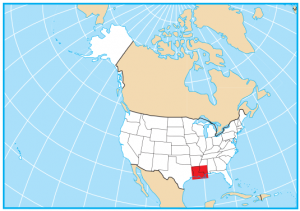 This Louisiana State Map shows major landmarks, places, wildlife, military, and federal lands in Louisiana. For example, it includes national forests, national wildlife refuges, and national monuments.
Louisiana is filled with over 20 national wildlife refuge. Each one is designed to preserve habitat and conserve specific wildlife, fish, and plants.
Kisatchie National Forest is the only national forest in Louisiana. Its single national monument is Poverty Point National Monument. This UNESCO World Heritage Site is an ancient city built by indigenous people with over 3,400 years of history.
Federal lands
National Forests (NF)
Kisatchie National Forest
National Wildlife Refuge (NWR)
Cat Island NWR
Atchafalaya NWR
Mandalay NWR
Delta NWR
Breton NWR
Lacassine NWR
Cameron Prairie NWR
Sabine NWR
Cameron Prairie NWR
Bogue Chitto NWR
Big Branch Marsh NWR
Bayou Sauvage NWR
Upper Ouachita NWR
Handy Brake NWR
Tensas River NWR
D'Arbonne NWR
Black Bayou Lake NWR
Bayou Cocodrie NWR
Catahoula NWR
Lake Ophelia NWR
Grand Cote NWR
National Monument
Poverty Point National Monument
Other Landmarks
Bonnet Carre Spillway
Jean Lafitte National Historical Park and Preserve
Louisiana lakes, rivers and reservoirs
Breton Sound
Atchafalaya Bay
Gulf Of Mexico
Barataria Bay
Calcasieu Lake
Sabine Lake
River Red
Toledo Bend Reservoir
Mississippi River
White Lake
Lake Pontchartrain
Indian Reserves (IR)
Chitamacha Indian Reservation
Barksdale Air Force Base
New Orleans Naval Air Station
Fort Polk Military Reservation
Louisiana Ordnance Plant Army Ammunition
Louisiana populated places
Baton Rouge
New Orleans
Alexandria
Houma
Kenner
Lake Charles
Monroe
New Iberia
Slidell
Lafayette
Shreveport
Metairie
Abbeville
Bastrop
Bogalusa
Crowley
De Ridder
Eunice
Hammond
Jennings
Kinder
Leesville
Mansfield
Minden
Morgan City
Natchitoches
Oakdale
Opelousas
Ruston
Sulphur
Tallulah
Thibodaux
Tullos
Ville Platte
Winnfield
State capital
Baton Rouge
A US national parks map that displays the 5 regions and 62 national parks of the United States. Hawaii and Alaska have inset maps with outlines and names.
Check out the US temperature map to visualize how climate varies across the United States of America. Each one is derived from NESDIS, a branch of NOAA.
There are really several ways to see elevation in the United States. But the most common way to see a US elevation map is through a digital elevation model.
Free US Maps
Select a state to view its map