Map of New Orleans, Louisiana

Map of New Orleans
This is a crash course in New Orleans, Louisiana! Explore the city with this map of New Orleans. Find everything there is to know about major roads, highways, reference information, and things to do.
New Orleans, Louisiana may be one of the most enjoyable cities in the USA. Not only is it home to Mardi Gras, but it's a popular destination for cuisine, dialect, and its French Quarter neighborhood. The French Quarter map is just along the Mississippi River in the center of the city.
But New Orleans is so much more than just Mardi Gras. It's a dynamic city with story after story to tell. This unique city is steeped in history, and it's easy to get lost between all the museums, historic architecture, and unique restaurants. Find out more about the city nicknamed "Big Easy" below.
Jump To: Interactive Map | Printable Road Map | 10 Things to Do | Reference Map
New Orleans map collection
Interactive Map of New Orleans
This interactive map helps you see the treasure hunt of New Orleans. You'll be able to find the best restaurants, hotels, bars, and key landmarks with the help of this map. From the French Quarter to the Botanical Gardens, this interactive map has it all. It features the best attractions, breathtaking sights, and must-see locations in New Orleans. The more you explore, the more you'll discover.
New Orleans Road Map
Travelers can browse the entire road network of the city with this map. Along with its color-coded streets, each major highway is labeled so you have all the information you need. With the help of this free New Orleans road map, you can easily find your way around the city and make the most of your trip. New Orleans is a beautiful city with a lot to explore. But for any travel outside the city, get your bearings with this Louisiana road map for statewide highways and interstates.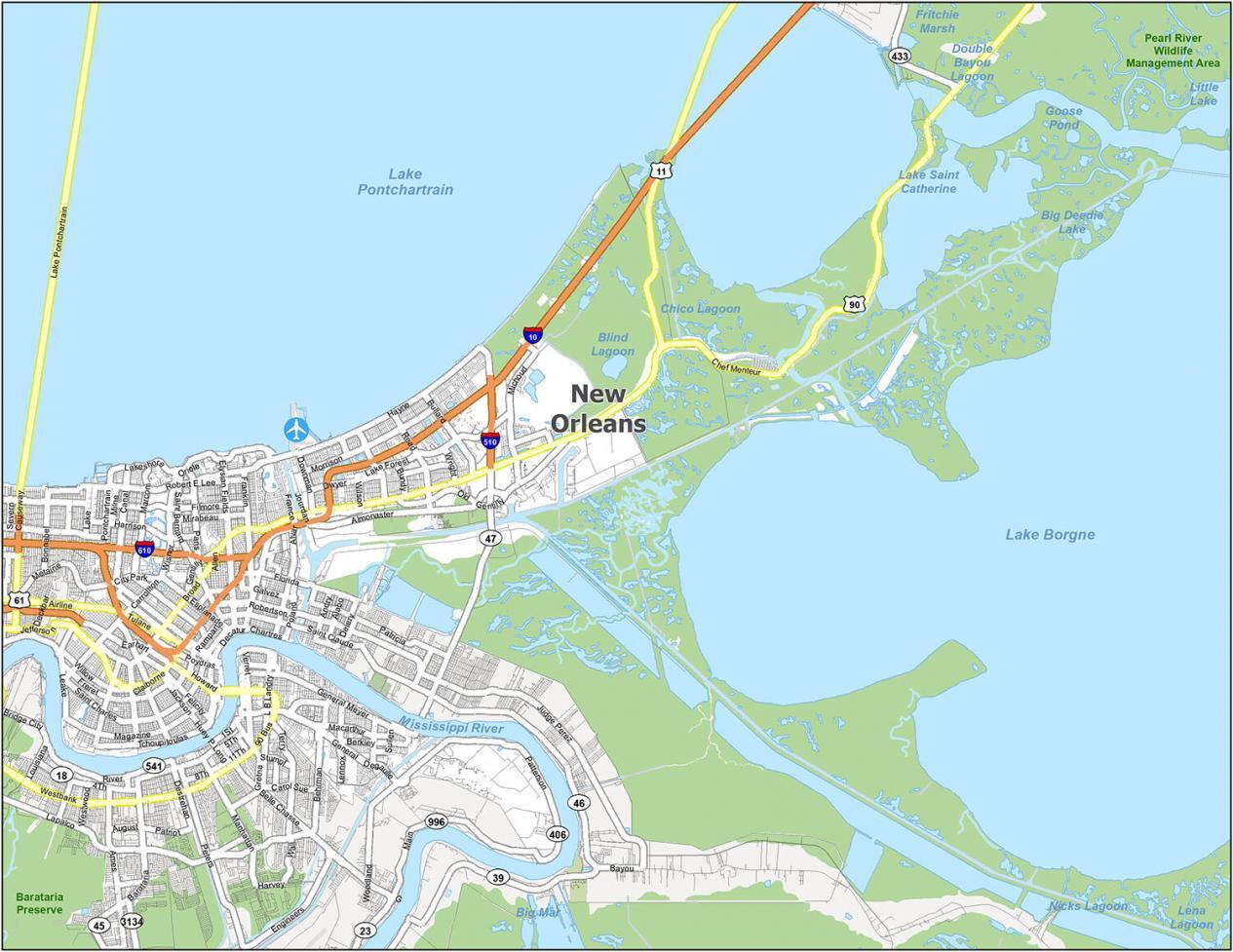 Interstate Highways: I-10, I-510, I-610
US Highways: 11, 39, 46, 47, 61, 90, 406, 996,
Expressways/Parkways: Airline Hwy, Chef Menteur Hwy, Earhart Expy, Hammond Hwy, Jefferson Hwy, Pontchartrain Expy, Woodland Hwy
Major Roads: Airline Dr, Allen St, Almonaster Ave, Alvar St, Basin St, Broad St, Canal Blvd, Canal St, Carrollton Ave, Claiborne Ave, Cleveland Ave, Common St, Downman Rd, Earhart Blvd, Elk Pl, Elysian Fields Ave, France Rd, Franklin Ave, General Degaulle Dr, Gentilly Blvd, Hayne Blvd, Leon C Simon Dr, Loyola Ave, McShane Pl, New Orleans St, Old Gentilly Rd, Orleans Ave, Paris Rd, Patterson Rd, Poland Ave, Poland St, Polk St, Pontchartrain Blvd, Rampart St, Read Blvd, Robert E Lee Blvd, Robertson St, Saint Bernard Ave, Saint Charles Ave, Saint Claude Ave, Senator Ted Hickey Bridge, Stars And Stripes Blvd, Toulouse St, Tulane Ave, Veterans Blvd, West End Blvd, Westend Blvd
10 Things To Do in New Orleans
This attractions map is designed to help you plan your trip to the "Big Easy". With attractions like Jackson Square and the Audubon Aquarium of the Americas, you'll never be lost for the perfect activity. We've hand-picked the top attractions for you to explore so you can discover the best of New Orleans. With this versatile map that offers a simplified view of the city's top attractions, it caters to both locals and visitors alike.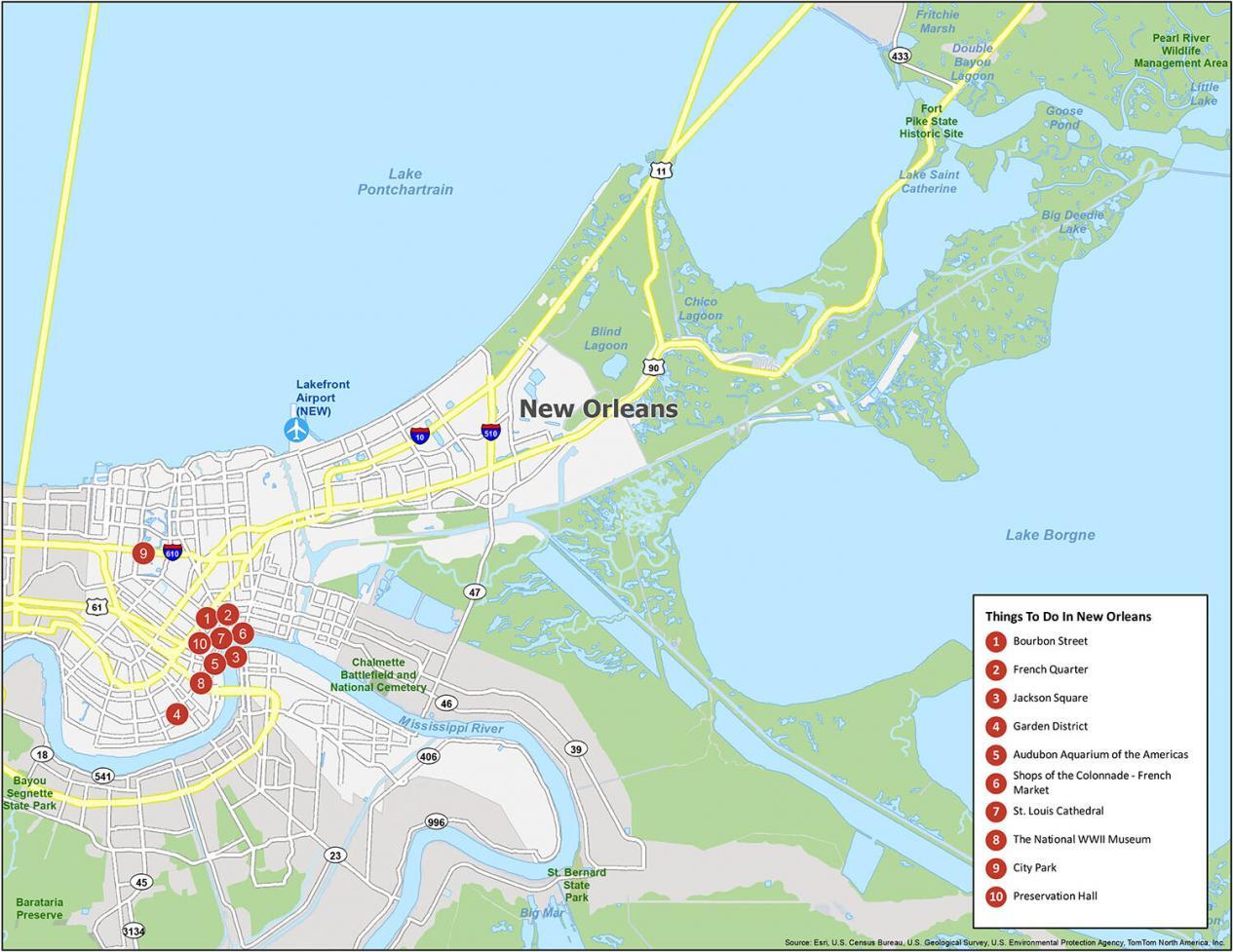 New Orleans is known for its festivals, cuisine, and dialect. The French Quarter is the most famous neighborhood in New Orleans with tons of charm. If you ever go to New Orleans, here are our recommendations for the top 10 things to do.
Bourbon Street
French Quarter
Jackson Square
Garden District
Audubon Aquarium of the Americas
Shops of the Colonnade – French Market
St. Louis Cathedral
The National WWII Museum
City Park
Preservation Hall
New Orleans Reference Map
Explore the city at your own pace with this map and guide. This map is the perfect tool for planning your trip to New Orleans and all it has to offer. Featuring a detailed reference map of the city, you can easily mark your destinations and print it out, or download it to your phone. Uncover the lakes, rivers, parks, preserves, and natural beauty of New Orleans all in one simple reference map of the city.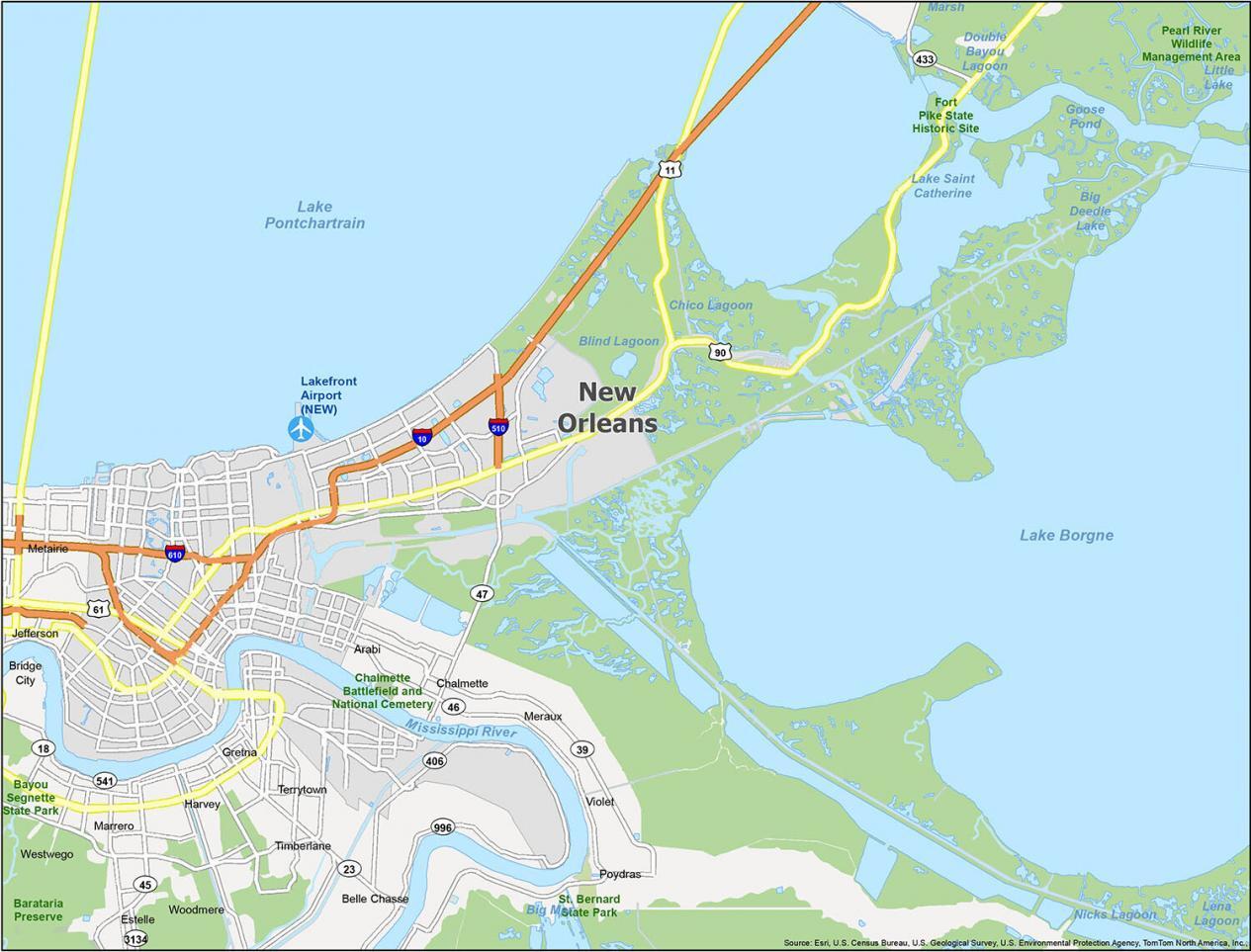 Airports: Lakefront Airport
Cities: Gretna, New Orleans, Westwego
Census-designated place (CDP): Arabi, Avondale, Belle Chasse, Bridge City, Chalmette, Estelle, Harvey, Jefferson, Marrero, Meraux, Metairie, Poydras, Terrytown, Timberlane, Violet, Woodmere
Lakes/Rivers: Lake Pontchartrain, Lake Borgne, Lake Saint Catherine, Mississippi River
New Orleans map collection
Louisiana map collection
References