Map of Boulder
Are you looking for a map of Boulder, Colorado? We have some of the best available maps displaying roads/highways, landmarks, and an interactive map. This Boulder Colorado map collection is a must-have for any avid traveler.
Boulder Colorado is a small city with big things to offer. As one of the most popular cities in Colorado, Boulder offers many outdoor activities, museums and galleries, and festivals that celebrate the arts.
Boulder is known for its wilderness and breweries. The surrounding beauty is excellent for skiing, mountain biking, or hiking one of its trails. Landmarks include Pearl Street, Flatirons, and its historic downtown area.
Jump To: Interactive Map | Printable Road Map | 10 Things to Do | Reference Map
Boulder map collection
Interactive Map of Boulder
Boulder, Colorado is a great place for outdoor recreation and has plenty of attractions for visitors and locals. The interactive map below will show you the best of Boulder in terms of restaurants, hotels, museums, and more. Zoom in/out, pan around, or click on a marker to get directions and never get lost in the city at the foothills of the Rockies.
Boulder Road Map
Boulder, Colorado has been a popular destination for many people. If you are considering a visit there, have no fear because we've compiled a road map for your trip. But there's so much to do and see in Boulder, that it can be overwhelming for visitors and residents. To help you never get lost again here's a helpful road map to navigate around the city. Or if you're outside the city, print this Colorado map to find your way around the state.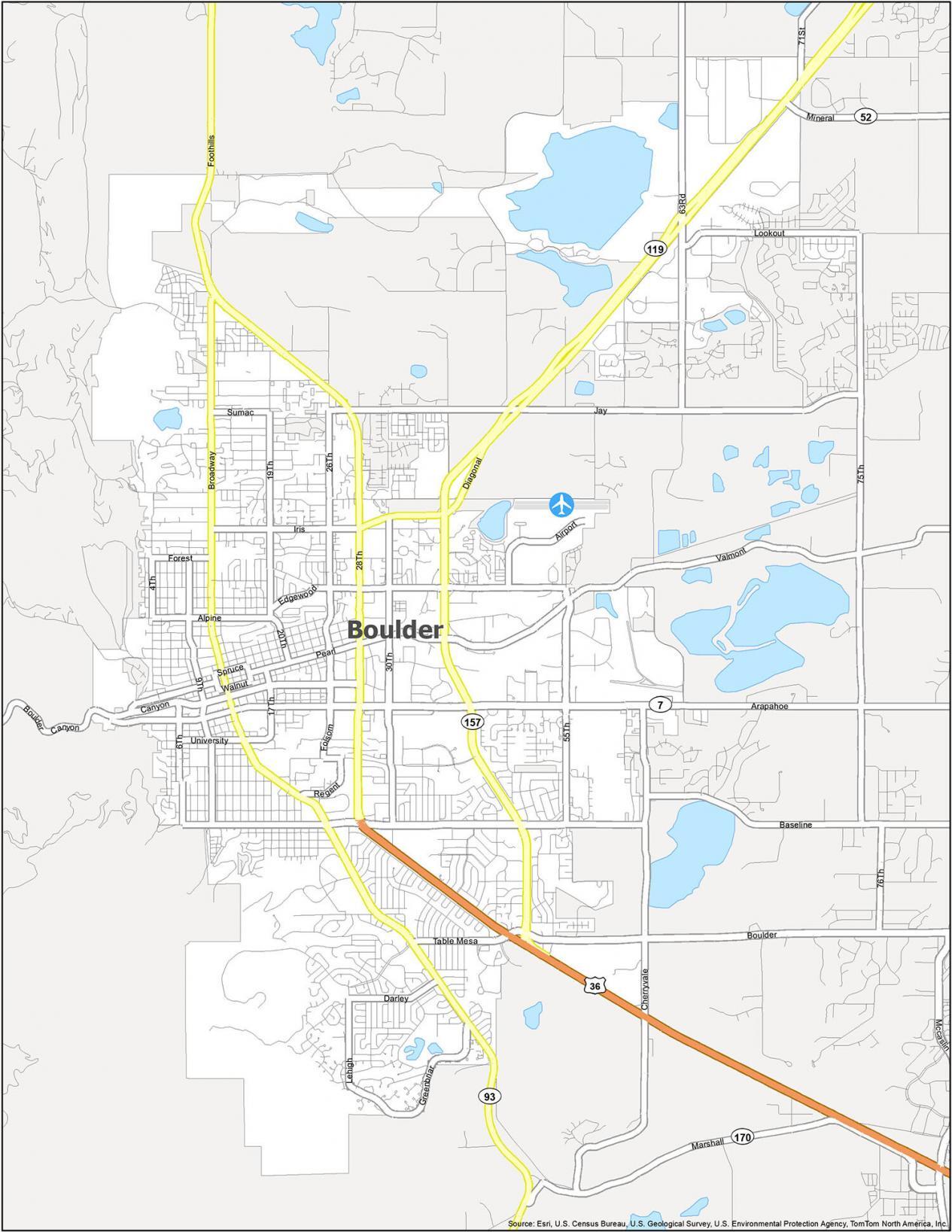 US Highways: 7, 36, 52, 56, 93, 119, 157, Diagonal Hwy, Foothills Hwy
Major Roads: 28th St, Arapahoe Ave, Baseline Rd, Boulder Canyon Dr, Broadway St, Canyon Blvd,
Roads: 4th St, 9th St, 11th St, 15th St, 17th St, 19th St, 20th St, 25th St, 26th St, 30th St, 55th St, 56, 60th St, 63rd St, 6th St, 71st St, 75th St, Airport Rd, Alpine Ave, Arapahoe Rd, Boulder Rd, Cherryvale Rd, Colorado Ave, Darley Ave, Edgewood Dr, Euclid Ave, Folsom St, Forest Ave, Greenbriar Blvd, Iris Ave, Jay Rd, Lehigh St, Lookout Rd, Mineral Rd, Pearl Pky, Pearl St, Regent Dr, Spruce St, Sumac Ave, Table Mesa Dr, University Ave, Valmont Rd, Walnut St
10 Things To Do in Boulder
With more than 26 square miles (70 sq km) of terrain to explore, this expansive city offers a plethora of things to do and see. From hiking and biking the many trails in Boulder to ziplining over the Rocky Mountains, there's no shortage of outdoor activities to take part in. But Boulder also has its fair share of indoor events going on throughout the year. From concerts and festivals to wine tasting and comedy shows, there's always something happening.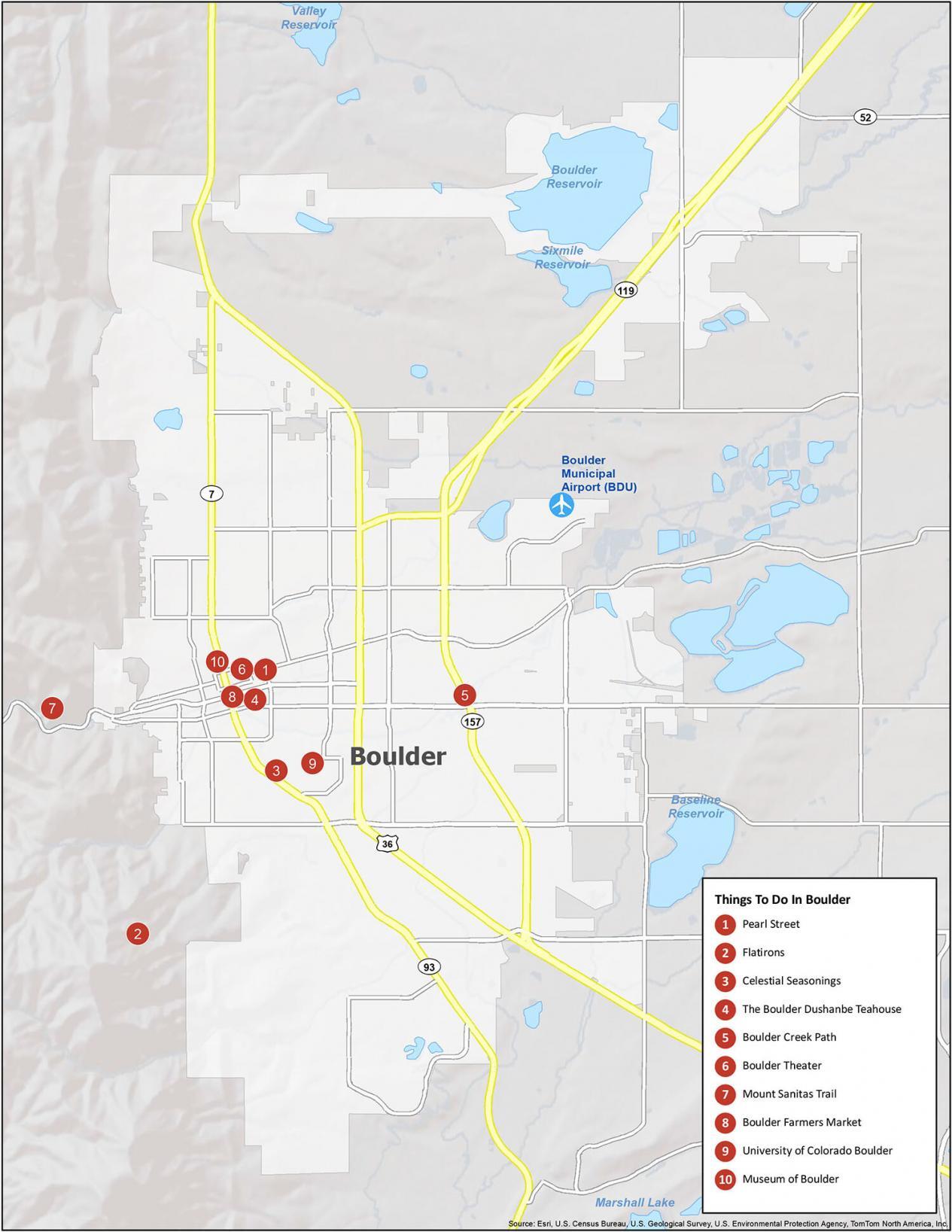 Pearl Street
Flatirons
Celestial Seasonings
The Boulder Dushanbe Teahouse
Boulder Creek Path
Boulder Theater
Mount Sanitas Trail
Boulder Farmers Market
University of Colorado Boulder
Museum of Boulder
Boulder Reference Map
With so much to do in such a short distance, Boulder is an ideal vacation destination for those who want to escape reality and get away from busy lives. Boulder Colorado is a city that is full of variety. It has everything from nature parks to some of the best ski resorts in America, to great food and live music venues. Use this Boulder map to get familiar with the city in north-central Colorado.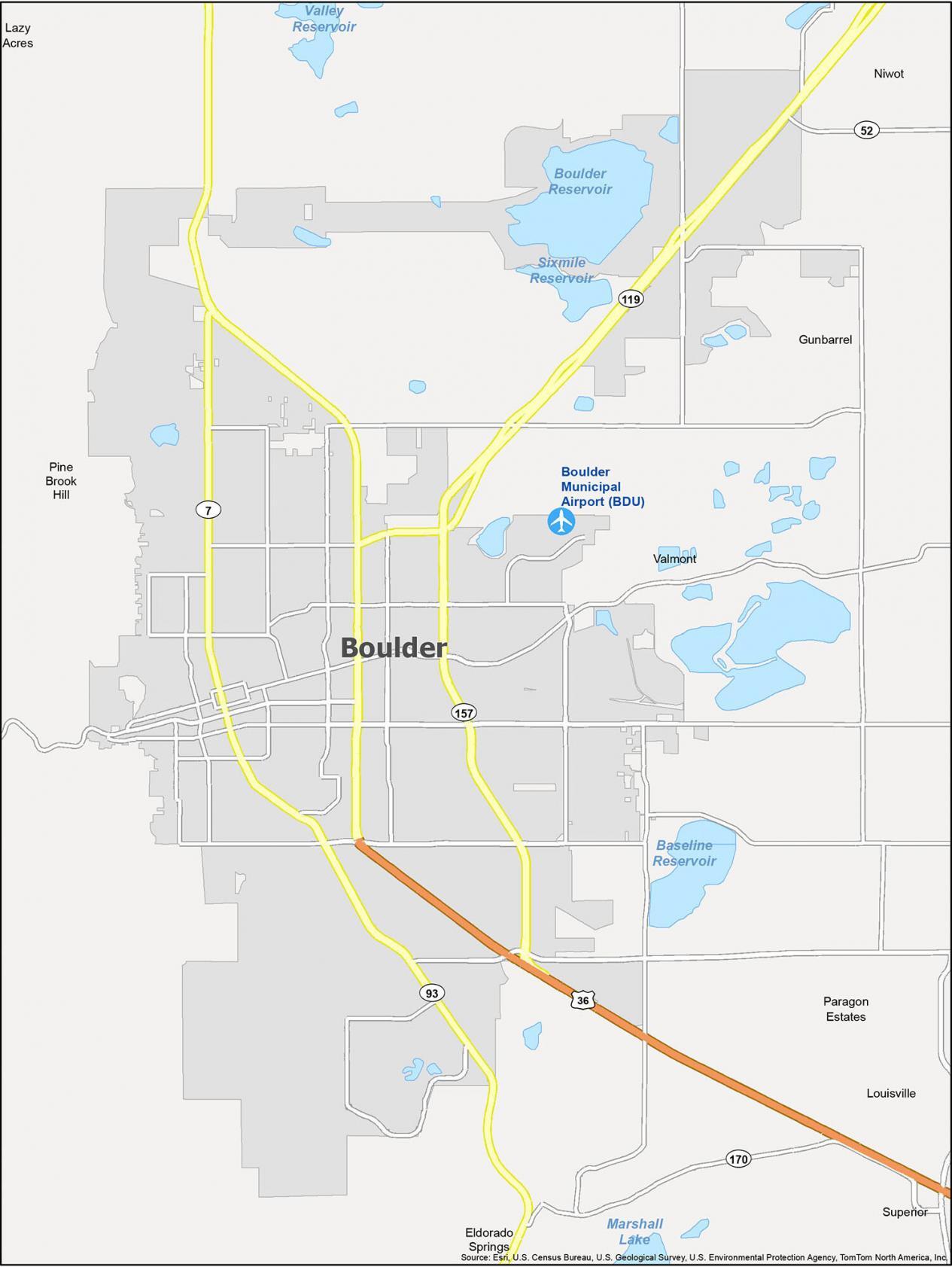 Here are some of the cities, towns, and places that surround Boulder, Colorado. Also, it includes the nearby airport, rivers, and reservoirs.
Airport: Boulder Municipal Airport (BDU)
Cities: Boulder, Louisville
Town: Superior
Census-Designated Places (CDP): Eldorado Springs, Gunbarrel, Lazy Acres, Niwot, Paragon Estates, Pine Brook Hill, Valmont
Reservoirs: Baseline Reservoir, Valmont Reservoir, Hayden Lake, Legett Reservoir
Colorado map collection
References