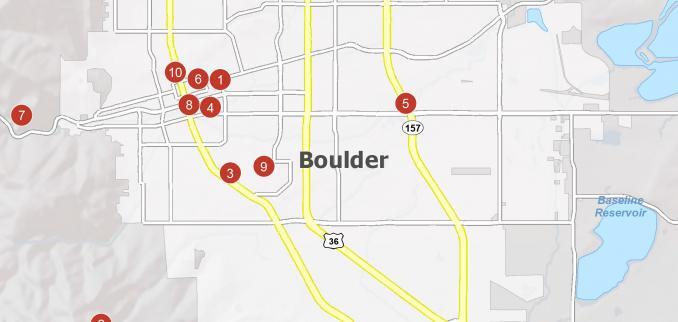 Boulder Road Map
US Highways: 7, 36, 52, 56, 93, 119, 157, Diagonal Hwy, Foothills Hwy
Major Roads: 28th St, Arapahoe Ave, Baseline Rd, Boulder Canyon Dr, Broadway St, Canyon Blvd,
Roads: 4th St, 9th St, 11th St, 15th St, 17th St, 19th St, 20th St, 25th St, 26th St, 30th St, 55th St, 56, 60th St, 63rd St, 6th St, 71st St, 75th St, Airport Rd, Alpine Ave, Arapahoe Rd, Boulder Rd, Cherryvale Rd, Colorado Ave, Darley Ave, Edgewood Dr, Euclid Ave, Folsom St, Forest Ave, Greenbriar Blvd, Iris Ave, Jay Rd, Lehigh St, Lookout Rd, Mineral Rd, Pearl Pky, Pearl St, Regent Dr, Spruce St, Sumac Ave, Table Mesa Dr, University Ave, Valmont Rd, Walnut St
10 Things To Do In Boulder
Do you want to travel to Boulder, Colorado? Yes? Then, we recommend checking out these 10 things to do, starting with Boulder's historic downtown, Pearl Street.
1. Pearl Street
2. Flatirons
3. Celestial Seasonings
4. The Boulder Dushanbe Teahouse
5. Boulder Creek Path
6. Boulder Theater
7. Mount Sanitas Trail
8. Boulder Farmers Market
9. University of Colorado Boulder
10. Museum of Boulder
Boulder Map of Places
Here are some of the cities, towns and places that surround Boulder, Colorado. Also, it includes nearby airport, rivers and reservoirs.
Airport: Boulder Municipal Airport (BDU)
Cities: Boulder, Louisville
Town: Superior
Census-Designated Places (CDP): Eldorado Springs, Gunbarrel, Lazy Acres, Niwot, Paragon Estates, Pine Brook Hill, Valmont
Reservoirs: Baseline Reservoir, Valmont Reservoir, Hayden Lake, Legett Reservoir