Colorado State Map – Landmarks and Places
About the map
This Colorado State Map shows major landmarks and places in the Rocky Mountain state. For example, it features national forests, preserves, wildlife refuges, and other federal lands.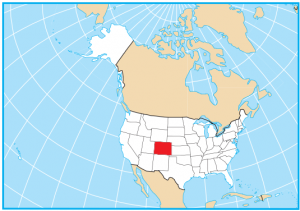 Colorado is the healthiest state with the lowest obesity rate. The incredible Rocky Mountains may play a role, and people can freely enjoy the outdoors. Find out all the attractions such as Pikes Peak, Garden of The Gods, and more.
Aspen is a global resort city tucked away in the mountains, known for its skiing and winter sports. Other than Rocky Mountain National Park, its other major national parks include Black Canyon of the Gunnison, Mesa Verde, and Great Sand Dunes. Each is unique with features including a steep-walled gorge, archaeological sites, and beach sand dunes.
Colorado map collection
You are free to use our map of Colorado for educational and commercial uses. Attribution is required. How to attribute?
Federal lands
National Park (NP)
Rocky Mountain NP
Black Canyon of the Gunnison NP
Mesa Verde NP
Great Sand Dunes NP
National Forests (NF)
Medicine Bow NF
Roosevelt NF
Routt NF
Arapaho NF
White River NF
Grand Mesa NF
Manti-La Sal NF
Uncompahgre NF
Arapaho NF
Pike National Forest
Grand Mesa NF
San Isabel NF
Gunnison NF
Rio Grande NF
Uncompahgre NF
San Juan NF
Rio Grande NF
National Wildlife Refuge (NWR)
Rocky Mountain Arsenal NWR
Two Ponds NWR
Arapaho NWR
Browns Park NWR
Alamosa NWR
Monte Vista NWR
Baca NWR
National Monuments (NM)
Dinosaur NM
Colorado NM
Canyons of the Ancients NM
Hovenweep NM
Florissant Fossil Beds NM
National Conservation Area (NCA)
McInnis Canyons NCA
Gunnison Gorge NCA
National Recreation (NRA)
Curecanti NRA
Arapaho NRA
Farish Memorial Recreation Area
Other federal lands
Comanche National Grassland
Bent's Old Fort NHS
Leadville National Fish Hatchery
Pawnee National Grassland
Colorado lakes, rivers and reservoirs
Lakes and reservoirs
Horsetooth Reservoir
Carter Lake Reservoir
Shadow Mountain Lake
Green Mountain Reservoir
Rifle Gap Reservoir
John Martin Reservoir
Ruedi Reservoir
Turquoise Lake
Taylor Park Reservoir
Twin Lakes Reservoir
Cherry Creek Reservoir
Vega Reservoir
Paonia Reservoir
Crawford Reservoir
McPhee Reservoir
Vallecito Reservoir
Lemon Reservoir
Silver Jack Reservoir
Ridgway Reservoir
Platoro Reservoir
Bonny Reservoir
Rivers and streams
South Platte River
White River
Yampa River
Arkansas River
Navajo Reservoir
Arikaree River
Colorado River
Indian Reserves (IR)
Ute Mountain IR
Southern Ute IR
Army, naval and military
Naval Oil Shale Reserve
Fort Carson
High Speed Ground Test Center
Pueblo Chemical Depot (Closed)
Pueblo Res Federal Correctional Complex
Fitzsimons Army Medical Center (Closed)
US Air Force Academy
United States Air Force Academy
Peterson AFB NORAD COC Center
Colorado landmarks and places
Denver
Colorado Springs
Fort Collins
Pueblo
Lakewood
Arvada
Boulder
Grand Junction
Greeley
Longmont
Loveland
Broomfield
Akron
Alamosa
Aspen Burlington
Cheyenne Wells
Craig
Del Norte
Delta
Durango
Fort Morgan
Glenwood
Springs
Gunnison
Holyoke
Julesburg
La Junta
Lamar
Limon
Meeker
Monte Vista
Montrose
Pagosa Springs
Salida
Springfield
Steamboat
Springs
Sterling
Trinidad
Walsenburg
Wray
Antonito
Vail
State capital
Denver
City Maps of Colorado
References