Map of Buffalo
This Buffalo map collection features highways/roads, landmarks, and major places and neighborhoods in Buffalo. Plus, we provide an interactive map with major sightseeing destinations in the city.
If you ever plan to go, it has a surprisingly active nightlife. They say the partying doesn't stop until the sun starts to rise. Buffalo is also known for its snow in the winter, Buffalo wings, and bad sports teams (Sabres). The Bills are contenders now.
On the plus side, it's also a short drive to Niagara Falls. It takes just 20 minutes from Buffalo to one of the most spectacular waterfalls in the world. But overall, Buffalo is known for its vibrant culture and unique local style.
Jump To: Interactive Map | Printable Road Map | 10 Things to Do | Reference Map
Buffalo map collection
Interactive Map of Buffalo
With just a few clicks, you will be able to learn about the neighborhoods and find your way around with this interactive map of Buffalo. It includes all major areas and interesting tourist sites in Buffalo. For instance, you can locate the nearest attractions, restaurants, and shopping venues. This map also displays everything from hotels, fast food restaurants, gas stations, and more.
Buffalo Road Map
Enjoy this beautiful printable map of Buffalo, New York that shows major highways and roads like 1-90 and I-190. It's home to the world-famous Niagara Falls and many recreational activities. If you're looking for a day trip or just a weekend getaway, Buffalo has something for everyone. Plus, it's only 370 miles (500 km) away from New York City. Make sure to print this road map to better enjoy your visit to Buffalo, New York.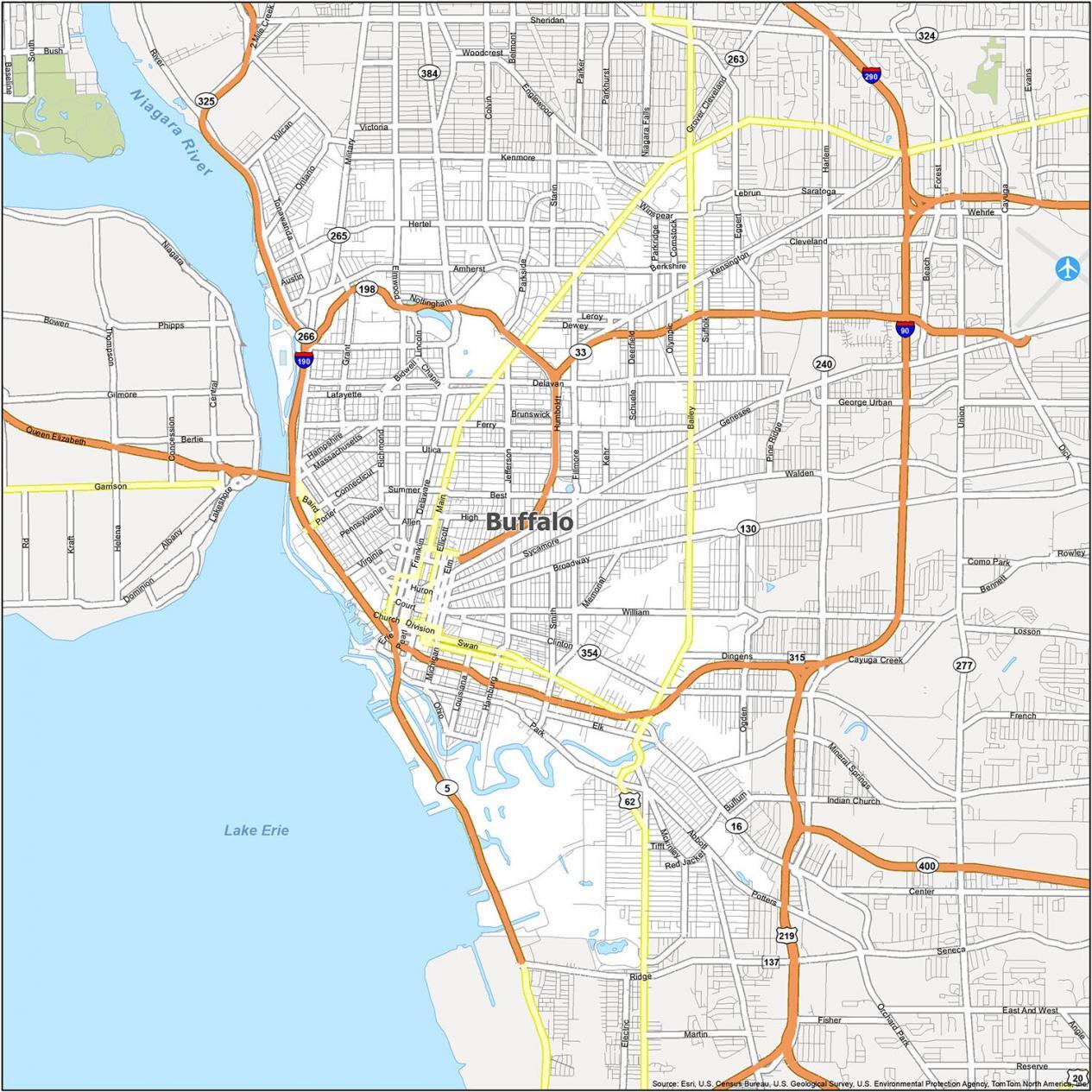 Interstate: I-190
US Highways: 5, 16, 33, 62, 129, 130, 189, 190, 198, 201, 266, 307, 354, 384, 550
Major Roads: Baird Dr, Bailey Ave, Berwyn Ave, Broadway St, Burlington Ave, Busti Ave, Church St, Clinton St, Court St, Delaware Ave, Division St, Elm St, Elmwood Ave, Lafayette Sq, Lower Terrace St, Main St, Niagara St, Nottingham Ter, Park Ave, Pine St, Oak St, Peace Bridge Connector, Porter Ave, Sheridan Ter, Tupper St, Virginia St, William St
10 Things To Do in Buffalo
This Buffalo map is a comprehensive overview of the city that you can use to navigate Buffalo. Whether you want to explore Buffalo or plan a trip from another city, this is the map for you. Situated on the shores of Lake Erie, Buffalo has been able to gain momentum for its growing economy by building up its strategic location on the main waterway of America's inland waterways. Looking for things to do in Buffalo?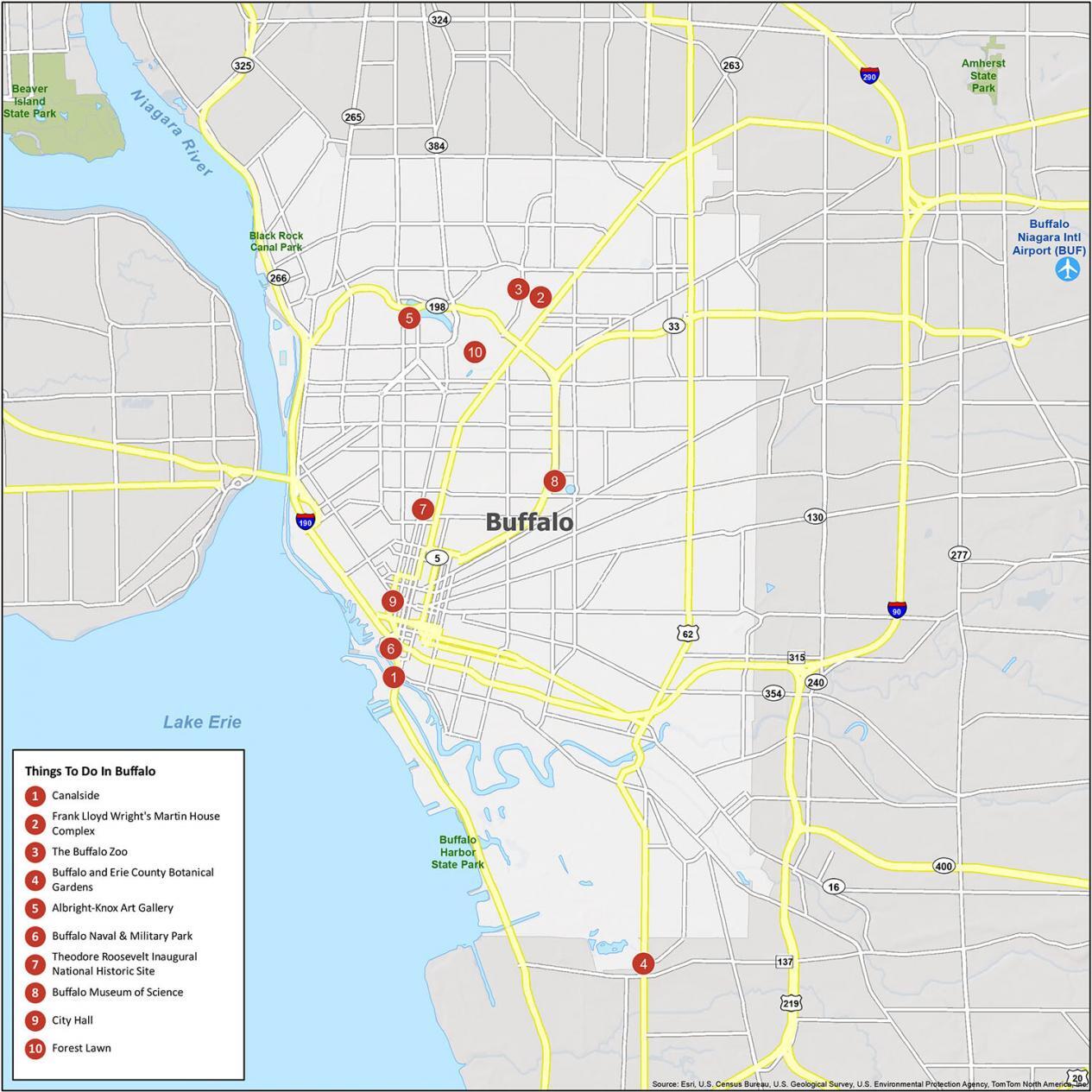 Canalside
Frank Lloyd Wright's Martin House Complex
The Buffalo Zoo
Buffalo and Erie County Botanical Gardens
Albright-Knox Art Gallery
Buffalo Naval & Military Park
Theodore Roosevelt Inaugural National Historic Site
Buffalo Museum of Science
City Hall
Forest Lawn
Buffalo Reference Map
Buffalo, New York has a population of 250,000 people and is the second-largest city in the state of New York. The map provides an overview of the city's neighborhoods and surrounding water features like the Niagara River and Lake Erie. It also presents villages, parks, and Buffalo Niagara International Airport.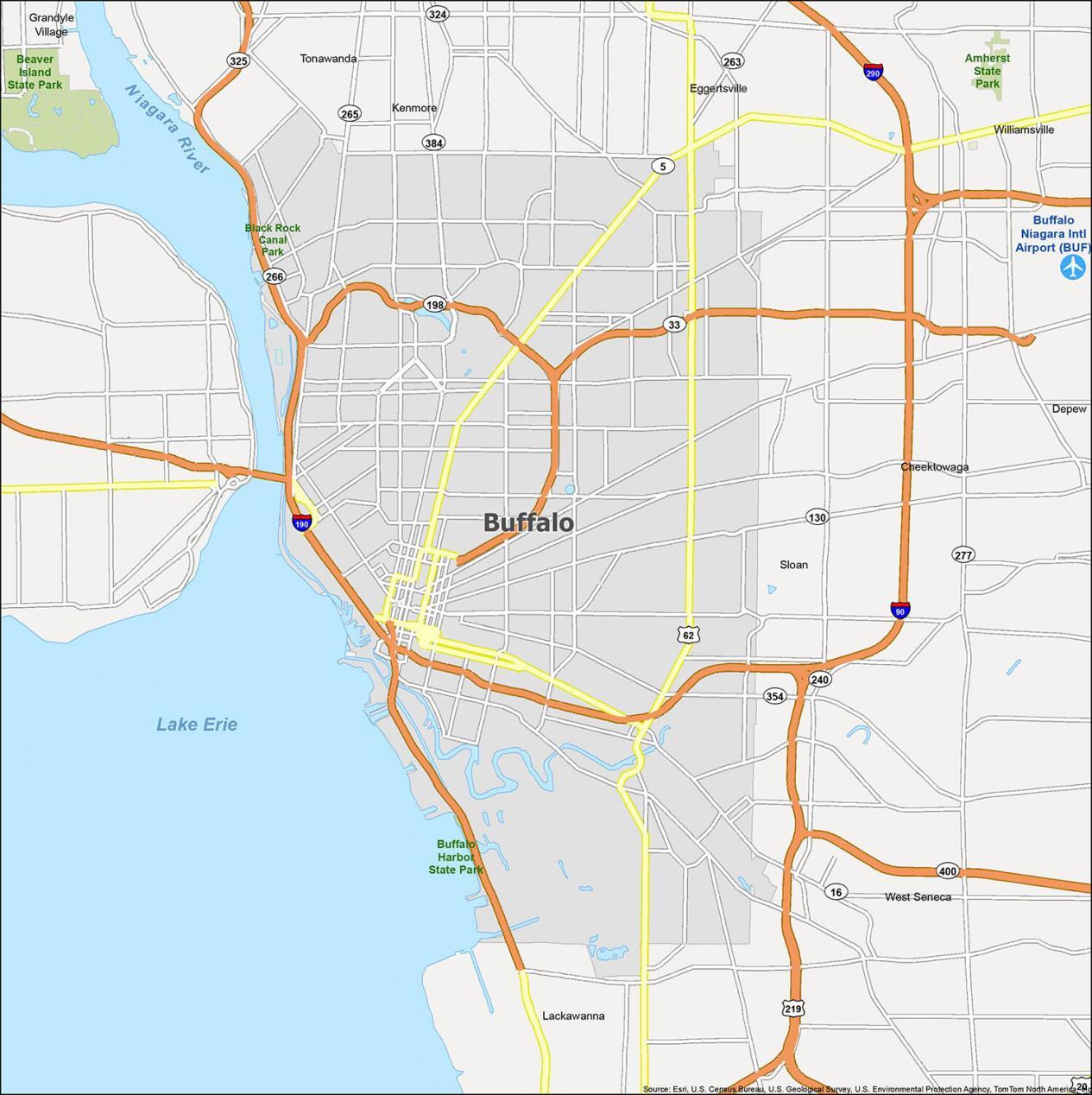 Airport: Buffalo Niagara International Airport (BUF)
Cities: Buffalo, Lackawanna
Villages: Depew, Kenmore, Sloan, Williamsville
Census-designated place (CDP): Cheektowaga, Eggertsville, Grandyle Village, Tonawanda, West Seneca
Lakes/Rivers: Lake Erie, Niagara River
Buffalo, New York maps
New York map collection
References