Map of El Paso
Check out this El Paso map featuring roads, reference points, and a list of things to do. If you want to interactively explore the city of El Paso, then check out the viewer below and get updated information on the city.
From family-friendly activities to kid-friendly attractions, there is something for everyone. And if you need a little inspiration, check out our list of the best things to do in the western city of the Lone Star State of Texas.
The world is your oyster and El Paso is your destination. Find things to do and places to visit with this map of the city known for being the Boot Capital of the World.
Jump To: Interactive Map | Printable Road Map | 10 Things to Do | Reference Map
El Paso map collection
Interactive Map of El Paso
The El Paso map is an interactive tool that gives you a bird's eye view of the city. You can zoom in and out at any point and get a really good look at the neighborhoods. This map includes all of the top attractions as well as a detailed street-level view of the city. With a fast and easy interface, you can pinpoint your location and get to it quickly.
El Paso Road Map
Planning your trip to El Paso? Need a map of the city? If you're looking for a fun and interesting day trip in El Paso, Texas, you're in luck! This map will help you find your way around displaying the major highways and roads in the city.
You can visit this fascinating area a little bit in the northwest part of the state, bordering Mexico. With nearly 700,000 people, El Paso is the fourth-largest city in Texas. But if you're traveling outside the city, then download our Texas road map for free to help get around the Lone Star state.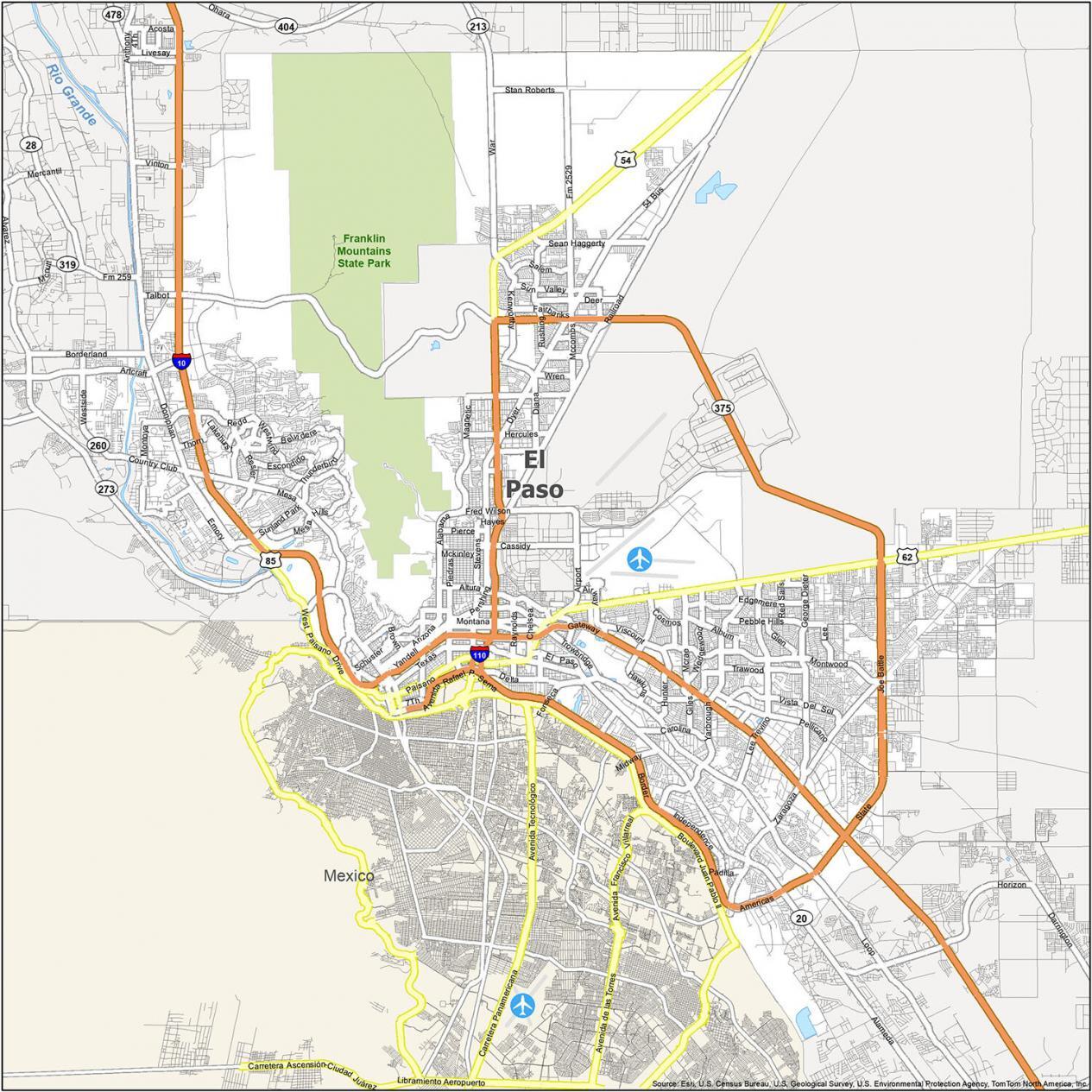 Interstate Highways: I-10, I-110
US Highways: 20, 54, 62, 85, 180, 260, 375, Border Hwy, El Paso State Loop, Pete V Domenici Intl Beltway, War Hwy
Major Roads: Alameda Ave, Americas Ave, Artcraft Rd, Borderland Rd, Country Club Rd, Doniphan Dr, Dyer St, El Paso St, Executive Center Blvd, Gateway Blvd, Hercules Ave, Joe Battle Blvd, Kenworthy St, Martin Luther King, Mesa St, Paisano Dr, Montana Ave, Santa Fe St, Stanton St, State Line Rd, Talbot Ave, Texas Ave, Westside Dr, Woodrow Bean Transmountain Dr
10 Things To Do in El Paso
There are a lot of things to do in El Paso, Texas. You can visit the city's historic downtown, attend a cultural event, go biking, or enjoy a live music show at a local venue. The city is also home to many attractions that families can enjoy together.
There are many parks and museums that offer fun for young and old alike. If you are looking for things to do in El Paso, check out the activities listed below.
If you travel to El Paso, Texas, here are our top 10 travel recommendations. Four of the ten attractions are museums so it's easy to realize how El Paso has some of the best museums in the country. Otherwise, it includes top sites like the Plaza Theatre and History Museum.
Franklin Mountains State Park
El Paso Museum of History
The Plaza Theatre
El Paso Mission Trail Association
Chamizal National Memorial – Park Grounds
Old Fort Bliss Museum
El Paso Zoo
National Border Patrol Museum
Ascarate Park
El Paso Museum of Art
El Paso Reference Map
Take a trip to El Paso and discover the best places to visit. With our map, you can see everything that El Paso has to offer. Spend a day exploring the city, looking at the top attractions, or use it as a resource when you are planning your own El Paso vacation. Find the perfect El Paso vacation for your family with this map as your handy guide.
Airport: El Paso International Airport (ELP)
Cities: Anthony, El Paso, Horizon City, San Elizario, Socorro, Sunland Park
Census-designated place (CDP): Canutillo, Chaparral, Fort Bliss, Homestead Meadows North, Homestead Meadows South, La Union, Prado Verde, Santa Teresa, Sparks, Westway
Towns and Villages: Anthony, Vinton
El Paso, Texas maps
Texas map collection
References