Texas State Map – Places and Landmarks

Download
About the map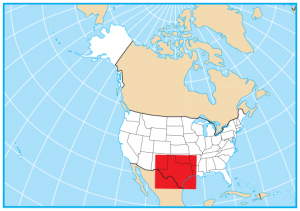 This Texas State Map shows major landmarks and places in Texas. For example, it highlights national parks, forests, military bases, historical sites and federal lands in Texas. Two of the big highlights are Guadalupe Mountains National Park and Big Bend National Park.
The four highest peaks in Texas are in Guadalupe Mountains National Park. This 86,367-acre park is known for its fossilized mountains and its bright-white Salt Basin Dunes.
Big Bend National Park holds the Santa Elena Canyon, which was carved by the Rio Grande. The park has hot springs, hiking, and rafting making it one of the top getaways in Texas
Texas map collection
Texas Maps
City Maps in Texas
Federal lands
National Park (NP)
Guadalupe Mountains National Park
Big Bend National Park
National Forests (NF)
Sabine NF
Davy Crockett NF
Angelina NF
Sam Houston NF
National Wildlife Refuge (NWR)
Buffalo Lake NWR
Muleshoe NWR
Hagerman NWR
Caddo Lake NWR
Little Sandy NWR
Balcones Canyonlands NWR
Trinity River NWR
McFaddin NWR
Texas Point NWR
Attwater Prairie Chicken NWR
Anahuac NWR
Moody NWR
Brazoria NWR
San Bernard NWR
Big Boggy NWR
Aransas NWR
Lower Rio Grande Valley NWR
Laguna Atascosa NWR
Santa Ana NWR
Lower Rio Grande Valley NWR
National Grasslands
Caddo National Grassland
Lyndon B Johnson National Grassland
Rita Blanca National Grassland
National Recreation (NRA)
Lake Meredith NRA
Amistad NRA
Other Landmarks
Alibates Flint Quarries National Monument
Chamizal National Memorial
Fort Davis National Historic Site
Lyndon B Johnson National Historical Park
Big Thicket National Preserve
Padre Island National Seashore
Texas lakes, rivers and reservoirs
Lakes and reservoirs
Lake Meredith
Pat Mayse Lake
Lake Ray Roberts
Wright Patman Lake
Lewisville Lake
Lavon Lake
Grapevine Lake
Lake O' the Pines
Caddo Lake
Benbrook Lake
Bardwell Lake
Whitney Lake
Proctor Lake
Aquilla Lake
Navarro Mills Lake
O. C. Fisher Lake
Waco Lake
Sam Rayburn Reservoir
Twin Buttes Reservoir
Belton Lake
Stillhouse Hollow Lake
Steinhagen Lake
Lake Travis
Somerville Lake
Canyon Lake
Lake Texana
Choke Canyon Reservoir
Rivers and streams
Rio Grande
Red River
Pecos River
Indian Reserves (IR)
Alabama-Coushatta IR
Lake Texoma Sheppard Air Force Base
Reese Air Force Base (Closed)
Red River Army Depot
Fort Wolters
Dyess Air Force Base
Fort Bliss
Goodfellow Air Force Base
Fort Hood
Camp Bullis Military Training Reservation
Camp Swift
Ellington Air Force Base
Randolph Air Force Base
Fort Sam Houston
Laughlin Air Force Base
Lackland Air Force Base
Brooks Air Force Base
Chase Field Naval Air Station (Closed)
Corpus Christi Naval Air Station
Kingsville Naval Air Station
Texas Map – Landmarks and places
Houston
San Antonio
Dallas
Austin
El Paso
Fort Worth
Abilene
Amarillo
Beaumont
Brownsville
Corpus Christi
Laredo
Lubbock
Waco
Wichita Falls
Baytown
Cleburne
Del Rio Galveston
Kingsville
Longview
Midland
Nacogdoches
Odessa
Port Arthur
San Angelo
Socorro
Temple
Texarkana
Tyler
Victoria
Big Spring
McAllen
Alpine
Childress
Dalhart
Fredericksburg
Lampasas
Pecos
Plainview
Sonora
Uvalde
Van Horn
Eagle Pass
Snyder
Fort Stockton
Padre Island
State capital
Austin
References
Download our lakes and rivers map of the United States. It's free to use for any purpose. Or select from any of the 50 states for detailed lakes and rivers.
This map of USA displays states, cities and census boundaries. An elevation surface highlights major physical landmarks like mountains, lakes and rivers.
Free US Maps
Select a state to view its map